13 Best Moisturizers For Oily And Acne-Prone Skin In 2021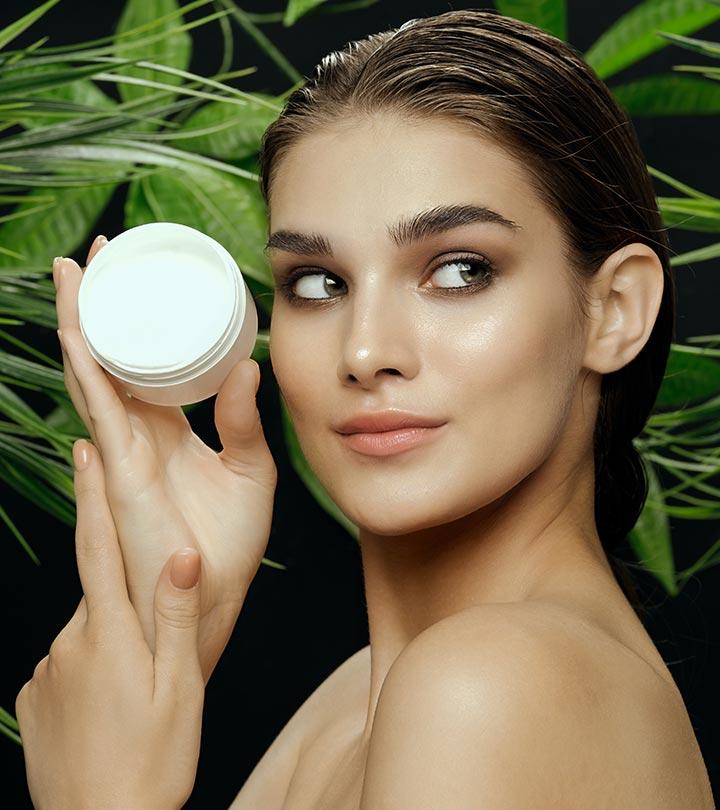 Here is a happily ever after for your skin! No matter what kind of skin type you have, a moisturizer is always a must-have skincare product as it helps in keeping your skin nourished and hydrated, maintaining moisture control. Most moisturizers are a blend of several hydrating and rejuvenating ingredients like hyaluronic acid, aloe vera, and green tea extract to name a few. These ingredients are essential in providing several benefits to your skin.
No matter how tiring your day was, you will still be able to look fresh and feel younger if you apply one of the best moisturizers for your oily and acne-prone skin from our list. They do not clog your pores as they are lightweight and easy to absorb. It also helps in keeping the skin clean and clear, thus preventing the occurrence of blemishes and other skin concerns you are struggling with for years. Here are the 13 best moisturizers for oily and acne-prone skin.
13 Best Moisturizers For Oily And Acne-Prone Skin With A Buying Guide
If you struggle with oily skin, here is a permanent solution for your skin-related issues. CeraVe's Daily Moisturizing Lotion is arguably the best cream you can use for acne-prone skin. This moisturizing lotion feels smooth and hydrating. It contains hyaluronic acid, which helps retain the natural moisture levels in your skin. It also consists of ceramides that help in maintaining and improving the skin's natural barrier. This daily moisturizer for oily, acne-prone skin is also suitable for those with dry and sensitive skin types.
Pros:
Lightweight
Not greasy
Non-comedogenic
Fragrance-free
Allergy-tested
Suitable for body, hand, and face
Cons:
The LilyAna Naturals Retinol Cream is perhaps the best anti-aging formula that strengthens your skin by making it soft and tight. It is formulated with retinol and is infused with aloe vera, hyaluronic acid, green tea, jojoba oil, and shea butter. This moisturizer for acne-prone oily skin helps fight the signs of aging and keeps your skin clean without leaving any residue. It is a lightweight product that is gentle on your skin and absorbs easily. It also helps in getting rid of dark spots and puffiness.
Pros:
SLES, SLS. and petroleum-free
Paraben, phthalate. and gluten-free
No artificial fragrance and dyes
Non-comedogenic
Improves uneven skin tone
Reduces acne redness and scars
Cons:
As it contains retinol, you may have to use an SPF lotion separately.
The Neutrogena Oil-Free Acne Facial Moisturizer is a lightweight product that seamlessly absorbs into your skin. This face moisturizer for oily, acne-prone skin does not make your skin greasy, instead it maintains the moisture of your skin and keeps it smooth. It also prevents your skin from dryness and contains grapefruit, which helps brighten the skin and create a protective barrier against infections. It is also formulated with salicylic acid that prevents your skin from breakouts and keeps your skin clean and clear.
Pros:
Sun protection
Non-comedogenic
Not greasy
Paraben-free
Dye-free
Cons:
The scent may be intense for some.
The Acure Incredibly Clear Mattifying Moisturizer helps in rejuvenating as it is enriched with vitamin E, lilac extract, chlorella, aloe vera juice, sunflower oil, safflower oil, and cocoa seed butter to name a few. The lilac extract provides antibacterial support to your skin and minimizes the appearance of acne and breakouts. It also contains charcoal that helps in detoxifying your skin and prevents it from drying. It also has argan oil that adds radiance to your skin and reduces the pores, thus increasing shine and elasticity. This product also has white willow bark, which helps fight acne and removes dead skin cells. Lemon  and vitamin C fight against free radicals and help brighten and rejuvenate your skin.
Pros:
Sulfate and paraben-free
Vegan
No mineral oil, petroleum, and formaldehyde added
Vitamin C-rich
Cons:
It may not be best suited for dry skin.
Say bye bye to breakouts and blemishes as the Burt's Bees Natural Acne Solutions Daily Moisturizing Lotion is the ideal product for you. This product is light, gentle, absorbs into the skin easily. This natural formula contains sunflower seed oil, willow bark extract, lemongrass, witch hazel, and salicylic acid that work together to reduce the redness of your skin and make it look healthy and radiant. This non-comedogenic moisturizer will help your oily skin stay grease-free. It is rich in vitamins and minerals along with phytonutrients and antioxidants, making it one of the best skincare products for oily acne-prone skin.
Pros:
Dermatologist-tested
No parabens, phthalates, petrolatum, and SLS
Exfoliates the skin
Provides a natural glow
Cons:
May not be suitable for all skin types.
Looking for a quick way to fight fine lines and crow's feet? Try the Neutralize Renewal Complex Moisturizer Cream made of salicylic acid, malic acid, and Nitrogen Boost Skin-Care Technology. It helps exfoliate your skin and increases cell turnover continuously. You will be able to see noticeable improvement in your skin within the first day of application. This product is ideal for correcting uneven skin tone, providing hydration, increasing skin elasticity, and preventing acne and breakouts. Zits or blemishes will be a thing of the past with this moisturizer and you will be left with glowing and radiant skin all day, every day.
Pros:
No parabens and sulfates
Cruelty-free
Non-comedogenic
Diminishes scars and marks
Anti-inflammatory
Oil-control
Cons:
May not be suitable for extremely sensitive skin.
The Murad Skin Perfecting Lotion is the most ideal solution for all your skin-related issues! This formula offers glowing skin and softens it by preventing the accumulation of dirt and impurities, hence keeping it clean. It is blended with honey extract and panthenol that allows your skin to remain moisturized and blemish-free. This product also contains grape seed extract, honey extract, and oat kernel protein, which improve the texture of skin and evens the skin tone. The formula helps tighten your pores, soothes your skin, and keeps it nourished throughout the day.
Pros:
Sulfate-free
No mineral oil
Cruelty-free
Lightweight
Cons:
This 3-in-1 solution acts as a moisturizer, pore minimizer, and a mattifying primer to keep your face looking glowing and healthy from within. It is non-greasy and is made of aloe vera extract, white tea extract, Saint John's wort extract, chamomile extract, lactic acid, and rosemary to name a few. This product is loaded with antioxidants and helps in getting rid of blemishes by making your skin smooth and vibrant. This lightweight moisturizer helps in keeping the skin shine-free.
Pros:
Suitable for sensitive skin
Quick drying
Anti-aging properties
pH-balanced
Non-greasy
Cons:
Slightly expensive for the quantity provided
This lightweight and nourishing formula hydrates your skin, while offering a soothing effect. It works well for sensitive skin and prevents breakouts while balancing the oil production in your skin. It offers SPF protection, has a non-oily effect, and gets absorbed easily into your skin. Some of the nourishing ingredients in this product include niacinamide, cucumber fruit extract, and lemongrass extract that provide a calming effect to your skin. It also consists of bisabolol, which is derived from chamomile and helps in removing excess oils from your skin and retains the moisture of your skin.
Pros:
Clears complexion
Improves uneven skin tone
Cruelty-free
Reduces discoloration
No irritants or dyes
No fragrances added
Cons:
Here is a fast-acting, lightweight, and a gentle moisturizer for your beautiful skin. It is a fantastic blend of various essential nutrients that leave your skin smooth and offers a matte finish too. This product is infused with aloe vera, which combats acne and acts as an anti-inflammatory ingredient. It also consists of hyaluronic acid that binds to your skin and makes it hydrated by maintaining moisture control. The cucumber extract in this product prevents irritation and protects your skin's natural barrier. This product is also blended with grape seed extract, which is a powerful antioxidant and repairs your skin by increasing the collagen synthesis and protects it from environmental aggressors.
Pros:
Cruelty-free
No parabens or sulfates
Lightweight
Non-greasy
Does not clog pores
No synthetic fragrance or dye
Cons:
Some may find the consistency too thin
Been through several trials and errors before selecting a moisturizer for oily and acne-prone skin? We know your struggle all too well, so we bring you this miracle product. This ultra-light moisturizer is ideal for oily skin and keeps your skin hydrated all day. It also helps in tightening pores, and reducing fine lines and wrinkles, making you look younger. This product is infused with vitamin C along with niacinamide that helps in making your skin even toned and preventing it from discoloration. This product works well with  toner, serum, and a cleanser too.
Pros:
Non-comedogenic
No fragrance
No paraben
Suitable for sensitive skin
Provides spot treatment
Cons:
It may take some time to absorb completely.
Is your skin oily or sensitive, or do you have a combination skin? It doesn't matter as this cream is recommended for all skin types, especially for those with acne-prone skin. It helps eliminate blackheads, pimples, and whiteheads with rosemary, sage, ginseng extract, and hops, while tightening and refining your skin. You also get moisturization and hydration with the help of hyaluronic acid that is infused in the product along with chamomile and aloe vera that can heal your skin too. Avocado oil, safflower, wheat germ, and hazelnut protect your skin and retain moisture, preventing the skin from dryness. Essential vitamins like A, B, C, D in this product help in cell renewal and prevent inflammatory responses on your skin.
Pros:
Fragrance-free
Cruelty-free
Paraben-free
Fights acne
Cons:
Some may find it slightly greasy
The First Aid Beauty Skin Rescue Oil-Free Mattifying Gel is the most ideal moisturizer for oily and acne-prone skin. This lightweight product is great in eliminating blemishes and acne scars. It improves skin elasticity and uneven skin tone, while reducing the appearance of fine lines and wrinkles. This product is easily absorbed into the skin and does not leave any oily residue behind, thus giving a matte finish. It also acts as a primer for your makeup. You can use it during the day or at night and it will still not fail to provide the hydration and moisture control your skin truly needs.
Pros:
No alcohol or artificial colors
Allergy-tested
Gluten-free
Nut and oil-free
Suitable for sensitive skin
Vegan
Cons:
Some may find it slightly sticky
Here is a buying guide to help you choose the right moisturizer for oily and acne-prone skin. It will also guide you towards using a moisturizer the correct way.
How To Choose A Moisturizer For Oily And Acne-Prone Skin
Read the label
If you have an oily and acne-prone skin, you must look for ingredients that are oil-free and do not clog your pores, as these can in turn increase the condition of skin and cause breakouts and greasiness. The ingredients should match your skin type and should not have any nutrient that can cause allergic reaction. Ingredients like hyaluronic acid, grapeseed oil, and retinol are great for those with oily and acne-prone skin.
Texture
You must understand the difference between moisturizer and lotion and in order to buy the right product for your skin type, you must know that for dry or a combination skin, a moisturizing cream is best suited. Those with oily skin should also look for a lightweight product such as a lotion or gel as these get absorbed easily and do not feel greasy.
Additional ingredients
Look for a product that has SPF added to it, as it provides protection from the sun rays and prevents the occurrence of acne and blemishes. You must make sure that the product that you choose is non-irritating and does not have any chemicals added to it. Avoid products with parabens, sulfates, and phthalates. The product you choose should also not have any artificial dyes or fragrances as they can affect the skin. Make sure that the ingredients provide anti-aging properties and can fight against free radicals to keep your skin safe and healthy.
How To Hydrate Oily And Acne-Prone Skin?
Choose a lightweight moisturizer with hydrating ingredients like vitamin E, panthenol, hyaluronic acid, honey, ceramides and glycerin.
Ensure that the moisturizer you choose is non-greasy and non-comedogenic.
Avoid chemical ingredients like paraben, sulfates, and phthalates as much as possible.
Drink plenty of water throughout the day and eat a balanced diet.
Make a skincare routine and follow it strictly twice a day.
Avoid wearing makeup every day.
Invest in hydrating gel masks.
Finding the perfect moisturizer for oily and acne-prone skin is no cakewalk, but we hope that our list of the 13 best moisturizers for oily and acne-prone skin will lead you to your next favorite moisturizer. A lot of you might not believe the fact that, even if your skin is oily or acne-prone, you still require a moisturizer as it helps prevent water loss and keeps your skin hydrated. You must ensure that the product that you buy exfoliates your skin and has a non-comedogenic properties that does not have any artificial additive and provides UV protection too. So, what are you waiting for. Let's start shopping!
Frequently Asked Questions
Does oily acne-prone skin need a moisturizer? Is a moisturizer bad for acne and oily skin?
If you choose a moisturizer that has non-comedogenic properties and is easily absorbed into your skin with its lightweight texture, there is no chance of getting an acne or appearance of greasiness on your skin.