6 Best Moisturizers For Relaxed Hair You Should Try In 2023
Not just your skin, but your hair, too, needs moisturizers to stay shiny, healthy, and bouncy!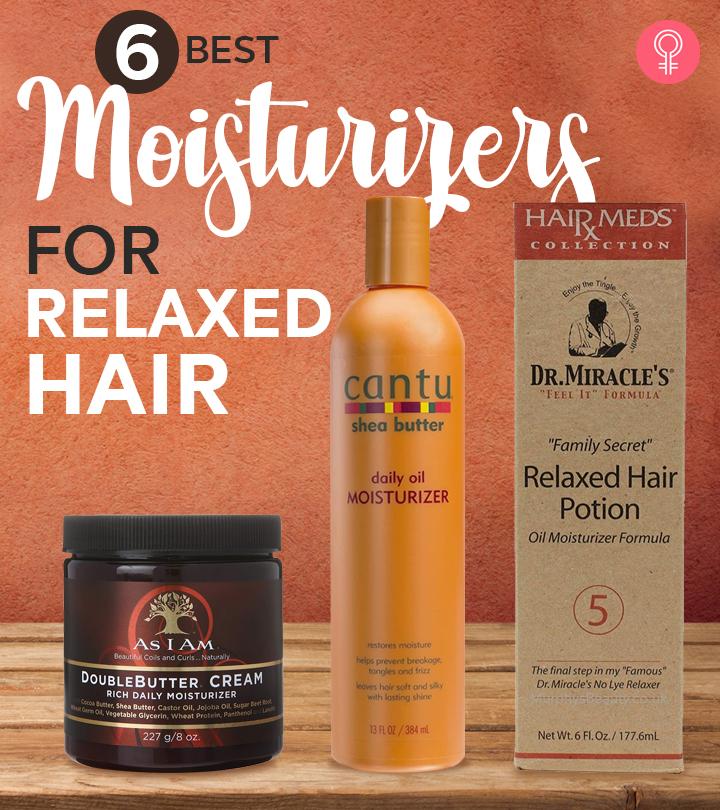 To get a hair treatment done, your natural hair goes through the damage caused by chemicals and heat. Hence, you can opt for the best moisturizers for relaxed hair to make them feel beautiful while protecting them from any damage such as breakage or dullness. Hair moisturizers are effective in keeping hair healthy and naturally bouncy as they nourish the hair, prevent dryness, and restore its natural shine. These also make your hair look smooth, soft, and silky. Take a look at the 6 best moisturizers for relaxed hair below.
6 Best Moisturizers For Relaxed Hair
The cantu Shea Butter Daily Oil Moisturizer comes with nourishing oils and plant butter that revitalize relaxed hair and scalp. It contains pure shea butter that restores moisture, prevents dryness, and nourishes the chemically treated follicles. This daily oil moisturizer maintains the natural shine while keeping your hair detangled and frizz-free. The lightweight formula coats the hair strands evenly without weighing them down and protects them from sun and heat damage.
Massage a generous amount of the moisturizer onto wet hair after shampooing and leave it on for 3-5 minutes before styling. You can also use it before and after heat-styling to form a protective thermal barrier around the hair fibers. This video will help you understand the product better.
Key Ingredients: Shea butter, Canola oil, and Glycerin
Pros
Silicone-free
Controls frizz
Easily absorbed
Pleasant smell
Cons
Too greasy
Contains parabens
Price at the time of publication: $4.97
The head and shoulders Royal Oils Deep Moisture Masque is an intensely moisturizing formula that balances and restores scalp health with regular use. It is enriched with nourishing coconut oil and pyrithione zinc, a potent anti-dandruff compound that also soothes scalp psoriasis, seborrheic dermatitis, and acne. This paraben-free, sulfate-free formula is designed for all hair types, including relaxed, kinky, and coily hair.
To give a boost of hydration, apply the masque to wet, shampooed hair. Gently massage it into the hair and scalp, including the ends. Let it sit for a few minutes and rinse. Follow up with your hair routine. Use this masque twice a week or whenever your hair and scalp need deep conditioning. Check out the detailed review of the product in this video.
Key Ingredients: Coconut oil and Pyrithione zinc
Pros
pH-balanced
Paraben-free
Sulfate-free
No synthetic dyes
Refreshing scent
Cons
Price at the time of publication: $22.98
If you are on the lookout for a wax-free deep conditioning treatment, the MIZANI True Textures Curl Define Pudding is just what you need. This paraben-free styling soufflé is specially designed to address the needs of curly, coily, and relaxed hair. It is enriched with sustainably sourced coconut, marula, and olive oils that provide intense hydration and long-lasting elongation. This weightless pudding leaves your hair frizz-free, soft, and shiny.
Massage a quarter-sized amount of the product into damp hair. Do not rinse out. Air dry for soft, voluminous hair. You can also use a small amount on blow dried hair to finish the styling. Watch this video of the product for more information.
Key Ingredients: Glycerin, Olive oil, Marula seed oil, Coconut oil, and Citric acid
Pros
Lightweight
Paraben-free
Imparts shine
Wax-free
Provides lasting elongation
Pleasant scent
Cons
Contains mineral oil
May dry out the hair
Price at the time of publication: $22.0
The As I Am DoubleButter Cream is a rich hair moisturizer with natural emollients. It contains a nourishing blend of organic oil from coconut, castor seeds, sweet almond, and jojoba seeds. Pure plant butters from cocoa seeds and shea nuts lock moisture in relaxed hair and prevent dryness.
This hair cream also comes with anti-dandruff, antiseptic, anti-inflammatory ingredients like turmeric root powder, vitamin B5, beetroot powder, tangerine, and gooseberry extracts. These ingredients soothe and replenish nutrients in the hair and scalp. Wheat protein and vitamin E restore the natural sheen and definition to all hair types and make them soft, bouncy, and frizz-free.
Warm a suitable amount of the cream between your palms. Apply it gently to your hair and scrunch the ends. Use it to finish your hairstyle or as a daily hair moisturizer.
Key Ingredients: Shea butter, Cocoa seed butter, Coconut oil, Castor seed oil, Beetroot extract, and Turmeric root powder
Pros
Lightweight
Rejuvenating fragrance
Unisex
Adds natural shine
Cons
Dries out hair
Not long-lasting
Price at the time of publication: $31.25
DR. MIRACLE's Relaxed Hair Potion is a weightless and moisturizing styling treatment for relaxed, braided, treated, and natural hair. It repairs split ends and damage caused due to styling, heat, chemicals, and pollution. This potion adds a boost of moisture and nourishment to the scalp and hair roots and prevents dryness and dandruff. It also strengthens the hair and controls hair fall and frizz.
Apply a generous amount of the potion from the roots to the ends. Gently massage it onto your scalp, including the temple and nape areas. Do not rinse out. Towel or blow dry and style as usual.
Key Ingredients: Glycerin, Polyquaternium-10, Polyquaternium-32, and Citric acid
Pros
Non-greasy
Lightweight
Imparts shine
Protects from heat damage
Cons
Contains mineral oil and parabens
Expensive
Price at the time of publication: $26.99
The Mimosa Hair Honey Shine Pomade by Carol's Daughter is made for curly, kinky, and/or relaxed hair types. This citrus-scented shine pomade moisturizes the scalp, smooths hair ends, and controls frizz. It is enriched with natural emollients like shea butter, cocoa butter, and corn oil that nourish relaxed hair. The pomade also contains active ingredients from tomato extract, sage and nettle leaf extracts, annatto seed powder, rosemary, and clover extracts that strengthen your hair without weighing it down.
Rub a small amount of product between your palms and apply it to damp hair and scalp. Style your hair as desired.
Key Ingredients: Shea butter, Cocoa butter, Annatto seed, Corn oil, Tomato fruit extract, Nettle leaf, and Sage leaf extract
Pros
Mineral oil-free
Paraben-free
Refreshing scent
Non-sticky
Sulfate-free
No artificial dyes
Cons
May leave a residue
Weighs the hair down
Price at the time of publication: $19.88
If you have relaxed hair, you know how important it is to keep it moisturized. Otherwise, it can become dry, brittle, and damaged. But with so many different moisturizers on the market, it can be hard to know which one is right for your hair.
That's why we've put together this comprehensive guide to the best moisturizers for relaxed hair. We'll help you choose a product that will hydrate your strands and keep them healthy.
Things To Look For In A Moisturizer For Relaxed Hair
Specific Needs: If your hair is very dry or damaged, you'll want to look for a formula that is rich in moisture-replenishing ingredients. Look for products that contain hyaluronic acid, glycerin, or natural oils like jojoba oil or coconut oil. These ingredients will help keep your hair hydrated and looking healthy.
If your relaxer leaves your hair feeling stripped or brittle, look for a reparative moisture treatment that will help restore elasticity and moisture balance. And if you are looking for a daily moisturizer to help prevent damage and keep your strands healthy, choose one that's lightweight and won't weigh down your hair. You should also look for a moisturizer that provides UV protection, as this will help keep your hair healthy and prevent damage from the sun.
Ingredients: Relaxed hair is often sensitive to chemicals, so it is important to choose a moisturizer that contains natural ingredients. Look for products that contain aloe vera, jojoba oil, or shea butter. Avoid products that contain sulfates, parabens, or phthalates.
Formula: Decide what type of moisturizer you need. There are three main types of moisturizers: oil-based, cream-based, and water-based. Oil-based moisturizers are good for sealing in moisture and preventing your hair from becoming dry. Cream-based moisturizers are good for adding shine and softness to your hair. Water-based moisturizers are good for refreshing your hair and making it easier to style.
Packaging: It's also a good idea to choose a moisturizer that comes in a pump bottle or tube. This packaging will help prevent contamination and ensure that you get the most out of each product. Finally, make sure to read the labels on all of your products before using them. This will help you avoid any potential allergens or irritants.
These hair moisturizers work well on natural, relaxed, kinky, and curly hair types. They double up as styling gels/creams, so you can use them to finish or hold your hairstyle. Relaxed hair was once curly or coily that underwent a lot of chemical and heat styling. Hence, it needs more care and love. Here are a few simple tips on how to maintain relaxed hair to keep them healthy and happy.
Tips On How To Care For Relaxed Hair
Give your hair time. Let it heal from the treatment and go easy on heat styling.
Introduce a moisturizer step after shampooing to soothe the scalp and hair.
Protect your hair from overexposure to the sun, heat, and pollution. Wear your hair in a comfortable bun or wrap a scarf around it.
Deep condition your hair at regular intervals.
Follow a consistent relaxation schedule. Consult a stylist for guidance.
Eat fresh vegetables and fruits.
Why Trust StyleCraze?
Oyendrila Kanjilal is a haircare enthusiast and a product writer who enjoys researching hair care products. She has created this list of the finest hair moisturizers for relaxed hair after reviewing several customer comments and consulting product listings and related websites. She has also included each product's details, benefits, and drawbacks. In addition, this post offers some helpful recommendations on caring for relaxed hair to assist you in making the best decision.
Frequently Asked Questions
Why do you need a hair moisturizer for relaxed hair?
Relaxed hair is more prone to dryness and breakage as compared to normal hair. So, you will need a hair moisturizer to deeply nourish your chemically straightened tresses and prevent them from falling out. Moisturizers also add natural shine to your hair and enhance its overall texture and feel. Additionally, moisturizing also promotes hair growth.
How do I moisturize my relaxed dry hair?
• Detangle your hair with a wide tooth comb.
• Section your hair and braid them.
• Apply the moisturizer to one section, especially on the ends of the strands.
• Seal the moisture with oil.
• Repeat the same on all other sections.
How often should I moisturize my relaxed hair?
Moisturize your relaxed hair once daily to prevent it from getting dry and brittle. However, if your hair gets greasy easily, use it twice a week. It is recommended to moisturize it at night to allow the hair to soak in all the moisture without any interruptions.
How often should you wash relaxed hair?
Wash your relaxed hair twice a week with a hydrating shampoo. This will keep your relaxed curls nourished and shiny.
Recommended Articles