9 Best Moisturizers With Pure Hyaluronic Acid
Rich formulations, that nourish and enrich your skin with this multi-potent ingredient.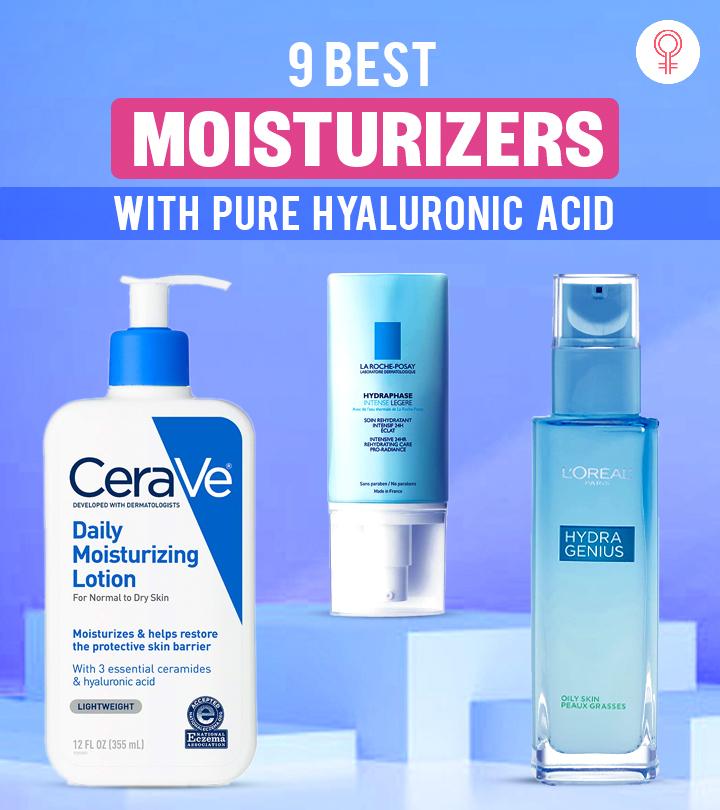 Hyaluronic acid is the most popular hydrating ingredient in many skin care products. Dr. Priya Gill, a Kuala Lumpur-based dermatologist, says, "Hyaluronic acid is a natural substance found in the fluids of the eyes and joints. It acts as a cushion and lubricant in the joints and other tissues. Certain types of hyaluronic acid are used for cosmetic purposes. Hyaluronic acid might also affect the way the body responds to injury and help to decrease swelling. It indeed has an armamentarium of benefits."
So, if you are looking for a moisturizer that offers long-lasting hydration, do add the best moisturizer with hyaluronic acid to your kitty. This is the favorite ingredient among many dermatologists and skin care enthusiasts. It enhances skin moisture and plumps up the skin. Also, the anti-aging properties of hyaluronic acid help reduce the appearance of wrinkles and fine lines. In this article, we have listed the 9 best moisturizers with pure hyaluronic acid. Scroll down and check them out.
9 Best Moisturizers Containing Hyaluronic Acid
This moisturizing lotion from CeraVe is infused with hyaluronic acid that makes your skin feel smooth. This lotion is formulated with three essential ceramides that restore the skin's natural barrier. It is crafted with MVE technology to provide 24-hour hydration to your skin. This non-comedogenic lotion holds the Seal of Acceptance from the National Eczema Association and is recommended by dermatologists for sensitive and acne-prone skin. It can be used on the face and body. This video will give you a better insight into the qualities of the product.
Pros
Lightweight
Absorbed quickly
Non-comedogenic
Dermatologist recommended
Gentle
Fragrance-free
Allergy-tested
Cons
Price at the time of publication: $12.74
This moisturizing cream from Peter Thomas Roth hydrates your skin and gives it a youthful look. It is formulated with 30% Hyaluronic Acid Complex that draws moisture from the atmosphere and replenishes your skin. The pentavitin in the cream keeps your skin hydrated for up to 72 hours even after cleansing, and the hydrolyzed silk keeps your skin soft and smooth. The unique formula fades fine lines and wrinkles and makes your skin supple. Click here to check out a detailed personal review of this product.
Pros
Lightweight
Non-greasy
Fragrance-free
Alcohol-free
Oil-free
Cons
Not very moisturizing for dry skin.
Price at the time of publication: $113.9
This facial moisturizer from EltaMD repairs your skin and restores its vitality. It is infused with hyaluronic acid that boosts the moisture level of the skin. It is also enriched with ceramides, antioxidants, and rice protein peptides that repair the skin and strengthen its natural moisture barrier.
Niacinamide and antioxidants speed cell turnover, aid skin repair, and improve the skin tone. The rice protein peptides revitalize your skin, stimulate collagen production, and enhance skin elasticity. This moisturizer fights the visible signs of aging like wrinkles and fine lines and makes your skin soft and smooth.
Pros
Lightweight
Non-comedogenic
Oil-free
Fragrance-free
Dermatologist recommended
Suitable for sensitive skin
Cons
None
Price at the time of publication: $39
Hydra Genius from L'Oréal Paris offers 72 hours of hydration and makes the skin soft and supple. This lightweight moisturizing lotion has a watery texture that gets absorbed quickly. It is infused with hyaluronic acid and aloe water that soothe the skin and provide long-lasting hydration. This oil-free moisturizer plumps your skin and makes it more luminous. It is suitable for normal to oily skin types. Click here to check out this YouTuber's unbiased review.
Pros
Lightweight
Absorbed quickly
Non-sticky
Suitable for sensitive skin
Oil-free
Fragrance-free
Cons
Price at the time of publication: $18.54
This hydrating lotion from Cetaphil is formulated with hyaluronic acid and natural humectants that offer intense hydration to the skin. It protects the skin from dryness and locks in moisture for 24 hours. The lightweight, gentle formula makes your skin soft and supple. It is clinically tested and recommended by dermatologists for everyday use on dry and sensitive skin.
Pros
Lightweight
Dermatologist recommended
Non-comedogenic
Absorbed quickly
Can be worn under makeup
Fragrance-free
Value for money
Cons
Price at the time of publication: $14.22
The COSRX Hyaluronic Acid Intensive Cream provides relief from dry and damaged skin. It is formulated with 3,000 ppm of hyaluronic acid that penetrates deep into your skin and locks in moisture for long hours. The formula helps to promote skin elasticity and diminish the appearance of fine lines and wrinkles. With 57.8% hippophae rhamnoides water, it plumps your skin and enhances its radiance. This rich, non-sticky cream quickly absorbs into your skin and quenches its thirst instantly. This lightweight cream leaves your skin feeling smooth, soft, and supple for a long time.
Pros
Dermatologist-tested
Suitable for all skin types
A little goes a long way
Absorbs quickly
Long-lasting effect
Non-sticky
Value for money
Cruelty-free
Paraben-free
Phthalate-free
Sulfate-free 
Cons
Not enough moisturization for dry and parched skin
Price at the time of publication: $19
This skin hydrator from Advanced Clinicals is infused with professional-grade hyaluronic acid that boosts your skin's moisture levels. Its anti-aging properties diminish wrinkles and fine lines and improve saggy skin. This moisturizer is enriched with borage oil, squalane, and vitamin E that restore your skin and aloe extracts that soothe it. It is perfect for use all over the body, as a day cream, and as a hand lotion. It is also chemical-free and perfect for all skin types.
Pros
For all skin types
Non-greasy
Pleasant fragrance
Cruelty-free
Paraben-free
Cons
Price at the time of publication: $15.99
This moisturizing facial cream from Olay deeply hydrates the skin and improves its elasticity. It is infused with hyaluronic acid and vitamin B3 that instantly hydrate the skin, improve its elasticity, and aid in cell generation. The Regenerist formula contains Amino-Peptide Complex II that smooths your skin and reduces fine lines and wrinkles. The cream strengthens the moisture barrier of the skin and claims to make your skin visibly firm in just four weeks of regular use.
Pros
Reduces fine lines and wrinkles
Paraben-free
Phthalate-free
Mineral oil-free
Synthetic dye-free
Cons
None
Price at the time of publication: $42.5
Fièra Apple Stem Cell Cream is a one-stop solution for mature and young women to hydrate and revive their skin. The cream is infused with hyaluronic acid that can fight signs of aging, dehydration, and dullness. It also contains vitamin E, an antioxidant blend, and sea buckthorn oil to protect against damage from the sun, free radicals, and pollutants. It also helps to even out skin tone and control puffiness and redness, thereby revealing a glowing complexion. The cream is made safe to help strengthen the skin's natural barrier and aid in healing future breakouts.
Pros
Long lasting hydration
Smoothes skin
Absorbs quickly
Lightweight
Non-greasy
Pleasant fragrance
Gluten-free
Non-GMO
Paraben-free
Cruelty-free
Fragrance-free
Dermatologically tested
Cons
None
Price at the time of publication: $34.97
Deeply hydrating, hyaluronic acid has completely transformed the beauty game. Moisturizers with hyaluronic acid can help you maintain a youthful appearance for years to come. In order to delay the onset of wrinkles and fine lines for as long as possible, you need to invest in a good hyaluronic acid moisturizer. However, not just any regular moisturizer will do – go through these guidelines to choose the perfect one for you.
What To Look For Before Purchasing A Moisturizer With Hyaluronic Acid
Skin Type
If you are looking for quality skincare products, the first thing you need to do is determine your skin type. As you age, your skin naturally loses moisture, so it is important to choose a moisturizer that can effectively replenish that moisture.
Search for a product that does not contain oil if you already have oily, greasy skin. Avoid heavier lotions or creams, since they may make you perspire excessively or trigger breakouts.
Those with sensitive skin – we get the struggle. If you break out whenever you try a new skincare product, you need to switch to hypoallergenic, non-comedogenic products. Minimize the use of creams, lotions, and makeup products, and stick to trusted face washes and moisturizers.
If you have skin barrier damage, you should use a moisturizer that claims to repair the damage and strengthen the natural moisture barrier.
Those with mature skin should opt for moisturizers that stimulate collagen production. Anything that promises enhanced skin elasticity would be a good buy.
Look for a formulation that addresses concerns such as fine lines, scars, acne, and uneven skin tone if you have them.
Ingredients
Don't buy anything if it contains parabens, sulfates, phthalates, alcohol, or anything else that might be dangerous. You should avoid complex ingredients since they might aggravate already damaged skin. Choose ingredients like vitamin C, retinol, ceramides, and AHAs that work well with hyaluronic acid. Look for a product that has undergone dermatological testing if you are worried about its efficacy.
Fragrance
Don't use anything that has added scent. Since the primary focus of your moisturizer is to hydrate your skin, you don't need the additional chemicals to wreak havoc on the skin. There are compounds in synthetic perfumes that might make your skin more dry and accelerate the aging process.
Why Trust StyleCraze?
Shiboli Chakraborti, the author of this article, is a certified skin care coach, constantly on the hunt for the most effective moisturizers for her readers. Hyaluronic acid is key to helping moisturizers work even better. She has meticulously researched moisturizers with hyaluronic acid and examined online reviews to find the best ones. With these moisturizers, you can nourish your skin, causing scarring to fade and aging signs to diminish.
Frequently Asked Questions
Can you use a moisturizer with hyaluronic acid?
Hyaluronic acid is an excellent ingredient that moisturizes the skin. Using a moisturizer that contains hyaluronic acid will not only double the effect of moisturization and reduce the visible signs of aging. In fact, if you have a regular moisturizer, you can use it along with a hyaluronic acid serum to get the same benefits.
Do I need to use a moisturizer after hyaluronic acid?
Yes, hyaluronic acid moisturizes the skin, but applying a moisturizer after hyaluronic acid will help seal moisture and allow better absorption of hyaluronic acid.
How long should you wait to apply moisturizer after hyaluronic acid?
Apply hyaluronic acid on damp skin and wait for 1 to 2 minutes to let it sink into the skin and then apply your moisturizer.
Can hyaluronic acid dry you out?
Yes, applying hyaluronic acid alone might dry out your skin. This acid draws moisture from its surroundings. If the climate is drier than your skin, it will draw moisture from your skin and make it dry. This is why it is crucial to apply it along with a moisturizer to get the best benefits. This is also why you should not put too much hyaluronic acid on your face.
Can I use pure hyaluronic acid on my face?
Yes, you can use pure hyaluronic acid on your face. It is super light and watery in consistency. It can effectively penetrate the skin. Using it in regular intervals will curb excess oil production. However, do not forget to seal the moisture with a moisturizing cream on top.
What should you not use hyaluronic acid with?
Avoid harsh ingredients like alcohol, fragrances, and concentrated acids while using hyaluronic acid. Instead, look for complementary ingredients such as vitamin C and B5 to keep the skin smooth.
Recommended Articles
Best Hyaluronic Acid Serums For Dehydrated Skin
Best Moisturizers For Dry Skin To Keep It Healthy
Best Paraben-Free Moisturizers For Women
Best Fragrance-Free Moisturizers For Healthy, Hydrated Skin
Best Hydrating Serums For Every Skin Type