The 15 Best Moisturizers For Acne-Prone Skin – 2022
Minimize your acne and control the excess sebum production with these hydrating creams.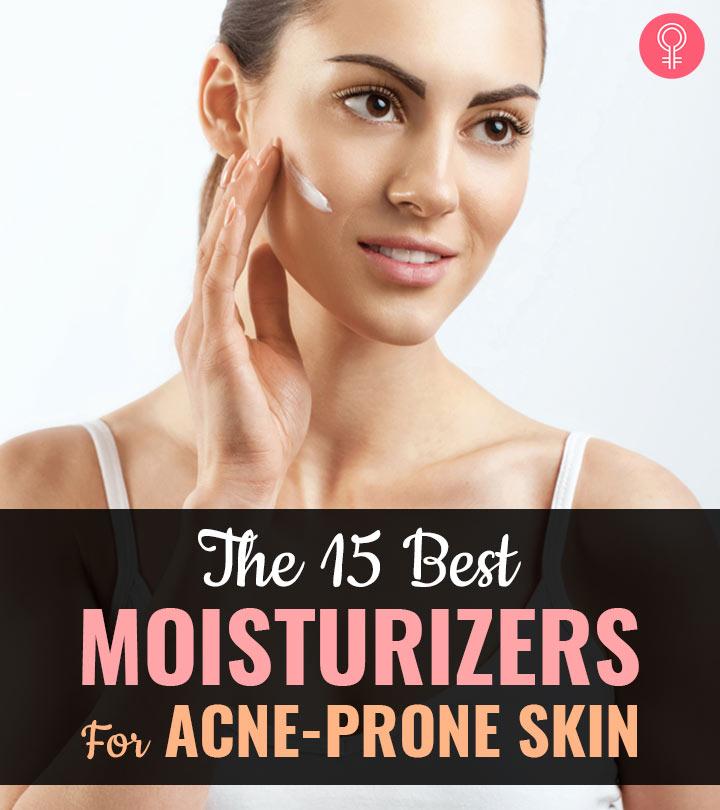 Oily, acne-prone skin does not need moisturizing. Well, that myth was busted a while ago! The cosmetics world now offers the best moisturizers for acne-prone skin that do not aggravate your breakouts while providing the much-needed moisture to your skin. As most acne medications contain adapalene, salicylic acid, or benzoyl peroxide that dehydrate your skin, a good moisturizer is very important to combat this dryness and prevent excessive oil secretion on your face. If you are afraid to try out a new moisturizer on your skin, we have listed a few of the best moisturizers for acne-prone skin that can do wonders for you. Go ahead and take a look!
15 Best Moisturizers For Acne-Prone Skin
The Incredibly Clear Mattifying Moisturizer by Acure claims to give you incredibly clear skin with regular use. It is meant for combination, oily, and acne-prone skin types. It contains charcoal that detoxifies your skin by drawing all impurities and lemon extracts that brighten the skin. It also contains willow bark extracts and salicylic acid that exfoliate the skin gently and keep the skin pores clean. This formula includes lilac extracts that support skin healing. These ingredients can be drying, so to balance things out, it also contains argan oil that rejuvenates the skin.
Pros
100% vegan
Paraben-free
Sulfate-free
Mineral oil-free
Petrolatum-free
Formaldehyde-free
Cruelty-free
Cons
The Humane Oil-Free Moisturizer does not clog your pores and leave any greasy residue. It contains grape seed, cucumber extracts, aloe vera, hyaluronic acid, and vitamin E that help nourish the skin. This moisturizer boosts collagen production and soothes irritation and redness.
Pros
Lightweight
Non-greasy
Non-toxic
Sulfate-free
Paraben-free
Phthalate-free
No mineral oil
No artificial fragrances or dyes
Phosphate-free
Vegan
Non-irritating
Can be used under makeup
Absorbed quickly
Non-comedogenic
Cons
Not suitable for sensitive skin
The Neutrogena Oil-Free Acne Facial Moisturizer is formulated with salicylic acid (0.5% derived from pink grapefruit), a BHA used widely in acne medications. It has a lightweight texture and gets absorbed quickly to moisturize your skin. It also helps prevent emerging breakouts without making the skin feel greasy. It is infused with pink grapefruit extract and contains a mild pink grapefruit fragrance. To know more about the benefits of the Neutrogena Oil-Free Acne Moisturizer, have a look at this video.
Pros
Oil-free
Non-greasy
Non-comedogenic
Lightweight
Pleasant fragrance
Cons
None
If you need a lightweight and oil-free moisturizer for day-long wear, you can count on this product. The Effaclar Mat moisturizer by La Roche-Posay is made with Sebulyse Technology and contains zinc pidolate that neutralizes the shine on your skin. It targets excess oil production and mattifies the skin. It also refines the skin pores and delivers the daily hydration that your skin needs. You can also wear this moisturizer under your makeup. Check out this video for more information about the La Roche-Posay Effaclar Mat Face Moisturizer.
Pros
Oil-free
Lightweight
Non-comedogenic
Dermatologist tested
Contains salicylic acid
Cons
Contains artificial fragrance
Contains PEG
Contains alcohol denat
If you have large and visible pores, this pore-refining moisturizer can help. It spreads easily on your skin and has a powder-like effect. It contains silica powder and anti-reflection particles that refine the appearance of your pores and provide a matte finish. The moisturizer contains salicylic acid that has an exfoliating effect and controls breakouts. If you need further convincing, check out this YouTuber's review.
Pros
Oil-control
Does not cause irritation
Non-greasy
Cons
Contains mineral oil
Contains artificial fragrance
Contains PEG
This product is developed by doctors and delivers shine-free and blemish-free skin. It contains panthenol and honey extracts that keep the skin hydrated. It also contains arnica and Queen of Meadow extracts to refine the skin texture and make it smooth and healthy.
Pros
Lightweight formula
Paraben-free
Sulfate-free
Phthalate-free
Mineral oil-free
Formaldehyde-free
Petrolatum-free
Oxybenzone-free
Cruelty-free
Cons
Expensive for the quantity.
This lightweight moisturizer is a powerful combination of botanical extracts and antioxidants that immediately soothes dry and irritated skin. It contains soothing green tea extracts that fight free radicals and calm the skin, while the hyaluronic acid keeps the skin moisturized. It includes other minerals that keep the skin nourished and healthy.
Note: This moisturizer is a part of the 3-step acne care system by the brand.
Pros
Non-comedogenic
Lightweight
Dermatologist-developed
Non-greasy
Cons
This moisturizer cream is for combination, oily, and sensitive skin types, which are prone to acne. It contains botanical extracts like rosemary, sage, ginseng, aloe vera, hazelnut along with vitamins A, B, C, and D, azulene (derived from chamomile), and hyaluronic acid. This powerful blend of ingredients refines and tones the skin pores, keeps the skin hydrated, soothes irritation, renews the skin, and calms inflammation. Azulene forms a protective layer on your skin to prevent bacteria and dirt accumulation. It also has anti-aging benefits.
Pros
Reduces fine lines and wrinkles
Quick absorption
Non-greasy
Non-sticky
Non-scented
Paraben-free
Cruelty-free
Cons
May feel heavy on the skin.
This anti-blemish treatment by Vichy targets all types of blemishes, including those left behind by acne. It claims to minimize blemishes, spots, refine the pores, reduce shine, and improve dull complexion. It is a 24-hour hydration formula and can be used under makeup.
Pros
Patented technology
Lightweight
Non-greasy
Non-sticky
Non-comedogenic
Paraben-free
Cons
Contains alcohol denat
Contains PEG
Contains artificial fragrance
If you have dry and acne-prone skin, this is the best moisturizer for you. This is a therapeutic-grade face cream for dry and acne-prone skin that contains 5% tea tree oil, a potent acne fighter. The tea tree oil is of the finest quality and is 100% pure. This face cream also contains ceramides 1, 3, and 6 that protect your skin barrier, help retain moisture, and, shield your skin from environmental aggressors like pollution or irritants.
Note: This cream contains pure tea tree oil. A patch test is recommended.
Pros
Paraben-free
100% pure tea tree oil
Contains ceramides
Cruelty-free
Non-greasy
Cons
This is part moisturizer and part acne treatment and is the last step of the 3-step routine for acne-control by Clean and Clear. This dual-action moisturizer contains 0.5% salicylic acid and prevents acne and pimples. This oil-free formula keeps the skin soft and smooth. It not only targets the existing pimples but also prevents future breakouts.
Pros
Non-drying
Oil-free
Suitable for all skin types
Cons
Contains artificial fragrance
If you want a moisturizer that will keep the skin hydrated without irritating it or feeling heavy, try this product. This moisturizer is ultra-lightweight and contains extracts of Queen of the Night Cactus. It gets absorbed quickly and delivers instant hydration to your skin. It can be used under makeup instead of a primer. This cream is beneficial, especially for dry skin. It also contains aloe vera extracts that calm the skin down and trap moisture.
Pros
Vegan
Gluten-free
Cruelty-free
Contains peptide complex
Cons
None
This gel moisturizer keeps your skin hydrated without making it oily. It has a unique water-break texture. It feels like an instant burst of moisture on your skin and then disappears quickly. It contains salicornia herbacea that hydrates the skin and ceramide 3 that protects the skin barrier making it plump and youthful. It reduces sebum and acne and refreshes the skin pores.
Pros
Paraben-free
Mineral oil-free
Lanolin-free
Petrolatum-free
Oxybenzone-free
Hydroquinone-free
Triclorocarbon-free
Ethanol-free
Allergy-tested
Gluten-free
Non-comedogenic
Nut-free
Nano-free
Vegan
Cons
None
This product is suitable for oily, acne, and blemish-prone skin. The moisturizer contains skin-repairing peptides and ceramides, pore-refining niacinamide, and skin-soothing pumpkin and blueberry extracts. These ingredients moisturize your skin and reduce redness and irritation caused by acne breakouts.
Pros
Non-comedogenic
Fragrance-free
Lint-free
Science-backed formula
Paraben-free
Fragrance-free
Cruelty-free
Cons
This is a daily moisturizer for acne-prone skin.  It is a mattifying formula. It contains glyceryl laurate that reduces excess sebum and oil, diolenyl that reduces blemishes, and PCC enzyme derived from papaya plant that exfoliates the skin gently without causing irritation. It also contains the Avéne thermal spring water that calms irritation and soothes the skin.
Pros
Oil-free
Non-comedogenic
Hypoallergenic
Cons
None
Before you jump to shopping, here are a few things to remember while choosing your moisturizer.
How To Pick The Right Moisturizer For Acne-Prone Skin
Read The Label: Check for terms like 'oil-free' and 'non-comedogenic.' Such moisturizers will not clog your skin pores and worsen the condition. Stay away from products that contain alcohol denat or denatured alcohol.
Check The Texture:  If you have dry and acne-prone skin, go for a moisturizing cream. If you have oily and acne-prone skin, pick lightweight, water-based moisturizing lotions or gel-based moisturizers.
Why Trust StyleCraze?
The author, Shiboli Chakraborti, is a certified skin care coach. She has curated the best moisturizers for acne-prone skin after thorough research and checking multiple user feedback. She author recommends using moisturizers specifically formulated for acne-prone skin. These products contain active ingredients that help nourish your skin without drying or making it greasy.
Frequently Asked Questions
Can moisturizers cause breakouts?
If you are using the right one, no. If you are using oil-based and heavy creams, they might congest the skin pores, worsening your condition.
How to clear up acne fast?
Visit a dermatologist and use proper acne medication that might include oral antibiotics and topical creams. Also, follow a proper skin care routine and use products meant for acne-prone skin.
What helps sensitive acne-prone skin?
Stay away from harsh exfoliants. Always use a gentle cleanser and never use too many acne treatments at the same time. Consult a dermatologist and follow the treatment options suggested by them.
What are the specific benefits of moisturizers for acne-prone skin?
Picking up non-comedogenic moisturizers specifically formulated for acne-prone skin will help prevent the clogging of pores, flare-ups, redness, and breakouts.
How often should you apply moisturizers for acne-prone skin?
Moisturize your acne-prone skin twice a day after cleansing to keep your skin hydrated.
What should I avoid if I have acne-prone skin?
Avoid skin care products that contain isopropyl myristate, alcohol, fragrances, sodium lauryl sulfate, lanolin, silicones, and mineral oils, as they may clog pores and make your skin dry and irritated.
Are tinted moisturizers good for acne-prone skin?
Yes. You can use tinted moisturizer for acne-prone skin, provided the product is non-comedogenic and fragrance-free.
Recommended Articles