15 Best Moisturizers For Combination Skin, According To Reviews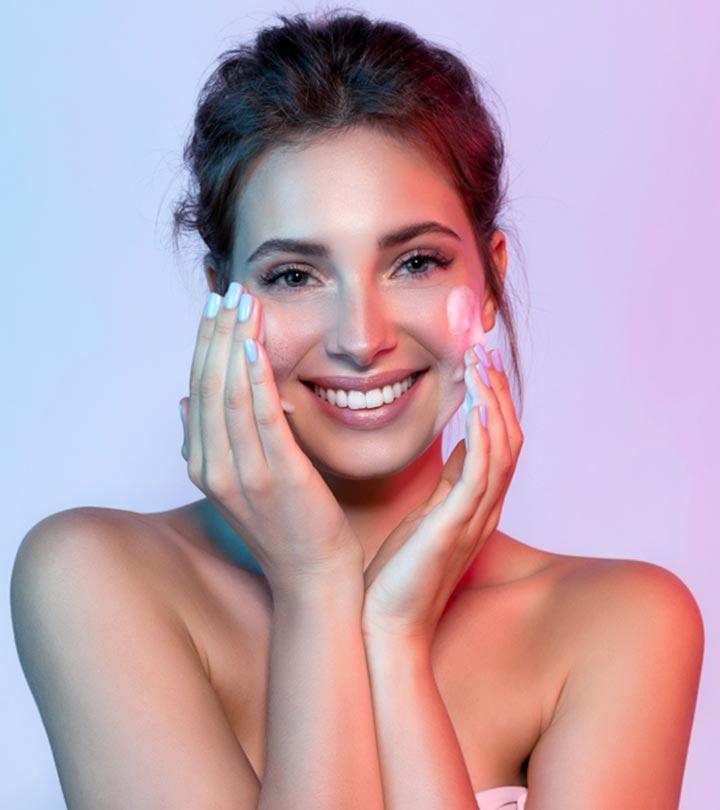 Moisturizers are often thought to be suitable for dry skin alone, but in reality, all skin types need hydration. Yes, even combination skin demands moisturization. So, before you look for the best moisturizer for combination skin, let us see why it is important to use a moisturizer. A moisturizer aids in locking in moisture and acts as a barrier to prevent moisture loss to maintain your skin and give it a healthy and radiant look. Your skin requires constant care to eliminate all the skin care woes.
If you do not take care of your skin, it may lead to skin breakouts, dehydration, dullness, blackheads, premature aging, and a lot more. So, to retain water and improve the skin barrier function, you need to use a moisturizer. Here, we have listed the best 15 moisturizers for combination skin. Scroll down to check them out.
15 Best Moisturizers For Your Flawless Combination Skin
Help your skin look smooth with this fantastic product that is oil-free and suitable for all skin types. Try Garnier SKinActive Moisture Rescue Face Moisturizer. It is formulated with the antioxidant complex, which consists of vitamin C, fruit water that protects and heals your skin. With continued use, you can strengthen your skin's moisture barrier and make it look more radiant and healthy. This product does not clog your pores and hence does not allow dirt to remain trapped in your skin. Protect your skin from stress and external factors that can harm you and strip your skin. Get vital hydration for 24 hours with one of the best products you can find.
Pros:
Lightweight
Prevents dryness
Makes skin look supple
Smells great
Clears the skin
Cons:
Might cause an allergic reaction.
Are you looking for a 2-in-1 moisturizer? The one that can be used both day and night? Here is the best option available just for your combination skin. Buy COSRX Oil-Free Ultra-Moisturizing Lotion With Birch Sap which has a light  texture and consists of willow bark water or birch sap. Birch sap is a skin-friendly ingredient that is naturally found and is rich in vitamins and minerals. It is highly effective in making your skin nourished, calm and also treats your skin from irritation. You get everything you need in this product that is also safe to use. It allows your skin to absorb the liquid instantly and retains the moisture and keeps your skin hydrated.
Pros:
Hypoallergenic
Dermatologist tested
Cruelty-free
Paraben-free
Non-greasy
Good for acne-prone skin
Cons:
Here is a way to make your morning a refreshing and flawless one! You must try this Burt's Bees Skin Nourishment Day Lotion With Royal Jelly if you wish to hydrate and moisturize your skin before stepping out for work. It consists of SPF 15, which protects you from the sun and can be used by those with normal and combination skin. This nourishing formula enhances the glow of your skin and makes it look radiant. It is enriched with vitamin A, B2, B6 and E that makes this product even better. These nutrients allow your skin to heal and repair; it also improves your skin's blood circulation and prevents your skin from breakouts.
Pros:
Does not clog the pores
Balances the skin
It is formulated without parabens, phthalates, petroleum, or SLS.
Hypoallergenic
Dermatologist tested
Cons:
Might have a thin and runny consistency.
Neutrogena Combination Skin Oil-Free Moisture is the perfect option if you wish to moisturize your skin dry skin and control the excess shine in the oily areas. This moisturizer has been proven to provide oil-control, especially in the T-zone or wherever your skin is oily the most. This product gives you a matte finish that lasts all day and makes your skin smooth and soft. This fantastic product can be used during the day and even at night. It also protects your skin and keeps it clean by getting rid of makeup, oil or dirt found on your skin. It also acts as a toner and a serum as it can help prepare your skin for treating itself to look healthier.
Pros:
Lightweight
Fragrance-free
Alcohol-free
Non-comedogenic
Cons:
Might melt away in warm temperature.
We all wish that our skin must look young forever, but how do we make that happen? Try Mary Kay TimeWise Age Fighting Moisturizer with anti-aging effect and allows your skin to look youthful and flawless no matter how old you are. This oil-free product helps in reducing fine lines and wrinkles found on the skin. It also helps in keeping your skin hydrated and allows it to retain its moisture. The antioxidant present in this product helps your skin fight against free radicals and prevent aging. You can now get a matte-finish and bless yourself with a silky and soft skin in no time with this mattifying moisturizer.
Pros:
Dermatologist-tested
Suitable for all skin types
Does not cause skin irritancy and allergy.
Oil- and fragrance-free
Hypoallergenic
Non-comedogenic
Cons:
Might not stay on the skin for long due to its thin consistency.
Are you tired of the spots on your face? It is not always possible to cover it up with makeup as that isn't the solution we are looking for. We want to bring a permanent change and hence Whitening Labs Beautiful Brightening Dark Spot Corrector Face Body Cream is the go-to option if you wish to get rid of your spots. It is formulated with hyaluronic acid that allows your skin to be radiant, hydrated and nourished. The vitamin B5 and E work on your skin's healing process and protects it from free radicals. The licorice found in this moisturizer helps your skin to look bright. Get a spotless and flawless skin with one of the best moisturizers available just for you.
Pros:
Safe to use
Free from paraben, silicones and additives.
Cruelty-free
100% vegan
Does not contain hydroquinone.
Cons:
Get the hydration your face always craved for with this Belif The True Cream Aqua Bomb Moisturizer. It helps in improving the elasticity of your skin and also minimizes the appearance of pores. It consists of nutrients that protect your skin from free radicals that damage your skin. Try this oil-free gel-cream that provides your skin with a cooling effect, makes it look refreshed and allows it to stay hydrated all day. Reward your skin with a burst of moisture and feel younger and fresh. You can use it during the day and even at night. Try one of the best and most promising moisturizers made for your combination skin.
Pros:
Lightweight moisturizer
Cruelty-free
Free of mineral oil, synthetic fragrance,
No synthetic dyes added.
Cons:
Might give a burning sensation.
Here is the best way to lock in your skin's moisture and stay hydrated, hence preventing your skin from dryness. Try this AHAVA Essential Day Moisturizer that is non-greasy and offers a long-lasting, deep and nourishing formula that is essential for your skin. It consists of 21 minerals such as calcium, potassium and magnesium, to name a few. It also consists of Pro vitamin B5 and E that help your skin to stay soft and smooth. This product is further enhanced with the infusion of aloe vera, allantoin and bisabolol that soothe your skin and prevent it from irritation. Hydrate, moisturize and smoothen your skin but this great product is made just for you!
Pros:
Ultra-light
creamy texture
Gets absorbed easily
Hypoallergenic
Vegan
Paraben-free
Cons:
We hate it when we get breakouts, we dislike our skin when we see dark spots but what scares us and disappoints us the most is when you see dryness on the skin. The dehydration you see makes you feel like a malnourished person who does not look fresh and energetic. It brings down all your energy. Hence, we have this Estee Lauder DayWear Multi-Protection Anti-Oxidant 24-H Moisture Creme that prevents and diminishes aging signs. It reduces the appearance of fine lines, wrinkles, dullness, dehydration and dryness. It improves your skin's look by making it radiant, soft, smooth and fresh. This product is rich in vitamin C, and E and the greatness of kinetin and ALA, it is a moisturizer for combination skin with spf and hence provides your skin with protection, moisture retention and rejuvenation.
Pros:
Lightweight
Soothing
Oil-free
Non-greasy
Oil-free
Cons:
Might have a strong scent.
InstaNatural Skin Lightening Facial Cream consists of retinol cream combined with vitamin C, glycolic acid, and glutathione to make your skin look brighter. It helps in minimizing scarring, treats uneven skin tone and improves the texture of your skin. This cream is also infused with caffeine, niacinamide, and NASA stem cell technology that makes your skin clear and balanced. It also enhances collagen production in your skin and tightens it too hence keeping your pores unclogged. It also has ingredients that have an anti-aging effect on your face and helps you look radiant and younger. This skinning cream will help you get rid of your tan, dark spots, and scars and help brighten it.
Pros:
Suitable for all skin types
Minimizes sunspots
Reduces hyperpigmentation
No harsh chemicals
Cruelty-free
Cons:
Might take time to show its results.
Are you one of those who have tried all kinds of moisturizers but nothing ever worked? It is time to introduce you to the greatest moisturizer that not just keeps your skin hydrated but also restores its moisture and balances your skin too.
This product consists of hyaluronic acid and blends of spinach, kale, green tea, vitamin C, K, E and alfalfa. These superfoods are antioxidants that fight against the environmental factors that can cause premature aging. Kale consists of lutein, and this ingredient helps improve the collagen production in your skin hence allowing it to look healthy. With these effective ingredients, you can't get disappointed. Clear your skin, unclog your pores, provide it with the hydration it needs, with one of the best moisturizers for your mature skin.
Pros:
Free of paraben, phthalate and sulfate
No dimethicone and mineral oil
100% vegan
Cruelty-free
Lightweight
Cons:
Might not work on sensitive skin.
Restore your skin's elasticity, density and vitality with Clarins Super Restorative Day Cream Nourishing Anti-Aging Moisturizer that helps your skin look younger. It has an anti-aging effect on your skin as it reduces the appearance of fine lines and wrinkles on your face. This product also reduces spots, slackness and dullness of your skin by making it flawless and bright. It allows your skin to fight against free radicals and pollution hence keeping it clean and clear! This product is a  good moisturizer for combination skin, try it now and wait for the amazing results!
Pros:
Suitable for all skin types
It is easily absorbed in the skin.
Good texture
Smells wonderful
Long-lasting
Cons:
Might cause skin irritation.
Boscia Cactus Water Moisturizer is ideal for rejuvenating and hydrating your skin.
It is made up of Queen of the Night Cactus and Aloe Vera that nourish and replenish your skin. This formula gets instantly absorbed in your skin and allows it to remain moisturized all day. You can wear it during the day or even at night! This gel is very lightweight and leaves your skin smooth and soft. Improve your skin's moisture level with the greatness of other essential ingredients such as South African resurrection plant infusion and peptide complex. The Queen of the Night, Cactus Succulent, imparts hydration to the skin and prevents it from dryness. Get a soft supple skin with this amazing facial moisturizer for combination skin.
Pros:
Vegan
Cruelty-Free
Gluten-free
Suitable for all skin types
No artificial fragrance or color
Cons:
Are you looking for a solution for your acne-prone skin? Is acne not the only issue you have? Do you need a moisturizer that works well on your combination skin? Then we must present to you this Lavi Daily Moisturizing Cream that works well on all skin types. Vitamin A, B, C, D present in this product helps block out the bacteria present on your skin and releases mineral salts and pollutants, thus preventing clogging of pores. It strengthens the protective barrier of your skin and prevents it from damage too. Calm the redness and inflammation of your skin with the help of the greatest moisturizer you have ever used. This also helps in removing blackheads and whiteheads and keeps your skin non-greasy all day long. This daily moisturizer for combination skin has the essence of vitamin E, avocado oil, safflower, wheat germ, hazelnut, aloe vera and azulene that nourish your skin and keep it super hydrated.
Pros:
Fragrance-free
Cruelty-free
Paraben-free
Provides matte finish
Soothes the skin
Cruelty-free
Cons:
You can now apply your makeup guilt-free when you have What a Melon Water Jelly Hydrator as this product leaves your skin flawless, smooth and glowing. The watermelon extract replenishes the lost minerals and vitamins that prevent from getting dehydrated skin. It helps to maintain the moisture barrier and prevents water loss. This moisturizer provides exfoliation by shedding the dead skin cells, thus leaving it radiant and healthy skin. It helps to remove the oil that is accumulated on your skin and keeps it shine-free.
Pros:
Weightless
Maintains pH level all-day
Free from parabens, phthalates, SLS, SLES
PETA certified
Cruelty-free
Cons:
Might have a strong fragrance that might irritate the skin.
Let's follow the buying guide given below to make the right purchase of moisturizer for your combination skin and understand the right way to use it.
How To Choose Moisturizer For Combination Skin
The moisturizer you choose for your skin depends on the skin type. You will have to pick a product that caters to your skin's dryness and oiliness for your combination skin. You must look for water-binding properties of an ingredient such as hyaluronic acid; this will help treat your dry areas. The moisturizer you choose should be light lotion-based as you need to reduce the shine and stay grease-free due to the oily areas. You must ensure that the product you use provides a moisture barrier, so it retains the moisture and prevents your skin from getting dehydrated. Apart from these properties, you must also ensure that the product you buy stays for long and does not damage your skin.
How Do You Apply Moisturizer To Combination Skin
Here are a few steps that you must follow before you apply the moisturizer to your combination skin:
Step 1: Wash your face, hands and body before you apply any product on it.
Step 2: Pat dry with a soft towel or leave a little moisture on your skin.
Step 3: Take a small amount of moisturizer on your fingertips and rub it on your face and hands
Step 4: Massage the moisturizer and let it relax. You can massage in a circular motion to improve blood circulation too.
Your skin is now ready to give you the glow you have been looking for. You can also apply the makeup over the moisturized skin without worrying about the damage.
Why Trust StyleCraze?
The author of this article, Vaishnavi Kothuri, is a skin care enthusiast who loves reviewing different beauty products. She has curated this list of moisturizers for combination skin after carefully researching, checking reviews online, and going through multiple forums for user feedback. Her well-researched article ensures that the listed products prevent skin breakouts and dehydration. These products also help get rid of premature aging, are non-greasy, and good for acne-prone skin.
Frequently Asked Questions
Does combination skin need moisturizer?
Yes, you must use a moisturizer for your combination skin as it too deserves to get hydrated and nourished. Ensure that the product you use is made up of light and oil-free ingredients to benefit from it.
Are gel moisturizers good for combination skin?
Gel moisturizers are lightweight as they are water-based lotions. These get easily absorbed into your skin and are hence good for combination skin.
Recommended Articles: