12 Best Moisturizers For Sensitive Skin – Our Top Picks For 2023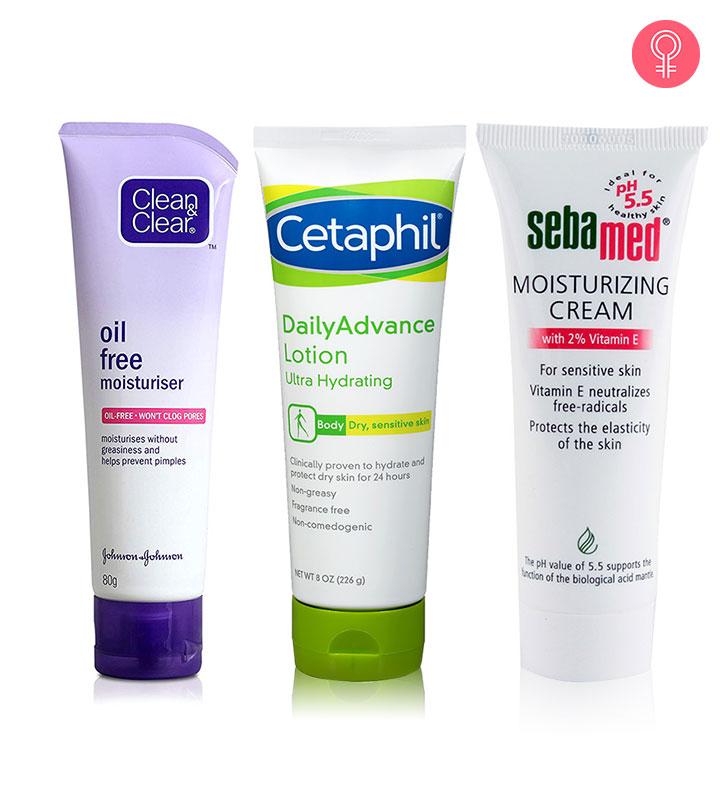 If you have sensitive skin, you must be all too familiar with the feeling of dread that hits you every time you consider applying a new lotion or moisturizer to your face. With sensitive skin, it can be tough to be sure about a product's claims to heal and nourish it. But you need not worry anymore. Here's our list of the 10 best moisturizers for sensitive skin. Read on.
12 Best Moisturizers For Sensitive Skin – 2023
Product Claims
Cetaphil Daily Advance Ultra Hydrating Lotion is an ideal full body moisturizer that nourishes dry and sensitive skin for up to 24 hours. The formula contains Epidermal Replenishing Complex 5 – a unique combination of five key ingredients that protect dry skin and provide intense hydration. The lotion keeps your skin moisturized even in harsh winters without irritating it.

Pros
Ideal for daily use
Gets absorbed easily
Non-comedogenic
Non-irritating
Paraben-free
Fragrance-free
Dermatologist-recommended
Travel-friendly packaging
Cons
None
Product Claims
If you are looking for a lightweight moisturizer that works wonders without irritating your skin, here's one for you! The Ayuga 5% Chandanam Face Moisturizer is enriched with an Ayurvedic blend of turmeric, sandalwood, and 26 beneficial herbs. The antioxidant turmeric and anti-inflammatory sandalwood work together to reduce dark spots and pigmentation to even tone and brighten the skin. The hydrating vetiver or khus balances skin pH and reduces inflammation, while the antibacterial manjishtha helps combat acne and common skin infections. The non-greasy formula is extremely fast-absorbing and imparts a plump, youthful glow to the skin.
Pros
Absorbed quickly
Non-greasy
Lightweight
Paraben-free
Silicone-free
SLS-free
SLES-free
Vegan
Cruelty-free
Cons
None
Price at the time of publication: ₹419
Product Claims
Neutrogena Oil-Free Moisture for Combination Skin is a lightweight, dual-action formula that moisturizes dry areas while controlling oily shine on the T-zone and wherever the skin feels greasy. The result is skin that feels soft and smooth with a matte finish that lasts throughout the day. The hydrating cream gets absorbed very quickly, without feeling heavy on your skin.
Pros
Suitable for combination skin
Ideal for daily use
Travel-friendly packaging
Non-comedogenic
Allergy-tested
Oil-free
Alcohol-free
Fragrance-free
Hypoallergenic
Cons
Price at the time of publication: ₹427.0
This lightweight, non-sticky moisturizer deeply hydrates your skin and imparts a long-lasting sheen. It contains fast-absorbing skin conditioning ingredients that absorb excess oil and dirt. The jojoba oil, rosehip oil, aloe vera not only moisturize the skin but also enhance the texture for a healthier and youthful appearance. The pomegranate seed extract protects the skin from environmental aggressors. The broad-spectrum SPF 30 and PA+++ provide a protective shield from UVA and UVB rays and reduce skin darkening and the premature appearance of fine line and wrinkles.
Pros
Lightweight
Non-greasy
Paraben-free
Mineral oil-free
Phthalate-free
Silicone-free
Has SPF 30
Non-comedogenic
Cons
None
Product Claims
Lotus Herbals NutraMoist Skin Renewal Daily Moisturising Crème is a luxurious moisturizing cream with SPF 25. It contains extracts of cherry, plum, and alpha hydroxy fruit acids that provide long-lasting hydration. They also enhance the capability of the skin cells to retain moisture for a long time. This cream is enriched with natural antioxidant, astringent, and antiseptic properties that heal and nourish sensitive skin.

Pros
Ideal for daily use
Contains SPF 25
Non-greasy
Gets absorbed quickly
Prevents breakouts
Provides long-lasting hydration
Pleasant fragrance
Cons
Contains parabens
Bulky packaging
Price at the time of publication: ₹339
Product Claims
Simple Hydrating Light Moisturizer is blended with powerful ingredients – borage seed oil, glycerin, vitamin E, and pro-vitamin B5. Borage seed oil smoothens the skin and keeps it hydrated. Glycerin provides soft and supple skin, while vitamin E enhances the overall health of your skin. The pro-vitamin B5 clams your skin courtesy of its anti-inflammatory property. This moisturizer is free from harsh chemicals and has a lightweight texture.
Pros
Hypoallergenic
Alcohol-free
Paraben-free
Perfume-free
Cruelty-free
No harsh chemicals
No artificial color
Non-comedogenic
Dermatologist-tested
Cons
Price at the time of publication: ₹588
Product Claims
Keep your skin calm with the Minimalist Sepicalm 3% Oat Moisturizer that helps to moisturize dry and sun-damaged skin, while reducing redness and dullness. The lightweight formula of this moisturizer keeps the skin soft without leaving any oil residue. It is absorbed quickly and is powered by a blend of hydrators, emollients, and occlusives like polyglutamic acid, squalene, and shea butter. The combination of these key ingredients makes your skin soft, nourished, healthy by providing long-lasting hydration. In addition, the colloidal oat, sepicalm, and vitamin B5 soothe and protect your sensitive skin from the UVA/UVB sun rays.
Pros
Suitable for all skin types
Fragrance-free
Dye-free
Sulphate-free
Paraben-free
Silicone-free
Cruelty-free
Non-comedogenic
Hypoallergenic
Cons
Price at the time of publication: ₹331
Product Claims
Cetaphil Moisturising Cream is a rich moisturizer that provides intense hydration and replenishes sensitive, dry skin. This is a unique formula with humectants and emollients that bind water to the skin, preventing moisture loss. This cream soothes dry skin and gives immediate and long-lasting relief. Regular use leaves your dry skin feeling soft and smooth to touch.
Pros
Suitable for dry, sensitive skin
Ideal for daily use
Hypoallergenic
Fragrance-free
Paraben-free
Non-greasy
Non-comedogenic
Dermatologist-recommended
Cons
May cause breakouts
No SPF
Price at the time of publication: ₹442
Product Claims
Lacto Calamine Daily Face Care Lotion is specially formulated for oily skin and provides oil balance for up to 8 hours. It is a clay-based lotion with unique Kaolin clay therapy. Kaolin clay contains natural minerals that act as exfoliants and help in removing dead skin cells. The cream has a unique 3-way action that gives you soft and supple skin every day.
Pros
Gentle on sensitive skin
Travel-friendly packaging
Provides a matte finish
Reduces acne
Non-drying
No greasy residue
Maintains the pH balance of your skin
Cons
Not suitable for dry skin
Added fragrance
Product Claims
Provide your dry and sensitive skin with excellent moisturization from the Aveeno Skin Relief Moisturizing Lotion. This lotion effectively hydrates the skin, keeps it softer, and nourishes it for a plumped-up texture. It is formulated with a triple oat complex that helps to restore the skin's moisture barrier and maintain its pH balance. In addition, the shea butter further delivers nourishment to keep your skin hydrated for 24 hours.
Pros
Dermatologist tested
Fragrance-free
Steroid-free
Lightweight
Great absorption
Cons
None
Price at the time of publication: ₹330
Product Claims
Re'equil Oil-Free Mattifying Moisturiser contains cydonian green apple tree leaf extract, which reduces pore appearance and smoothens the rough and uneven surface of the skin. It is a gel-based moisturizer that reduces breakouts and hydrates the skin deeply, lending a mattifying look to your complexion.

Pros
Suitable for oily, sensitive, and acne-prone skin
Gets absorbed quickly
Non-comedogenic
Dermatologically-tested
Paraben-free
Cruelty-free
Travel-friendly packaging
Cons
Product Claims
Sebamed Moisturizing Cream is enriched with a high content of vitamin E, which protects your facial skin from long-time exposure to aggressive environmental influences and free radicals that cause premature skin aging. The moisturizing complex replicates the Natural Moisturizing Factors of our skin to prolong cellular elasticity and make the skin smooth and supple.
Pros
Hypoallergenic
pH-balanced
Travel-friendly packaging
Non-comedogenic
Non-greasy formula
Cons
May cause breakouts
Added fragrance
No SPF
These moisturizers work great for sensitive skin. But before you plan to buy any, consider the following factors.
What To Consider Before Buying Moisturizers For Sensitive Skin
Always scan the ingredient list to check if you are allergic to any of the additives. Besides, for sensitive skin, hydration is necessary. Hence, ensure the moisturizer you plan to purchase contains hydrating and moisturizing ingredients.
Sun protection is essential for all skin types. Hence, make sure your moisturizer has SPF 30 or above. Separately applying sunscreen could be cumbersome.
Sensitive skin could be easily prone to allergies and other side effects. Hence, it is important to know if the product may cause any side effects. Make sure you read the customer reviews online.
The price of a moisturizer for sensitive skin depends on the ingredients used. The better the quality and effectiveness of the ingredients, the higher the price. If you have a lower budget, consider comparing the product you want to buy with other similar yet affordable products on the market. These can give you decent results.
Always check the quality of the ingredients used in the moisturizer. A quality product will always be dermatologically tested and approved.
Recommended Articles: