10 Best Moisturizing Gloves For Soft, Supple Hands In 2023
All that you need to moisturize and nourish your hands while keeping them well-protected.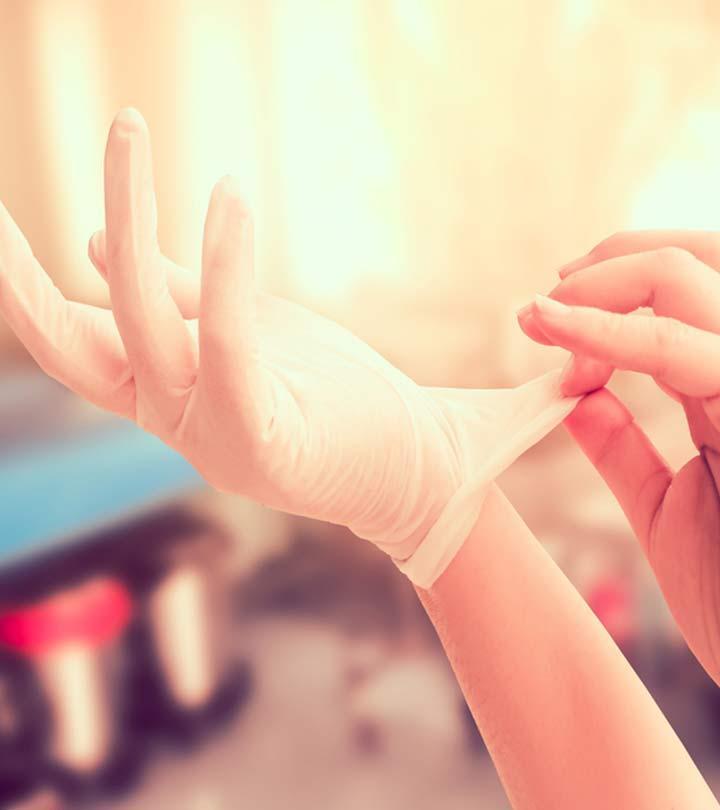 If you do not own the best moisturizing gloves, we will tell you why you need to invest in one right away. Your hands are the most exposed part of your body, which brush against more things than you know! While you would wash them numerous times with soap and apply sanitizer to maintain hygiene, they often strip the moisture off your hands and make the skin dry and flaky. Dr Kazim Dhanji, an aesthetics doctor mentions, "Nowadays people have become more conscious about hand hygiene and handwashing which is resulting to excessively dry, cracked skin on. One way of combatting this dryness is to apply a very greasy moisturizer or emollient and then to cover the hands with a glove, particularly at night, to help lock in the moisture. The aim of this is to restore the skin on the hands back to a healthy state." Using moisturizing gloves will hydrate your hands with nourishing ingredients like shea butter, lemon oil, and Vitamin E. They lock the moisture and restore the health of your soft, supple hands.
 Kazim Dhanji, MD, KHD Aesthetics, mentions, "During the pandemic, as people became more particular about hand hygiene and handwashing, I certainly saw an increased number of patients in my clinic with excessively dry, cracked skin on their hands which could become incredibly uncomfortable. One of the treatments I would recommend would be to apply a very greasy moisturizer or emollient and then to cover the hands with a glove, particularly at night, to help lock in the moisture. The aim of this was to restore the skin on the hands back to a healthy state."
Here are the 10 highest-rated moisturizing gloves everyone needs to keep their hands soft and moisturized.
So What Are Moisturizing Gloves And Do They Really Work?
Most moisturizing gloves contain moisturizing agents in their inner lining, which hydrate your skin. Others help seal in creams and moisturizers that you have applied on your skin. And yes, those formulated with high-quality moisturizing ingredients work effectively in helping you achieve soft, hydrated skin.
10 Best Moisturizing Gloves For Dry Hands With Reviews And Buying Guide (2023) 
Spa treatments can be expensive, and during this pandemic, an unnecessary risk. With Burt's Bees Hand Repair Kit, you can treat yourself in the comfort of your own home. The kit contains a cuticle cream, a hand cream, and a pair of cotton moisturizing gloves to seal in the moisture of the creams applied. The cuticle cream is fortified with lemon butter, which nourishes your nails, and the hand cream is rich in shea butter that moisturizes your skin naturally. So bid farewell to dry skin and say hello to beautiful, soft skin with these cotton gloves for dry hands. 
Pros
Natural ingredients
Ideal for dry skin
Fortifies skin and nails
Free from parabens, phthalates, and other harmful chemicals
Attractive packaging makes it a wonderful gifting option
Cons
The scent may be too overpowering for some.
Price at the time of publication: $14.93
Simple and effective, Cara's cotton moisturizing gloves are everything you need for soft hands. Apply your favorite hand cream and put on this pair of gloves to allow absorption of creams. The great thing about these soft, luxurious gloves is that they are reusable. Just put them in the washing machine after using them and use them again next time! They are made from 100% cotton and hypoallergenic, making them safe to use sensitive skin.
Pros
Made from 100% cotton
Soft inner-lining
Hypoallergenic
Reusable
Durable
Cons
These gloves may shrink after the first wash.
Price at the time of publication: $21.71
These are one of the best gloves for dry hands you can find. Made from premium quality cotton, the material is breathable and ensures that the moisture is locked in. They are well suited not just for dry skin but also for those who suffer from eczema. The size will never be an issue here as these gloves are one-size suits all, and they have a handy wristband, which ensures the gloves fit snugly around all hands. As a bonus, they come with a polypropylene nylon bag, in which you can put your gloves in there and throw them in the washing machine to ensure they never get lost in the laundry whirlpool! If you want to know further details about the Gaxcoo Premium Cotton Gloves, click on this video.
Pros
Made from 100% natural cotton
Breathable material
Wristband allows for a snug fit
Comes with a handy pouch
Cons
The fabric may seem too stiff for some
Price at the time of publication: $23.95
Sometimes our moisturizing routine for our hands just doesn't cut it. No matter how many times you apply a cream, we still end up with dry skin. Here is where gel-lined moisturizing gloves come to the rescue! Epielle's moisturizing gloves are packed with essential ingredients like avocado oil, sunflower seed oil, jojoba oil, and vitamin E to hydrate the skin, leaving them soft and smooth intensely. Packed with essential oils, be sure to bid farewell to dry hands forever. Click on this video to get a more detailed review about the Epielle Moisturizing Gloves.
Pros
Gel-lined gloves
Provides intense moisturize
Ideal for extremely dry skin
Contains essential oils
The pack also contains foot moisturizing covers.
Cons
May not be as moisturizing as expected
Price at the time of publication: $21
Don't you hate it when your moisturized hands leave marks everywhere you go? And who has the time to sit without doing anything and wait for the hand cream to get absorbed! Beauty Care Wear's gloves are the solution to this common problem! These are made from 100% cotton and allow the cream to get absorbed, minus all the hassle and mess. They even work well as overnight moisturizing gloves. Keeping comfort in mind, they are designed with the thumb sewn separately and a wristband for a snug fit.
Pros
Hypoallergenic
Comfortable fit
Comes in 2 colors
Washable and reusable
Made from premium-quality cotton
Cons
Some may find the size a bit small
Price at the time of publication: $18.79
EvridWear's gloves are one of the best moisturizing gloves in the market. They are made from soft and breathable cotton, which moisturizes your hands and avoids greasy smudges when you go about your daily activities. These gloves come in two versions — a soft, thin material and a lightweight, thicker material, so you are spoilt with choice. They also don't have seams, which minimizes wear and tear.
Pros
100% cotton
Elastic cuffs
Hypoallergenic
Breathable material
Cons
May not lock in moisture as well as expected
Price at the time of publication: $24.99
Going out to the spa for a pampering manicure is a real risk during this pandemic, but don't fret! With Malcom's Miracle moisturizing gloves, you can get baby-soft hands at home. These are some of the best moisturizing hand gloves made from luxurious blend breathable cotton and spandex. This ensures your hand cream works its magic while you continue to go about your daily life.
Pros
High-quality material
Breathable
Fast results
Provides a snug and comfortable fit
Cons
May not be suitable for overnight use
Price at the time of publication: $16
If you are looking for the best spa moisturizing gloves to buy online, look no further. ZenToes hand treatment gloves help relieve the driest of hands. Just apply your favorite hand cream or moisturizer, wear the gloves and wait for the magic to unfold. They are latex-free and perfect for those with sensitive skin. These also come with a soft silicone lining and various pleasant colors that make these an ideal gift for friends and family.
Pros
Contain a silicone lining
Made from high-quality materials
Allergy-friendly
Latex-free
Stretchable
Available in different colours
Cons
Material may be a little too thick and heavy for some
Price at the time of publication: $12.99
These Earth Therapeutics moisturizing hand gloves need no introduction. A household name, this pair of intensive moisturizing gloves are the ideal solution for dry hands. They are infused with aloe vera and vitamin E, which helps hydrate your skin and keeps them hydrated for skin that's soft, smooth, and supple. It is machine washable and reusable, making it not only easy to use but also long-lasting.
Pros
Contains aloe vera and vitamin E
Durable
Reusable — lasts at least 20 washings
Comes in a choice of wonderful colours
Cons
The material might be too fuzzy for some
Price at the time of publication: $10.99
Do you hate having to choose between soft hands and using your mobile phone? Well, no more! These touch-screen overnight moisturizing gloves allow you to use touch-screen gadgets with ease while moisturizing your hands. They are made using a blend of soft cotton and spandex with a medical-grade gel that feels comfortable and easy on the skin. Also enriched with vitamin E, jojoba oil, grape seed oil, and olive oil, these gloves ensure hands are left feeling soft and supple after each use.
Pros
Pleasant scent
Color options available
Uses medical-grade gel
Made from soft cotton and spandex
Enriched with essential oils and vitamin E
Cons
Some may find these gloves too bulky and big
Price at the time of publication: $7.29
Now that you know of the 10 best moisturizing gloves of 2023, take a look at our buying guide to help you select the one best-suited for your hands.
How To Choose Moisturizing Gloves That Are Perfect For You
Gauge the dryness of your skin to pick a suitable pair for your hands. If you have manageable dryness, chances are you don't need gel-lined or oil-infused gloves. A good moisturizer and a pair of cotton gloves will do the trick. For extreme dryness, gloves that contain jojoba oil, avocado oil, and vitamin E are ideal.
If you wish to use gloves overnight, then select gloves that are made with a breathable material. It supplies fresh air to the skin while also ensuring the moisturizer doesn't leave grease marks everywhere.

Allergy-prone skinIf you have allergies or sensitive skin, be sure to check the material of the gloves before buying. Look out for the hypoallergenic tags because these will be the ones that will not generate an allergic reaction on your skin.
How To Use Moisturizing Gloves
Here is a helpful guideline on how to use moisturizing gloves:
Step 1 – Wash your hands thoroughly and pat them dry. Make sure there is no moisture or water on your skin.
Step 2 – Put on your usual hand cream or body lotion. Ensure that you've applied it evenly and the appropriate amount. Apply it on your nails as well.
Step 3 – Leave it for a minute or so and put on the gloves.
Step 4 – Depending on your requirement and the instructions, you can leave them on for 20 minutes or longer.
Step 5 – Wash the gloves after each use with a soft detergent in luke-warm water. Rinse thoroughly and leave it to air dry. We do not recommend putting these gloves in the dryer.
Why Trust Stylecraze
Kirtana Divakar, the author of this article, shares a deep interest in all things skincare. She leaves no stone unturned when researching and comparing multiple products before listing the top-rated ones. She did the same with this article on the best moisturizing gloves as she studied various websites and user reviews before compiling this list. For each product, she shared detailed descriptions and stated their pros and cons so readers could make an informed decision.
Frequently Asked Questions
Do gloves help dry hands?
Yes. Moisturizing gloves keep your dry hand warm and protect it from environmental aggressors. Such gloves can boost moisture into your dry skin and nourish it further.
How often should you use moisturizing gloves?
Slip your hands in your moisturizing gloves two to three times a week and keep them on for at least twenty minutes to let the nourishing ingredients penetrate and positively work to heal your hands.
How can I protect my hands from dryness?
Follow these ways to protect your hands:
• Moisturize your hands with hand creams.
• Wear gloves to protect the moisture of your hands from stripping.
• Try not to stress. Stressing can turn your skin dry.
• Use a hydrocortisone cream to heal the dry skin. Such a cream can soothe your inflamed hand skin.
• Treat your hands with UV light therapy. Consult your dermatologist prior to getting your UV light treatment.
Do moisturizing gloves help eczema?
Yes. Moisturizing gloves help to soothe the red, itchy, and flaky skin of the hands. However, opt for gloves that are free from irritants that might trigger sensitivity in your hands.
Recommended Articles