10 Spectacular Moon Tattoo Designs
Often rich in symbolism, tattoos are a form of body art that extend the boundaries of traditional art. They brand an individual's body in a distinct manner that gives the individual a sense of uniqueness. The moon wields a lot of power and controls the vast and glorious water bodies. As a tattoo, the moon is a symbol of feminine power and composed strength, unlike the sun which represents fierceness.
The Best Moon Tattoo Designs
Here are some moon tattoos that will get your attention for sure.
1. The various phases of the moon:
The moon gets its light from the sun. The part facing the sun is illuminated while the part facing away is left dark. This results in varying phases of the moon, all of which could be tattooed in a row across your leg or back.
2. A floral pattern:
A floral pattern always makes for a very feminine and gorgeous tattoo. A moon tattoo can be given a floral look by adding growing buds and flowers.
3. A fairy sitting on the moon:
Both the fairy and the moon have associations with magic. They would thus make a charming tattoo with elements of the supernatural. The fairy can be given a delicate and extremely pretty look with a flowing gown and long drooping wings. She could be placed on one end of the crescent moon.
[ Read: Flower Tattoos for Girls ]
4. A full moon:
A full moon is a storehouse of power. This is the time when the sky sheds its cloak of darkness and is covered in abundant light. As a tattoo subject, a full moon is a very symbolic tattoo and a very appealing one too.
5. Two intertwined crescent moons:
Two crescent moons intertwined together forms a very artistic tattoo. The moon can be given a human shape and expressions. The expressions on both might be opposing ones like that of sadness and laughter.
[ Read: Football Tattoo ]
6. Combined with the sun:
The sun is fierce and represents a burning passion while the moon is powerful yet calm. To survive, we need both the sun and the moon. When applied to individuals, both these celestial bodies represent different sides to an individual, both of which are required for success.
7. A crescent moon:
A crescent moon is a simple and easy design to tattoo. It can be tattooed in pure black on smaller body parts like the fingers, the wrist, the nape of the neck, the ankle, and so on. This tattoo can be a fully coloured one or just an outline. Either way this tattoo design would convey a lot through its simplicity.
[ Read: Couple Tattoos with Meaning ]
8. A moon tattoo not defined by lines:
A moon tattoo can be given a unique look when it is not defined by particular lines. Celestial bodies like the stars and living beings like butterflies can be used to define its borders.
9. A masculine touch:
Werewolves are mythical creatures that are half human and half wolf. On the night of a full moon, these humans turn into wolves on the night of a full moon. A werewolf howling at the moon would add a very masculine touch to what is otherwise perceived as a feminine tattoo.
[Read: Tattoo Designs]
10. A night scene:
At night, when the whole world sleeps, some creatures are wide awake. One such creature is the owl. The owl, thus sitting on a branch with the full moon behind it would be a very nice choice of the tattoos idea.
Tattoo art is a great way to express your-self! Find more than 8000 tattoo ideas in 44 different categories and choose what you like best.
Image Source: 1 , 2 , 3 , 4 , 5 , 6 , 7 , 8 , 9, 10

The following two tabs change content below.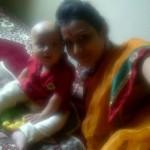 Latest posts by Khushboo Mehta (see all)