10 Of The Best Morphe Brushes Of All Time
Apply your makeup easily with these affordable, durable, and stylish Morphe brushes.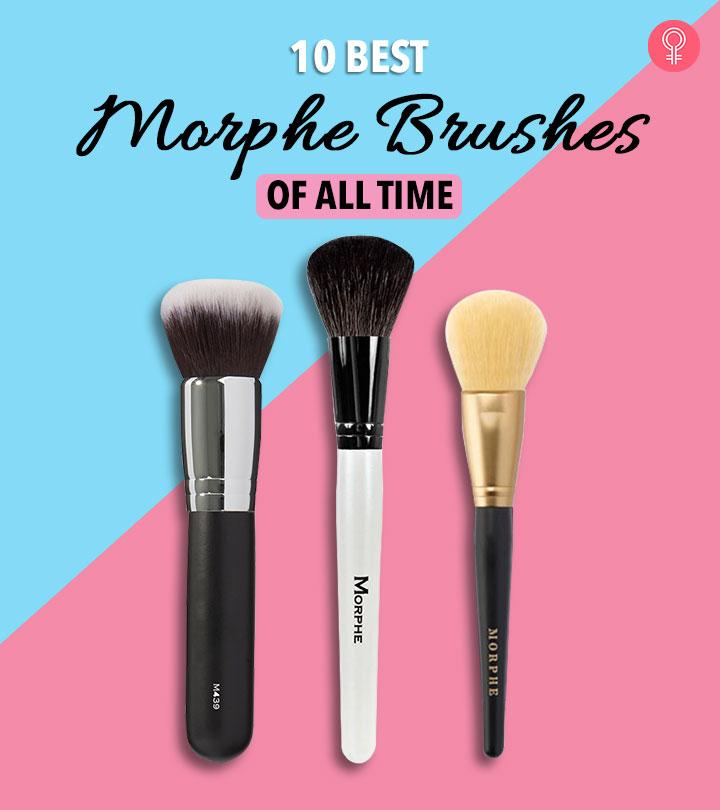 A makeup brush with proper bristles makes a huge difference in the application and blending of the makeup. The best Morphe makeup brushes always show remarkable effect, whether it's a contour brush, eyeshadow brush, or eyeliner brush. These makeup brushes are well known to hold the right amount of pigmentation needed for your makeup. However, choosing the right Morphe brush may be demanding. So, in this article, we have compiled a list of the 10 best makeup brushes from Morphe that will help you up your makeup game! Keep reading!
10 Best Morphe Brushes For Flawless Makeup Application
Review
If you want to give your foundation application an instant upgrade, this buffing brush from Morphe is the ultimate solution to that dreaded "streaky" finish. This fluffy, duo-fiber domed brush packs major buffing power. Its high-quality synthetic bristles are perfect for applying liquid, powder, or cream foundation. Simply buff and blend in your foundation using gentle, circular motions.
Pros
Dense bristles
Full-domed brush head
Perfect for medium-to-full coverage
Vegan
Cons
None
Review
The fluffy yet firm bristles of this brush make crease blending extremely easy. It is remarkable for seamlessly blending out edges and diffusing eyeshadow on your lids. Start by laying down color with a dense brush and then use this brush to make the edges of the color look soft. A second clean brush goes a long way in making any eyeshadow look like it was airbrushed on.
Pros
Natural bristles
Helps achieve a seamless finish
Versatile
Value for money
Cons
None
Review
This brush set from Morphe's Jaclyn Hill collection consists of her eight go-to blending and buffing brushes. It includes a beast mode blender brush, a transition blender brush, a universal blender brush, an inner corner highlight brush, a precise blender brush, an all-over lid brush, a brow bone highlight brush, and an eyeliner smudging brush. All these brushes are packed in a sleek master bag that you can take with you wherever you go to help you create any eye makeup look. Check out the review of this product for more information.
Pros
Natural and synthetic bristles
Helps achieve a flawless finish
Sleek and stylish packaging
Value for money
Cons
None
Review
This sleek brush set consists of a range of tools for your face and eyes in a mix of natural and synthetic brushes. It contains a powder brush, a blush brush, a flat foundation brush, an angled shadow brush, a flat shadow fluff brush, a blender brush, a chubby shadow brush, a blender fluff, and a concealer brush. These morphe travel brush sets are housed in a cool matching black-and-white striped case that is perfect for travel or to dress up your vanity. It is the best affordable makeup brush set. If you want to know more about the benefits of this product, check out this quick review on YouTube.
Pros
Versatile
Travel-friendly
Soft bristles
Ideal starter pack
Cons
None
5. Morphe The Jeffree Star Eye & Face Brush Collection
Review
This brush collection from the one and only Jeffree Star has 7 killer brushes that will help you look like a million bucks. It includes a Point-Blank Precision brush, a Size Queen brush, an Iconic Contour brush, a Fly High brush, a Crease Kween brush, a Rule Blender brush, and a Double Trouble brush. These sassily named brushes to come in a chic bag that you can take with you wherever you go.
Pros
Synthetic and natural brushes
Great for beginners
Versatile
Great quality
Cons
None
Purchase Link
www.morphe.com
Review
Whether you are going for a subtle everyday look or a full glam look, this set of Morphe makeup brushes allows complete creative control when it comes to doing your makeup. The brushes are crafted with 100% vegan materials and work with liquid, cream, and powder foundation. This set includes 18 brushes for your face, eyes, and lips in various sizes, all housed in a sleek black case. It is a good makeup brush sets.
Pros
Value for money
Durable
100% vegan
Cons
None
Review
This morphe brush set is a collection of synthetic brushes that include a flat foundation brush, an angled blush brush, a tapered powder brush, a flat bronzer brush, a chiseled fluff brush, an oval flat brush, a soft fan brush, a round crease brush, and an angled liner brush. From foundation and powder brushes to professional tools for detailed eye work, this brush set is a must-have addition to your makeup regimen. It is packed in a sleek clutch and is ideal for makeup pros and beauty novices alike.
Pros
Versatile
Super soft brushes
Value for money
Cons
None
8. Morphe Stroke Of Luxe Brush Set
Review
These 22 natural and synthetic rose-gold brushes will help you buff, blend, and do everything in between. The morphe makeup brush set includes a deluxe powder brush, a tapered powder brush, a deluxe pointed powder brush, a flat buffer brush, a pro angle blush brush, a precision pointed contour brush, a round contour brush, a deluxe tapered powder brush, and a variety of small brushes for your concealer and eye makeup. If you are learning how to do makeup, this makes for a great starter brush set. This is the best makeup brushes kit.
Pros
Wide range of brushes
Soft bristles
Suitable for sensitive skin
Cons
None
Purchase Link
www.morphe.com
9. Morphe Complexion Crew 5-Piece Brush Collection
Review
With this ride-or-die brush set by your side, you will be buffing your way to a selfie-ready complexion in no time. This set includes a round buffer brush, a highlight blending brush, an angled contour and blush brush, a contour brush, and a diffused powder brush. All these brushes come in a large glitzy bag that you can take with you on-the-go. This set has the best morphe highlighting brush.
Pros
High-quality brushes
Sleek and stylish
Ideal set for face brushes
Cons
None
Purchase Link
www.morphe.com
10. Morphe Babe Faves Eye Brush Set
Review
Morphe's Babe Faves Eye Brush Set is a stunning collection of 15 eye brushes that will always come in handy. It includes a collection of synthetic and natural brushes to help you achieve the most flawless eye makeup looks. If you love experimenting with eye makeup, this is one of the best morphe eye brushes you absolutely need to invest in.
Pros
High-quality
Soft bristles
Value for money
Cons
None
Purchase Link
www.morphe.com
The finish that you achieve with good makeup brushes is far more even and flawless than with your fingers. If you wear makeup with any sort of regularity, makeup brushes are absolutely worth the splurge.
Makeup enhances your overall look and makes you appear elegant. But it is possible only when you use the right makeup brush. Although there is a wide range of makeup brushes available in the market, only the best Morphe makeup brushes provide you with a promising result. The makeup brushes listed in our article help you get a flawless finish. Whether it is a buffing brush, eyeshadow brush, or concealer brush, these makeup brushes help you achieve full coverage with the perfect blend.
Why Trust Stylecraze?
A good makeup brush is pivotal in achieving the desired look. Esha Saxena, our makeup aficionado, has a flair for identifying a good makeup product when she sees one. In this post, she enlists the best makeup brushes from the brand MORPHE. A detailed explanation of the functions and pros of each of these brushes will help you decide the one that would suit all your needs.
Frequently Asked Questions
Should you wet your makeup brushes before using them?
No. Makeup brushes are not used wet unless your skin is extremely dry and you are applying a foundation. A wet makeup brush helps blend the liquid and cream foundations flawlessly into the skin. However, use a damp beauty blender or sponge to achieve full coverage and sheer finish.
What should I look for in a makeup brush?
Here are a few things to keep in mind while buying a makeup brush.
• Quality
• Durability
• The shape of the brush
• Cost
How do I know if my makeup brushes are good quality?
Check the durability of the brush by rubbing bristles against your hand and check if any fibers fall out. A high-quality brush will last a long time.
How many makeup brushes do you really need?
There are apparently 20-set brush kits used by professionals. But everyday makeup users have little need for them. Therefore, nine brushes are enough to cover all bases.
What brush do you use to apply foundation?
Stippling brushes are a great choice for seamlessly applying different levels of makeup like primer, foundation, and blush. In addition, stippling brushes can be used with powders, liquid, or cream foundation and blush products.
Recommended Articles
The following two tabs change content below.
Esha Saxena is a writer and journalist and holds a master's degree in media and mass communication. She firmly believes...
more