15 Best Mousses For Curly Hair That You Must Try In 2023
Keep your curls secured with foamy formulas that prevent frizz and nourish the strands.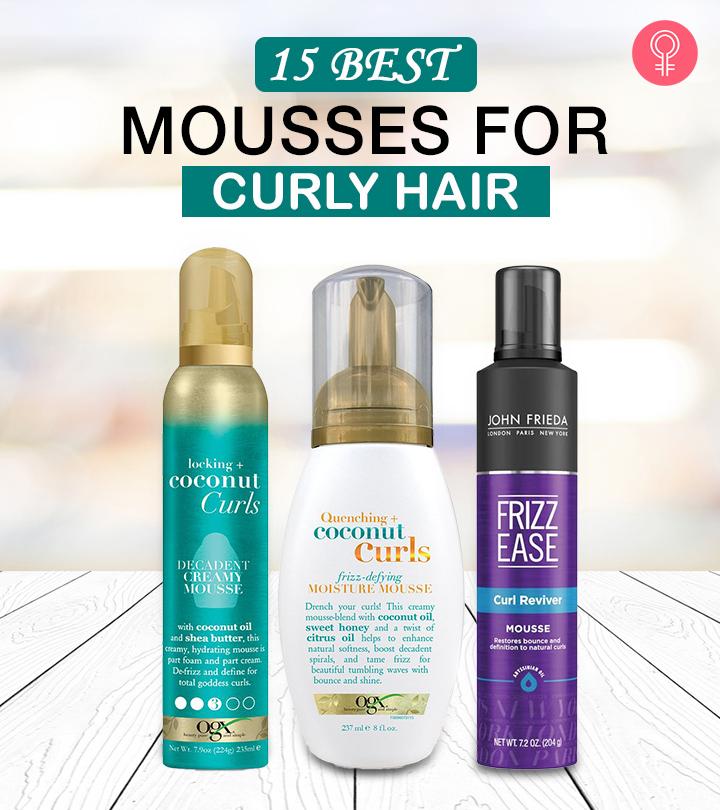 Maintaining your curls can be quite a tedious process at times. However, nothing is more beautiful than curly hair when it becomes manageable. You need the best mousse for curly hair to keep your curls defined. The aerated foam formulas of mousses help increase fullness by creating space between hair strands. Hair mousse is a holy-grail product for curly hair as its plumping ingredients like polymers enhance the shape of your curls. It also provides conditioning benefits to your tresses. Get bouncy curls instantly by going through the list of best mousse for curly hair ahead. Read on.
15 Best Mousses For Curly Hair Available Right Now
John Frieda Frizz Ease Curl Reviver Mousse is the best volumizing curl mousse. Its lightweight and alcohol-free formula does not weigh your down. It gives your hair the right amount of shine and volume. It prevents frizz while enhancing your natural curls without heat styling or stickiness. The non-sticky formula of this mousse never makes your tresses feel crunchy or stiff. It creates bouncy, defined, and shiny ringlets with touchable hold. The thermal protectant and UV filter in it keep your hair protected from damage. This hair mousse gives salon-quality control and hold for natural-looking curls. It increases manageability, so even the most difficult hair responds quickly and easily to styling. It works best when used on damp hair that is air-dried or blowdried with a diffuser. Learn more about the product in this video.
Pros
Lightweight
Protects hair from heat styling and sun damage
Makes your hair more manageable
Restores bounce
Suitable for curly and wavy hair
Cons
Awful fragrance
Not completely non-sticky
Price at the time of publication: $15.94
Kerastase K Discipline Curl Mousse is the best mousse for flyaways and frizz. It contains a pro-keratin complex that helps smoothen the surface of your hair. It also improves fiber elasticity to prevent breakage.The glycerin in it softens your hair and gives it a caring touch. Glucose adds definition and shape to the curls. These organic and hair-friendly ingredients give a natural touch to your curls and enhance their bounce.
Pros
Enhances bounce
Adds definition
Eliminates frizz
Smoothensthe hair
Cons
Sticky formula
Strong fragrance
Price at the time of publication: $126.12
If you are looking for long-lasting shine for your curly hair, try AG Hair Curl Mousse Gel. It is infused with AG's Curl Creating Complex (C3) that offers firm hold, curl retention, and definition with long-lasting shine. Ingredients like bio-fermented tomato fruit extract shrink the hair cuticle to define the curls; silk proteins add strength, moisture, and elasticity to your hair; and panthenol adds shine. The rice amino acids in it hydrate and promote your curls.
Pros
Curl retention
Long-lasting shine
Hydrating formula
Paraben-free
Gluten-free
Cons
Price at the time of publication: $26
OGX Locking + Coconut Curls Decadent Creamy Mousse is the best curl mousse with a strong hold. It is blended with coconut oil and shea butter that help fight frizz and maintain moisture. This part-foam and part-cream hair mousse enhances and tightensyour curls. The creamy formula of this mousse holds your curls, tames flyaways, and hydrates your hair. It keeps your curls bouncy and is perfect for thick, curly hair. This video gives you more information about the product.
Pros
Hydrates your hair
Lightweight
Eliminates frizz
Enhances and tightens curls
Creamy formula
Cons
Leaves behind a white residue
Greasy
Price at the time of publication: $7.34
Moroccanoil Curl Control Mousse is a lightweight mousse for tight curls. It is infused with antioxidant-rich argan oil that enhances curl shape and separation, seals in moisture, and fights frizz. It tames coily and tightly-spiraled hair without leaving behind a sticky residue. It provides long-lasting shine and definition to tight curls. It also softens and smoothens curls without weighing them down. This foaming mousse is fragranced with the signature Moroccanoil scent, which is an exotic blend of spicy amber aromas and sweet floral notes.
Pros
Lightweight
Provides long-lasting shine
Smoothens and softens curls
Long-lasting definition
Enhancesthe curl shape
Moisturizesthe hair
Pleasant fragrance
Cons
Price at the time of publication: $30
Design Essentials Almond & Avocado Curl Enhancing Mousse is a quick-drying mousse that gives you perfectly defined luminous curls. This natural curl-enhancing mousse is infused with olive oil and vitamin B complex that define, seal, and polish each hair strand. Olive oil provides moisture to your hair and vitamin B complex provides strength and elasticity to promote healthy hair growth. The enhancing formula of this mousse leaves no sticky residue, no frizz, and no crunch while styling your hair. This mousse has a soft-pliable hold, dries quickly, reduces frizz, and imparts a natural shine to your hair. Have a look at this video to learn more about the product.
Pros
Addsdefinition to curls
Soft-pliable hold
Promotes bouncy curls
Dries quickly
Reduces frizz
Moisturizesthe hair
Alcohol-free
Sulfate-free
Cruelty-free
Paraben-free
Petrolatum-free
No mineral oil
Cons
Hardens curls
Unpleasant fragrance
Price at the time of publication: $27.58
OGX Quenching + Coconut Curls Frizz-Defying Moisture Mousse is a very moisturizing mousse for curly hair. This creamy mousse is infused with sweet honey, coconut oil, and citrus oil that help enhance the natural softness of your hair. It also tames the frizz of your tumbling waves and boosts decadent spirals with shine and bounce. This frizz-defying mousse reduces flyaways, nourishes strands, and boosts curls.
Pros
Moisturizes the hair
Reducesfrizz and flyaways
Enhances softness
Pleasant fragrance
Cons
Low-quality pump
Makes hair oily
Price at the time of publication: $7.68
Pantene Pro-V Curl Defining Mousse is formulated with nutrients that promote soft and defined curls. The advanced Pro-V formula prevents your curls from getting frizzy and leaves your hair shiny. It is designed to create perfectly defined and twirling curls. This lightweight foam resists humidity to control frizz and prevent flyaways. It provides soft, defined curls that are manageable all day long.
Pros
Lightweight
Humidity-resistant
Reduces frizz
Long-lasting hold
Cons
Price at the time of publication: $14.97
Brocato Swell Volume Full Body Gel Mousse is the best volumizing mousse. This versatile mousse is ideal for fine and medium hair types. It contains ingredients like hydrolyzed soy, chamomile, kaolin clay, and organic vitamins. The unique smoothening formula of this protective and volumizing mousse softens your hair, increases volume, and moisturizes it from root to tip. This lightweight full-body gel mousse does not weigh down your hair and leaves it looking bouncier and fuller. It can be used on damp hair or after you blow dry it.
Pros
Adds volume
Smoothens the hair
Lightweight
Moisturizesthe hair
Suitable for fine and medium hair
Cons
Price at the time of publication: $21.0
Shea Moisture Coconut & Hibiscus Frizz-Free Curl Mousse is formulated with coconut oil, neem oil, shea butter, and silk protein that enhance your natural curl pattern. Coconut oil deeply moisturizes and protects dry, brittle hair from breakage and neem controls frizz while adding shine to your curls. The organic she a butter provides nourishing hydration that detangles and strengthens sensitive, distressed, and damaged hair. This frizz-free mousse is infused with natural silk protein that leaves your hair feeling soft, smooth, and silky.
Pros
Eliminatesfrizz
Defines curls
Leaves no residue
Moisturizesthe hair
Lightweight
Paraben-free
Phthalate-free
Nomineral oil
Sulfate-free
Cons
Not suitable for thick hair
Price at the time of publication: $8.69
The Maui Moisture Flexible Hold + Coconut Milk Curl Foam Mousse retains moisture, tames frizz, adds volume, and defines curls. It is formulated with aloe vera, coconut milk, and mango butter that hydrate and moisturize the curls without weighing them down. This airy mousse adds a healthy glow to the hair and styles your hair easily.
Pros
Lightweight
Paraben-free
Silicone-free
Sulphate-free
Mineral oil-free
Cons
Price at the time of publication: $7.09
Hair Play Set #3 Hair Mousse is a versatile styling product. This leave-in hair-styling foam detangles, restructures, and defines uneven curls while maintaining the integrity of your hair. It hydrates and moisturizes wavy and curly hair. It has admirable frizz control and thermal and sunscreen protection that leaves your hair looking healthy, soft, and shiny.It makes your hair bouncy without leaving behind any residue or flakes.
Pros
Eliminates frizz
Adds volume
Moisturizesthe hair
Lightweight
Cons
None
Price at the time of publication: $13.13
Garnier Fructis Style Curl Construct Creation Mousse is a 98% natural extra-hold mousse. It is the perfect styling mousse that creates weightless and gorgeous curls. It is enriched with she a butter that defines and boosts curls and leaves your hair looking bouncy and shiny. It also provides long-lasting hold. This mousse reduces frizz and flyaways without any stickiness or residue.
Pros
Provides long-lasting hold
Creates weightless curls
Reduces frizz
Controls flyaways
Silicone-free
Paraben-free
Phthalate-free
Affordable
Cons
Price at the time of publication: $1426.0
Cantu Shea Butter Wave Whip Curling Mousse is a sulfate-free mousse for curly hair. It is formulated with pure shea butter that helps create crunch-free and touchable waves. This weightless mousse gives your hair a frizz-free finish. It also conditions your hair from root to tip and softens your curls.
Pros
Reduces frizz
Softensthe hair
Moisturizesthe hair
Leaves no white residue
Easy to use
Sulfate-free
Paraben-free
Phthalate-free
Cruelty-free
Cons
Not suitable for thick hair
Price at the time of publication: $2028.0
TIGI Catwalk Curls Rock Amplifier is the best mousse for mending split ends. It repairs split ends and provides hold and control to give you defined curls. It is infused with glycerin that absorbs and retains moisture, hydrolyzed keratin, and silicone-alternative conditioners to condition your hair and prevent fly aways. It also protects against humidity and enhances your hair's natural texture.
Pros
Repair split ends
Prevents frizz and fly aways
Moisturizes the hair
Defines curls
Enhances the natural texture
Cons
Price at the time of publication: $8.79
If you have curly hair, you know it can be troublesome to find products that will make your locks look and feel their best. Luckily, many mousses on the market are specifically designed for curly hair that can volumize your hair, manage frizziness, and add shine. Here are some things to look for when selecting a curly hair mousse.
Things To Look For In Mousses For Curly Hair
Texture: Opt for a lightweight mousse to prevent your curls from weighing down. You may choose a creamy formula that applies evenly on your curls but ensure they are non-sticky.
Ingredients To Look For: Look for products containing natural ingredients like shea butter or cocoa butter to restore moisture in your tresses. Look for products that use low-poo cleansing agents to help dissolve build-up and leave your strands feeling soft and conditioned.
Ingredients To Avoid: Avoid mousses containing harsh chemical ingredients like alcohol, parabens, phthalates, gluten, sulfates, synthetic fragrances, and dyes. They dry your scalp and rob your curls of their shine.
Heat Protection: Select mousses with heat protection to prevent any damage caused by heat tools or UV rays. These mousses also protect your curls from free radical damage.
Curl Appeal: When choosing a curl-friendly mousse, it is important to consider how it will look on your curls. Some products work better as styling aids than others, but if you want to achieve more defined curls, try a product with embedded fibers.
Frequency of use: Some mousses need frequent application, while others can be applied once or twice during the day for good results. If you have a long day ahead, go for a formula that stays on your hair for 24 hours with only one application.
Humidity-Resistant: Pick a formula that resists humidity and delivers long-lasting shine to your curls while taming the flyaways.
Why Trust StyleCraze?
The author, Oyendrila Kanjilal, is a certified skin care coach and haircare connoisseur who loves testing out the different products that give lustrous and healthy hair. She has conducted detailed research, sifted through user feedback, and gone through the formulations on the brands' websites to bring her users the best mousses for curly hair. The shortlisted products contain plumping ingredients that increase the fullness of your curls and keep them soft and smooth.
Frequently Asked Questions
Which is better for curly hair – mousse or gel?
Mousse is better for curly hair as it improves the texture of your curls while enhancing the bounce. Mousses also help keep your curls in position and keep frizz at bay.
Do you put mousse in wet or dry hair?
Put mousse on damp hair and then air dry your tresses. Do not apply a mousse on dripping wet hair or extremely dried-up hair.
What is the difference between curl cream and mousse?
Curl cream defines your curls and protects your hair from frizz, but mousse offers more volume to your tresses while adding shine and bounce. A mousse enhances your roots and keeps your hair in shape in extreme environmental conditions as well.
Does mousse dry out curly hair?
Mousses that contain alcohol in their formulations may dry out curly hair. Alcohol-free mousses are known for improving your hair texture and making them smoother.
Should I use mousse or curl cream first?
Use curl cream first for preparing your tresses for the richness of the mousse. The cream formula acts as a primer which you can later layer with the mousse.
Can you use mousse every day on curly hair?
No, some drying agents in the formula can be harmful to your curls if used daily. Use mousse twice or thrice a week.
Recommended Articles