13 Best Mousse Foundations (2021) For An Airbrushed Finish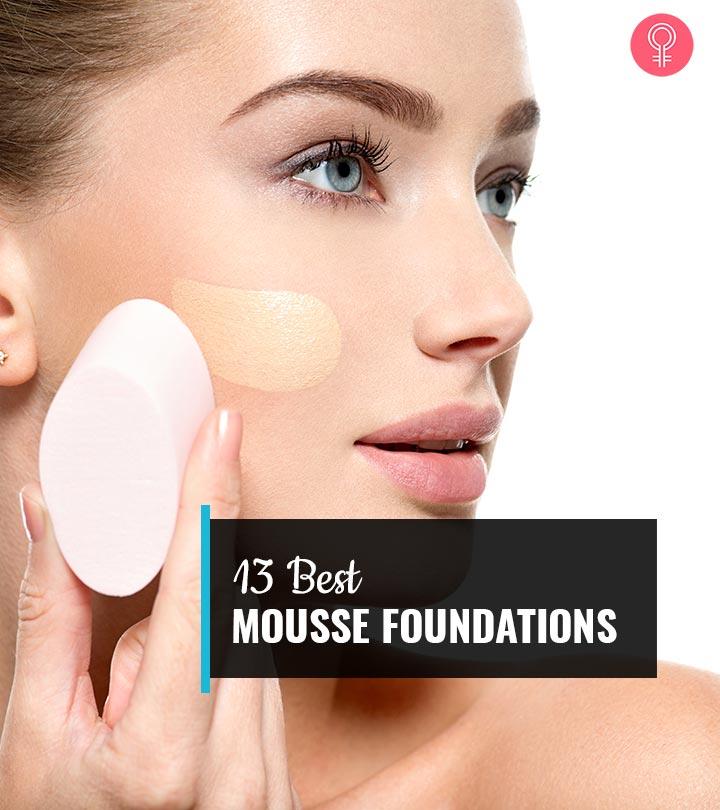 It is no secret that the foundation plays a crucial role in your daily makeup routine. An even and smooth complexion can enhance your appearance immensely. A mousse foundation, in particular, is the perfect product for a long-lasting, dewy finish.
A mousse foundation is also known as a whipped foundation that is light and gentle on the skin. It glides on the skin seamlessly, leaving a matte finish. It masks fine lines and wrinkles. It does not leave any cakey appearance, and neither does it settle down within the wrinkles. It would make for a perfect beauty product that you can carry along and is super-easy to apply.
This article has listed the 13 best mousse foundations that offer a seamless finish and a shine-control appearance. Read on.
13 Best Mousse Foundations
The Maybelline New York Dream Satin Liquid Foundation gives a poreless refined airbrushed look with a flawless finish. It is light in texture, hypoallergenic, and dermatologically-tested. It is formulated with hyaluronic acid that moisturizes the skin and leaves no cakey appearance. It provides almost 16-hours of buildable coverage. The foundation is suitable for all skin types.
Pros
Lightweight
Dermatologically-tested
Hypoallergenic
Non-comedogenic
Provides day-long coverage
Leaves skin soft and smooth
Multiple shades
Cons
The Elizabeth Arden New York Mousse Foundation is lightweight. It gives sheer coverage with a naturally flawless finish. The airy, breathable mousse provides a brighter complexion. It is dermatologically-tested. It is best suited for people looking for a natural look. The foundation minimizes pore size and offers a flawlessly smooth base.
Pros
Lightweight
Dermatologically-tested
Natural finish
Complexion correction formula
Breathable
Cons
None
The Revlon Photoready Airbrush Mousse Makeup offers a poreless, healthy-looking complexion. It blends smoothly with the skin tone for a flawless finish. The creamy, lighter foundation contains photochromatic pigments that bend and reflect light to minimize flaws and imperfections. The foundation is oil-free and fragrance-free. It is suited for use indoors and outdoors, and for people facing cameras. The nozzle in the bottle makes it easy to use. The foundation stays for almost five to six hours.
Pros
Lightweight
Photochromatic pigments minimize flaws
Oil-free
Fragrance-free
Suitable indoors and outdoors
Cons
Awful smell
May feel greasy
The 100% Pure Fruit Pigmented Tinted Moisturizer is a mousse foundation made with aloe and cucumber juice that offer all-day long hydration. It is also infused with organic white tea, acai, and pomegranate oil that quench skin dryness and leave it looking plump. The foundation is packed with vitamins and antioxidants from fruits that nurture and nourish the skin. It also protects the skin from environmental and chemical aggressors. The smooth, lightweight formula is pigmented with cocoa and fruit extract that provide light to medium coverage and a dewy finish. The foundation is non-greasy and non-comedogenic. It blurs the signs of aging too.
Pros
Ultra-lightweight
Moisturizes skin
Packed with vitamins and antioxidants
Maintains a dewy finish
Available in different shades
Cons
Not suitable for oily skin
The Black Radiance Color Perfect HD Mousse Foundation contains high pigments that offer medium to full coverage. This long-wearing foundation is formulated with melanin that enhances complexion and leaves skin feeling flawless. It transforms from a creamy, rich mousse to a feather-light powder while blending with the skin. You will get a color perfect full HD finish with a luxurious glow.
Pros
Oil-free cream-to-powder formula
Buildable
Blendable coverage
Lightweight
Creamy, rich texture
Complexion correction formula
Non-comedogenic
Available in 6 different shades
Cons
The Rimmel London Liquid Mousse Foundation blends quickly with the skin tone for a naturally flawless finish. It provides all-day shine control. The silky-smooth formula leaves an airbrushed look with a baby-soft texture. It won't feel heavy or cakey on the skin. It is non-comedogenic and minimizes imperfections.
Pros
Ultra-lightweight
Provides a full coverage
Oil-free
Non-comedogenic
Provides a baby-soft finish
Non-greasy
No cakey appearance
Cons
None
The No7 Beautifully Matte Mousse Foundation is light in texture. It provides a powder-soft finish and glides effortlessly on the skin for a brighter look. The light-diffusing particles give a luminous look, whether you use the foundation indoors or outdoors. It is famous for the great coverage it provides. You can wear it comfortably for six to seven hours. It won't wear off.
Pros
Lightweight
Powder-soft finish
Blends easily
All-day wear
Great coverage
Luminous look
Cons
None
The Lavera Natural Makeup Mousse glides effortlessly on the skin, leaving a naturally flawless finish. It is ideally suited for a medium skin tone. This smooth mousse is formulated with organic sunflower oil and shea butter that offer a protective barrier. They also nourish and rejuvenate the skin. The organic seabuckthorn and organic mallow extract calm and soothe irritated skin. The antioxidant-rich organic argan oil and vitamin E in the foundation protect the skin from harmful aggressors.
Pros
100% vegan
Gluten-free
Blended with natural ingredients
Suitable for medium skin tone
Ultra-nourishing
A natural-looking complexion
Dermatologically-tested
Cons
None
The Christian Dior Forever Perfect Mousse ensures a long-lasting, extra matte-finish that provides light, non-powder coverage. This lightweight mousse blends seamlessly with the skin tone and leaves an extra-matte, non-cakey finish. It is formulated with polymer-enriched ingredients that provide silky softness. The foundation offers 16-hour long makeup wear. It minimizes pore size and blurs imperfections.
Pros
Long-lasting
Provides light coverage
Extra-matte finish
Oil-free
Reduces pore size
No cakey residue
Cons
None
The Golden Rose Mousse Foundation is ultra-lightweight and air-whipped. It instantly turns into powder and gives perfect silky and smooth skin. It blends with the skin tone effortlessly for a soft and smooth finish. The special micro-pigments in the foundation offer the ideal coverage needed for all-day makeup wear.
Pros
Lightweight
Turns into powder instantly
Blends easily
Provides perfect coverage
Long-lasting makeup wear
Cons
None
The Haleys Re:Veal Mousse Makeup flawless coverage, lightens blemishes, and softens the appearance of wrinkles and fine lines. It is formulated with high-quality organic ingredients like vitamin E and hyaluronic acid that hydrate and revitalize the skin. The antioxidants in vitamin E protect the skin from environmental toxins and leave the skin with a youthful radiance.
Pros
Weightless formula
Oil-free
Blends easily with the skin tone
Perfect for oily skin
Non-comedogenic
Cruelty-free
Paraben-free
Sulfate-free
Phthalate-free
Artificial fragrance-free
Cons
None
The Mirenesse Cosmetics High Cover Mousse Foundation is oil-free, hydrating, and lightweight. It never settles into the fine lines and wrinkles. It gives one a flawless finish. It is formulated with organic glycerin, silica, and vitamin E that deeply nourish, hydrate, rejuvenate, and protect the skin from harmful toxins. The foundation provides a protective barrier to the skin and leaves an ultra-soothing natural texture. It is ideal for 'selfie' makeup that looks perfect in each click. It works perfectly for combination to oily skin types. The visiblur effect, a new and innovative pigment technology, reflects and refracts light away from the fine lines and other dark areas – offering a smoother skin tone.
Pros
Oil-free
Hydrates skin
Lightweight
Offers a protective barrier
Perfect for clicking pictures
No cakey appearance
No settling down in the lines and wrinkles
Easily blends
Visiblur effect for smooth skin
Cons
None
The Coty Beauty NYC Smooth Skin Mousse Foundation gives fantastic coverage, lasts long, blends well, is light to wear, and stays put very well. It is infused with pro-vitamin B5 that seals moisture for an airbrushed look. The foundation's oil-absorbing properties help give a matte look. The foundation stays on for as long as 9 hours.
Pros
Long-lasting coverage
Lightweight
Blends well with the skin tone
Soft and smoothing
Moisturizing
Brings a matte finish
Stays on for about 9 hours
Cons
None
These are the top-quality mousse foundations that offer an airbrushed look and a matte finish. In the following section, we have discussed how you can apply a mousse foundation.
How To Apply A Mousse Foundation
Prep your skin and follow your regular skincare regime (cleansing, toning, and moisturizing).
Apply a makeup primer for long-lasting makeup.
Choose a mousse foundation shade as per your skin tone. Take your index finger and dip it into the product. You should have just enough foundation to coat the tip of your finger lightly.
Apply the foundation to your forehead, cheekbones, nose, and chin. Dab the product lightly to blend perfectly with the skin tone.
Apply the concealer and setting powder for a matte look and a bright finish.
Though a powder foundation is popular too, a mousse foundation has its own advantages. We have discussed the same in the next section.
Why Should You Buy A Mousse Foundation?
Besides providing brilliant coverage and a super weightless feel to your skin, a mousse foundation also makes the texture of your skin feel velvety smooth and silky.
A mousse foundation helps absorb excess oil and provides an all-day shine-control matte finish. This allows for long-lasting makeup wear.
A mousse foundation is non-comedogenic. It also hydrates and rejuvenates the skin.
There are several mousse foundations on the market. The following buying guide should help you make a wise purchase decision.
What Should You Look For When Buying A Mousse Foundation?
Choose an oil-free, non-greasy formula for a perfect airbrushed finish. The foundation should be non-comedogenic and minimize the pore size.
Check for the natural, invigorating ingredients. The foundation should contain hyaluronic acid, aloe vera, and organic glycerin to ultra-nourish the skin.
The foundation should be able to provide at least 12 hours of makeup wear for long-lasting performance.
The mousse foundation should be free from harmful chemicals and irritants.
A mousse foundation has its own advantages. It hydrates the skin and does not clog the pores. It completes your skin care routine. Pick your favorite foundation from this list. You will always be ready for long days!
Frequently Asked Questions
What is a mousse foundation used for?
A mousse foundation is used for achieving non-cakey, seamless makeup wear.
What skin type is a mousse foundation suitable for?
A mousse foundation is suitable for all skin types. However, it is a perfect choice for combination or oily skin types.
Which is better – a liquid foundation or mousse?
A mousse foundation is always the best pick. It provides long-day makeup wear. It also is smudge-free and offers a seamless finish.
Recommended Articles