10 Best Mouthwashes To Improve Your Oral Health In 2023
Avoid bad breath and tooth decay while preventing the accumulation of stubborn stains.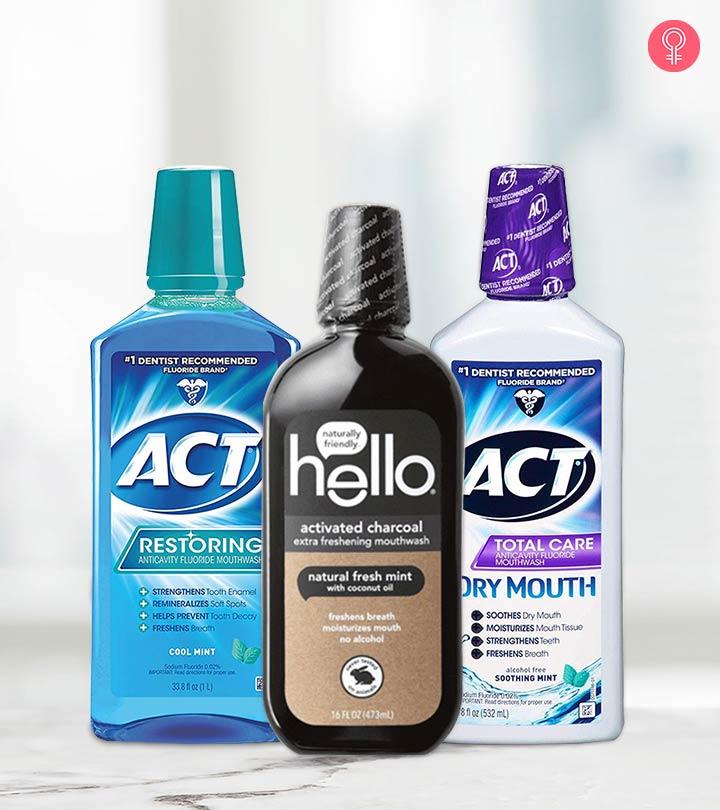 Dental care for healthy teeth and gums is equally important, but sometimes, people take it too lightly. To avoid the onset of bad breath and the decaying of teeth, it is good to pay attention to the kind of mouthwash you purchase, and we're here with the best mouthwashes for healthy teeth you need. After a whole day of chewing, rinsing the mouth with a cleaning agent can keep the yellowish tone at bay, not to mention eliminating germs. If you wish to have strong and clean teeth, take a look at these 10 best types of mouthwashes formulated to keep your mouth healthy.
Benefits Of Using A Mouthwash
Freshens Breath: Mouthwash kills bacteria that cause bad breath. It also leaves a cool and minty feeling in your mouth. However, it does not get rid of bad breath permanently.
Prevents Plaque Formation: Mouthwash prevents plaque formation on and in between your teeth. It kills the bacteria trapped in your mouth. This can help prevent gum infections and reduce cavities.
Removes Debris: The advantage of using mouthwash is that since it is liquid, it can reach every nook and cranny of your mouth. It can reach areas that a toothbrush can't reach. After your daily oral regimen, loosened plaque might remain in between your teeth, which can be rinsed out thoroughly by a mouthwash.
Prevents Cavities: Mouthwashes contain fluoride, which can prevent cavities and strengthen your enamel. However, some scientific studies show that fluoride can cause oral damage. Therefore, use it in the recommended quantity. Also, remember that not all mouthwashes contain fluoride. Therefore, be sure to check the label before purchasing.
Now, let's check out how mouthwashes work.
How Do Mouthwashes Work?
Mouthwashes are designed to inhibit the build-up of bacteria that cause cavities and other gum infections. It reduces plaque formation and prevents your teeth from turning yellow. They typically have a strong mint flavor that is designed to freshen your breath. Most mouthwashes contain fluoride, which is an active ingredient that balances the production of acid. This helps prevent plaque multiplication. The most common active ingredients in mouthwashes include cetyl peridium chloride (CPC), sodium bicarbonate, and triclosan. These ingredients maintain the overall health of your teeth and gums. Pick a mouthwash that has a fluoride level of 200 to 250 ppm.
To help you pick the perfect product, we have curated a list of the ten best mouthwashes of 2023. Check them out!
Top 10 Mouthwashes To Buy In 2023
Get a whiter and brighter smile by using Crest 3D White Luxe Glamorous Mouthwash. It is designed with a triple-action formula that whitens teeth, prevents stubborn stains, and kills the germs that cause bad breath. The new Whitelock technology prevents new stains from forming. It enhances your brushing routine and gives you several shades brighter-looking teeth in just two days. The mint flavor freshens your breath. To find out more about the benefits of this product, watch this YouTube video.
Pros
Alcohol-free
Enamel-safe
Freshens breath
Safe for dry mouth
Mint flavor
Provides positive results in just 7 days
Cons
None
Ratings
4.7/5
Price at the time of publication: $19.5
This fluoride-free mouthwash is formulated with activated charcoal made from sustainable bamboo, a detoxifying agent that keeps your breath fresh. It also contains coconut oil and tea tree oil to cleanse and disinfect, fresh mint to freshen breath, and xylitol (a plant extract) to strengthen the enamel. These ingredients whiten your teeth within a couple of uses. Check out this honest review about the product for further details.
Pros
PETA-certified
Gluten- and cruelty-free
No artificial dyes, sweeteners, or flavors
Sulfate-free
Mild formula
Non-stinging
Cons
None
Ratings
4.6/5
Price at the time of publication: $17.88
This alcohol-free formula is certified by the American Dental Association's Seal of Acceptance Program for its intense bacteria-killing capacity. It restores enamel health and cleanses the mouth. It provides a minty fresh flavor that takes away bad breath. It is perfectly suitable to use multiple times a day. With regular use, it claims to strengthen your teeth by 50% and prevent the occurrence of cavities. Check out this review for a closer look into the features of this product.
Pros
Strengthens teeth
Reduces bad breath
Helps prevent cavities
Mild minty flavor
Cons
Leaves a white film in your mouth
Ratings
4.5/5
Price at the time of publication: $15.14
Tom's Of Maine Wicked Fresh Natural Mouthwash is clinically proven to provide long-lasting fresh breath. It contains zinc that neutralizes the odor caused by bacteria to give you long-lasting fresh breath without leaving a burning sensation in your mouth. It is formulated without harmful chemicals, artificial colors, or preservatives. It prevents further damage to teeth and staining. The concentrated flavor oils and natural minerals work together to get rid of bad breath.
Pros
Cruelty-free
Removes stubborn stains
Gentle formula
Non-stinging
Improves gum health
10% of profits are donated to environmental charities
Cons
Extremely sweet taste
Ratings
4.4/5
Price at the time of publication: $27.48
Act Restoring Mouthwash is a fluoride rinse with a cool mint flavor that leaves your mouth and breath feeling fresh and clean. It restores enamel health and prevents tooth decay. It strengthens the enamel and prevents plaque formation.
Pros
Mild formula
Suitable for dry and sensitive gums
Reduces cavities up to 70%
Reasonably priced
Cons
Contains sodium fluoride
Ratings
4.4/5
Price at the time of publication: $20.37
Solimo Oral Care helps improve the overall oral hygiene and leaves a cool, clean, and fresh feeling in your mouth. It is an alcohol-free formula created with anti-cavity properties. It also provides relief from dryness in the mouth.
Pros
Mild formula
Suitable for multiple uses per day
Improves oral hygiene
Reasonably priced
Cons
Requires a lot of product per use
Ratings
4.3/5
Price at the time of publication: $4.42
Act Dry Mouth Mouthwash is the most dentist-recommended fluoride mouthwash. It is an alcohol-free fluoride rinse that is formulated to soothe dry mouth, moisturize mouth tissue, strengthen teeth, remove stains, and freshen breath. It gently cleanses your mouth without creating a burning sensation. Within a couple of uses, this mouthwash kills germs that cause bad breath. It leaves a cool minty sensation in your mouth that lasts long.
Pros
Moisturizing formula
Protects against cavities
Removes stubborn stains
Suitable for dry mouth
Very refreshing
Cons
Extremely strong flavor
Ratings
4.2/5
Price at the time of publication: $30.96
Avistar Natural Activated Charcoal Mouthwash contains high-quality essential oils that give this mouthwash toxic-adsorption powers. This mouthwash was created following rigorous research to treat most dental issues. It smells great, tastes great, and works effectively in treating cavities. It does not contain fluoride, alcohol, or SLS.
Pros
Trusted brand
Cleanses your teeth
Improves gum health
Strengthens enamel
Purifies breath
Removes stains
Free of fluoride, alcohol, or SLS
Cons
Pungent taste
Ratings
4.1/5
Freshen your breath and brighten your smile with JASON PowerSmile Brightening Peppermint Mouthwash. It is formulated without harsh abrasives or irritating chemicals like alcohol. It contains calcium ascorbate that freshens breath. It also contains potent peppermint oil and menthol that kill germs. Its other ingredients include grapefruit seed and perilla seed extracts that reduce stains and aloe vera that helps soothe gum irritation.
Pros
Natural ingredients
Very refreshing
Cruelty-free
Mild formula
Non-stinging
Cons
Availability issues
Ratings
4.0/5
Price at the time of publication: $35.74
This mouthwash removes bad breath, and its results last five times longer than other products. It kills millions of bad-breath germs to keep your breath fresh and clean. It contains powerful ingredients to prevent cavities and other gum infections. It has an antiseptic and analgesic effect and inhibits the growth of bacteria, particularly those that cause halitosis. It also provides relief from mouth sores, throat infections, and gingivitis.
Pros
Long-lasting mint flavor
Strengthens enamel
Suitable for multiple uses in a day
Restores the health of your teeth
Reasonably priced
Cons
Availability issues
Ratings
4.0/5
Price at the time of publication: $19.98
By using mouthwash daily, you can improve your oral health tremendously. Explore the list and pick the product that caught your eye. Try the product and let us know how it worked for you in the comments section below. Keep smiling!
Why Trust StyleCraze?
We have curated this list of the best mouthwashes for healthy teeth after carefully reviewing tha available products on the market. In addition, we checked online reviews and user feedback on different online platforms to understand the efficacy and quality of each product. The shortlisted products help maintain your oral hygiene and prevent bad breath.
Frequently Asked Questions
Is it good to mouthwash everyday?
Yes. Using mouthwash twice a day helps keep your teeth and oral cavity in good health.
When should I use mouthwash?
Use mouthwash daily after lunch and evening snacks.
Should I mouthwash after brushing?
No. Using a mouthwash after brushing, washes the fluoride from the toothpaste.
What mouthwash do dentists use?
Dentists use Chlorhexidine mouthwash, which is a broad-spectrum antimicrobial.
Should I use mouthwash before bed?
No. It is recommended to brush your teeth before bed and not replace it with a mouthwash.
Can I drink water after mouthwash?
No, wait 30 minutes to let the fluoride from the mouthwash do its work.
How long should you use mouthwash?
Use a mouthwash for 30-60 seconds.
Can mouthwash whiten the teeth?
Yes. A mouthwash containing hydrogen peroxide can whiten the teeth with continued use for three to five months.
Recommended Articles