15 Best Mud Masks For The Face – Top Picks Of 2023
Seal your skin moisture with these that clean and brighten your skin too.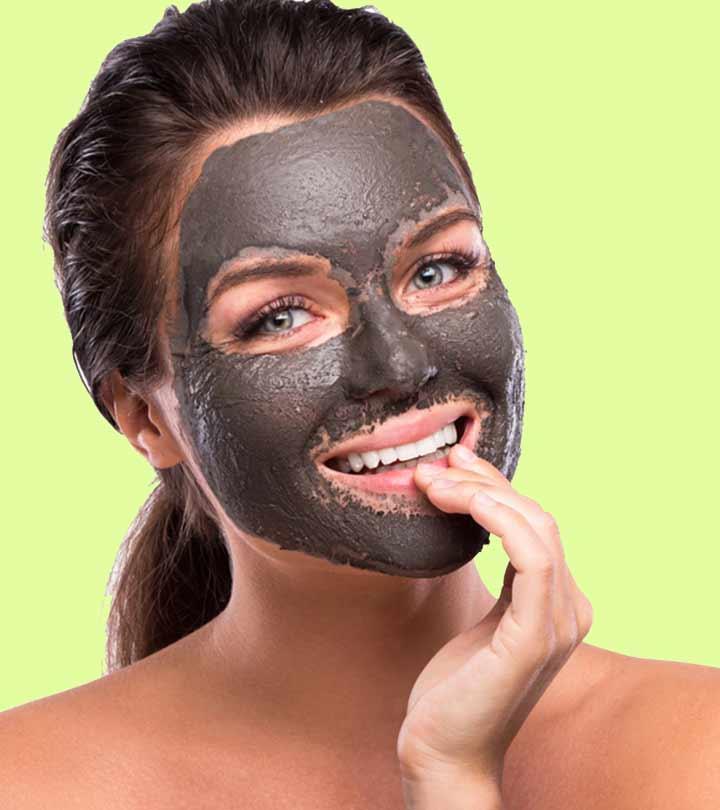 Using the best mud face mask on your face can give you the most glowing and radiant results. Mud masks have been used for skin care for ages, and the minerals absorb toxins from your face and form a lock to seal moisture in your skin. The detoxifying mask also cleans the skin and improves texture. So, are we ready for a spa treatment at home? Here are the 15 highest-rated mud masks to use on your face for perfect skin brightness.
15 Best Mud Masks For Face
This is a mineral-infused revitalizing mask that contains sodium, magnesium, along with aloe-vera, vitamin E, calendula oil, sunflower seed, and jojoba oil. The clarifying dead sea mineral formula with deep pore cleansing properties clears imperfections on your skin.
The high concentration of sodium and magnesium helps blur blemishes and removes blackheads. It also helps drag out excess oil from the pores, clearing any extra dirt or toxic substances. The spa-quality mud stimulates blood microcirculation, tightens the skin, and refines skin texture.
The Dead Sea mud mask is suitable for all skin types, including dry, normal, oily, sensitive, combination, and irritated skin. It is made of all-natural ingredients and is manufactured in an FDA-approved cGMP facility. This review will help you understand more about the New York Biology Dead Sea Mud Mask.
Pros
Alcohol-free
Paraben-free
Sulfate-free
Cruelty-free
Reduces pore size
Extracts oil from clogged pores
Contains natural ingredients
Made in an FDA-approved facility
Cons
Strong fragrance
May dry skin out
Price at the time of publication: $16.95
The Majestic Pure Dea Sea Mud Mask is a unique formula made with sea mud with high-quality salts and minerals. It contains a blend of natural ingredients, like potato starch, corn starch, jojoba seed oil, mineral Dead Sea mud, sunflower seed oil, shea butter, aloe leaf juice, hickory bark extract, beeswax, calendula flower oil, and natural glycerin.
Potato and corn starch are excellent scrubbing ingredients that are enriched with vitamins and minerals. The carbs they contain provide glow to skin cells. Mineral Dead Sea mud is an excellent detoxifying agent that draws oil and dirt from the skin. It also exfoliates and tightens the skin. The hickory bark extract reduces skin inflammation and adds a beautiful soothing aroma to the product.
This fabulous mud mask reduces the appearance of large pores and tones the skin. Its aloe leaf juice is antioxidative, and, along with glycerin, it locks in moisture and hydrates the skin. The shea butter in the mask naturally softens and moisturizes the skin. It dramatically improves radiance.
Pros
Tones skin texture
Hydrates the skin
Unclogs pores
FDA-approved
Excellent for sensitive skin
Cons
Takes time to dry on the skin.
Is too slimy when mixed with water.
Price at the time of publication: $12.29
The Grace & Stella Dead Sea Mud Face Mask is made with natural Dead Sea minerals that reduce blemishes, blackheads, and open clogged pores to remove oil and dirt. The mask is a blend of Dead Sea mud with minerals like magnesium, potassium, and iron that add life to dead skin cells.
The shea butter moisturizes the skin, and the aloe vera leaf extract creates a calming and soothing effect with its natural healing properties. The hickory bark extract in the mask has anti-inflammatory properties, while the xanthan gum helps in skin conditioning.
This deep cleansing clay mask blurs the appearance of fine lines and wrinkles and improves microcirculation. This clay mask can also be applied to the legs and buttocks to reduce stretch marks and cellulite.
Pros
Made with natural ingredients
Paraben-free
Cruelty-free
Also works to reduce stretch marks/cellulite
Cons
Skin may become drier post application.
Price at the time of publication: $19.99
The Sky Organics Dea Sea Mud Mask is packed with vitamins and minerals that clean clogged pores, remove blackheads, and reduce blemishes. This detoxifying mask and exfoliating scrub includes all-natural ingredients like Dead Sea mud, shea butter, sunflower oil, aloe vera leaf extract, and jojoba oil. All these ingredients nourish the skin from deep within.
This natural clay mask tightens the skin. When applied to the face, the mask promotes microcirculation and removes toxins through a detoxifying effect. Its calcium, magnesium, and potassium help maintain skin health.
The aloe vera in the mask has anti-aging properties. It reduces wrinkles and blurs fine lines and blemishes. The calendula extract in the mask soothes and calms the skin.
Pros
Contains natural ingredients
Deep cleanses without drying the skin
Suitable for all skin types
Can be applied to the whole body
Has circulation-boosting minerals
Cons
Has a strong smell of a perfume.
Price at the time of publication: $24.5
The Glam Glow Tingling And Exfoliating Mud Mask intensely exfoliates the skin in as little as 10 minutes. The volcanic minerals and multi-level surface exfoliator buffs remove dead skin cells, smooth uneven skin texture, and blur fine lines.
The mask contains kaolin and magnesium aluminum silicate that extract all the oils from the skin pores. This green tea infused mud acts as an antioxidant to protect the skin from free radical damage. It helps reduce fine lines and wrinkles.
The chamomile flower extract in the mask has anti-inflammatory and antiseptic action that prevents acne and breakouts. The cucumber fruit extract with its natural glycerin locks skin hydration and gives a cooling effect. Check out this review for a closer look about the product.
Pros
Instant exfoliation
Multilevel exfoliation
Suitable for normal, combination, or oily skin
Paraben-free
Phthalate-free
Mineral oil-free
Gluten-free
Vegan
Cruelty-free
Suitable for both men and women
Can be applied to the whole body
Cons
Expensive
Burns on sensitive skin
Price at the time of publication: $40.38
This mud mask is enriched with organic Dead Sea mud and six essential oils that reduce aging signs and heal your skin. The mask has a natural blend of aloe vera, jojoba oil, sunflower, hickory bark, calendula, and shea butter.
Aloe vera is an antioxidant and antiseptic that protects the skin from bacterial infections. Jojoba oil is loaded with vitamins, antioxidants, steroids, and fatty acids that help regulate the oil secreted by the pores. This reduces the chances of acne breakouts.
The hickory bark and calendula oil in the mud mask play an anti-inflammatory role, reducing redness and blemishes. The sunflower oil detoxifies your skin. The mask also contains shea butter that provides deep, instant hydration, clears imperfections, and soothes the sebaceous glands. The vitamins A and E heal dry skin and scars. The mask not only improves blood circulation but also tightens and tones the skin.
Pros
Anti-aging
Exfoliates the skin
Hydrates the skin
Unclogs pores
Helps in spot treatment
Soothes itching, burning, and irritation on dry skin
Free applying brush
Cons
Price at the time of publication: $19.95
This peel-off firming mask changes its color from white to brilliant chrome while peeling off. Its active ingredients leave the skin firm, toned, and more defined. The tapioca starch creates a thickening property that allows the mask to be peeled off properly.
This GRAVITYMUD firming treatment mask helps fight against fine lines, uneven skin tone, and saggy skin. It gives a tight, firm appearance. The marshmallow and licorice leaf extract instantly improve skin radiance. This video review will help you understand more about the product.
Pros
Paraben-free
Sulfate-free
Phthalate-free
Peels off easily
Cons
Price at the time of publication: $35.8
This deep cleansing African black soap mud mask helps remove impurities from blemish-prone skin. The classic cleansing formula contains kaolin and bentonite clay blended with rich, creamy organic shea butter for a smooth mask texture with oats added for gentle exfoliation. African black soap blends with tamarind extract and tea tree oil to clarify and soothe the skin.
Tea tree oil is rich in vitamin E, an antioxidant that reduces acne and heals the skin from bacterial infections. It also helps soothe the skin and balances its texture and tone. Jojoba oil and avocado oil also add moisture to help keep the skin supple and soft after the mask is removed.
This organic clarifying mud mask works like a miracle in fading blemishes and fine lines. Blemishes clear off with time, while the tamarind extract helps in cleaning deep, old, greasy pores. Tamarind extract is one of the best exfoliating scrubs that remove toxins, dirt, and grime and unclog skin pores. It also gives intense hydration along with a secret organic ingredient – palm ash – leaving the skin soft, smooth, supple, and even-toned.
Pros
Paraben-free
Sulfate-free
Phthalate-free
Cruelty-free
Contains blend of natural organic ingredients
Contains tea tree oil to soothe the skin
Makes the skin soft and radiant
Cons
Price at the time of publication: $11.92
The Glamglow Supermud Clearing Treatment contains activated charcoal, which is an extreme absorption carbon that penetrates deep into the skin and traps all the dirt and impurities.
The blend of alpha hydroxy acids and beta hydroxy acids, like glycolic acid, salicylic acid, lactic acid, mandelic, pyruvic, and tartaric acid, cleanse and treat the skin at a multicellular level. The kaolin clay in the mask helps extract excess sebum oils and leaves the skin smooth and fresh.
Pros
Contains natural ingredients
Deep penetrating power of activated charcoal
Removes blackheads
Cons
Not suitable for sensitive skin
Price at the time of publication: $34.97
The Formula Ten O Six Deep Down Detox Facial Mask is helpful to reduce acne and blemishes and unclog pores. The kaolin and bentonite clay formula pulls out excess sebum and bacteria and gives a smooth and refined appearance. This is a mild exfoliating mask that removes dead skin cells and unclogs pores.
The cucumber extract helps soothe the skin and gives a a cooling effect. The bergamot fruit oil in the mask has antibacterial and anti-inflammatory properties that reduce inflammation and skin redness. The orange oil in the mask is rich in vitamin C that protects the skin from free radical damage. It also soothes the skin, restores collagen, exfoliates, and reduces wrinkles and blemishes. If you are still unsure, check out this honest unboxing review.
Pros
Good for oily skin
Helps with acne treatment
Paraben-free
Sulfate-free
Phthalate-free
Cons
Price at the time of publication: $7.29
This mask is formulated with the goodness of grapefruit and vitamin C that boost skin brightness. It is made with a blend of natural ingredients, like kaolin, bentonite clay, citrus fruit extract, aloe leaf juice, and limonene extract.
Formulated grapefruit makes the skin bright by toning the complexion, while vitamin C helps maintain a natural glow. This creamy vibrant pink clay makes your skin look good. It hydrates the skin within 5-10 minutes of application.
Pros
Paraben-free
SLS-free
Silicone-free
Leaping Bunny certified
Reduces spots and pores
Pleasant smell
Cons
Not suitable for sensitive skin
Price at the time of publication: $8.97
This mineral-rich, beautifying face mask gives your skin a fresh, healthy-looking glow. This hydrating mask contains four mineral-rich clays, purifying charcoal, and a refining complex infused with papaya enzymes. This helps deliver exceptionally smooth, luminous, and vibrant skin.
The mineral clay detoxifies and absorbs excess oil and dirt, while the charcoal filters all the impurities and balances the skin tone. The papaya enzyme gently exfoliates the skin and unclogs the pores. This mud mask is enriched with naturally-derived bergamot and eucalyptus to entice your senses. Its shea butter moisturizes your skin.
Pros
Rich in 4 mineral clays
Contains papaya enzyme for a smoother look
Made with naturally derived fragrances
Cons
None
Price at the time of publication: $54.0
Tightening your skin and improving its texture now takes only 10 minutes. The mask is packed with natural ingredients, like blue lotus seed extract, mushroom extract, bamboo stem powder, lotus seed powder, rice bran water, ginger water, white tea extract, kaolin and, bentonite clay.
The blue lotus seed extract unclogs pores and deep cleanses your skin. It also acts as a powerful antioxidant, detoxifying mask, and exhibits an anti-inflammatory role that reduces skin redness. The white clay in the mask tightens skin and purifies pores.
The bamboo stem powder, rice bran powder, and mushroom extract improve skin texture and brighten the skin tone. Ginger water is an excellent detoxifier, and white tea tightens and soothes the skin.
Pros
Made with pure and safe ingredients
Cruelty-free
Paraben-free
Petrochemical-free
Propylene glycol-free
Phthalate-free
FDA-approved
Enriched with skin-loving ingredients
Gentle and effective
Cons
Price at the time of publication: $29.99
This is a purifying, glow-revealing mask that balances skin tone and gives you a signature look within 15 minutes. It is made with natural ingredients like aloe leaf extract, Mediterranean and Dead Sea mud, diatomaceous earth, jojoba seeds oil, hops extract, burdock extract, rosemary leaf extract, sage leaf extract, and ginseng root extract, along with natural fragrance, kaolin, bentonite clay, and glycerine.
Sea salt is rich in essential minerals that are required for skin health. Dead Sea mud, along with the ginseng root extract, calms your skin. It also helps in deep cleansing, removes excess dirt from the open pores, absorbs oil and impurities, and stimulates, brightens, and clarifies the skin tone.
The sea salt fights against breakouts and blurs blemishes. The kaolin in the mask helps in deep purification, while the aloe extract soothes the skin and locks in moisture. The hops extract is a powerful calming agent and exhibits anti-inflammatory properties that reduce acne scars and fine lines.
Burdock and rosemary leaf extracts are excellent antiseptics that prevent bacterial infection, breakouts, and acne. They also keep your skin smooth and hydrated. Apply this pure clay mask two to three times a week for clearer, smoother, and redensified skin.
Pros
Suitable for all skin types
Paraben-free
Cruelty-free
Made with mineral-rich Dead Sea mud
Cons
Price at the time of publication: $14.44
This is an ultra-active treatment for the face and body that helps detoxify the skin and gives a healing solution for acne, blemishes, and irritable substances. It contains thermal mud that is high in minerals, trace elements, and sulfur that nourish the skin. The cinnamon in the mask fights bacteria, sage tones and heals the skin, and paprika stimulates and refreshes the skin.
The key ingredients of this mask are Hungarian herbal mud, sage leaf extract, willow bark, ivy extract, cinnamon bark extract, paprika, certain bio complexes rich in antioxidants, coenzyme Q10, and alpha-lipoic acids. The bio complexes reduce the appearance of wrinkles and improve the skin texture by locking in hydration.
Pros
Organic, natural, biodynamic, and sustainable ingredients
Cruelty-Free
Paraben-free
Phthalate-free
Propylene glycol-free
SLS-free
Cons
Price at the time of publication: $30
Mud masks are popularly known to eliminate dirt and pollutants on the skin and increase blood circulation. Additionally, they also hydrate, revitalize, and brighten your skin. However, before choosing the ideal mud mask for your skin, you must consider some important factors. So, here is a detailed buying guide that you can refer to.
How To Choose The Best Mud Masks For The Face
You must choose mud masks formulated with natural ingredients and skip the ingredients you are allergic to. Look for ingredients like kaolin clay, bentonite clay, jojoba oil, tea tree oil, aloe vera, calendula oil, vitamin E, sunflower seed, beeswax, glycerin, corn starch, shea butter, etc., in your mud masks. Avoid mud masks that include harmful chemicals such as paraben, phthalate, mineral oil, gluten, sulfate, and others.
You must choose the mud mask according to your skin type to get the best results. If you have oily skin, go with the mud mask containing heavy clay and pore-tightening ingredients such as sulfur, willow bark, witch hazel, and charcoal. It will remove excess oil and detoxify dull and congested skin. Choose a mud mask with mild cleansing properties and moisturizing ingredients such as glycerin and hyaluronic acid for dry skin. If you have combination skin, you must wear a mud mask that won't dry your skin out and contains skin-nourishing ingredients.
Different types of clay or mud offer different results. Make a choice according to your skin's needs.
White clay- All skin types can benefit from using it to wash out excess oils and impurities, especially mature skin. It is a mild exfoliator that will smooth out your skin's surface and work to minimize pore size.
Green clay- For those with oily, acne-prone, or combination skin, it is the go-to product. It is a powerful cleaner and balances oil in the skin.
Pink clay- For mature skin that has started to lose its elasticity, it can increase skin elasticity and cell renewal. Pink clay exfoliates the skin gently and feels relatively light on it.
Bentonite clay- For oily and acne-prone skin, it is a highly effective detoxifying and regenerating clay that is good for many skin types.
You can take a look and compare the customer reviews of different mud masks based on their skin type and know about their experience. It will help you gain a clearer picture of effective mud masks and help you choose the ideal mud mask for your face.
These are the top 15 mud masks available on the market. Most of these can be used on your face and other problem areas of your skin. In the following section, we will see how mud masks work.
How Do Mud Masks Work?
A mud musk is an excellent solution for dehydrated skin. Mud masks not only help brighten the skin, but their active ingredients also clear impurities and clean clogged pores for a revitalized look. Mud masks deeply cleanse the skin and blur fine lines and wrinkles.
In the following section, we have discussed how you can apply a mud mask.
How To Apply Mud Mask On Your Face
Applying a mud mask is easy. You just need 15 minutes in a day.
Splash some water and moisten your face/skin.
Apply the required quantities of the mask to your cheeks, followed by the forehead, temples, chin, and nose. Avoid applying around the eyes.
Keep it on for 10-15 minutes until it becomes completely dry.
Dip a clean cloth in warm water and rub the mask off. Do not scratch on your delicate skin.
Rinse your face with normal or lukewarm water. Add some rose water as a toner and wash your face again.
A mud mask can have several benefits for your skin. We have listed the most important benefits in the following section.
Mud Mask Benefits For Your Skin
Applying a mud mask helps boost collagen formation. It tightens the skin.
The minerals in a mud mask have high absorbing properties. They reduce oil secretion from the pores and absorb toxins.
The calcium and magnesium in the mud mask nourish the skin, boost its healing capabilities, and prevent free radical damage.
The charcoal in mud masks deep cleanses the skin and extracts all impurities.
Mud masks act as a barrier and prevent toxins from getting absorbed into your skin. They also protect your skin from sun damage.
Having read the benefits, you are all set to pick your favorite mud mask, aren't you? Before you do so, check the following section. We have listed the factors you need to consider before buying a mud mask.
Choosing The Right Mud Mask For Your Skin
You should choose a mud mask as per your skin type and texture. Check the following criteria based on your skin type.
Best Mud Mask For Normal And Combination Skin
If you have normal skin, you can choose any type of mud mask. But if you have combination skin, ensure you choose a mask that won't dry your skin out. Though clay is an important ingredient of the product, other skin-nourishing ingredients along with it can work far better.
Best Mud Mask For Dry Skin
For dry skin, a deep cleansing mask should contain moisturizing ingredients to provide intense hydration, like glycerin or hyaluronic acid. Also, make sure to use rose water as a toner (or any other natural toner) after applying a mud mask.
Best Mud Mask For Oily Skin
For oily skin, choose a mud mask that contains heavy clay (like bentonite clay). It will absorb the excess oil and detoxify dull or congested skin. It also unclogs pores. Look for the mask that also contains other pore-tightening ingredients, like sulfur, willow bark, or witch hazel. Charcoal is another great ingredient with oil-absorbing properties.
Choose the mask wisely and enjoy its benefits. You can try a homemade mud mask if you want to enjoy the incredible beauty benefits. Check out some DIY mud masks.
Why Trust StyleCraze?
The author of this article, Oyendrila Kanjilal, is a certified skin care coach with a passion for hunting down the best of new product entries in the market. She has carefully checked numerous product reviews on multiple platforms and closely examined product specifications and ingredients to shortlist the best mud masks available online. The products she has handpicked use safe ingredients and can keep the skin healthy.
Frequently Asked Questions
How often should you use a mud mask?
You can use a mud mask 2-3 times a week. If you have dry skin, apply the mask 1-2 times a week. Follow every use with proper toning and moisturizing.
What is the difference between mud masks and clay masks?
Mud is a skin-healing agent, whereas clay is a skin-drying agent. A mud mask is generally water-based and provides hydration to your skin. A clay mask is specifically made for oily skin to absorb excess oil and dirt.
Are mud masks good for acne?
No, a mud mask is not good for acne. You should choose a clay mask for acne-prone skin.
Is a mud mask good for blackheads?
Yes. Mud masks draw out the impurities from your skin and unclog pores. Therefore, they are very effective for eliminating blackheads.
How effective are mud masks?
Mud masks fill your skin with hydrating and exfoliating properties. They clear acne, remove blackheads, improve blood circulation, reduce aging signs, and leave your skin feeling tighter.
How long does a mud face mask take to work?
A mud mask takes 10 to 15 minutes to work on the skin. Once the mask feels dry on the skin, wash it off using a washcloth dipped in warm water.
How to remove a mud face mask?
• Dip a clean washcloth in lukewarm water. Squeeze the water out.
• Gently wipe the mask off your face in circular motions with the washcloth. Check and remove excess masks from your hairline, eyebrows, and nostrils.
• Pat your skin with a clean, dry towel.
Should you moisturize after a mud mask?
Yes. Use a lightweight moisturizer after a mud mask to lock the moisture in your skin and keep it hydrated and nourished.
Which is better, mud or clay mask?
Clay masks absorb the oil from your face and are ideal for oily, acne-prone skin. On the other hand, a mud mask hydrates your skin while controlling acne, so it is suitable for dry skin. Choose a mask based on your skin type.
Recommended Articles