The 11 Best Mud Masks For Blackheads That Cleanse Your Skin – 2022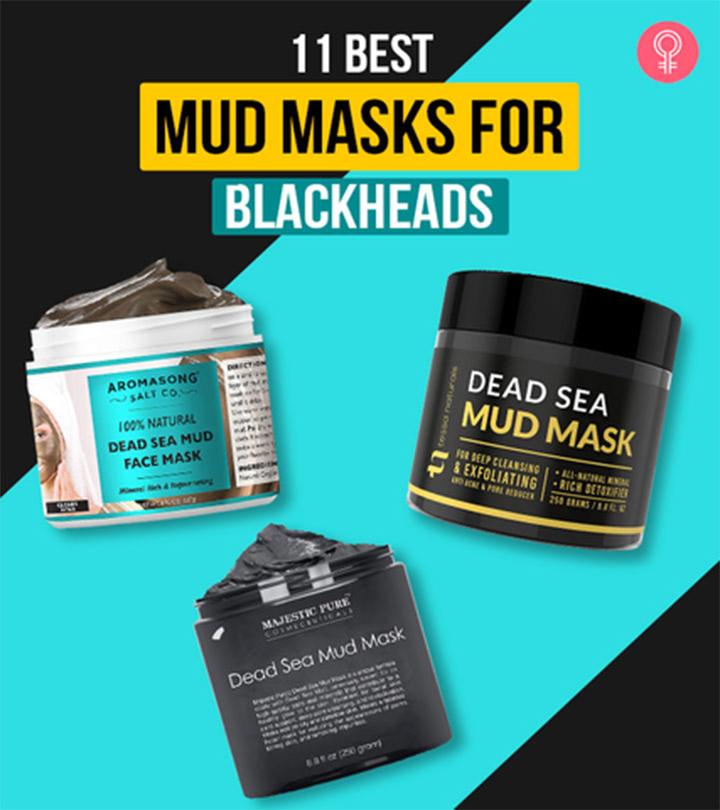 Blackheads are a nightmare for everyone, especially those with bigger pores on their skin. The visible black specks are easy to spot and will take your confidence away. The easiest way to drive them away is by using the best mud masks for black heads that are infused with ingredients that cleanse and purify your skin. They also prevent breakouts and keep your skin youthful. Here are the 11 highest-rated mud masks to choose from.
11 Best Mud Masks For Blackheads
The spa-quality New York Biology Dead Sea Mud Mask is infused with minerals that cleanse blocked pores and get rid of blackheads. It contains herbal ingredients like sunflower seeds, jojoba oil, chamomile extract, kaolin clay, aloe vera, and vitamin A that offer moisture and protection to your skin and reduce acne. This exfoliating mask clarifies and refines your skin and absorbs excess oil and toxins from the pores, tightening them. It stimulates blood circulation, leaving your skin feeling soft and radiant. This face mask tightens the skin for a visibly radiant complexion and is suitable for all skin types. Check out this review for a detailed understanding about the product.
Pros
100% natural
Gentle
Easy to spread
Non-drying
A little goes a long way
Cruelty-free
Alcohol-free
Paraben-free
Sulfate-free
Cons
May cause breakouts in sensitive skin types
The superior quality salts and minerals in the Majestic Pure Dead Sea Mud Mask are effective in removing blackheads. The restorative formula is infused with jojoba oil and aloe vera that have antibacterial and moisturizing properties. It offers deep cleansing to your skin, removing toxins, dirt, impurities, and sebum from the pores. The mask detoxifies the facial skin and clears it of acne, whiteheads, and other breakouts. The highly concentrated formula also contains kaolin clay, calendula, hickory bark extract, shea butter, lavender oil, and sunflower oil that work in tandem to restore your skin's health and slow down the aging process.
Pros
Easy to spread
Non-drying
Cruelty-free
Smells good
Cons
May cause breakouts and rashes
The Aria Starr Beauty Dead Sea Mud Mask is enriched with natural minerals like calcium, magnesium, sulfur, iodine, bromide, sodium, potassium, and zinc. These potent minerals offer deep cleansing to your skin while removing blackheads and whiteheads and reducing acne and breakouts. This mud mask draws out excess oil and impurities seeded deep within the skin's layers. It stimulates circulation while detoxifying your skin. The aloe vera, shea butter, and jojoba oil in its formula offer moisturization and nourishment to your skin. This restorative mask treats all skin issues, evens out the skin tone, and gives you softer and tighter skin. This video review will help you understand more about the product.
Pros
Easy to apply
Smells good
Value for money
Cons
The Once Upon A Tea Green Matcha Mud Mask is infused with healing ingredients that reduce blackheads, blemishes, and redness. It has vitamin K-rich green tea to reduce dark under-eye circles. The mask also contains volcanic mud, vitamin C, and hyaluronic acid that provide oxygen to the skin while refining pores and improving cellular activity.
The volcanic mud is rich in complex minerals that balance the skin's natural pH levels. It exfoliates the skin, drawing out toxins from deep within the pores. Vitamin C in the mask refreshes your face and shields it from environmental aggressors. The mask also reduces aging signs and heals damage caused by sun exposure. The concentrated active ingredients give the mask a lush, velvety texture and provide a spa-like feel. This mud mask leaves your skin feeling silky soft, nourished, hydrated, and radiant. If you are still unsure, check out this honest review.
Pros
Easy to spread
Easy to remove
Smells good
Vegan
Cruelty-free
Gluten-free
Cons
The TN Tessa Dead Sea Mud Mask has deep cleansing properties that reduce blackheads, acne, and sebum from your skin. It draws out toxins, dirt, and impurities from the pores and minimizes the chances of outbreaks. Its all-natural formula is powered by collagen that firms your skin, increases its elasticity, and reduces the signs of aging.
The mask contains soothing minerals and nourishing antioxidants blended with vegetable amino acids and witch hazel extract, which are delicate on sensitive skin. The hyaluronic acid and vitamin E in the formula provide your skin with moisture and protection from external damages. This mud mask makes the skin supple and soft and imparts a youthful glow. It comes with a soft sponge for easy application.
Pros
All-natural
Non-drying
Easy to use
Rinses off easily
Smells good
Applicator sponge inside
Cons
May not suit sensitive skin
If you are looking for an organic formula for your face, the Pop Modern. C Organic Food Dead Sea Mud Mask is your best bet. It is vegan and enriched with organic ingredients that exfoliate your skin gently and pull out all impurities, dead skin cells, and toxins lodged deep within the skin's pores. Its deep cleansing action gets rid of blackheads and makes your skin feel smooth.
This mask is infused with avocado and green tea that moisturize the skin and relieve irritation. The jojoba oil, aloe vera, and kale extract in the mask work in tandem to restore the pH balance of your skin so that your face looks young and rejuvenated. Apply this mask for a spa-like relaxation with the fragrance of green tea.
Pros
Vegan
Suitable for all skin types
Pleasant fragrance
Comes with a brush and blackhead extractor
Cons
If you are dealing with psoriasis or other forms of eczema, along with blackheads and acne, the O Naturals Mud Mask is just right for you. It is enriched with clay from the Dead Sea and blended with olive oil and aloe vera. This mask exfoliates your skin, deep cleanses the pores, and repairs damage. It acts as a skin vacuum, sucking out dirt and dead skin cells from the pores, controlling excess sebum production, blackheads, and breakouts. It reduces the appearance of wrinkles and fine lines while tightening the pores and clearing the complexion. In addition, the 21 essential minerals present in this mask purify and clarify your skin.
Pros
Vegan
Natural ingredients
Easy to spread
Cruelty-free
Sulfate-free
Paraben-free
Cons
This cleansing and detoxifying mask unclogs pores by pulling out toxins and accumulated dirt and reduces blackheads, acne, and breakouts. It is infused with green tea, an antioxidant with anti-inflammatory properties, and aloe vera, which reduces inflammation and irritation, providing your skin with a smooth and brightening effect. This hydrating mask combats excess oil and maintains your skin's natural pH balance. It tightens the pores to prevent further clogging.
Pros
Easy to apply
Non-drying
Easy to wash off
Smells good
Cons
The Aromasong 100% Natural Dead Sea Mud Face Mask is made of the purest form of Dead Sea mud. The liquid texture of this mask confirms that it is unadulterated. Its clay content has superior vacuum powers that pull out the toughest of impurities, oil, dead cells, and toxins from the skin's pores.
This mud mask reduces blackheads, breakouts, acne, and other skin issues and restores the natural pH balance of your skin. The anti-blackhead mask minimizes pores and tightens your skin, giving it a younger appearance. It is loaded with silica that keeps the signs of aging at bay. Apply it only for five minutes to get plumper, vibrant, glowing, and youthful skin.
Pros
100% natural
pH-balancing
Easy to spread
Non-irritating
Cons
The Nuva Spa Dead Sea Mud Mask gets rid of blackheads with its high-quality ingredients. It has a luxuriously thick texture, and contains a variety of essential minerals like calcium, magnesium, sulfur, iodine, bromide, zinc, sodium, and potassium to detoxify and revitalize your skin. It enhances blood circulation, tightens pores, and keeps the skin moisturized and protected. The mud mask absorbs excess sebum and evens out the skin tone for a youthful glow.
Pros
Natural ingredients
Easy to spread
Smells good
Non-drying
Cons
May cause a tingling sensation
Not easy to wash off
Keep your skin hydrated and moisturized with this clay mask rich in minerals and hyaluronic acid. The Anai Rui Rose Clay Mask is enriched with the goodness of kaolin pink clay that pulls out the impurities from deep inside the pores while absorbing excess oil. The rosa flower extracts in the mask gently cleanse your skin of accumulated dirt and toxins, which cause blackheads.
The mask has rose extracts enriched with vitamins A and C, fatty acids, and linoleic acid to revitalize your skin. It also contains papaya flower, niacinamide, and active collagen to activate skin protein, minimize pores, and purify and rejuvenate your skin. This polishing mask makes your skin soft and supple while reducing the signs of aging.
Pros
Easy to apply
Non-drying
Vegan
Paraben-free
SLS-free
Mineral oil-free
Cruelty-free
Cons
Why Trust StyleCraze?
Shiboli Chakraborti, the author of this article, is a certified skin care coach. Her passion for skincare pushes her to find the best products for her readers. After consulting numerous user reviews on trusted online forums and websites, she has compiled this list of the top mud masks for blackheads on the market. These masks are infused with natural ingredients that cleanse your skin deeply and help keep it healthy and glowing.
Frequently Asked Questions
Can mud masks remove blackheads?
Yes. Mud masks can penetrate the thick layers of the skin and clear clogged pores of sebum and impurities. They remove blackheads effectively and leave the skin blemish-free and refreshed.
How often should you use a mud mask for blackheads?
You can use it up to a maximum of three times a week.
Recommended Articles