Top 15 Multani Mitti Products Available In India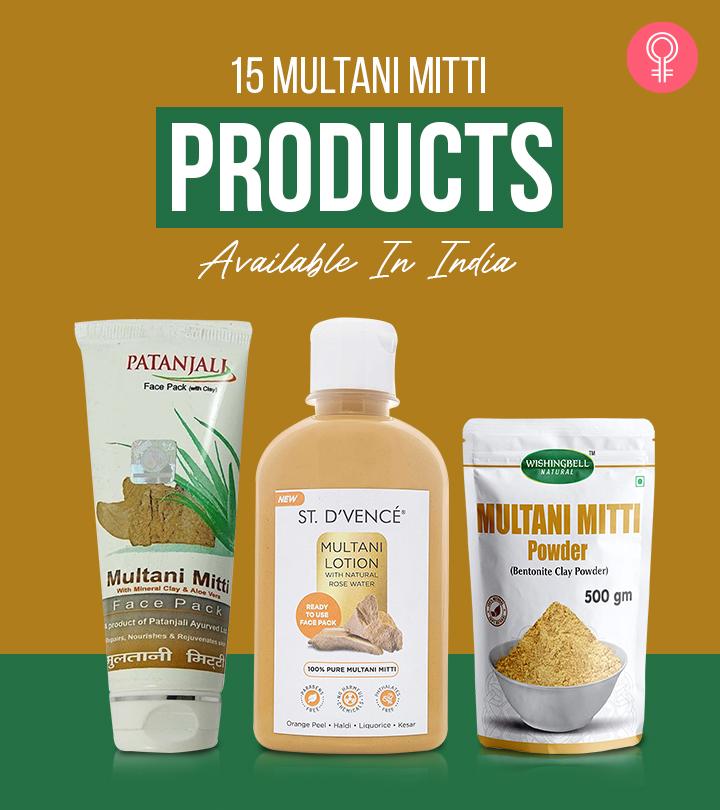 Fuller's earth, popularly known as multani mitti, is a natural solution for multiple skin problems. This highly beneficial natural ingredient helps fight acne and pimples and gets rid of excess oil on your skin. It also reduces dark spots, improves the skin tone, and exfoliates dead skin cells. Multani mitti is also known to target issues like tanning and pigmentation.
Given its benefits, it is time to add some multani mitti products to your skin care routine if you haven't already. We have made the task easier for you by providing a detailed review of the 15 best multani mitti powders available in India.
Top 15 Multani Mitti Products Available In India
The Khadi Omorose Multani Mitti powder has high-quality organic ingredients that cleanse the pores, maintain the skin's long-term health, and impart a youthful glow. It helps combat skin problems like acne and pigmentation, tightens the pores, and makes your skin look young. The product is free of harmful chemicals and protects your skin from tanning. Apply it after mixing with rose water and see the difference in a few days.
Pros
100% natural
Preservative-free
Easy to mix
Affordable
Cons
None
The Old Tree Essentials Fuller Earth Powder is a chemical-free natural healer. This high-quality natural clay prevents acne, reduces pigmentation, and gets rid of dead skin cells. It can also help get rid of scars and dullness on your face and leave it smooth and radiant. This Multani mitti powder unclogs large pores and tightens your skin. It also cleanses your scalp to get rid of dandruff and boosts hair health by deeply conditioning it and imparting shine.
Pros
SLS-free
Chemical-free
Preservative-free
Artificial color-free
Cons
This face pack from Patanjali contains gairika (mineral clay) that tightens the skin and enhances blood circulation. It sloughs off dirt and impurities clogged in the skin pores. The fuller's earth is rich in antioxidants that make your skin look young and fresh and prevent fine lines, wrinkles, and scars. It also contains trace minerals like zinc, aluminum, and magnesium that rejuvenate and repair your skin. This pack is also infused with aloe vera, which moisturizes and heals the skin. It calms and cools the skin and leaves it clean and fresh.
Pros
Easy to apply
Chemical-free
Good for oily skin
Cons
Price at the time of publication: ₹9.99
The St. D'vence Multani Mitti lotion is a powerhouse of Ayurvedic ingredients, such as haldi powder, honey, saffron, kesar, and rose water, to brighten your skin. It also contains aloe vera, til oil, and orange peel extract to detoxify the skin and remove dead skin cells and excess sebum and oil. The perfect blend of therapeutic herbs helps fight skin impurities, acne, and pimples. It keeps your skin refreshed even after a tiring day of work. This lotion lightens tanning and pigmentation and evens out the skin tone
Pros
Hypoallergenic
Non-comedogenic
Pleasant fragrance
Cruelty-free
Paraben-free
SLS-free
Mineral oil-free
PEG-free
Cons
None
Your wish for fabulous and flawless skin can come true with the Wishingbell Natural Multani Mitti Powder. It rejuvenates and brightens the skin, opens clogged pores, removes blackheads, and lets your skin breathe. It also exfoliates and detoxifies your skin to make it soft and smooth.
Pros
100% organic
Chemical-free
Additive-free
Preservative-free
Cons
None
The Pure And Natural Multani Mitti from Herbalvilla is triple micro-filtered and consists of rich  herbs that exfoliate dead skin cells to give you a youthful look. The face pack reduces the secretion of excess oil, gets rid of impurities, and adds a healthy glow to your skin. It also nourishes your scalp and promotes hair growth. It deep conditions your hair, reduces dandruff, and makes your locks smooth, silky, and shiny.
Pros
100% natural
Paraben-free
Preservative-free
Additive-free
GMO-free
Cons
None
The Forest Herbs Natural Multani Mitti Powder is micro-fine and triple sifted and free of artificial fillers or preservatives. It offers protection against sunburns and tanning and improves the skin tone. The rich combination of minerals like silica, quartz, and calcium brightens the skin and improves its texture. It also contains iron, calcite, and dolomite to tighten the skin and keep it looking youthful. You can also use this multani mitti powder to condition your hair, cleanse your scalp, and add a gorgeous shine to your locks.
Pros
100% natural ingredients
Chemical-free
Paraben-free
Filler-free
Preservative-free
Cons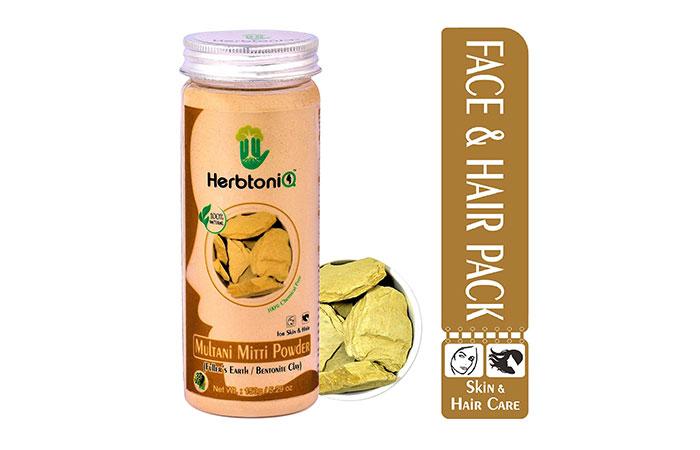 Get acne-free and glowing skin with the HerbtoniQ Multani Mitti powder. The face pack fades the appearance of scars, burns, and tan while nourishing your skin. It kills bacteria and other harmful toxins and deeply cleanses the open pores. This fuller's earth powder exfoliates dead cells and flakes and makes your skin soft and smooth. It also absorbs excess oil from the scalp and skin, helping reduce dandruff and pimples.
Pros
100% natural ingredients
Chemical-free
Preservative-free
No artificial agents
Cons
None
The Pure Herbology Herbal Multani Mitti Face Pack Powder contains neem extracts that can help reduce acne and pimples. It offers intense hydration to the skin and leaves it soft and supple. It also removes blackheads and whiteheads when mixed with rosewater and aloe vera. The face pack contains skin-friendly ingredients, such as decomposed volcanic ash and magnesium, that help absorb excess oil and reduce acne and itching. It has a sweet fragrance that will uplift your mood.
Pros
Skin-friendly ingredients
Vegan
Cruelty-free
Preservative-free
Chemical-free
Color-free
Cons
None
Get rid of scars, tans, and sunburns with the O4U Organic Multani Mitti Powder. It helps soothe acne, itching, and allergies, cleans open pores, tightens your skin, and reduces pigmentation. It eliminates excess oil and impurities, making your skin looking fresh and smooth. The powder is perfect for the face and hair. It cleans your scalp and promotes healthy hair growth.
Pros
Vegan
Paraben-free
Chemical-free
Cruelty-free
Cons
Price at the time of publication: ₹69.88
The LivShine Natural Multani Mitti comes in a stone form and makes your skin smooth and glowing. It helps detoxify your skin and scalp and improves blood circulation, which strengthens the hair follicles. It doesn't dry out natural oils from your skin and scalp, which makes it suitable for those with oily hair and scalp. This multani mitti stone also helps condition your hair and repair damage to keep it smooth and silky.
Pros
Natural
Artificial fragrance-free
Cons
The Origenz Multani Mitti Powder can help reduce acne, pimples, blackheads, and whiteheads. It ensures deep cleansing, improves skin texture, and softens the skin. It also absorbs excess oil and sebum and gives your skin a refined look. The powder is excellent for sensitive skin and does not cause itching, rashes, or allergies. Try it out to get glowing skin after a few days of use.
Pros
Natural
Easy to use
Synthetic additive-free
Chemical-free
Cons
None
Nature's Tattva Multani Mitti powder is highly porous and helps pull out dirt and toxins lodged deep within the pores to impart a natural glow. It contains natural magnesium chloride that absorbs excess oil and reduces acne and blemishes. It also cleanses the hair and scalp and repairs damage. This product has a natural earthy scent and can also be used in homemade deodorants to mask body odor.
Pros
100% vegan
Added color-free
Silica-free
Preservative-free
Cons
The Mesmara Herbal Multani Mitti powder has 100% organic and natural ingredients that add a healthy glow to your face. It smoothens and tightens the skin, improves the skin tone and texture, and unclogs open pores. It can be used to clean your scalp or soak your feet or applied onto the body for a rejuvenating clay bath.
Pros
100% vegan
Skin-friendly
Pocket-friendly
Value for money
Cons
None
The finely powdered multani mitti by Havintha imparts a refreshing and rejuvenating feeling to your skin. It reduces acne, rashes, and excess oil and makes skin smooth and soft. The product can also be used to cleanse and nourish your hair and scalp, which enhances your hair health.
Pros
100% organic
Harmful chemical-free
Preservative-free
Cons
None
Multani mitti or Fuller's earth is widely used across the world for its numerous benefits for the skin and hair.
What Are The Benefits Of Using Multani Mitti?
It has excellent exfoliating and detoxifying properties.
It improves skin and hair health.
It imparts an instant glow to your skin.
It reduces acne, itching, pigmentation, and allergies.
It improves blood circulation to the skin and scalp.
It absorbs excess oil to reduce the occurrence of pimples.
It makes your skin smooth, soft, and youthful.
It contains natural minerals that improve skin health.
One should be careful while buying any skin care product – and the same goes for multani mitti. Here are the things to consider before you decide to get a new pack of Fuller's earth powder.
What To Look For When Buying Multani Mitti
Multani mitti is available in solid, paste, and powdered forms. It is best to go for paste or powdery versions for ease of use. You can mix it with rose water, honey, aloe vera, or any other natural ingredients.
Go for multani mitti that is 100% natural with no added chemicals or preservatives to avoid skin irritation, rashes, and breakouts.
Multani mitti or Fuller's earth is a one-stop solution for all your common skin and scalp problems – from reducing oiliness and dandruff to rejuvenating dull skin. It has been used for centuries as a beauty staple and does not have any side effects. So, bid adieu to acne, pimples, and oily skin and get a youthful look by including any of the multani mitti products listed above in your skin care routine.
Frequently Asked Questions
>How do I know if my multani mitti is pure?
The simple way to find about the purity of Multani mitti is by observing how it looks and smells. Pure multani mitti is cream to tan-colored and has a muddy, earthen smell.
Which place is famous for multani mitti?
Fuller's earth is also known as multani mitti or the mud from Multan due to the place of its origin. Multan is located in the Punjab province of present-day Pakistan. It was part of United India before 1947.
Can I apply multani mitti regularly?
Yes, it can be applied daily on your skin and scalp. It adds a healthy glow and improves the skin tone. However, if you have dry skin, use this powder twice a week.
Can I leave multani mitti overnight?
No. It is not advisable to leave multani mitti on the skin overnight. You must wash it off after 15-20 minutes. Leaving it on for more time can strip off the natural oils and moisture from the skin. However, you can use it as an overnight spot treatment.
Does multani mitti expire?
No. Raw and natural multani mitti does not have an expiry date. However, ensure you store it in a cool and dry place.
Recommended Articles