The 10 Best Murad Products You Need To Try Out In 2022
Pamper and treat yourself with the best products to enhance and rejuvenate your skin.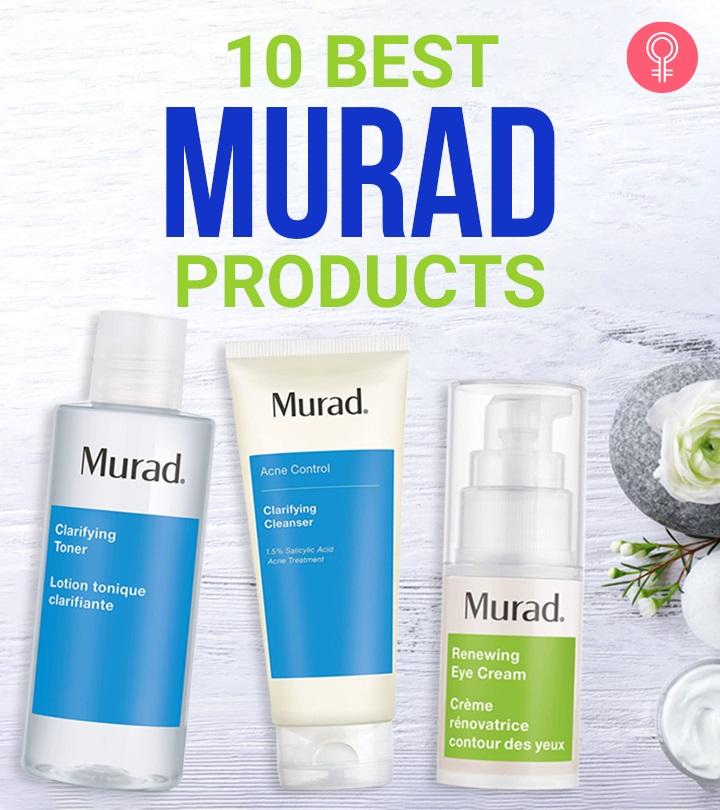 Time to skip harmful toxin-filled skincare products! You need what's best for your skin, and that's why we have the best Murad products listed just for you. Murad offers clinically-proven, doctor-developed, and medical-grade skincare products. Dr. Howard Murad developed the first range of clinical skincare products in 1989 with the philosophy "Skincare is healthcare". This brand believes that skin looks prettier when healthy at the cellular level. Murad products are cruelty-free and safe. So without any further ado, check out the 10 Murad's products that we have listed below.
The Top 10 Murad Beauty Products Of 2022
The Murad Acne Control Clarifying Cleanser is a gel-based cleanser with two types of salicylic acid. This cleanser helps dissolve excess oil, clear existing blemishes, purify pores, and prevent future breakouts. It contains green tea extract that calms and soothes irritation for healthier-looking skin. The product is suitable for oily, combination, and sensitive skin types.
Key Ingredients: Salicylic acid, Green tea extract, and Citronella
Pros
Paraben-free
Sulfate-free
Gluten-free
Non-drying
Mild fragrance
Cons
Takes time to show results
The Murad Essential C Cleanser is a vitamin-rich skin energizing cleanser. This patented antioxidant-rich cleanser contains vitamins A, C, and E that neutralize environmental damage and rehydrate the skin. Its foaming gel formula improves skin health by removing impurities without overdrying it, while the panthenol and allantoin keep the skin soft. The refreshing citrus fragrance awakens the senses. This cleanser is suitable for normal, oily, dry, and combination skin types.Key Ingredients: Vitamins A, C, and E, Allantoin, and Panthenol. Check this video for a detailed review of the Murad Essential C Cleanser.
Pros
Non-drying
Mild formula
Formaldehyde-free
Petrolatum-free
Mineral oil-free
Gluten-free
Cons
The Murad Clarifying Toner removes excess oil, tightens pores, and prevents acne and blemishes. This formula features witch hazel to control excess sebum and tighten pores, algae extract for shine control, and grape seed extract and vitamin E to neutralize free radical damage. It is ideal for oily and acne-prone skin.
Key Ingredients: Witch hazel, Algae extract, Grape seed extract, and Vitamin E
Pros
Sulfate-free
Gluten-free
Phthalate-free
Cons
The Murad Resurgence Renewing Eye Cream is a multi-action anti-aging eye cream. It contains advanced peptides and retinol to minimize wrinkles and fine lines, mango butter to improve elasticity, and an Eye Brightening Complex to reduce dark circles and puffiness. This eye cream brightens the eye area and keeps it youthful. This product is suitable for all skin types. Take a look at this video for an honest review of the Murad Resurgence Renewing Eye Cream.
Key Ingredients: Peptides, Retinol, and Mango butter
Pros
Non-greasy
Gentle
Easy to apply
No residue
Paraben-free
Cons
Takes time to show results
The Murad InvisiScar Resurfacing Treatment is a treatment for post-acne scarring. The formula contains BHA (salicylic acid) that improves scar texture, centella asiatica to support healthy skin, and vitamin C and hydroxytyrosol to reduce acne spots. This product also contains light diffusers and blurring powder to fill and blur scars, giving your skin a silky smooth appearance. It claims to show results in just eight weeks.
Key Ingredients: Salicylic acid, Centella asiatica, Vitamin C, Hydroxytyrosol
Pros
Matte finish
Improves skin texture
Gluten-free
Paraben-free
Sulfate-free
Cons
Less quantity for the price
The Murad Resurgence Retinol Youth Renewal Serum is a retinol-based anti-aging face serum. It is developed with Retinol Tri-Active Technology that visibly minimizes deep wrinkles and fine lines, swertia flower extract to improve skin resilience, and hyaluronic acid to visibly plump the skin and minimize dryness. The serum helps minimize skin irritation, tighten the skin, and keep it youthful. The formula is suitable for all skin types and is tested on sensitive skin. Look at this demo video of the Murad Resurgence Retinol Youth Renewal Serum.
Key Ingredients: Retinol, Swertia flower extract, and Hyaluronic acid
Pros
Improves texture
Gluten-free
Clinically tested
Non-irritating
Non-drying
Cons
The Murad Anti-Aging Acne Moisturizer Broad Spectrum SPF 30 PA+++ is a lightweight SPF moisturizer. It contains Kombucha Defense Complex, derived from black tea ferment, which reduces wrinkles and fine lines. This nourishing moisturizer also contains an Oil-Control Complex that keeps the skin pores clean.The chemical sunscreen in the moisturizer provides broad-spectrum UV protection. This non-greasy moisturizer helps relieve dryness and is suitable for all skin types.
Key Ingredients: Kombucha Defense Complex and Oil-Control Complex
Pros
Oxybenzone-free
Mineral oil-free
Gluten-free
Non-greasy
Cons
Expensive
Not suitable for sensitive skin
The Murad Acne Control Clarifying Mask is a clinically tested and medicated product that purifies and cleanses oil and impurities from the skin. It contains 4.0% sulfur that reduces acne severity and clears up the skin. Licorice root extract and zinc oxide promote healing, while kaolin clay absorbs oil and impurities. This unique formula opens up the pores, clears acne, and prevents future breakouts. This product is good for oily and combination skin types.
Key Ingredients: Kaolin Clay, Licorice Root extract, Zinc Oxide, and Sulfur
Pros
Oil-free
Paraben-free
Sulfate-free
Mineral oil-free
Petrolatum-free
Easy to wash off
Cons
None
The City Skin Overnight Detox Moisturizer by Murad is a detoxifying and skin-healing overnight moisturizer that cleanses the skin from pollutants and brightens it. The product contains marrubium plant stem cells, vitamin C, and nourishing botanicals that neutralize toxins, strengthen the natural moisture barrier, and fight the signs of aging. This rejuvenating formula is clinically tested to maintain skin health and is suitable for all skin types.
Key Ingredients: Marrubium Plant Stem Cells, Sunflower, Cucumber, and Barley
Pros
Non-oily
Refreshing fragrance
Gluten-free
Visible results
Cons
The Murad Rapid Age Spot Correcting Serum visibly clears age spots, freckles, and blemishes. The Niacinamide Complex in the serum is clinically proven to restore and revitalize the skin's natural tone and reduce age signs. The vitamin C, oligopeptides, and light-reflecting pearls boost skin radiance and brighten the skin tone over time. This serum is suitable for all skin types and is tested on sensitive skin.
Key Ingredients: Niacinamide, Vitamin C, and Oligopeptides
Pros
Lightweight
Gets easily absorbed
Refreshing citrus fragrance
Paraben-free
Gluten-free
Cons
Takes time to show results
The Murad Retinol Youth Renewal Night Cream is a corrective retinol night cream suitable for all ages. It has a unique formulation combining three different retinol technologies that reduce fine lines and deep wrinkles. It is gentle on the skin, boosts radiance, and evens out the skin tone. The niacinamide and picolinamide in the formula strengthen the skin barrier and improve its resilience against damage. Use the product for at least three weeks before any results.
Key Ingredients: Retinol, Niacinamide, and Picolinamide
Pros
Hydrating
Fast results
Pleasant fragrance
Lightweight
Cons
None
The Murad Vita-C Glycolic Brightening Serum is a solution for hyperpigmentation and uneven skin tone. This restorative serum contains potent antioxidant vitamin C that reduces hyperpigmentation and dullness and boosts antioxidant defense. The glycolic acid in this formulation exfoliates the skin, boosting vitamin C delivery, and the phyto-luminescent extract helps illuminate the skin. The product is ideal for all skin types.
Key Ingredients: Vitamin C, Glycolic acid, and Phyto-Luminescent extract
Pros
Frarance-free
Lightweight
Visible results
Cons
Why Trust StyleCraze?
The author of this article, Shiboli Chakraborti, is a certified skin care coach. She read numerous product reviews and customer feedback to compile a list of the best Murad products based on the insights gained. These medical-grade products are clinically proven to suit all skin types.
Frequently Asked Questions
Is Murad a good skincare line?
Yes, it is a dermatologist-developed skin care brand. All Murad products are clinically proven, cruelty-free, and free from artificial preservatives and chemicals that might irritate the skin.
Does Murad test on animals?
No. Murad Skincare is a cruelty-free brand.
Is Murad good for acne, sensitive skin, or aging skin?
Yes. Murad products are safe for sensitive skin, and they have potent skin care solutions catering to acne, aging skin, and other related concerns.
What ingredients are present in Murad products?
Murad uses a wide range of patented, clinically proven ingredients in their products, including retinol, vitamin C, pomegranates, mushroom peptide, yam extract, AHAs and BHA, and Centella asiatica.
Is Murad considered a medical-grade skincare line?
Yes, Murad is an over-the-counter medical-grade skincare line. It is also one of the first skin care brands founded by a doctor.
Is Murad good for mature skin?
Yes, Murad products are great for mature skin. They help reduce the appearance of fine lines, wrinkles, and patches. They are also great for acne-prone skin.
Is Murad a trusted brand?
Yes, Murad is a trusted skin care brand. It has a lot of effective products for various skin types.
Which brand is comparable to Murad?
Murad's skin care line can be compared to IT Cosmetics. However, both brands come with effective formulations that keep your skin care concerns at bay.
Are Murad's products worth the money?
Yes, Murad's products are affordable and worth the money. They quickly produce results and have a good reputation among skin care enthusiasts.
How long does it take for Murad products to work?
Murad products generally work in a week or two. However, they might take longer depending on your skin type, concerns, and the products' formulations.
Recommended Articles