11 Best Muscle Roller Sticks For Athletes & Fitness Lovers – 2022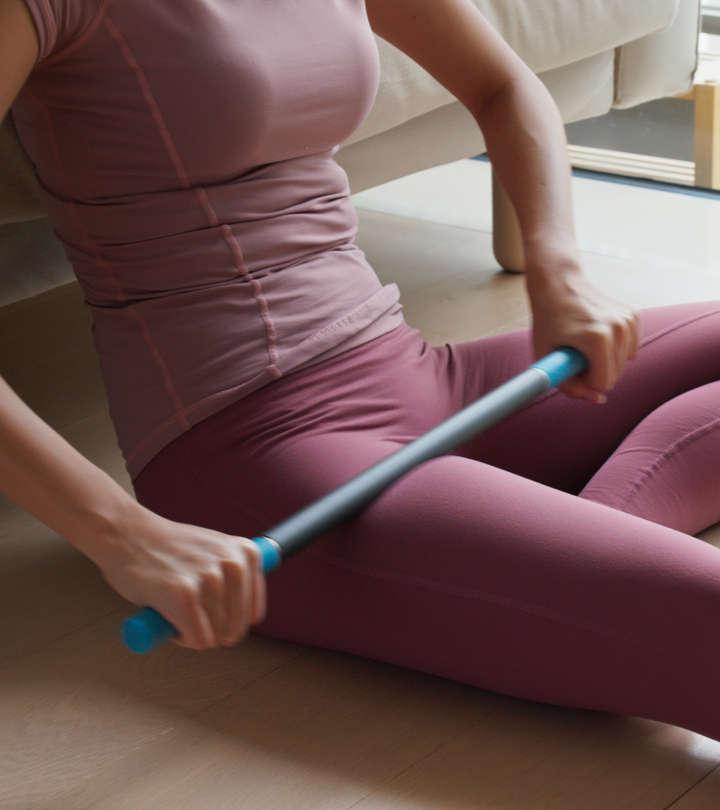 Are you looking for the best muscle roller stick to relieve those tight muscles? Then you have most certainly come to the right place. Fitness lovers and athletes alike use muscle rollers for various purposes. It helps aid them in recovery, reduces pain, and massage all those tight knots in your body. They are also used post-workout to remove the soreness from the muscles. So, here are our top 11 muscle roller sticks to help you with your needs. Scroll down to know more!
Benefits Of Using Muscle Roller Sticks
 It can relieve pain and soreness.
 It promotes relaxation and may improve your sleep quality.
 It warms up your muscle before exercise to prevent injuries during activities.
 It improves blood circulation to the muscles.
Muscle rollers can enhance the warmup and cool down sessions before and after exercise. If you are a fitness enthusiast, keep scrolling to check out the best products available on the market.
11 Best Muscle Roller Sticks That Work Effectively
The Idson Muscle Roller Stick has a unique nine-roller design to impart deep massage and accelerate recovery. The convex point design of the handle ensures a firm and comfortable grip. The roller stick has a portable design and is made of sturdy industrial-strength material. The nine independent rollers stand strong on the steel rod core. This stick is recommended by trainers and therapists and is perfect for soothing the core muscles.
Specifications
 Size: 18 x 2.2 x 1.8 inches
 Weight: 0.65 pounds
 Material: Rubber
 Color: Green
Pros
 Water-resistant
 Ergonomic grip
 Portable
 Easy to use
 Anti-skid handles
Cons
The Supremus Sports Muscle Roller Stick is a portable tool for pre and post-workout use. It soothes sore muscles, improves blood circulation, and relieves pain. The sturdy design of the stick allows you to apply maximum pressure while using it and the 2mm gap between each roller prevents pulling your body hair. The muscle roller stick has a compact design and is travel-friendly.
Specifications
 Size: 17.5 x 1.5 x 1.5 inches
 Weight: 0.5 pounds
 Material: Rubber, stainless steel
 Color: Black
Pros
 Portable
 Easy to use
 Sturdy
 Compact design
 Affordable
Cons
 Beads squeak when rolling
The Coolife Fascia Muscle Roller is suitable for massaging your neck, calves, thighs, waist, and back to relax and relieve sore muscles. The physical therapy tool is portable and lightweight and is best for deep tissue massages to alleviate pain.
Specifications
 Size: 16.53 x 2.4 x 2.4 inches
 Weight: 0.65 pounds
 Material: Rigid plastic
 Color: Mint green
Pros
 Multifunctional
 Rolls smoothly
 Portable
 Lightweight
Cons
The Elite Sportz Equipment 18" Massage Stick provides muscle relief and has nine independent and snag-proof rollers. It has a sturdy design and helps promote blood flow, relieves knots and tension in the fascia to promote fluid flow between the joints to keep the muscles and connective tissues hydrated. This also helps improve mobility and flexibility.
Specifications
 Size: 1 x 1 x 1 inches
 Weight: 0.5 pounds
 Material: Plastic, Rubber
 Color: Silver
Pros
 Ergonomic handle
 Greater control
 Easy to use
 Affordable
 Snag-proof design
Cons
The Tiger Tail Massage Stick Portable Roller is a deep tissue foam fitness tool made of latex-free material. Its non-flexible design promotes even distribution of pressure to provide relief in the target areas. The ergonomic grip handle of the tool ensures a firm grip without tiring your hands during the massage sessions. It is lightweight and travel-friendly.
Specifications
 Size: 17.75 x 1.62 x 1.62 inches
 Weight: 0.21 pounds
 Material: Medical grade foam and plastic
 Color: Orange and black
Pros
 Latex-free
 Ergonomic design
 Easy to clean
 Comfortable grip
 Lightweight
 Cushioned cover
 Available in three sizes
Cons
The Reehut Muscle Roller massager is designed for trigger point therapy that increases blood flow, reduces soreness, and minimizes pain. It has a reinforced steel core with high-grade thermoplastic rubber and polypropylene handles for a firm and anti-slip grip. The tool has nine independent ABS rollers, and each rolling spindle is engineered to hit all pressure points. It provides deep tissue massage to relieve hamstrings, calves, glutes, and quads to aid rehabilitation.
Specifications
 Size: 17.5 x 1.77 x 1.77 inches
 Weight: 0.75 pounds
 Material: Steel, rubber, and plastic
 Color: Blue
Pros
 Portable
 Lightweight
 Ergonomic grip
Cons
The Gaiam Restore Massage Stick is easy to use It promotes blood flow through tired muscles to stimulate them and provide relief. The circular nodules on the stick have a spiked design to provide deep tissue massage and improve compression and stretch. The roller helps to smooth out tough muscle spots and ease out the pain. It is ideal for runners and athletes recovering from sports injuries.
Specifications
 Size: 17.99 x 2.48 x 2.48 inches
 Weight: 0.7 pounds
 Material: Plastic
 Color: Gray
Pros
 Lightweight
 Durable
 Portable
 Ergonomic design
Cons
This is an ideal massage roller for athletes to target trigger points, relieve cramps, calves, and hamstrings. The Physix Gear Store Muscle Roller is made of premium and sturdy thermoplastic material. Its high-quality ergonomic handles are easy to hold and reduce fatigue in your hands. The roller does not pinch your skin or pull body hair. It is perfect for anyone with IT band syndrome, Achilles tendonitis, plantar fasciitis, and knee, hip, and body pain. It has a sturdy stainless-steel core and comes with an e-guide to help you use this massager.
Specifications
 Size: 17.4 x 1.9 x 1.9 inches
 Weight: 0.7 Pound
 Material: Stainless steel, Thermoplastic material
 Color: Black
Pros
 Durable
 Non-squeaky
 Sturdy
 Portable
Cons
The mountain bike-inspired SKLZ Massage Bar is designed with a unique ball-bearing system and grooves to provide deep tissue massage. Its firm-grip handles allow you to massage hard-to-reach areas like the back and neck to get rid of soreness, knots, and tightness to speed up recovery. The nine independently moving wheels in the roller do not pinch your skin or pull body hair. .
Specifications
 Size: 16 x 4 x 2 inches
 Weight: 0.75 pounds
 Material: Foam
 Color: Yellow and black
Pros
 Affordable
 Easy to use
 Comfortable grip
Cons
The Sportneer Muscle Roller has a versatile and upgraded design to relieve tight muscles and breathe life back into them. Save yourself from hand cramps, thanks to the concave handles that allow firm grip and ease of use. The new design has a solid core and 10 independent massage rollers with a tread design to provide deep tissue massage. It relieves aches and pain in hard-to-reach places and is best for athletes.
Specifications
 Size: 17.76 x 2.13 x 2.05 inches
 Weight: 0.7 pounds
 Material: PP, ABS, Alloy Steel, Stainless Steel, TPR, and Rubber
 Color: Black
Pros
 Durable
 Ergonomic handle
 Lightweight
 Compact
Cons
This Muscle Roller Stick from Vive is specially designed for athletes, runners, and for post-workout recovery and pain relief. It is made of a durable composite material and a strong metal core that holds eight independent rolling wheels. The wheels are capped with textured rubber to help you control the pressure and effectively compress and stretch the muscles. This roller is best for the leg, quads, hamstring, and glutes. This lightweight massager fits in your gym bag and is easy to carry.
Specifications
 Size: 14.53 x 2.32 x 1.81 inches
 Weight: 11.68 Ounces
 Material: Composite
 Color: Black and green
Pros
 Lightweight
 Durable
 Comfortable grip
 Portable
Cons
None
If you are looking for some expert advice before investing in muscle roller sticks, then read the next segment for some key points to keep in mind.
How To Choose The Best Muscle Roller Stick
1. Type Of Surface: Depending on your choice, you can either buy a smooth surface or a spiked or crooked one as all have specific benefits.
2. Number Of Rollers: These sticks may have different numbers of rollers. Some have three, while others may have 14. Depending on the target area, you can buy rollers with a specific number of rollers for better coverage.
3. The Core: Rolling sticks may have flexible cores to cover a larger area or sturdy metal cores for controlling the pressure. You can pick any of the two as per your massage requirements.
4. Length Of The Roller: Smaller roller sticks are best for areas like calves, hands, and hamstrings. However, longer roller sticks can cover a wide area and may also reach the back and neck. Choose the length depending on the area you want to treat.
Ready to make your purchase? Well, first learn how to use this massage tool safely. Keep scrolling.
How To Use Muscle Roller Sticks
 Keep your muscles relaxed.
 Roll the stick over the tight muscles in a back and forth motion.
 Apply pressure as per your pain tolerance levels while rolling.
Why Trust StyleCraze?
Aditi Naskar, who penned this article, is a fitness expert with a diploma in health and wellness. Sometimes post-workout you may feel your muscles tightening with knots and becoming sore. Aditi suggests using these roller sticks to relieve those tight muscles, improve post-workout recovery, and reduce any pain and soreness. She studied many products and their reviews to bring you this list. She chose these products because of their ergonomic design, firm grip, portability, and more.
Frequently Asked Questions
How often should we use a muscle roller stick for better results?
Rolling sticks can be used both before and after workout sessions. You can use it for at least 10 minutes every day.
Is a muscle roller stick better than a foam roller?
Both muscle and foam roller offer the same service. The key difference is the way you apply the pressure.
Recommended Articles