13 Best Nail Biting Polish You Must Buy In 2023
Bitter is not always bad—especially if it helps you keep your nails out of your mouth!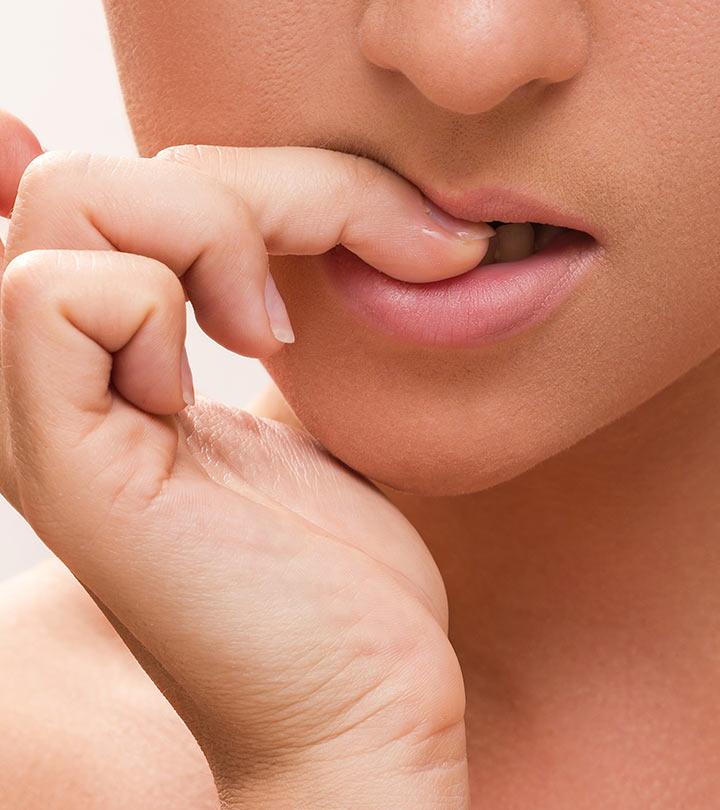 Many people develop the habit of nail-biting in childhood. Whether you do it generally or just when you are nervous, it is something you would want to get rid of if you want good-looking nails. To help you begin to undo this habit, we bring you the best nail-biting polish available in the market.
Nail-biting needs to stop seriously, or else you will have to bid adieu to growing nails and always have an unfinished and ugly nail appearance. Whether distracted or fidgety, nail-biting can truly become a chronic habit. If you have already tried many tricks to avoid biting your nails and nothing worked, try the nail-biting polish. Using these, you will stop biting nails and will see your beautiful nails grow into attractive shapes. We have listed the 13 best nail-biting polishes for kids and adults. Have a look!
Top-Rated 13 Best Nail Biting Polish Of 2023
The Mavala Stop Deterrent Nail Care Treatment helps you stop putting your fingers into your mouth. This clear nail polish to stop biting nails has the needed bitter taste that discourages you from putting your fingers into your mouth. Nails become healthy, beautiful, and strong and germs from your fingers no longer enter your body through your mouth. This is an effective finger nail biting polish for kids and has a brush that offers a no fuss application. The taste may be bitter, but is harmless and a layer of clear enamel forms on your fingers which will discourage your habit immediately. The formula is safe for all and is also recommended by dentists, pediatricians, and orthodontists all across America. You can check this video out if you need to know more about the product.
.

Pros
Dries in one minute
Sheer and discreet appearance
Can be used alone or over the nail polish.
Helps in stopping the habit of thumb sucking.
Cons
It may not be suitable for children under 3 years old.
Price at the time of publication: $15.5
The Onyx Professional "Stop The Bite" Nail Biting & Thumb Sucking Deterrent Polish has a harmless and bitter taste that can quickly remind anyone not to put fingers into their mouth. It includes a special formulation that stimulates nail growth so your nails look fresh and healthy at all times. This nail polish for fingernail biting works on thumb sucking as well, something that needs immediate attention. It can be used as a top coat or a base coat and simply has to be brushed onto your nails. This non-toxic nail biting polish is a remedy that is quick and easy and can end the annoying habit of nail biting in children as well as adults.
Pros
Can be worn over regular nail polish.
Can be removed using a regular nail polish remover.
Can be re applied as many times in a day as you may like.
Cons
The polish may be transferable from one person's fingers to any other body part in the initial few days.
Price at the time of publication: $8.94
The Jason Purifying Tea Tree Nail Saver is nail polish to stop biting nails that also helps hydrate nails and cuticles and prevents nail breakage. This clear nail polish for nail biting is made with the goodness of tea tree oil, safflower seed, vitamin E, and sesame seed oil. The oils are combined to formulate a serum that prevents the nails from any further damage and makes them look healthy and feel strong. This nail polish for finger nail biting has to be massaged onto your nails and cuticles directly and is made using gentle, effective, and safe natural ingredients that will not cause any harm to your skin or your body. This natural nail biting polish can also be used on sensitive skin by diluting it with witch hazel or vegetable oil. To find out more about this product, check this video review out.
Pros
Sulfates, phthalates, petrolatum, parabens-free
Certified cruelty-free by CCIC, not tested on animals
Easy to store bottle, can fit along with your regular nail polishes.
Cons
The applicator brush may not be very user friendly.
Price at the time of publication: $6.49
The Barielle No Bite Pro Growth is a nail polish to help stop biting nails, and unlike most of the other nail biting treatments, it is odorless as well as invisible. However, the anti nail biting polish is filled with an intense and bitter flavor that helps prevent biting of nails and cuticles. It is a non-gloss and hydrating formula that is free of any nitrocellulose. It is also infused with pro growth active ingredients that work towards helping the nails to be strong and healthy. This No Bite Pro Growth treatment can also be used for kids as a deterrent against thumb sucking but it should be supervised by a parent or guardian. Old habits may be hard to break but it is better to break them than your nails.
Pros
The polish dries up in only 60 seconds
Can be applied to nails as well as cuticles
Can be applied alone or over a regular nail polish
Toluene, dibutyl-phthalate and formaldehyde-free
Cons
The no biting nail polish may leave a bad taste on food that you touch.
Price at the time of publication: $8.99
The Magique Nail Biting Treatment For Kids & Adults is a powerful and bitter-tasting nail biting polish that can also be customized to be more bitter if you need it. It is one of the only customizable nail biting treatments available that can be made as bitter as you want so that your nail biting habit can stop as soon as possible. The nail polish is transparent which means even men can wear it without feeling conscious about it. This anti nail biting polish does not contain any carcinogens like dibutyl, toluene, formaldehyde, resin, phthalate or camphor making a healthy option for nail biting polish. The nail polish can be applied on existing polish or alone and stops the spread of germs while promoting nail growth.
Pros
Non-toxic
Odorless and waterproof
Vegan; gluten, cruelty-free
Effect can be seen within 10 days of regular application.
Can be used on children, women and men to curb thumb sucking as well.
Cons
The nail polish may cause nausea in children once they taste it.
Price at the time of publication: $14.74
The ella+mila Nail Care nail biting polish makes sure you do not bite your nails or cuticles, and also helps in curbing the habit of thumb sucking among children and adults. This anti nail biting treatment includes a distasteful polish that can be used over regular polish as well. Not only does it help with nail growth, it also dissuades the nail biter from biting their nails again. thanks to the unpleasant flavoring. All you need to do is apply 1-2 coats of the nail polish and let it dry and see significant change and results within 2 weeks.
Pros
Certified by PETA
Vegan, animal cruelty-free
Free of toluene, dibutyl , formaldehyde and phthalate
Cons
The nail polish may burn your eyes if your finger touches it.
Price at the time of publication: $10.49
The Probelle Base Coat Anti-Bite is a nail biting treatment for both adults and kids. This clear nail biting polish is extremely bitter, which helps in preventing you from biting your nails with your teeth. It can be used as a base coat on the nails before applying nail polish or as a stand-alone coat and features a super effective formula. This nail biting polish is a perfect solution to the bad habit of nail biting, cuticle biting and thumb sucking. It also makes the nails longer, harder and healthier in the process, which is much needed after years of biting them. The ingredients used in the formula of the nail polish create a very off-putting taste that one cannot escape and the result is no more putting nails in your mouth to bite them.
Pros
Takes only 30 seconds for one coat to dry.
Can be removed using regular nail polish remover.
Main ingredients include sunflower seed oil, vitamin a, vitamin e, marine algae, horse chestnut and nettle extract.
Cons
You may not be able to enjoy finger food with this nail polish on.
Price at the time of publication: $11.99
The Nail Quail Strong Will Anti-Nail Biting Click Pen features a bitter formula that dries out completely on the nails, cuticles, skin and any other affected area. It is completely invisible and no one can tell you are wearing anything on your nails so you don't have to feel embarrassed in gatherings and at events. This is a great option for anti nail biting polish as it can be applied easily without a second brush. The click on solution releases a brush from the pen that can immediately be applied on the nails in a one handed application. The solution is free of formaldehyde, parabens, lacquer and ethyl acetate and is absolutely safe to use. It contains plenty of natural and organic anti inflammatory ingredients like organic aloe leaf juice, organic ginger root, organic eucalyptus leaf, organic oat kernel and organic wintergreen leaf.
Pros
Sheen, odor-free
Takes only 30 seconds to dry.
Can be applied as many times as you want.
The size is travel friendly and can fit any bag or pocket.
Price at the time of publication: $16.95
The ORLY No Bite For Nail Biting And Thumb Sucking is one of the highest quality nail care brands available. This anti nail biting polish is a nail bite deterrent that is bitter-flavored and dries up on the nails and cuticle with a natural finish, without looking shiny. This nail biting polish can be used alone or as a second coat over your regular nail polish without changing the look of your nails. It also allows the nails to start growing in a healthy way so that they can go back to what they were supposed to be. Constant nail biting stunts the growth of nails and slows the growing process which is why bringing them back to health and fast paced growth is of utmost importance. This clear nail polish for nail biting will help you break the habit of cuticle and nail biting and chewing and protect your skin from diseases related to it as well. If you are an absolute beginner, this video review might be useful.
Pros
Results are visible with a single use.
Works well for children as well as adults.
Dries up very quickly so you can apply it even if you are in a rush.
Cons
The bitter taste may not stay on the nails for too long unless you re-apply very frequently.
Price at the time of publication: $8.69
The NIXXIT Thumb Sucking And Nail Biting Preventative for kids helps children who have an insistent habit of biting their nails. If you still haven't been able to find a solution for this problem try the NIXXIT anti nail biting polish and see results for yourself. This nail biting polish for kids has the ability to break your child's habit of biting their nails so that it never returns. This nail biting polish has been created by former nail biters and parents who put in years of research to produce a safe and effective product. The formula is bitter yet not harmful and it will dissuade your kids from putting their fingers in their mouths. It also comes in a fun kids friendly packaging so that the process can be less distressing for the child.
Pros
Pareben, odor, gloss-free
Can be used for children who have a habit of thumb sucking and cuticle biting as well.
Can be removed from the nails by regular soap and water before meals so that your child can eat with his fingers and enjoy the
taste of the food.
Cons
The nail polish may not work for toddlers under 3 years of age.
Price at the time of publication: $24.95
Christian Dior has been offering iconic Dior manicure nail care since 1963 and now has the perfect product to help you stop biting your nails. The Christian Dior Creme Abricot Fortifying Cream For Nails is renowned for its moisturizing and nourishing properties. The formula is highly rich; it fortifies the nails and improves its ability for resistance. Successful results are visible within a month thanks to this cream which is enriched with fortifying agents and emollients that are needed for essential nail health and beauty. This helps to curb your bad habit of nail biting by giving you healthy nails that are strong enough so you will not be able to bite them with your teeth.
Pros
Does not leave any stain anywhere.
Free of any nut ingredients and allergens.
Contains mineral oil to strengthen the nail and beeswax for a healthy shine.
Cons
The product may be a bit too sticky even after drying.
Price at the time of publication: $35.95
The External Non Glossy No Bite Nail Polish is a harmless and bitter tasting clear nail polish for nail biting that discourages anyone who has a habit of nail biting, thumb sucking and cuticle biting to do it again. This anti nail biting polish is easy to apply and a single coat is enough for the polish to be effective. The nail-friendly formula used in the making of this nail biting polish is safe for vegetarians and safe for being tasted by anyone. The finish by the polish is not shiny, can be used by both men and women and can easily be used as a base coat or a top coat on your nails before you apply your regular colored nail polish.
Pros
Vegan and gluten-free
Safe for kids as well as adults.
The formula does not contain any harmful ingredients like toluene, dibutyl phthalate, camphor, formaldehyde resin, formaldehyde, xylene, parabens, MIT or ethyl tosylamide.
Cons
The nail polish may not work for toddlers.
Price at the time of publication: $9.99
The Valmy Anti Mordidas No Bite Non Glossy Nail Polish is one of the best nail polishes for preventing nail biting. It not only helps resist biting of the nails, but it also stops you from thumb sucking and cuticle biting both which are equally harmful habits. The solution is safe for kids and adults and acts as the perfect nail bite deterrent. Along with discouraging the nail biting habit, this nail polish also restores suppleness, hydrates the nails and activates keratin formation in the nails. This nail polish is literally will power packaged in a bottle and it helps you in overcoming the desire to bite your nails and stimulates the growth of nails as well. Healthy nail growth is promoted thanks to the special blend of 7 naturally-derived active ingredients which include horse chestnut and seaweed extract.
Pros
Vegan; cruelty, gluten-free
Unisex finish without artificial shine.
Can be used as a top coat or base coat, whatever you prefer.
Cons
The nail polish may disappear from the tip of the nails quickly.
Price at the time of publication: $13.99
Nail biting polish may be different for toddlers and adults and sometimes may have other benefits too. Here is a buying guide that will help you narrow down on the right nail biting polish for you.
Buying Guide For Best Nail Biting Polish
Confused about how to select the right nail biting polish? Let us help you identify what you need to look for in a nail biting polish that can help curb the habit successfully.
How To Choose Nail Biting Polish
Nail biting polish is a straightforward product that can help you end the habit of biting your nails, thanks to its bitter flavor. Here are a few things you must consider before selecting one for yourself or your kids:
Bitter taste: The first and most important element that anti nail biting polish must possess is a bitter taste. The whole point of wearing nail biting polish is so that the moment your fingers go into your mouth you get disgusted by the bitter taste and do not repeat the same action again. Some nail biting polish may not be as bitter and may defeat the entire purpose.
Odorless: Try looking for a nail biting polish that comes free of any odor. Since you will be already dealing with the bitter taste, you do not want bad odor added into the mix as well.
Free of toxins: Since you are a nail biter, your nails will go into your mouth at least once. It is important to use a product that does not contain any toxins that can hurt you and your body.
Non transferable: Some nail biting polish may be easily transferable to anything else you touch which is not the best thing. Not only will your finger-food start tasting bitter, the nail polish to prevent nail biting itself will wear off quickly and will require reapplication.
How To Remove Nail Biting Polish
Nail biting polish is easy to remove and can be done so by using any acetone-based nail paint remover and a cotton swab. Wipe the cotton swab soaked in acetone over your nail until the polish is removed completely.
While it may taste, smell or feel horrible to wear anti nail biting polish on your fingers, it is definitely worth a try to curb a bad habit that has been developed and nurtured for years. If your kids also suffer from this habit of biting their nails, you can try applying nail biting polish for toddlers and hope for best results. Patience and discipline is the key here, and you can truly end biting your nails when you make an actual resolve to stop doing it. Try motivating yourself and think about all the lovely nail art and French manicures you can get done without needing to wear artificial acrylic nails. Even the best nail biting polish may not show its impact in a week, but give the product a month and notice a significant improvement in your nails.
Why Trust Stylecraze
Chaitra Krishnan is a makeup enthusiast who channels this interest into researching and recommending the best makeup products. She has listed the best nail biting polishes that will discourage nail biting. Chaitra has compiled this list based on numerous user reviews and product listings. This article also includes a buying guide and the pros and cons of each product to guide your purchase decision.
Frequently Asked Questions
How do I stop severe nail biting?
You can stop biting your nails by following any of the following steps:
1. By keeping your nails short
2. By applying bitter tasting polish to your nails
3. By getting manicures done regularly
4. By replacing nail biting habit with a good habit
5. By identifying what triggers nail biting for you
6. Finally, by trying to gradually stop biting your nails.
Is nail biting polish safe?
Nail biting polishes are made using non-toxic and safe ingredients that can help to remedy the compulsive habit of nail biting.
Is biting your nails a mental disorder?
Nail biting is common among 25-30% of kids and the more pathological forms of it are assumed to be an impulse control disorder in the DSM-IV-R and can also be classified under obsessive compulsive and other disorders related to it in the DSM-5.
Is biting your nails with nail polish bad?
Biting your nails increases the chances of ingrown nails or hangnails. Most nail polishes contain toxins which are definitely not good for your body.
Does nail biting polish work?
Fingernail biting polish stops you from biting your nails because of its bitter taste that can put you off and help you eradicate this bad and unhealthy habit.
Can nails grow back after years of biting?
Nails may never look the same again if you keep biting them for years on end, and they may never grow as they would on fingers of people who never bite their nails.
Recommended Articles