11 Best Nail Buffers For Healthy And Shiny Nails – 2022 Update
Make friends with nail buffers to get manicure-perfect nails whenever, wherever!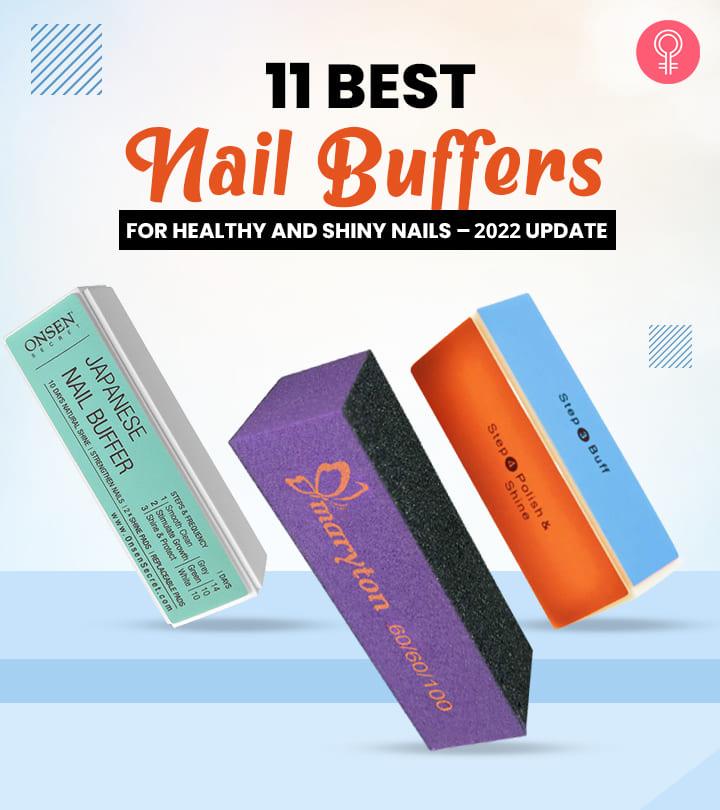 Your nails require extra TLC. But we do not always get the time to visit the salon for a proper manicure. However, the best nail buffer for shiny nails ensures proper growth and health. Buffing your nails is very much like trimming split ends of your hair. It protects your nails against further peeling or breakage. Regular use of a good-quality nail buffer can help exfoliate the surface of your nails and keep them neat and clean. It promotes blood circulation and improves the texture of the nails.
Nail buffs create a perfect canvas to experiment with nail colors and art patterns. They also ensure an even application of nail polish. You can easily remove the stains and jagged edges with these nail buffs. They improve the growth of the nails by enhancing blood circulation. Nail buffers are available in various designs – a four-sided block design, two sides, and three-sided designs. The different levels of abrasion designed on each side of the buffers allow you to exfoliate according to your requirements. They leave your nails with a beautiful and glossy shine.
Our article lists the 11 nail buffers that have the best reviews. Swipe up to check them out.
11 Best Nail Buffers For Healthy And Shiny Nails
The Maryton Nail Buffer is ideal for both home mani/pedi prep and professional use. It effectively puffs and grinds your nails without hurting your skin. They can be used to shape uneven nails for a smooth UV gel and acrylic application and also to get nail glue or gel off your nails with ease. The nail buffer is super lightweight and measures 3.7 × 1.18 × 0.98 inches each. Durable and washable, the buffer works great for buffing acrylic nails, powder dipped nails, and false nails.
Pros
Lightweight
Durable
Convenient to use
Long-lasting
Easy to use
Washable
Value for money
Sturdy
Cons
This four-step buffing block by Soft 'N Style is made of professional quality material that is super durable. Each side of this nail buffer has a different level of abrasiveness – step one for filing, step two for removing ridges, step three for buffing, and step four to polish and shine. It has a medium course range of sanding and is ideal for both natural and artificial nails.
Pros
Complete nail treatment
Easy to use
Durable
Sturdy
Value for money
Lightweight
Cons
None
This professional nail buffer by Onsen Secret instantly strengthens and restores weak and damaged nails. The nail buffer has three differently colored sides – grey to smooth and even out edges, green to stimulate growth, and white to shine and protect. It is designed with carefully chosen minerals from Japanese hot springs that provide healing benefits to your nails. The premium quality block improves blood circulation and leaves your nails healthy with a salon-like shine that can last up to 10 days!
Pros
Stimulates growth
Replaceable pad strips
No harsh chemicals
Long-lasting
Instant visible results
Cruelty-free
Easy to use
Value for money
Cons
The HeeYaa Nail Buffer Set is available in a pack of 10. Each nail buffer is of premium quality and can be washed for longer use. They are designed to shape and trim your nails to the desired length with ease. You can also remove stubborn polish stains and the glue or gel after getting a manicure. It can be used for both fingernails and toenails.
Pros
Convenient to use
Lightweight
Durable
Washable
Long-lasting
Value for money
Easy to use
Cons
The Revlon Shape 'N' Buffer has four abrasive sides – side one to even out, side two to smooth, side three to buff, and step four to induce shine. The nail buffer effectively smoothens, shapes, and polishes your nails with ease. The buffer is also lightweight and sleek in design that makes it ideal for convenient storage and travel.
Pros
Glossy finish
Multipurpose use
Long-lasting
Easy to use
Value for money
Lightweight
Cons
Very coarse for brittle nails
The Karlash Nail Mini Orange Buffer Block Set is designed to smoothen your nails to get the perfect base before applying gel polish or nail lacquer. It tames rough edges and makes your nail polish last longer. These nail buffers have two abrasive sides with 80-100 grit distribution. The brand also offers a 100% money back guarantee in case you are not satisfied with the product.
Pros
Long-lasting
Easy to use
Value for money
Easy to hold
Smooth finish
Gentle on nail
Money back guarantee
Cons
The Tropical Shine Mini 4-Way Nail Buffer comes in a set of 2 that has four-sided buffers. Each of the side is color-coded and of a different abrasive nature – blue to file the nail edge, pink to remove ridges, white to smoothen the surface, and grey to induce a glossy shine. It also has a cuticle protection edge to ensure safety.
Pros
Washable
Can be disinfected
Value for money
Easy to use
Compact in size
Cons
This superior quality nail buffing block by Dream Cut gives you a salon quality nail finish from the comforts of your home. It is made of professional quality material and is super durable. Each side of this nail buffer has a different level of abrasiveness – side one for filing, side two for removing ridges, side 3 for buffing, and side 4 for to polishing and shining. With regular use, it prevents your nails from splitting and breaking, and induces a healthy shine.
Pros
Value for money
Easy to use
Washable
Lightweight
Convenient to use
Cons
The Farxon Nail Buffer Block Set comes in a pack of 10. It has three working sides with 60 grit count to scrape off stains and smoothen your nails for a flawless finish. It is lightweight and ergonomically designed to easily and effectively shape and polish your nails. These buffers are ideal to use with acrylic nails, dip powder nails, and poly gel nails. They are made with soft EVA foam that does not hurt your skin. It is also super soft and bendable which makes it easy to hold and use.
Pros
Easy to hold
User-friendly
Ergonomically designed
Lightweight
Travel-friendly
Easy to use
Value for money
Can be used on artificial nails
Cons
Every nail technician recommends the Tacci Belle Super Shine Buffer. You can get shiny and classy looking nails in just 15 seconds with this Korea-made nail buffer. The blue coarse filing strip shapes and polishes your edges, the grey strip smooths your nails, and the white silky strip gives your nails a glossy finish.
Pros
Value for money
Easy to use
Compact in size
Portable
Durable
Cons
The Winning Nails Chamois Buffer & Buffing Cream is a must-have for luxurious-looking nails. The nail buffer has an ergonomic handle that gives you a comfortable and easy buffing experience. It blends and shapes the tips of your natural nails, false nails, and nail extensions with ease. The buffer stimulates blood circulation to the nail bed that encourages faster nail growth. It gets rid of the dead and dry skin on your nails, eliminates fill and repair lines, and blends tips on natural nails. The buffing cream softens your cuticles and gives your nails a high-gloss sheen.
Pros
Lightweight
Comfortable to hold
Easy to use
Long-lasting
Cons
None
In order to get flawless-looking smooth nails, buffing your nails every once in a while, is recommended. Get strong and shiny nails with the nail buffers from the list above. Make your purchase now!
Why Trust Stylecraze?
Shiboli Chakraborti, the author, is a certified skin care coach who knows that if you don't take care of your nails, it could lead to nail and skin issues. She recommends using the above-listed buffers to keep your nails polished and healthy. She extensively researched each of these products, their benefits, and reviews on multiple forums to curate this list. There are many benefits that the listed nail buffers offer, such as they are easy to clean, durable, lightweight, and more.
Frequently Asked Questions
How often should you buff your nails?
Buffing should be done gently and not more than once a month. Too much buffing can cause friction and build-up heat that can weaken your nails.
What is the difference between a nail file and a nail buffer?
While nail buffers are great for cleaning the surface of your nails and cuticles, nail files help polish down long or broken nails.
How can I naturally buff my nails?
Soak your nails in warm water and a few drops of olive oil. After a while, gently massage your cuticles and nails with warm olive oil. Follow the procedure every day to achieve shiny nails.
Can you smooth your lips with a nail buffer?
No, you cannot use a nail buffer to smooth your lips.
Does buffing weaken the nails?
No. But too often or forcefully buffing can weaken the nails.
How long do nail buffers last?
A nail buffer can be used roughly 20 times before being replaced.
Can I use a nail file as a buffer?
No, a nail file cannot be used as a buffer.
Recommended Articles