9 Best Nail Care Products To Add To Your Beauty Routine In 2023
Keep your nails healthy and lustrous from inside with these nail care essentials.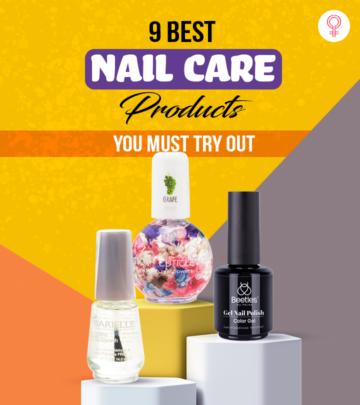 Nail care can be tough, but not when you have the best nail care products. They offer complete nourishment to weak and brittle nails and make them look smooth and shiny. These products can also boost nail growth keep it free from pits and grooves. So, no need to worry about the brittle and dull nails anymore. Browse our list of the 9 best nail care products and grab your favorite. Scroll down for more information.
9 Best Nail Care Products You Must Try Out
This nail strengthening cream from ONYX Professional is formulated with natural ingredients that prevent the nails from cracking, peeling, or chipping. It is enriched with silk protein, jojoba seed oil, coconut oil, which condition and soften the cuticles and seal moisture. Beeswax, glycerin, and vitamins A, B5, C, D, and E promote nail growth and make them strong and healthy. This cream treats damage caused by acrylic nails and imparts long-lasting strength to your nails. This video will give you more insights into the product.
Pros
Long-lasting
Mild fragrance
Can be worn with nail polish
Cruelty-free
Vegan
Cons
Price at the time of publication: $27.99
The Blue Cross Cuticle Remover preps your nails for that TLC during manicure and pedicure. It gently eliminates dead tissues from the cuticles, making your nails soft and clean. This product is enriched with lanolin which soothes your dry nails and restores moisture. To make an informed decision before buying, you can check out this video.
Pros
Non-greasy
Absorbed quickly
Hypoallergenic
Paraben-free
Mild scent
Gluten-free
Propylene-free
Cons
Price at the time of publication: $5.49
This cuticle and nail protectant from Bliss Kiss contains jojoba wax ester, which hydrates and nourishes the nail. It strengthens the cuticles and prevents skin wrinkling. This oil treats peeling, brittle nails, eliminates hangnails, and protects them from daily wear and tear.
Pros
Petroleum-free
Dye-free
Paraben-free
Phthalate-free
Travel-friendly packaging
Value for money
Cons
Price at the time of publication: $6.79
The Blossom Cuticle oil is infused with brightly colored dried flowers. It softens and hydrates dry, cracked, and peeling cuticles. This nurturing oil imparts an alluring fresh and floral fragrance to your fingertips. It improves blood circulation to the nail bed and stimulates nail growth. Click here to check out this YouTuber's unbiased review.
Pros
Floral Fragrance
Travel-friendly packaging
Paraben-free
Cruelty-free
Vegan
Cons
None
Price at the time of publication: $5.63
This dermatologically tested cuticle gel by Sally Hansen is ideal for damaged, ragged cuticles. It contains vitamin E that prevents yellowing and hydrates and strengthens your nails. Jasmine and rose extracts soothe irritated skin and reduce nail breakage. This nail treatment smells fantastic and gets absorbed easily into your skin. Its small size is easy to carry – throw it in your purse or office drawer.
Key Ingredients: Vitamin E, Jasmine & Rose Extracts
Pros
Dermatologically tested
Absorbed quickly
Paraben-free
Cruelty-free
Cons
Price at the time of publication: $7.19
The hard gel from IBD is a nail builder gel that instantly covers nail flaws. It also helps impart strength and stability to your nails. The acrylic-based formula offers long-lasting high gloss to your sassy nail polish. This self-leveling gel enables effortless application. Your nails get a shiny, sturdy coating for at least two weeks. This product is ideal for nail extensions and tip overlays. It is a perfect DIY gel for manicure and pedicure.
Pros
Easy to use
Long-lasting
Odor-free
Cruelty-free
Cons
Price at the time of publication: $26.95
The Barielle No Bite Pro Growth discourages you from biting nails with its bitter flavor. Every time you bite your nails or cuticles, you will experience a bitter, pungent taste. The hydrating formula is infused with active pro-growth ingredients that make your nails healthy and strong. This product is odorless, vegan, and cruelty-free.
Pros
Odorless
Safe for children
Vegan
Cruelty-free
Pregnancy-safe
Non-glossy
DBP-free
Formaldehyde-free
Camphor-free
Phthalate-free
Xylene-free
Paraben-free
Toluene-free
Triphenyl phosphate-free
Cons
None
Price at the time of publication: $8.99
The Beetles Gel Nail Polish is a boom for nail artistry. It is highly pigmented and imparts a high gloss shine to your nails. This color gel is ideal for creating nail art. It is toxin-free and lasts for up to 21 days. This product needs LED light curing for 60-120 secs. You can follow up with a top coat to avoid chipping.
Pros
Glossy finish
Long-lasting
No chipping
Lead-free
Formaldehyde-free
Camphor-free
Phthalate-free
Xylene-free
Paraben-free
Toluene-free
Triphenyl phosphate-free
Available in various shades
Cons
Price at the time of publication: $6.99
The Nailtiques Formula 2 Plus is a power-house of protein that provides life to your nails, making them soft, healthy, flexible, and appealing. It is ideal for soft, peeling, bitten, weak, or thin nails. The protein formula can be worn alone or with nail polish. Apply this nail protein as a base coat followed by color. You can also apply a second coat the next day. Wash your hands and nails with soap and water to remove residue. Make sure the nail surface is dry before applying the base coat.
Pros
Paraben-free
Cruelty-free
Absorbed quickly
Prevents peeling
Can be used as a basecoat
Long-lasting
Cons
Price at the time of publication: $11.98
Why Trust StyleCraze?
The author, Shiboli Chakraborti, is a skin care coach and a makeup enthusiast and finds her passion in reviewing and recommending products to people. For this article, she has carefully studied a wide range of nail care brands and scrolled through hundreds of user reviews to narrow down on the list of best products mentioned above. These products help you nourish weak and brittle nails and boost their growth.
Frequently Asked Questions
Why do salons cut cuticles?
Salons cut or trim the cuticles professionally to make the nail paint and hard gel sit better on the nails. It doesn't provide a major benefit to your nails, it is rather done for cosmetic purposes.
What is hard gel?
Hard gel is a type of nail extension and enhancement that adds a certain length to the nails. You can get a gel polish done over the hard gel and shape it however you desire. It is hardened with the help of a UV light.
Which nails are better acrylic or gel?
Acrylic nails are a good choice if you want longer nails that will not break or peel easily. Gel, on the other hand, is softer, more flexible, and natural-looking. Both last up to a few weeks if proper care is taken. However, gel nails are usually considered a safer and healthier option.
What is the cause of weak nails?
The primary cause of weak nails is loss of moisture. It could be due to excessive washing, and treatments on the nails which makes them dry and brittle.
How long should I keep my nails?
Your nails should be long enough so they can be washed and cleaned frequently to maintain hygiene. However, the length of your nails completely depends on your personal preference.
What makes nails grow super fast?
Taking proper care of your nails like trimming and moisturizing them can help them grow better and faster. Consuming supplements like biotin can also help with the process.
Recommended Articles