10 Best Nail Clippers For Arthritic Hands That Are Easy To Use
Avoid putting pressure on your hands while cutting and trimming your nails.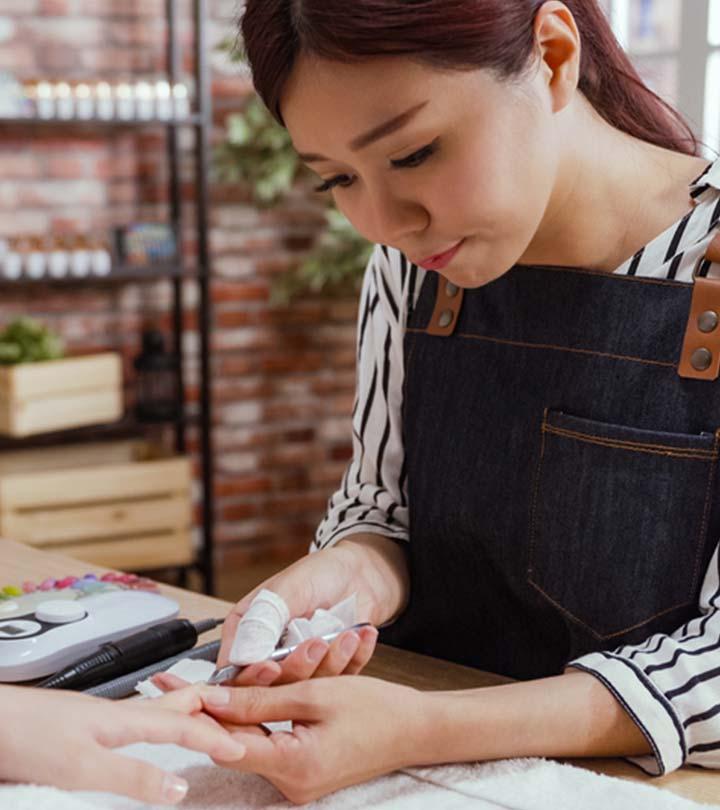 Keeping nails trimmed and hygienic is already a task. It can be a lot harder if you have arthritis where applying any stress or pressure on your cuticles can send pangs of pain down your hands as the finger and wrist joints have been affected. This is why purchasing some of the best nail clippers for arthritic hands can be a good way of maintaining hygiene while being safe and comfortable.
Whether you are a senior citizen or a young adult struggling, these nail clippers designed for people with arthritis is a genuine godsent product. They are not heavy like regular clippers and smoothly cut through the nails. A simple trim or priming is easily possible, as these lightweight stainless steel clippers will get rid of that extra enamel without experiencing pain. You can even file your nails for a smooth finish while safeguarding your sensitive joints. To help you pick the best one, we've curated a list with the best options in the market. Take your pick out of the following affordable nail tools!
10 Best Nail Clippers For Arthritic Hands That Cause Less Pain
These clippers are popular among the senior crowd because they feature an ergonomic handle with a wide grip. It allows you to comfortably hold the clippers in the palm of your hand, unlike the standard nail cutters. Since the handle is wide, you can hold it quickly, and it won't exert any pain on your joints. Also, the clippers can be rotated 360° with its swivel action, which means you can adjust it to the angle you find most comfortable, and you won't have to twist your arthritic hands to clip the nails. The easy-grip handle is made from plastic and easy to hold, while the blade is made from stainless steel, providing a clean and swift cut. Check out this YouTuber's video review to reassure yourself about the benefits of this product.
Pros
Ergonomic handle
Rotates 360°
Stainless steel blade
Long-lasting
Cons
It may not be suitable for thick nails
This large wide jaw nail clipper is perfect for cutting toenails, fingernails, and hangnails. The jaw is 180° wide and can trim nail thickness up to 17 mm, giving you a nice clean cut. The blades are super sharp and made from stainless steel, and they cut your nails in one shot without leaving any jagged edges. The ergonomic design has a non-slip handle and a perfect wide wing, which reinforces your strength and is quite comfortable to use. And trust us when we say your hands won't hurt, as this one comes with a wide wing and non-slip handle for ease and comfort.
Pros
Ergonomic wide handle
Easy-to-use
Suitable for thick nails
Sharp, stainless steel blade
Cons
Some may find the clippers too small
These efficient arthritis nail clippers are considered one of the superior nail tools in the market. The blade is made from a zinc alloy die-cast lever, meaning it will leave you with a clean and precise cut; so, you don't have to worry about jagged or ripped nails. The lever includes ridges for improved grip, and it provides an enhanced holding experience that doesn't trigger any pain. This nail clipper is just the tool you need for you or a loved one experiencing arthritis or have thick nails.
Pros
Curved stainless steel blade
Comfortable ergonomic grip
Suitable for thick nails
Less likely to slip
Cons
The lower blade may stick out further than the top blade
If you have thick toenails that are a nightmare to cut, especially with arthritic hands, this toenail cutter made from premium stainless steel will be of great help. The wide jaw opening with sharp blades goes up to 15 mm, and it provides a smooth cut without any snags or sharp edges. The specialized design is meant for a good firm grip and doesn't slip. This toenail clipper is suitable for ingrown toenails resulting from fungal infections, diabetes, aging, or other health issues. The 3.54-inch handle lever ensures that you don't exert much strength or time.
Pros
Premium stainless steel
Ideal for thick toenails
Provides a precise cut
Double curved sharp blades
Cons
The clipper spring may be tight
Even if you can't hold normal clippers easily, you will face no issues using these rotating clippers. You don't have to move in awkward, painful positions just to get a clean nail trim because the unique 360° feature allows you to see what you're doing with minimal pain. The ergonomic wide grip handle with extra sharp blades allows the clipper to sit comfortably in your hand and easily hold while you cut thick nails. They are made from stainless steel, so you are ensured that they are built to last.
Pros
360° rotating head
Ergonomic handle
Stainless steel blade
Durable
Cons
The clippers may need assembling
People who have arthritis may find it challenging to hold standard nail clippers between their fingers. These clippers are great because they are designed to be held in the palm of your hands. The handle is ergonomic, which makes it easy to hold and provides a precise grip. This nail clipper's unique selling point is that orthopedic surgeons ergonomically designed it, making it perfect for people with joint pain. The swivel blades will rotate up to 180°, and you can maneuver it to the angle that suits you the best.
Pros
Developed by orthopedic surgeons
10° rotating blade
It can be held in your palm
Surgical grade stainless steel
Cons
Some may find the handles too short
These nail clippers come in a set of 2 sizes, large and small, hence making them suitable for various nail types. They can be used on toddlers, children, and the elderly. The unique scissor-like handle makes the whole pressing down process quite effortless. If you experience arthritis in your fingers, these clippers will make your whole nail cutting ordeal easy and comfortable. This tool has a sharp, stainless steel blade that helps provide a clean and confident cut all the time.
Pros
Comes in a set of two sizes
Suitable for various nail types
Easy to grip and control
Unique design
Cons
It does not have a rotational head
This easy-to-use nail clipper is a great choice for people who experience joint pain or arthritis. The ergonomic handle is wide and provides a comfortable grip, and the lever requires minimal pressure when cutting nails. It has a unique nail catcher feature, making the whole nail cutting experience less messy. You don't have to worry about any stray clippings on the ground. It is made from heavy-duty stainless steel, and the perfectly aligned blades are sharp and durable so that you can use them on thick toenails without any hassle. In addition, it is long-lasting, rust, mildew, and tarnish-proof.
Pros
Premium quality stainless steel
Nail catcher
Precise and clean cut
Rust-proof
Cons
It may not be suitable for cutting ingrown nails
This unique and adaptive nail clipper is designed for people who have arthritis or any disabilities. It is easy to use; all you have to do is place it on the table and push the lever with your elbow, arm, or palm. The handle is large and easy to grip, making it convenient for nail clipping for people with arthritis. The clippers also have a high-quality nail file, and you can use it by opening the handle, placing it on the desk, and brushing the nails with just one hand. The blades are razor-sharp and made from Japanese steel to cut through tough or thick toenails smoothly.
Pros
Premium-quality nail file
Japanese steel blade
Adaptive design
Suitable for thick toenails
Cons
It may not be suitable for removing hangnails
These nail clippers are designed to feel comfortable and be convenient during the nail clipping process. The lever is wide and easy to press; it also has a grooved handle that improves your grip without triggering any pain. The nail trimmer is suitable for men, women, children, and the elderly. The design is pretty intense and slices through your nails with ease. It can be used on toenails, acrylic nails, large nails, and ingrown nails. A bonus is that you can use the smiley face groves as keychain slots and storage sleeves. This video is an honest review of the product from a knowledgeable YouTuber.
Pros
Professional-quality steel
Cuts any type of nail
Easy to use
Comes with a storage sleeve
Cons
Some may find the nail clippers as bulky
Now that you are aware of the various nail clippers for arthritic hands that are available online, you need to understand the features of selecting the perfect pair of nail clippers. Our buying guide will help you understand which nail clippers will suit all your needs.
How To Buy The Best Nail Clippers For Arthritic Hands
When searching for a good pair of nail clippers, always look at the blade quality. Look for blades that are sharp and made from premium steel, preferably stainless steel. They should slice through thick or tough nails with minimal effort and not leave any jagged edges. You don't want a nail that doesn't slice through the nails, no matter how much effort you put in.
Since you are looking for a nail clipper for people with arthritis or weak hands, ensure that it is comfortable, easy to use, and sits well in your palm. Although normal nail clippers are held between fingers, ergonomic ones are held in your palm and require minimal pressure so that nail clipping becomes a painless experience.
This is quite important because you don't want to accidentally hurt yourself while trimming your nails. Look for nail cutters with a swiveling head, which can rotate 180 or 360° so that you don't have to adjust your hands in awkward positions and hurt yourself. A swiveling head ensures that the whole clipping experience is convenient and smooth, with minimal discomfort.
Why Trust StyleCraze?
Kirtana Divakar is a skincare aficionado who believes that investing in the right pair of nail clippers for arthritic hands is a great way of maintaining hygiene while being safe. She looked through user feedback online and curated this list of nail clippers that are comfortable and easy to use. These nail clippers are light and easy to use, making your nail cutting experience smooth and safe
Frequently Asked Questions
How do you cut your nails for arthritis?
You can use nail clippers or scissors for arthritis to cut your nails effortlessly.
How often should you replace fingernail clippers?
A low-quality nail clipper can become dull and jagged after three or four uses. So, if the blade is not cutting the right way, replace the nail clipper with the new one.
What is the difference between a nail clipper and a nail cutter?
Nail clippers are designed as a plier style, and nail cutters are designed as a lever style.
Are straight or curved nail clippers better for arthritic hands?
Curved nail clippers are better for arthritic hands because they have a better reach and do not strain the hands due to their grip.
Are nail scissors better than clippers?
Yes, nail scissors are very easy to use and offer a better nail cutting experience than clippers.
Recommended Articles