Best Nail Cuticle Creams Available In India
We love perfectly manicured hands. In fact, we are hooked onto getting those perfect-looking nails. So we go in for regular manicures and use different hand creams and nail paints to glorify them. We protect our nails from going brittle or being stained. However, most of us forget to take care of our cuticles. We probably think of our cuticles only while getting a manicure done. Rarely do we realize that these cuticles play an important role, they have a purpose for being there.
Let us help you understand better!
Your cuticles are not just for hanging in there. Cuticle is the region that surrounds your nails. Cuticles are responsible for keeping infections and bacteria at bay. They act as a barrier and protect your nails. Owing to reasons like nail biting, improper trimming and ignoring or forgetting to apply a nail/cuticle cream, often results in the damage like white lines, white spots, ridges etc. An infection can even hamper your nail growth.
Now to cater to this need, beauty markets are filled with cuticle creams that help you take care of your cuticles properly.
Best Cuticle Care Creams
Following are the 8 top selling Cuticle creams in India.
1. Burt's Bees Lemon Butter Cuticle Cream:
This cuticle cream, from Burt's Bees, comes with a fresh lemon fragrance and is extremely soft. It works as magic on your cuticles. Apply it on your cuticles and leave it overnight for best results.


2. Sephora's Cuticle Care Pen:
Sephora, the beauty cosmetics giant has opened its stores in India. It's time for you to head out to there store and check the latest products. One special product worth the mention here is the Sephora's Cuticle Care Pen. It has the perfect blend of essential oils that hydrate cuticles and nails, leaving your hands more beautiful.
3. Kiehl's Imperiale Moisturising Cuticle Treatment:
From the house of Kiehl comes this Imperiale Moisturising Cuticle Treatment Cream. The main ingredient of the product is Avocado oil – known to be an effective moisturising element. It works excellent in making cuticles soft and healthy. It helps keep skin hydrated while reducing inflammation.
4. Curel Targeted Therapy Fast-Absorbing Hand & Cuticle Cream:
This cuticle cream from Curel Targeted Therapy is one of the highly recommended cuticle creams around. From being super moisturising to light on the skin, it's extremely easy to carry around. It works fast, helps soften cuticles and nails almost instantly.


5. Vaseline Healthy Hand & Nail:
Vaseline offers a great product to use through the day. The Healthy Hand & Nail cream helps keep the cuticles and nails healthy. It is great for super hydration of your cuticles. The fragrance of this cream is an added attraction. Many people claim that the product helps nails grow stronger and longer.


6. Oriflame Beauty Nail and Cuticle Cream:
If you are looking for something for your damaged or hard cuticles, this is it. Oriflame's Beauty Nail and Cuticle Cream contain multi-vitamin ingredients. It works instantly and conditions nails almost immediately. As the cream is light, it gets absorbed into the skin really fast.
7. Natural Bath & Body Hand & Cuticle Cream:
The goodness of Vitamin E and Beeswax make this Hand & Cuticle Cream from Natural Bath & Body ideal. It has been especially formulated to tackle dry and hard cuticles and nails much better and faster.


8. The Body Shop Vitamin E Hand & Nail Treatment:
Here comes another great product from the basket of The Body Shop. TBS has forever given us products to love, and this one is no different. This cream is packed with the richness of Vitamin E, a range that this brand specializes in, to give you softer hands and stronger and healthier cuticles and nails.


*Subject to Availability
How To Take Care Of Your Nails And Cuticles?
Never cut your cuticles
Use an orange stick to push your cuticles
Steer clear of drying agents like washing powder etc
Keep your hands out of your mouth
Completely avoid a rough manicurists
Moisturize, moisturize and moisturize!
Cuticle creams ultimately affect the health of your nails. So go and invest in one today. Follow these tips and keep your cuticles strong. Which cuticle creams do you like using and why? Leave your comments below.
Recommended Articles

The following two tabs change content below.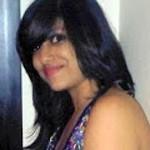 Latest posts by Debolina Raja Gupta (see all)