13 Best Nail Dip Powder Kits For Salon-Quality Nails At Home
Keep your nails healthy and infection-free with chip-resistant dipping powders.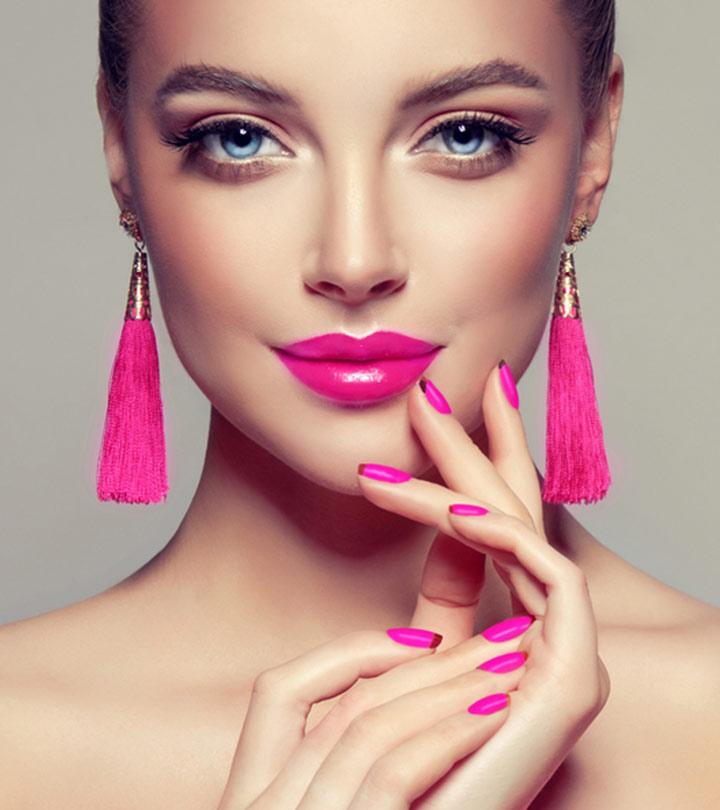 If you are someone keen on trying every nail art trend there is, you must get yourself the best nail dip powder kit. While mastering the intricacies of nail art might take a while, a nail dip powder kit would help make the process faster and a lot easier for you. You don't need to visit a nail parlor or break your bank over the expensive manicures and retouches anymore. With a nail dip powder kit, all you need to do is dip your nails in the powder and dry it off to seal your nail art. Once you have tried it, it's difficult to not find yourself obsessing over it or challenging yourself with one nail art after the other. Easy to use, low-mess, and long-lasting, these nail dip powder kits take your whole experience to another level. Moreover, with your own personal kit handy, you don't run the chances of any infection or contamination from shared dip powders and manicure tool kits. To help you get one for yourself, we have shortlisted the 13 best nail dip powder kits for you to choose from.
13 Best Nail Dip Powder Kits To Try At Home In 2022
If you are someone who's always on the go but also likes to look their best from head-to-toe at all times, you should bring home this dipping powder kit. It contains vitamin E and calcium, which helps keep your nails conditioned, healthy, and strong. This kit comes with 10 shades in metallic, shimmer, and glossy finishes and all the dipping powders are made with environment-friendly and non-toxic ingredients. The formula is neither too thick nor too runny and is ideal for artificial nails as it gives it a more natural appearance. It dries on its own without the need for curing under LED or UV lights.
Pros
Chip-resistant
Lasts for up to 3 weeks
Natural formula
10 dipping powders
Odor-free
The kit includes a replacement brush and a user manual.
Cons
The kit doesn't come with a base coat, top coat, or an activator.
Price at the time of publication: $12.98
Try a pastel color on your nails today, glitter tomorrow, and the shimmer the day after that, or any other color you like with this Acrylic Dipping Powder Nail Starter Kit by Aikker. It is the perfect kit for a beginner or a professional as it comes with everything you will ever need for perfectly painted nails. The kit includes a base coat, which quickly absorbs the dipping powder, an activator that hardens the layers of dipping powder, a top coat to seal the deal, and a brush saver to eliminate any debris residue from your brushes. The kit features 8 alluring nail dipping powder colors, which you can mix and layer to create 50 incredible color combinations.
Pros
No curing required
13-piece kit
Includes a powder tray
Cruelty-free
Long-lasting wear
Cons
The base coat provided may not be up to the mark.
Price at the time of publication: $19.99
Azure Beauty products need no introduction. They are loved by millions of people all over the world, and this nail dipping powder kit is no different when it comes to impressing nail art lovers. This easy dip nail powder kit includes 4 shimmery shades and a bonding liquid that keeps your nails chip-resistant and offers long-lasting wear. It also comes with top and base coats, and a highly-effective activator, which helps to cure several layers of dipping powder and clear polish coats without a UV/LED lamp. Once dry, the dipping powder reveals a high-shine gloss finish that lasts for over 2 weeks. This video helps you know more about the product.
Pros
Includes a brush saver
Lasts over 2 weeks
Non-toxic
Water-resistant
Includes a nail file, cuticle oil, and wooden stick, etc
Cons
The bond glaze takes a lot of time to dry.
Some may find its odor too strong.
Price at the time of publication: $22.99
Do you love bright colors as much as you enjoy getting your nails done? You should immediately get your hands on this nail dipping powder kit full of summery colors. Ideal for both home or professional use, these dipping powders are water-resistant and offer a glossy shimmer finish. They last longer than regular gel and acrylic nail polishes and keep your nails protected as they don't require curing time under any sort of lamp. Although the powder is not thick to avoid clumping, it applies as a creamy formula on your nails. You can trust this powder to last a long time on both real and artificial nails.
Pros
Odor-free
Doesn't chip easily
Lasts for more than 2 weeks
Environment-friendly
Set of 10 dipping powders
Cons
The kit doesn't include top or base coats nor an activator.
It may take some time to dry.
Price at the time of publication: $19.99
Have you always wanted to give nail dipping a shot but don't know which nail dip powder brands to settle on? Why don't you give this one a try? Perfectly designed for a beginner, this compact salon-style dip powder set comes with everything you need for a quick and easy DIY dip powder session at one. Yes, everything! Besides necessary items like the base and top coats and the dipping powder, it even includes a cute little dip tray and a nail file. If you are skeptical about experimenting on your real nails, you can use the tips provided or achieve a salon-style French dip manicure with the white tips that come with the kit. Check out this video to know more about this product.
Pros
All-in-one compact kit
No UV light
Includes an activator
Includes a sponge and manicure stick
Lasts for more than 2 weeks
Easy to soak off
Cons
The top and base coat contains cyanoacrylate, which may cause eye irritation in some.
Price at the time of publication: $12.49
This all-inclusive nail dip kit leaves no stone unturned and has everything you need to groom your nails to perfection. This starter kit is made with the finest ingredients and complex bonds that prevent your nails from chipping. It also contains vitamins and calcium, which keep your nails strong and make them grow faster. This kit houses a bonding glaze, a top and base coat, and nourishing oil for healthy and happy nails. Watch this video for more information about the product.
Pros
Includes seal protector and brush saver
Doesn't stain nails
MMA-free
Odor-free
5 different colors in various finishes
Cruelty-free
Cons
It is expensive.
It may look clumpy if you apply more than 2 coats.
Price at the time of publication: $99.01
The perfect nail dipping kit for anyone who adores pastel shades in light pink and purple, this one will not let you down. Whether you want to try it on your real nails or artificial ones, this kit contains all you need for a hassle-free nail painting session. They are made of non-toxic ingredients and are water-resistant. The set comes with 5 beautiful shades, top and base coats, an activator, and an extensive manual guide to put all your worries at bay and answer all your doubts. The dipping powders are of a thin consistency and won't feel heavy on your nails. It is a buildable powder that offers exceptional coverage.
Pros
Chip-resistant
Quick-drying
No odors
Gel powder
Suitable for all kinds of nails
Cons
Some may find the glitter powder a little messy to apply.
People with extremely sensitive skin may feel a burning sensation on their nails.
Price at the time of publication: $12.98
A handy nail dipping powder kit designed both for home or professional use, it comes with 5 glamorous shades that are perfect for both day or night functions. The organic nail dipping powder boasts of an odor-free natural formula that is infused with vitamin E and calcium. You'll be surprised at how quickly they dry without a UV or LED light. These high-shine glossy finish powders are also long-lasting and chip-resistant. Whether it's a French manicure or a glittery pink bonanza that you want to try out on your nails, this natural nail dip powder kit will help you achieve desired results in ease.
Pros
Keeps the nails healthy and strong
Water-resistant
Lightweight powder
5 shades
Doesn't chip easily
Lasts for more than a week
Cons
Some may not like the quality of the base coat.
The smell may be strong for some.
Did you know that a nail powder dipping system takes about 30% less time than applying acrylics and waiting for it to dry? Isn't that reason enough to make the big switch? This kit comes with 4 sultry colors in glossy finishes that are ideal for all types of nails. You can wave goodbye to UV/LED lamps as these powders take absolutely no time to cure and dry on their own. Acrylic gels give off a pungent smell, while these dipping powders are completely odor-free and don't cause nail yellowing. The kit also includes top and base gels, 4 powders, an activator, and a brush saver.
Pros
Lasts for up to 3 weeks
Includes a detailed instruction guide
Mineral pigments
Creamy colors
Easy to soak off
Cons
The top coat may take a long time to dry completely.
Something as basic as keeping your nails groomed or painted can reveal a lot about who you are. Let's be honest, when we see a woman with perfectly manicured nails, we immediately jump to the conclusion that she's a person who knows how to take care of herself and carry herself well, isn't it? If you too want to fall in that bracket, try a nail dip powder kit like this one. The powders in this kit feature a one-of-a-kind award-winning patented formula, and you can finish getting your nails done in less than 30 minutes with this handy kit.
Pros
Comes with 3 dip powders
Comes with a nail surface cleaner
Includes 100 lint-free wipes
Includes 2 replacement caps and brushes each
Lasts up to 14 days
Cons
Price at the time of publication: $98.99
Stand out in any crowd and let your nails be the center of attention everywhere you go with a little help from these vivid-colored nail dip powders. This collection features funky colors such as neon green, blue, and pink, and yellow. For days when you want to keep it subtle, you can dip your fingers in darker shades like purple. Ideal for everyday wear, these powders are lightweight, settle quickly, and dry even quicker.
Pros
Lasts up to 21 days
Quick-drying
8 bright colors
Gel-like wearability
Buildable coverage
Cons
The kit doesn't include top and base gels, nor an activator.
Price at the time of publication: $19.68
This nail dip kit comes with 6 incredible variations of pink hues that are ideal for all skin tones. Easy to apply and easier to remove, these powders boast of a fantastic formula that dries within 30 seconds of dipping. Once dry, it announces its beauty in a shiny and glossy finish and lasts for up to 3 weeks. The kit makes your job significantly easier as it includes base and top coat gels, an activator, and a brush saver.
Pros
6 nail dip powder
Dries in 30 seconds
Lasts for 3 weeks
Formaldehyde-free
Toluene-free
No chipping
Cons
Some may find the powder a little too grainy.
Price at the time of publication: $15.99
Stop everything you're doing right now and check this nail dip powder kit right away. It's a dream come true for nail art enthusiasts and beginners who want to discover the joys of powder dipping. In this kit, you get 2 shades of dip powders that offer a holographic finish, a bonding gloss, an activator, a brush cleaner, and a nail buffer. The best part about nail powder dipping is that you don't even need to cure your nail under UV or LED lights. It dries on its own and lasts for a couple of weeks without chipping or peeling off. So, what are you waiting for? Get painting, get creative.
Pros
Formaldehyde-free
Toluene-free
Cruelty-free
Vegan
Lasts up to 21 days
Cons
The colors only change when the nails hit the light at a certain angle.
Price at the time of publication: $15.89
Read on to find out more about nail dip powder kits, and how you can try it at home.
Why Choose A Nail Dip Powder Kit – A Helpful Buying Guide
What Is A Dip Powder Manicure?
A dip powder manicure is exactly what you think it is. It's literally the process of painting your nails by dipping them in powder. Before dipping your fingers into the powder, you need to apply a base polish coat on your nails. Dip your finger into the powder, apply a coat of activator and finish it with a top coat. It doesn't require any curing time under UV/LED lights as it dries on its own. This is considered to be better for the health of your nails.
How To Choose The Best Nail Dip Powder Kit?
When buying a nail dip powder kit, look for the following things:
An assortment of non-toxic dip powders in different colors.
The dip powders should be more or less odor-free.
The dip powder should be a fine powder, not a grainy one.
The kit should include an activator, base and top gels, and a brush saver.
Additional accessories like a nail file, a nail buff, and a dipping tray are also helpful.
How Do You Apply Dip Powder Nail Polish At Home?
Step 1: Start with a clean slate always. Wipe away nail polish or other such residues from your nails properly.
Step 2: Push your cuticles back to prep your nails.
Step 3: Buff your nails for a smooth surface.
Step 4: File your nails until you have achieved your desired shape.
Step 5: Wipe off dust and oils from your nails.
Step 6: Apply a base coat.
Step 7: Dip your nails into the powder.
Step 8: Dust the excess powder off with a brush.
Step 9: Double dip if necessary.
Step 10: Apply a coat of activator to bond the powder into a gloss.
Step 11: Seal it with a top coat.
How Do You Remove Dip Powder Manicures?
Step 1: Use a clipper to remove excess nail extensions, if you have any.
Step 2: Buff the top layer of the powder on your nails.
Step 3: Soak a cotton ball or pad in acetone.
Step 4: Place the soaked cotton ball or pad on your nails. Cover your nails fully.
Step 5: Wrap each nail with aluminum foil and cover it for 15 minutes.
Step 6: After 15 minutes, take the foil and cotton off and wipe your nails clean.
Step 7: Wash your hands.
Step 8: Moisturize your hands.
Why Trust StyleCraze?
The author of this article, Chaitra Krishnan, is an avid makeup enthusiast. She has created this list of the best nail dip powder kits which are easy to use, long-lasting, and odor-free. She has browsed through online reviews on various e-commerce websites before picking the best nail dip powder kits for StyleCraze's list. Some of these kits are water-resistant, cruelty-free, and made using natural ingredients.
Frequently Asked Questions
Is it easy to use dipping powder?
It's fairly easy to use dipping powder. However, make sure you have high-quality top and base coat gels and an activator to make the process smooth sailing.
Why is dipping powder safe?
Dipping powders are considered a safe alternative as they dry on their own and don't require curing time under UV/LED lights.
Is dip powder bad for your nails?
Dipping powders may temporarily dehydrate your nails. However, the roots of the nails remain undamaged.
Can you do nail dip powder at home?
Although a nail dip powder manicure can be a fun DIY home project, it is better to visit a nail professional to get it done.
How long do dip nails last?
A salon-grade dip manicure can last anywhere from 7 to 21 days.
Which is better for nails? Gel or Dip?
Although gel nails look more natural and smoother, dip nails are considered better as they don't need drying under UV lamps.
Recommended Articles