15 Best Nail Glue For Press-on Nails Of 2021 Reviews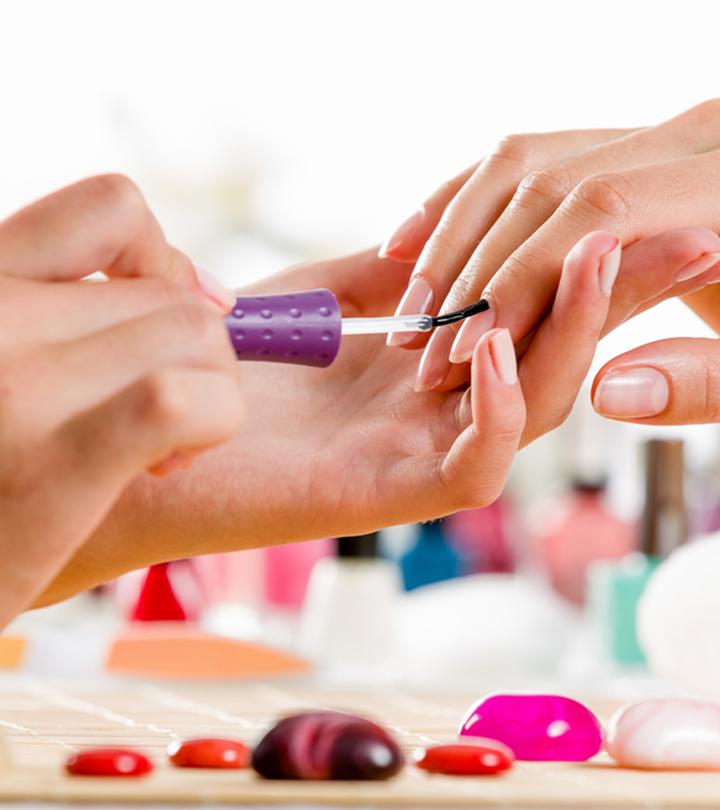 Who doesn't like long and beautiful nails? But given that they take forever to grow, fake nails or press-on nails are now in huge demand. Also, a broken nail is no less than a horror story, which is why women are learning the art of getting artificial or press-on nails done at home. Easy, efficient, and inexpensive, all you need is the best nail glue for fake nails and bang! You have salon-worthy, enviable nails ready and painted to flaunt wherever you go. Nail glue is that manicure kit staple that every woman who fancies long nails must-have. But choosing a reliable one is important; a glue that dries faster, lasts longer and does not affect the growth of your natural nails.
Since you may end up getting confused with the plethora of options available online, we decided to make your shopping experience easier. We took the liberty to browse through many, many of them and have picked 15 best nail glue for press-on nails, for you. Read on to know more:
15 Best Nail Glue For Fake Nails, Press-on Nails And More
This super-strong nail binder bonds in a blink and has women falling for its quick-drying effect. With a fine precision brush applicator available with the glue, NYK1 Super strong Nail bond can be used for fake acrylic nails, press-on nails, nail tips and are perfect for  acrylic art nails too. An adhesive that you can rely on to hold your nail extensions for a long time, the NYK1 Super strong Nail bond is one of the strongest nail glues for false nails and is also trusted by professionals.
Pros:
Extra-strong
Water-resistant
Super-quick drying adhesive
Mess-free and easy-to-apply
Used and trusted by salon professionals
Cons:
Might be difficult to remove
Might be expensive
Similar Products:
Planning to DIY press-on nails at home? Kiss Maximum Speed Nail Glue is hailed as one of the top-selling adhesives by the brand and is ideal for all kinds of nail bonds and repairs. Have a  chipped or a cracked nail tip? This glue can help with its fast-dying effect and quick adhesion. Promising a long wear experience with great holding power, it can stick on fake nails only in 3 seconds! Don't believe us? Try it, to experience it.
Pros:
Bonds press-on or glue-on nails within seconds
Super-strong
Contains unique anti-fungal ingredient
Offers precision
Hydroquinone-free
Easy-to-use and mess-free
Trusted by professionals
Cons:
May not last long
The nozzle may clog and harden after first use.
Similar Products:
Indulge in some nail beauty with IBD Brush-on Glue. With a polishing brush to make the application easy, even beginners can DIY press-on or acrylic nails at home. A few strokes and you have enviable nails to-go for the season. Also, no more sticky fingers because the brush applicator offers a hassle-free experience. Trusted by beauty experts and compatible with all other gel polishes, IBD Brush-on Glue is the best glue for fake nails and worth a try.
Pros:
Easy-to-use polish glue
Ideal for artificial nails and nail tips
Hassle-free removal within 10 minutes
It is compatible with gel nail polishes
Super-strong adhesive
Cost-effective
Cons:
May take some time to dry.
Similar Products:
Nailene's nail glue has been a well-known name in the nail care industry for over 30 years. It is high-quality, super-strong and has an exceptional holding power too. A manicure kit staple, the Nailene Ultra Quick Nail Glue stays true to its name; it is fast-drying and bonds within seconds! Whether you want to go all out and deck up your nails or want to keep it simple, this easy-to-use glue will cater to all your nail-pampering demands.
Pros:
Hassle-free and easy-to-apply
Ideal for nail art, French styling, bonding, and repairs
Robust holding power
Long-lasting
One of the trusted brands in the market
Recommended by professionals
Cons:
May not last as long as expected
It leaves sticky fingers.
Similar Products:
Why go to a salon when you can doll-up your nails at home in 5 seconds? Yaomiao Nail Tip Glue ensures super-quick, super-strong, and a super-bonding experience with every use. Small-enough to fit in your everyday makeup kit too, you can easily glue on those artificial nail tips, rhinestones or ornaments and make your nails shine on the go. This DIY nail glue stick is also ideal for manicures with artificial and acrylic art nails.
Pros:
Very strong adhesive
Bonds nails for a long time
Ideal for sticking rhinestones, gemstones, and other decorations
Non-messy and easy-to-apply
Salon-worthy experience
Travel-friendly
Cons:
Might take some time to dry.
Similar Products:
When it comes to nail glue there's always a fear of ruining the natural nail beds but not with Ecbasket Nail Glue! For it is SGS-certified and made of ethyl cyanoacrylate and natural resin. Also, since these tubes are small and handy, you can use them anywhere, anytime. No more do you have to run to the salon or wait till you get home to mend the chipped or broken nail. A few drops of Ecbasket Nail Glue and you are back in the game to show off your long and beautiful nails. Fun fact— this glue stick guarantees to get you through at least 3 sets of press-on nails or acrylic nails! Yep, it's definitely worth sticking to.
Pros:
Quick bonding and fast-drying adhesive
Lasts up to 30 days
Hassle-free removal
Nail and skin-friendly
Ideal for nail art decorations and sticking ornaments too
Portable and easy-to-use
Cons:
It has a slight odor.
It takes longer to dry.
Nobody's a fan of sticky fingers and some adhesives can lead to skin damage too. Makartt Quick Nail Glue, on the other hand, comes with a built-in brush that makes it super easy to apply on press-on nails, acrylic nails, and can be used for gel polish and nail art too. Made of natural ingredients that is ethyl cyanoacrylate, this high-quality nail glue is completely safe for your natural nails and can be applied as many times as you like. It is the best nail glue for acrylics.
Pros:
The built-in brush applicator makes it easy-to-use
It has a strong and firm bond
Long-lasting nail glue
Safe to use and skin-friendly
Ideal for acrylic nails, broken nails, and nail repairs
Cons:
It may give off a slight odor.
Busy schedule keeping you from trying DIY press-on nails? BTArtbox Nail Glue can help. With this glue, you kick start your nail hobby anywhere you like. All thanks to its portable and handy tubes that have enough adhesive to bond up to 350 artificial nail tips, press-on nails, nail art decorations, as well as repair nail cracks and chips. Also, it's extremely strong and sets almost immediately, thus making it a great option for those who are always on the run.
Pros:
Made of natural ingredients and safe for nails
Recommended for beginners as well as for professional use
The bond can last up to a month.
The adhesive dries quickly.
It's easy to remove.
The glue is MSDS and SGS-certified.
Cons:
The holding power may weaken after a few days.
Can't do without a manicure? But those salon trips can be so expensive! Try Modelones Nail Glue because one single tube promises around 10 to 20 manicures. The fine precision applicator which limits excess spilling of glue makes this adhesive ideal for applying nail art decorations, gemstones, and French styling too. Also, since it is made of natural ingredients, you needn't worry about ruining the nail beds. It is the best glue for press on nails
Pros:
Includes natural resin and is safe for nails
The adhesive is very strong
Easy to apply
Bonds within 5 seconds
Promises around 10 to 20 manicures
Cons:
The nails may require re-application after a few days.
One word – Indulgence! With 30 in a pack, you'll never run out of adhesive strong glue in the house. With each tube small enough to fit in your pockets, they are fast-drying, can hold press-on nails for more than a week and work very well for nail tips too. But more than self-use, this pack is a great option for gifting. So, if you are looking to surprise your nail care enthusiast friend or relative, KDS Nail Tip Glue will make a great choice.
Pros:
30-in-1 nail glue kit
Ideal for press-on nails, acrylic nails, and nail tips
They are kid-friendly
Travel-friendly
Easy-to-use and remove
Cons:
The adhesion is not very strong.
Brush-on nail glue, FTW! Not only do they give you mess-free experience, but they are easy-to-use too. All you have to do is polish your nails, apply glue to the press-on or acrylic nails, and place them on the nail beds. Its quick-dry effect and super strength will have them ready-to-flaunt within seconds! On the other hand, professionals can explore nail art and decorations with Matrix Adhesive AA Nail Glue too.
Pros:
Safe-to-use and skin-friendly
It has a built-in brush for easy application
Ideal for press-on nails, nail tips, and nail art decorations
Quick-drying effect
The bond may last up to 2 weeks
Cons:
No drip, no clog, only super strong glue and beautiful nails forever. Use it to stick on, press-on or deck up nails with decorations, Beauty Secrets Nail Glue will not disappoint you. The brand promises an adhesion so strong, that you might think about using it for household purposes too. But what really makes it a favorite among users and professionals is the long-lasting holding power that the glue has. So, is it really worth the hype? You'll have to use it, to find out.
Pros:
Dries quickly on application
Nail glue that lasts long
Tube doesn't dry quickly
Drip and clog-proof
Use for nail tips and press-on nails
Impressive holding power
Recommended for professional use
Cons:
The adhesion may weaken if it comes in contact with water frequently.
One fingernail glue to satiate all your nail desires! Big Bondini Brush-on Nail Glue can be used for tips, sticking decorations, wraps, overlaying, and mending nails. All you have to do is brush-on this DIY nail glue on your nails like you would use your nail polish. Also, since it is a fast-drying formula, it bonds within seconds. Ensuring a no-mess session with every use, give this brush-on nail glue a go.
Pros:
Dries quickly
Ideal for tips, wraps, and nail repairs
Robust adhesion
Hassle-free application and removal
Easy to use
Cons:
The holding power does not last long
Do you have sensitive skin around your nails? If yes, that doesn't mean you cannot try acrylic or press-on nails! Ladies, all you need is a safe and skin-friendly robust fingernail glue. Whether you are suffering from nail peel or cracks, this nail glue is hypo-allergenic, which means it's safe for sensitive skin. So, don't give up, as Big Bondini Hypo-allergenic acrylic nails glue might make all your long and beautiful nails dreams come true!
Pros:
Allergy and rash-free nail glue
Convenient to use
Quick-drying formula
Mends cracked and chipped nails
Super-strong bond for press-on nails
Cons:
Looking for the strongest nail glue for false nails? Cala Super Nail Glue promises extra strong adhesion, so much that it gives out a caution of bonding skin instantly! So, if you have a special occasion coming up and don't want your fake nail falling off and embarrassing you, Cala Super Nail Glue might be a great choice to use for press-on nails. Also, its fast-drying formula only adds on to its many benefits including long-lasting bonds and quick setting.
Pros:
No air bubbles while setting
Adheres strongly to the nail
Dries within seconds of application
Ideal for acrylic nail tips
Bonds immediately
Cons:
The adhesive is not water-resistant.
It may lead to sticky fingers.
That's all folks on the 15 best nail glue you must have for press-on nails. But before you buy them, we recommend you go through the buying guide below and read all the "whats" and "hows" before using DIY nail glues.
Buying Guide For The Best Nail Glues:
What To Look For When Buying The Best Nail Glue?
Look out for the following points to make sure you pick the right nail glue:
Strong adhesion
Quick-drying formula
Bonus points for water-resistance
Look for one that will last for more than 2-3 weeks.
It should not show a cloudy or white effect after drying.
Nail glues that are hypo-allergenic or made of ethyl cyanoacrylate and natural resin are safer for the skin.
Pick the one that can be used for press-on nails, fine detailed nail artwork, acrylic nail sets, gem nail sets, nail repairs, etc.
How To Apply Nail Glue?
This is very important. To avoid ending up with crooked nails or redoing the process, you must follow the steps below:
Before you put the nail glue, make sure your nails are manicured
Soak the nails, push the cuticles, trim them and buff the nail beds
Your nails should be absolutely dry before applying the nail glue as moisture can cause air bubbles
Pour a drop of glue on your nail bed and a drop on the press-on nail
Then carefully place the fake nail on the nail bed start just above the cuticle
If you are using a brush-on, evenly polish your nail with glue and fake nail and repeat the above process
Once you have successfully placed all the nails, they are ready for you to buff and decorate!
How Long Does Nail Glue Last?
Nail glue mostly lasts for 2 to 3 weeks depending on how strong the adhesion is, how well you take care of your hands. Remember to avoid frequent wetting of your nails and also make sure your press-on nails are of the right size.
How To Remove Nail Glue From Skin And Nails?
Since you are dealing with a strong adhesive here, washing off with water won't work. Immerse your hand in soap water for a minute and use a scrub or a toothbrush to gently wash off the glue. If there are residues, you can use acetone to remove them. Be gentle while removing the glue as you don't want to harm the nail bed with excessive scrubbing. The glue residue on the tips can be removed with trimming or buffing too.
So much for the love of beautiful nails! Worth it isn't it? Since you get to flaunt them confidently while you walk and talk. A woman's attitude lies in her nail, they say. So ladies, what are you waiting for? Grab the nail glue you need and put on those false nails ASAP! Did we miss out on a product you like or if you have a suggestion regarding this article, you can write to us in the comments below!
Frequently Asked Questions
Is nail glue bad for nails?
It depends on how frequently you use it. Nail glue has chemicals that may turn your nails yellowish or damage your nail bed. So, it's best to use them occasionally or keep a gap before re-applying them again.
Which nail glue do professionals use?
Nailene Ultra Quick Nail Glue, KISS Maximum Speed Nail Glue, and Beauty Secrets Nail Glue are some of the best nail glues used by beauty experts and professionals.
Which nail glue lasts the longest?
It totally depends on how well you take care of your nails. However, the NYK1 Superstrong Nailbond is used and trusted by professionals and beauty experts for its robust adhesion and long-lasting holding power.
Is super glue and nail glue the same?
Not really. Though they both have the same strength, super glue has chemicals that can damage the nail bed. Nail glue, on the other hand, is gentler.
Is it bad to use super glue for fake nails?
Though it will repair or stick with the same strength, super glue can be harmful to the nails if used often. Hence, it's best to use nail glue for press-on or to repair nails.
Can I use super glue on nails as nail glue?
Yes, you can use superglue to repair your broken nail but as far as acrylic nails are concerned, it's best to use nail glue.
Is it safe to use Krazy glue for my press-on nails?
No, avoid using Krazy glue for your press-on nails because both super glue and Krazy glue have chemicals that absorb moisture and may harm your nail's protective barrier. These glues are not made for the human body, whereas nail glue is created specifically for nail beds.
Recommended Articles