11 Best Nail Moisturizers For Dry, Brittle Nails You Cannot Miss In 2023!
Say goodbye to your dry and brittle nails with these hydrating formulations.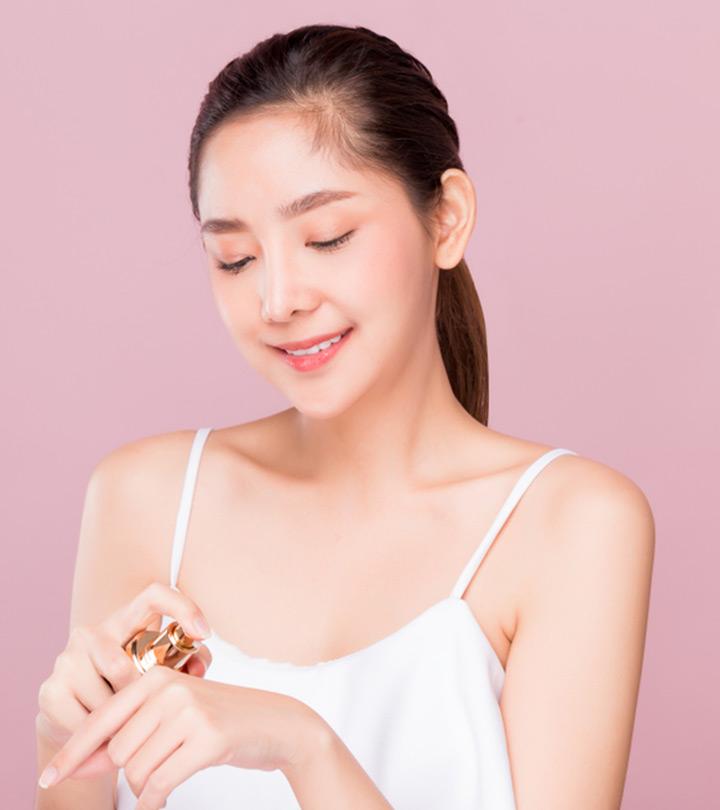 A perfect and professional-looking manicure won't look good without well-maintained nail cuticles. So, the best moisturizers for dry nails should be an indispensable part of your kit as they can help in the healthy maintenance of your nails. You should use good-quality ingredients to moisturize your nails as they will help prevent the cracking of brittle and dry nails while softening your cuticles and offering the right amount of nourishment.
Healthy cuticles promote nail growth and protect them from damage and harmful bacteria and fungus. But your cuticles are fragile and need extra attention. Furthermore, frequent use of soaps and sanitizers can make your nails and skin dry and flaky. Nails are also exposed to the chemicals present in water and air.
You might think trimming, painting with nail colors, or getting a professional manicure is enough TLC for nails, but they require proper hydration so that they are damage-free and strong. So, if you want to get rid of all your nail woes instantly, check out our list of the 11 best moisturizers for dry nails that will bring your nails to life. Scroll down!
11 Nail Moisturizers That Work Wonders In 2023
Want to wake up to healthy nails that you can't wait to flaunt? Try this oil-based cuticle moisturizer that will work its magic while you rest in your beauty sleep! Its lightweight formula has a thick consistency and comes with a dropper applicator for a mess-free application. The oil dries up in under a minute and is paraben-free and cruelty-free, making it perfect for sensitive skin. If this wasn't all, the formula is also enriched with nourishing ingredients like safflower oil, vitamin E, milk, and honey that encourage healthy nail growth and lock in moisture at the cuticles for nails that never chip or break easily. Safflower Oil contains Vitamin E it helps with strengthening your nails, it especially helps with dry cuticles during the winter. Milk as you know contains protein and helps in nail growth and also helps nail strengthening. Honey contains nutrients and minerals that help in nourishing your nail cuticles and also in making your nails shiny. Watch this video to know more about the product.
Pros
Smooth consistency
Restores dry and brittle nails
Strengthens and hydrates nails
Affordable
Moisturizes nails and cuticles
Paraben-free
Cruelty-free
Heals scars
Cons
The scent may be overpowering for some.
Price at the time of publication: $13.61
CND's award-winning SolarOil cuticle oil is a game-changer for damaged and brittle nails and cuticles. It is a blend of potent moisturizing oils that penetrate deep into the skin and nails to revive them. This blend contains sweet almond oil and jojoba seed oil, which condition and nourish the nails. It also has vitamin E, an antioxidant that helps diminish signs of early aging while also softening the nails.
Pros
Long lasting moisture
Aids nail growth
Makes cuticles healthier
Pleasant fragrance
Easy to use
Value for money
Cons
None
Price at the time of publication: $8.5
Healthy, nourished nails are no longer a dream with this cream-based fingernail moisturizer from Yes To. It can be used on your nails and hands and is ideal for dry, chapped, and cracked skin. When it comes to cuticles, this cream provides nutrients that help in the restoration of cuticles. Most of us end up having dry cuticles in the winter or, right after using some nail polish remover, this product is the answer for all those woes! For the conscious consumer, this product is paraben-free, cruelty-free, and also has eco-friendly packaging. It also contains passion fruit, shea butter, avocado oil, and grapefruit extract for strong, healthy, and long nails. Lightweight and fast-absorbing, we can't think of reasons why you shouldn't bring home this product right away!
Pros
It is a protectant
Nourishes nails
Prevents dryness
Paraben-free
Cruelty-free
Eco-friendly packaging
Cons
Results might not last long.
Price at the time of publication: $14.99
This cuticle cream is considered to be the best nail moisturizer, and rightly so! The ingredient list is full of natural components, including essential oils like lemon peel oil, sunflower oil, and sweet almond oil, to name a few.Where lemon peel oil has antioxidants that help in rejuvenating the cuticles sunflower oil and almond oil has healing and nourishing properties. They help in providing moisture to hands and nails while alleviating itching and dryness. It also includes beeswax, which has moisturizing properties for strong and nourished nails. Paraben and cruelty-free, it instantly gets absorbed into your skin. This video will give you more insights into the product.
Pros
Pleasant lemony fragrance
Includes essential oils
Paraben and cruelty-free
Travel-friendly packaging
Cons
May not be ideal for daytime use, due to its greasy texture
Price at the time of publication: $17.46
Are brittle, dry, and unpolished nails keeping you up at night? Try this nail moisturizer oil that will help maintain healthy nails and cuticles and ensure nails are left looking shiny and polished. This oil has a smooth and free-flowing consistency and comes with a convenient applicator brush for effortless application. Fragrance-free and eco-friendly which means it does not contain synthetic ingredients. This one is also loaded with vitamins for nails that look long, healthy, and stunning.
Pros
Unscented
Easy application
Smooth consistency
Helps in maintaining the luster of the nail
Can be used for professional nail care as well
Cons
Price at the time of publication: $6.99
This product prides itself on being wholly herbal and effective. It comes with a smooth consistency and can be soothing on the nails while providing relief to dry and itchy skin. It contains many essential oils, including avocado oil, lavender oil, rosemary, and extra virgin coconut oil. Lavender and rosemary work together to offer a calming effect while reducing inflammation. Extra virgin coconut oil is known for its moisturizing properties and heals skin for healthier nails. On the other hand, avocado oil helps soften cuticles, a critical factor for healthy nail growth and strong nails.
Pros
Fast-absorbing formula
Nourishes cuticles
Contains essential oils
Paraben-free and cruelty-free
Completely herbal
Non-GMO formula
Cons
May not be as hydrating as expected
Price at the time of publication: $9.99
Heal cracked nails and rigid cuticles with the Bee Naturals Cuticle And Nail Oil. It is infused with key ingredients Avocado Oil, Apricot Kernel, and Lavender, which strengthen your nails, nourish them, and keep them healthy. This oil can also keep dry nails hydrated and strong. In addition, this oil also protects your cuticles and nails.
Pros
No harmful chemical
No harsh chemical
Soften cuticle
Cons
None
Price at the time of publication: $29.97
Get ready for the quick absorption of this water based-product! This nourishing formula contains the secret ingredient to healthy, strong nails — biotin. Biotin is a B-complex vitamin that promotes healthy cell growth and strengthens your brittle fingernails. If you really want to look after your nail health, this would be the product to go for. The formula is also enriched with other natural moisturizers, like panthenol and phytantriol, to provide moisture and nourishment for all 3 layers of the nails. Last but not least, it also comes with a hassle-free brush applicator for easy application.
Pros
Contains biotin
Helps in nail growth and restoration
Easy application due to brush applicator
Effective absorption
Moisturizes and nourishes nails
Cons
For those with acrylic nails, this product would have to be used with caution because of its rich consistency.
Price at the time of publication: $18.95
Next on our list of the best nail moisturizers of 2023 is this cuticle balm by Baker Goods that aims at nourishing and softening dry and brittle cuticles. It contains organic ingredients like olive oil, beeswax, coconut oil, carnauba wax, and vitamin E. All these ingredients provide hydration to moisture-deprived nails and skin. Olive oil, coconut oil and beeswax are great for nourishment. Whereas Vitamin E has healing restorative properties. This product can therefore, heal, restore and nourish nails while also reducing inflammation and visibly bettering the nails' appearance. This product has a smooth consistency, free of parabens, and is ideal for nighttime use.
Pros
Small, travel-size packaging
Natural ingredients
Paraben and cruelty-free
Nourishes nails and softens cuticles
Cons
Can take a while to get absorbed
Price at the time of publication: $17.8
If you want pretty painted nails that are healthy and nourished, this is the product for you! Butter London nail moisturizer contains vitamin E oil, tea tree oil, keratin, and Arginine to restore the nail's natural appearance and heal scars and inflammation. Keratin, in particular, helps in the growth and strengthening of the nail while nourishing the nail bed. This product also comes in different shades and has a leave-on formula made specifically for your nails giving it a gel manicure kind of finish.
Pros
Easy application due to brush applicator
Availability of shades
Has nourishing ingredients
Also aids in the restoration of nails
Cons
The product can be thick and may not not give a very neat finish to your nails
Price at the time of publication: $18
For the hands-on working woman, this product is an absolute must-have. This oil nourishes your nails and acts as a cuticle moisturizer when it is prone to a lot of wear and tear. It has 100% wheat germ oil, which is filled with antioxidants and helps keep your nails in form and moisturize them. It is also available in different colors and comes with a brush applicator for easy application. Long-lasting and nourishing, beautiful nails are only one skincare step away.
Pros
Natural ingredients
Comes with an easy applicator
Smooth consistency
Gets absorbed quickly
Cons
It could feel slightly heavy on the nails
Price at the time of publication: $9.99
Now that we've taken a look at the 11 best nail moisturizers of 2023, here's a helpful buying guide that will lead you to the best-suited product for your skin.
How To Choose The Right Nail Moisturizer For Your Nails?
There are a couple of points to keep in mind while choosing the best nail moisturizer. The topmost being the problem area. Even though we are talking about nail moisturizers, they all come with different winning points. Some focus solely on moisturizing and hydrating nails, while others focus on their growth, strengthening, restoring, and healing dry and brittle nails. Some nail moisturizers are aimed not only at nails but also at hands, feet, and even the entire body. So, before selecting the perfect nail moisturizer for your skin, you give importance to the problem area you are most focused on.
Now, based on your focus area, you'd have to choose products with the right ingredients. For example, if you want to focus on strengthening and growing your nails, selecting nail moisturizers with proteins or a protein derivative such as biotin and wheat germ oil would be beneficial. If you are struggling with brittle nails that need nourishment and strength, use products with beeswax and castor oil. And suppose your primary concern is damaged cuticles or hanging nails. In that case, you need something calming and restorative at the same time, and ingredients like vitamin, extra virgin coconut oil, and tea tree oil would be ideal.
There are certain common chemicals used in nail products that are extremely harmful to be using. These include Toluene, phthalates, parabens, and formaldehyde. These ingredients are carcinogens and can be harmful to even inhale let alone apply on your nails or skin.
How Do You Moisturize Your Nails?
Step 1 – Clean your nails
The first thing would be to make sure your hands are clean and germ-free.
Step 2 – Apply nail moisturizer
Post this you could first apply your nail moisturizer and massage the product in. If it is a balm or oil, which is slightly heavy apply it on your damp hand.
Step 3 – Apply hand lotion
Wait till it's fully absorbed and then apply your hand lotion on top of this. It is also always recommended to do this at night for optimal results.
Why Trust Stylecraze?
The author, Chaitra Krishnan, is a beauty, fashion, and lifestyle enthusiast who loves reviewing different types of products for her readers. Here, she highlights the best nail moisturizers for dry and brittle nails after carefully researching the products and going through multiple user reviews online. The shortlisted products are replete with nourishing and moisturizing ingredients that help you get healthy and strong nails.
Frequently Asked Questions
How often should you moisturize your nails?
Moisturize your nails twice a day to get the best results.
Does moisturizing your nails make them stronger?
Yes, moisturizing the nails makes them stronger and prevents brittleness.
How can I moisturize my nails naturally?
Moisturize your nails naturally by applying petroleum jelly, coconut oil, argan oil, or jojoba oil.
How do you treat weak nails?
Keep in mind the following points to get stronger nails:
Do not expose your nails to water too often.
Drink a lot of water throughout the day.
Use moisturizing nail polish formulas or avoid polishes for a while.
Use a lotion to moisturize the nails and cuticles after using a sanitizer.
File your nails in one direction only. Do not follow any zig-zag motions.
Trim your nails short.
Include legumes, cooked eggs, sardines, vitamin B, minerals, and biotin in your diet for stronger nails.
Should I moisturize my toenails?
Yes, regularly moisturize your toenails to keep them soft and healthy.
What should healthy nails look like?
Healthy nails are uniform in color and do not have grooves, ridges, or pits.
Recommended Articles: