10 Best Nail Polish Colors For Darker Skin Tones To Stand Out – 2022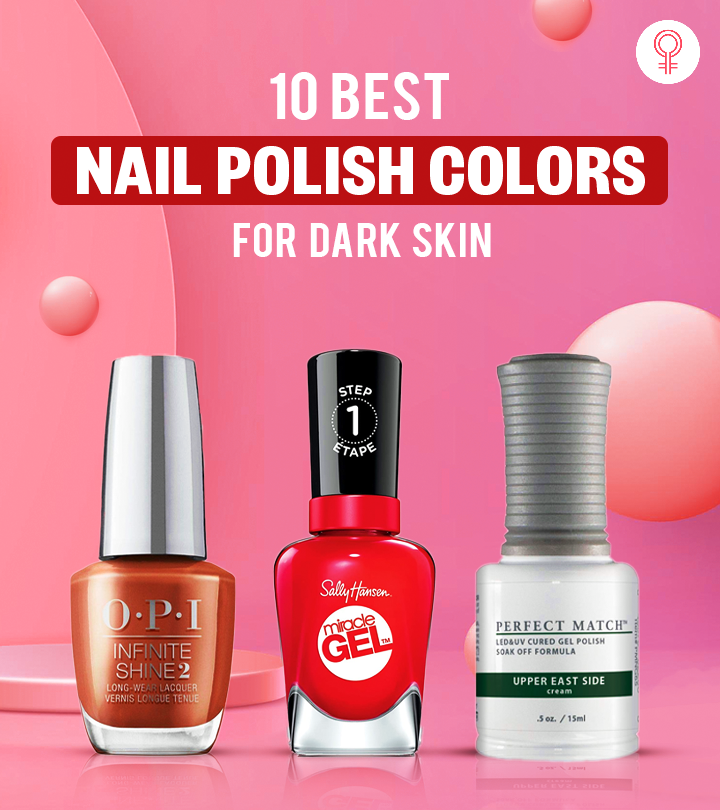 Finding the best nail polish colors for a dark-skinned beauty is quite a hard task. Well, in our list, we have some great suggestions for all the melanin goddesses out there. Baby pink and other neutral tones are not the only ones that can flatter those nails. Be a bit bold, and opt for bright colors that look great as a contrast against your skin. Bright colors, like orange, yellow, scarlet blue, and the like, can be a fresh change from your usual neutrals.
Take a look at this list of the 10 best nail paint shades for your dark skin!
10 Best Nail Polish Colors For Dark Skin
This salon-quality formula by Essie Nail Polish is a classic and creates a contrast with deep skin tones. Blanc is a pure snowy white shade that looks chic and elegant. This nail polish offers a glossy finish and flawless coverage. The brush is thick and glides easily for a streak-free application. Apply two shades to get an incredible professional chic look.
Pros
Long-lasting
Streak-free
Chip-resistant
DBP-free
Toluene-free
Formaldehyde-free
Cons
This rust shade from O.P.I is muted and subtle. It has beautiful earthy chestnut tones that look beautiful on darker skin tones. This nail polish has a gel-like consistency and is highly glossy. It is chip-resistant and stays intact for up to 11 days. This lacquer suits all occasions and looks trendy.
Pros
Long-lasting
Highly pigmented
Gel-like formula
Glossy finish
Streak-free
Cons
571 Red Eye is a vibrant shade of red that looks bold and powerful all year round. It looks radiant on melanin-rich skin tones. The formula is dermatologically tested and suits almost all skin types. It has a quick-drying capacity and stays on for up to five days without chipping. This nail polish is an ideal choice for casual wear.
Pros
Dries quickly
Easy to apply
Easy to remove
Chip-resistant
Dermatologist-tested
Long-lasting
Cons
Gold is the shade for the festive season and looks gorgeous on deeper skin tones. This nail color from ILNP is both holographic and sparkly, which is a rare combination. The formula is smooth, vegan, and cruelty-free. It is also super easy to take off, unlike other sparkle nail colors. This shade will pop bright and bold against your dark complexion.
Pros
Long-lasting
Dries quickly
Vegan
Cruelty-free
Easy to apply and remove
Cruelty-free
vegan
Cons
This silver shade from Zoya Nail Polish is chic and edgy and flatters dark skin tones. It has a metallic finish and a long-lasting vegan and big 10-free formula, which makes it suitable for pregnant women. The nail polish spreads quickly and evenly and is perfect for those who love shiny, metallic shades.
Pros
Long-lasting
Vegan
Streak-free
Easy to apply
Formaldehyde-free
Formaldehyde resin-free
Dibutyl-free
Toluene-free
Camphor-free
TPHP-free
Paraben-free
Xylene-free
Ethyl tosylamide-free
Lead-free
Cons
This cute pink shade creates a beautiful light contrast with darker skin tones and adds a pop of color. It gives a long-lasting and shiny finish to your nails. The lacquer is enriched with organic silicon that provides extra staying power to the nail polish. It is made with techno-polymer technique, which creates a strong adhesion between nail and enamel. The applicator is soft, long, and flat with a rounded tip and helps the nail polish glide easily on the nails.
Pros
Long-lasting
Quick-drying
Chip-resistant
Vegan
Cruelty-free
Cons
This quality gel polish from LeChat complements darker skin tones. The lacquer is highly glossy and lasts for weeks. It is LED/UV cured and the formula does not run, shrink, or fade. This easy-to-apply, quick soak–off formula has premium quality ingredients that do not wear off easily.
Pros
Shrink-proof
Run-resistant
Long-lasting sheen
Chip-resistant
Soak-off formula
Cons
This salon-quality nail polish from Sally Hansen is perfect for at-home manicure and pedicure sessions. The muted purple shade adds a royal flair to your appearance and flatters darker skin tones. This gel nail polish lasts for a week and does not need UV or LED lights to soak off. The formula is free of harsh chemicals, chip-resistant, and dries quickly.
Pros
Quick-drying
Chip-resistant
DBP-free
Toluene-free
Formaldehyde-free
Cons
Looking for neutral shade to suit your skin tone? This gel-based nail lacquer from O.P.I offers an unbeatable sheer white shade that is highly pigmented and glides smoothly on your nails. The formula dries quickly to give long lasting coverage for up to 7 days. This nail lacquer is chip-resistant and easily removable. The brush is wide enough to cover the entire nail and gives effortless, end-to-end coverage.
Pros
Long-lasting
Quick-drying
Chip-resistant
Smooth application
Cons
This deep green shade from Essie Nail Lacquer is ideal for the fall-winter season. If you tend to gravitate towards darker shades, be sure to try this one out. The highly pigmented formula goes on smooth and lasts up to one week. The brush is long, cuticle-friendly, and provides a smooth application.
Pros
Highly pigmented
Streak-free
Easy to apply
Quick-drying
DBP-free
Toluene-free
Formaldehyde-free
Cons
These are some of the nail colors we recommend for dark skin tones. But before buying a nail polish, it is important to keep certain factors in mind. Read on to find out about them.
What To Consider When Buying A Nail Polish For Dark Skin Tone
Shade: The wrong shades can make your skin look pale, but the right ones always enhance your skin tone. For darker skin tones, nudes may seem a safe option, but there are bright colors that pop out beautifully against the melanin-rich skin. The best shades to complement dark skin tones are bright pastel shades, metallic shades, earthy shades, and even dark shades like burgundy and green.
Quality: It is essential that you pick a quality brand. Look for a formula that is not too thick, making the paint easy to apply and dry quickly. The formula should also be highly-pigmented, chip-resistant, and chemical-free.
Finish: There are two types of finishes – glossy and matte. Matte finishes have no shine, while glossy finishes impart shine. Choose as per your preference, mood, and occasion.
That was our round-up of the best nail polish colors for dark skin tones. Whether you like bold colors, metallics, nudes, or rich dark shades, there is something for everyone. Have fun, and do not be afraid to decorate your nails with a pop of color. Go ahead and click on the links to get your favorite shade today!
Why Trust StyleCraze?
The author, Baishali Bhattacharya, is certified in makeup artistry and gives you an insider's perspective on the best nail polish colors for dark skin tones that you should have in your makeup collection. She conducted thorough research, checked user feedback and reviews to pick the best products with vibrant shades for the list. The author has also added a detailed buying guide to help you make the right choice.
Recommended Articles