9 Best Long-Lasting Nail Polish Strips & Stickers Of 2021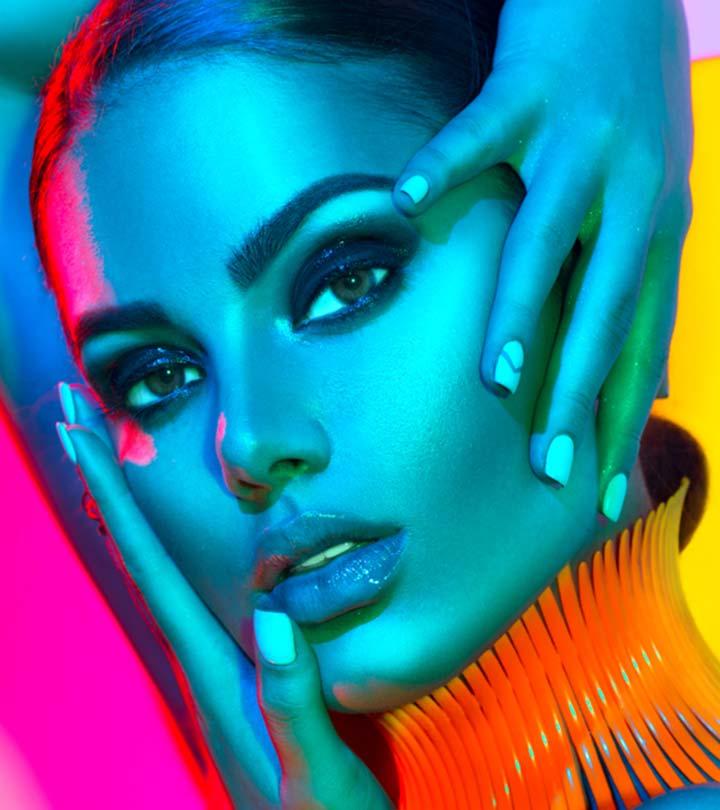 It's sad but true that not all of us are born with artistic hands. Some of us can't even draw a straight line to save our lives, and some of us are so inept in the subtle art of mixing and matching colors, that our friends don't let us shop for clothes alone. For those of us who are stuck with inferior artistic skills and an even more dismal sense of color, attempting to paint our nails and trying out different styles of nail art seems like a distant, almost impossible dream. But, we're here to tell you that there is yet hope for us, and it comes in the form of nail polish strips.
In this article, you will find the 9 best nail polish strips & Stickers of 2021 and a helpful buying guide to help select one that is perfect for you.
9 Best Nail Polish Strips And Nail Wraps With A Handy Buying Guide
One can never go wrong with animal prints. It's an iconic pattern, whether on clothes, shoes, handbags, or any other fashion accessory, and has remained a classic through the years. Now, you can add a touch of glamour and a pop color to your nails with a little help from these animal-print nail polish strips. This time-saving gem lasts up to 10 days and is incredibly easy to apply. All you need to do is peel the strips and stick them on. You don't even have to wait for it to dry. Isn't it amazing? What makes it better is that it fits all nails perfectly.
Pros
Long-lasting
Includes a cuticle stick
Comes with a mini file and buffer
Detailed instructions are provided
Easy to remove
Cons
The pack contains only 16 nail strips.
Similar Products:
During the past few years, you may have noticed nail art getting bigger, bolder, and more expressive—the louder the nails, the louder the personality. You may have also taken note of a French manicure making a dramatic comeback. If you want to jump on the latter bandwagon, you definitely need this stick on nail polish in your makeup collection. What sets these stickers apart is that each pack comes with 12 sheets, and each sheet comes with 54 pieces of crescent moon shaped stickers. It is made with premium-grade quality vinyl and offers incredible self-adhesive power. You can also use them to try out other interesting patterns and colors.
Pros
Non-toxic nail sticker tips
Doesn't leave a mark on the nails
Easy to apply and remove
The pack contains a total of 648 pieces.
French nail polish strips
Cons
Some may find the strips too curved.
Similar Products:
Channel your inner diva every day with these shimmery neon nail polish stickers and say hello to your next favorite nail wrap. If you love getting your nails done by a professional but don't particularly enjoy breaking your bank, these nails will come to the rescue. This set consists of 16 sheets in different colors and sizes to fit all your nails and all your moods. They are made of 100% real polish that is non-toxic and environmentally friendly, which makes them safe for your nails and durable as well. As these nail polish wraps are self-adhesive, you can stick them onto your nails directly. By adding a top coat of clear nail polish, you can extend the wear of these nail wraps by 2 weeks.
Pros
Non-toxic nail decals
Safe for the toes
Can be used under UV lamp
Suitable for fake nails
Glitter nail stickers
Metallic nail polish strips
Cons
If it comes in contact with water and moisture after 2 hours of application, it may not last for a long time.
Similar Products:
If you have never given nail polish strips a shot, we understand why you would be skeptical about them. You may be asking questions like, "Is it really easy to apply" and "Will it look comically fake"? While those are valid questions, these Incoco nail wraps will put all your doubts to rest. The strips are made with ingredients that care for your nails and are free of toxic chemicals. Each strip is infused with a top, color, and base coat of 100% real nail polish. You can enjoy the benefits of real polish without the hassle of smudging, smearing, or waiting for it to dry. To wipe it off, a regular nail polish remover should do the job just fine.
Pros
Contains regular polish
No drying time
Phthalate-free
Toluene-free
Formaldehyde-free
Lasts up to 2 weeks
Cons
The strips may not be too flexible.
Similar Products:
These gradient and glittery press on nail polish strips will make your nails look gorgeous from miles away. The strips reveal exciting colors like pink, green, and blue, with a generous sprinkling of silver streaks. Ideal for dinner dates or cocktails parties, they are easy to use and sticks directly to the nails. To make these nail art wraps last for 2 weeks, you can apply a base coat before applying the sticker and a top coat to seal the deal. With these nail polish strips, you can expect no streaking, no smudging, and is a quick way to make your nails look glamorous. To retain the quality of the nails, seal the package after use. 
Pros
Self-adhesive
Long-lasting wear
Includes 1 nail file
Available for toenails also
Cons
The wearer must avoid water as much as possible during the first day.
Similar Products:
Give your nails a marbled look with Torokom Nail Polish Stickers. These self-adhesive strips are designed with gradient marble style with various colors and prints. The pack includes 12 sheets, containing 14 stickers each in different styles and sizes. The stickers are available in round and square ends and are also suitable to use on acrylic or fake nails.
Pros
Ideal for beginners
Easy to use
Safe material
Cons
May not last long
Get salon-style nails with the Tough Girls Nail Polish Strips in. The pack comes with 20 thick nail polish strips with square and round ends. Each nail polish strip includes a layer of top-coat, color coat, base coat, and a non-toxic adhesive layer. This makes it thicker, brighter, and more rigid. These nail strips can easily be removed with a nail polish remover and come in a wide range of colors and designs.
Pros
Long-lasting
Easy application
Easy to remove
Non-toxic
PVC-free
Cons
Not water-resistant
It's the prime of summer, and sandals and flip-flops are perhaps the only things that are making our feet breathe and not stink up the room. This means that our toes are on full-display as well. If you've ever been slightly upset about why our hands get so much attention, but our toes rarely do, these toe nail polish strips will put a smile on your face. Designed especially for toes, these strips are ideal for both home and professional use. Made of non-toxic environmentally-friendly materials, these strips are also waterproof. Easy to stick and easy to remove, these strips can last for 2 weeks with a UV top coat.
Pros
12 sheets of toenail stickers
Includes 1 file
Fits any nails size
No drying time
Non-toxic
Cons
Without a UV top coat, it may only last 3-4 days.
Bring holographic sparkles to life on your beautiful nails with this one-of-a-kind nail strip. One look at these shimmer nails will have people convinced that you have high-quality nail polish painted on. Filled with sparkling shades of rose gold and silver, these strips will make your nails look exquisite on a night out in town. Easy to apply and easy to remove, each set includes 16 double-ended premium-grade real nail polish strips.
Pros
Glitter-finish full nail wraps
16 double-ended strips
Made with real nail polish
Easy peel and apply
Cons
Now that we have come to our list of the 9 best nail polish strips, let's take a look at a few important things to consider before buying them and how you can make the application process easier.
Things To Consider While Buying Stick On Nail Polish Strips
How To Choose The Best Nail Polish Strips
Always choose non-toxic nail strips, as harmful ingredients can make your nails brittle and cause yellowing and breakage.
Opt for nail strips that are soft and easy to apply. Coarse nail polish stickers are not just complicated to apply, but they also feel heavy on the nails.
To ensure that you don't have to worry about looking for nail strip glues and other holding elements, choose self-adhesive strips.
A good way to gauge the quality of a nail strip is to test it out on real and false nails. If it holds well on both, it means that you've landed yourself a good deal.
Check all the reviews before purchasing any nail strip, look especially for lasting power. A good nail polish strip offers up to 2 weeks of long-lasting wear.
How To Apply Nail Polish Strips
Step 1: If the package comes with an instruction guide, read it carefully.
Step 2: Ensure that your nails are neat and clean. Remove any existing nail polish or debris that may be stuck on your nails.
Step 3: Buff and file your nails.
Step 4: Choose the ideal size of the nail strip. If it's too large, give it a trim.
Step 5: Gently peel the strip off. Avoid touching the sticky part as it could reduce its holding power.
Step 6: Place the strip on your nail, slightly above the cuticle.
Step 7: Smooth the strip down until the air bubbles and wrinkles go away.
Step 8: File the strip down towards the end of the nail.
Step 9: Apply a top coat of transparent nail polish to make it long-lasting.
Step 10: Try to avoid touching water for 2 hours.
How Long Do Nail Polish Strips Last?
Nail polish strips can last anywhere from 4-7 days without a top coat and 10-12 days with a top coat.
Giving your nails a funky, quirky, expressive, or artistic facelift doesn't necessarily mean that you have to book an appointment with a professional nail technician, nor does it mean that you have to shell out big bucks. With nail polish strips by your side, you can create beautiful nail styles from the comfort of your home. We hope you enjoyed our list of the 9 best nail polish strips for 2021. Reach out to us in the comments if you have any doubts or queries about nail stickers.
Frequently Asked Questions
Are nail strips bad for your nails?
As nail strips are easy to stick on and easy to remove, they are not harmful to our nails.
Can a top coat on nail polish strips to make them last longer?
Yes, applying a top coat on nail polish strips can make them last for over 10 days.
Do Color Street nails ruin your nails?
As they are made with 100% real nail polish, they are easy to remove with a regular nail polish remover. They do not damage nails like acrylics do.
Should you put a top coat over nail stickers?
Although it isn't a necessary step, adding a top coat will make your nail stickers last longer.
Recommended Articles