11 Best Nail Strengtheners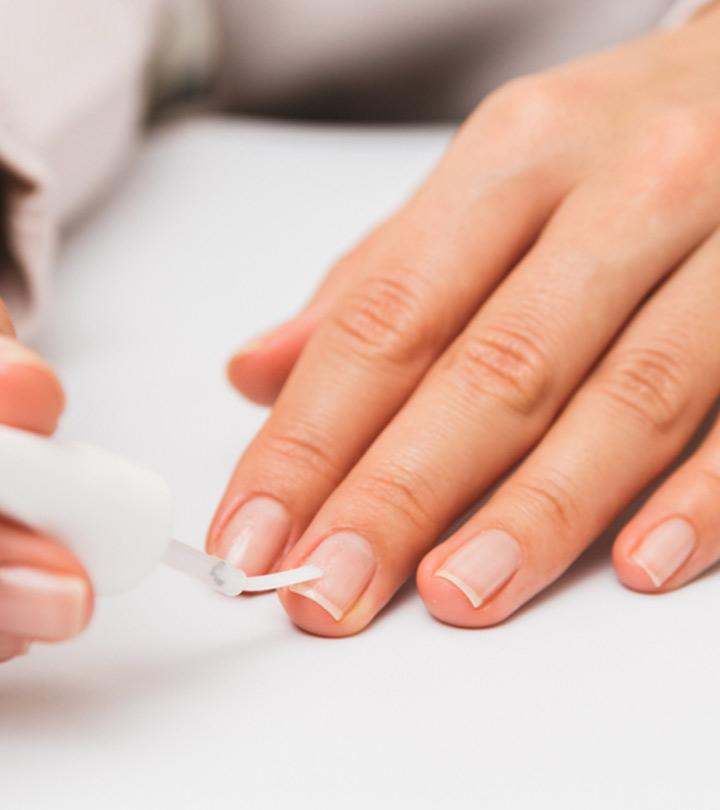 Are you someone who has fragile nails? Do you dream of having long attractive nails but keep them short because they are weak and they chip away easily? How many times have you grown your nails for an occasion only to have it break off? All these problems have one solution— nail strengtheners! With the best nail strengtheners, you don't have to worry about your nails chipping, cracking, splitting, or breaking. If long, strong, and attractive nails have been a distant dream for you, fret not! Here is How To Strengthen Nails and to rescue you with a carefully curated list of the best nail strengtheners.
What Are Nail Strengtheners?
A nail strengthener gives your nails a coating of protection to make them strong, long, and flexible. They are enriched with vitamins, minerals, protein, and calcium that help mend brittle nails that crack and split by nourishing and moisturizing them. Strengthening polish prevents nails from enduring the damage caused by external factors like climate and pollution, or side effects of acrylic nails.
Do Nail Strengtheners Really Work?
If you're someone who loves to dress up your nails with acrylic treatment and regular manicures, a nail strengthener is what you need to restore your nails of their natural shine and strength. These artificial processes strip your nails off their natural moisture and shine making them brittle, weak, and fragile. Nail strengtheners are full of nourishing vitamins, minerals, calcium, and protein and help enhance the strength of your nails.
We have created a list of the 11 best nail strengtheners that you need to get those long, strong, gorgeous nails. Let's dive right in!
11 Top Rated Nail Strengtheners For Brittle Nails
You don't have to worry about your nails breaking with the O.P.I Nail Envy Original Nail Strengthener. It is a combination of hydrolyzed wheat protein and calcium to provide you with maximum nail strength for naturally long and healthy nails. The added calcium and protein makes your nails harder and manicure ready. This liquid can be used as a stand-alone treatment or as a base coat for your nail polish. Opi Nail Strengthener is the best way to strengthen your nails.
Pros:
Faster results
Calcium and protein make nails harder
Comes with a clear set of instructions
Cons:
If you're looking for a solution for your brittle and sensitive nails, this nail strengthening formula is here to rescue you. It not only strengthens nails but also conditions them. This nail cream is enriched with skin-nourishing ingredients like jojoba seed oil, beeswax, calcium, and vitamins that condition your cuticles and nails to make them stronger and healthier. This cruelty-free solution combines the goodness of minerals, vitamins, and calcium to restore the moisture in your nails.
Pros:
Coconut scented
Prevents nails from chipping, peeling, or cracking
Fragile nails become stronger and grow quickly
Contains vitamins A, C, D, E
Restores moisture in dry thinning nails
Cons:
Might have a loose and runny consistency
Pollution, poor nutrition, and external factors can weaken the nail and prevent it from growing. But with the Duri Rejuvacote Nail Growth System, your nails can now undergo an intensive strengthening treatment and transform into a new stronger and longer version. The combination of keratin and calcium is the perfect formula to fix split, weak, and brittle nails to stimulate healthy growth. This strengthening formula protects the nails against damage and breakage.
Pros:
Enriched with soy protein and wheat protein
Promotes growth
Prevents breakage
Super potent
Combines calcium and proteins
Cons:
The solution might chip off easily.
If you're a fan of the Kardashians, look no further because this strengthening cream was featured in Khloe Kardashian's official app. With ingredients that make nails healthy, strong, and long, Barielle Nail Strengthening Cream protects damaged nails and prevents splitting and cracking. It is the perfect formula that resists nails from chipping, breaking and peeling. For best results, apply the cream overnight and let it work its magic.
Pros:
Free of parabens and formaldehyde
Can be used by men and women
Pregnancy safe and cruelty-free
Vegan-friendly and camphor-free
Cons:
The texture might be grainy.
This nail strengthener comes in cute packaging and is best suited for weak, thin, and splitting nails. This quick-dry formula can also be used for nails that peel off. Apply it on your nails as a direct treatment or as a base coat for your nail polish to get stronger nails. This polish treatment does not contain toluene, formaldehyde, xylene, or formaldehyde resin. It is long-lasting and chip-resistant which ensures that it works well on your nails. It is the best nail hardener.
Pros:
Peta-certified 100% cruelty-free
Vegan-friendly
Contains vitamin E
Does not contain camphor or TPHP
Comes with a set of instructions
Cons:
The unique formula ensures that you do not have thin nails again! It seals the layers of the nails to give you thick nails that are strong and flexible. The Natural Nail Experts Strengthener from Nail Tek mends weak nails and prevents them from splitting, chipping, or cracking. It can be used as a separate nail coat or as a base for your nail polish. This nail strengthener has a natural sheen and does not peel off.
Pros:
100% vegan
Cruelty-free
Triclosan, Sulfate, Phthalates, and Paraben-free
Promotes firm and strong nails
Cons:
Might take some time to dry.
If you're someone who visits the salon regularly for a bit of self-pampering mani-pedi, the Sally Hansen Mega Strength Ultra Shine Top Coat will give your nails the strength they need to remain strong and flexible. Apply this formula as your base coat and prevent chipping nails and chipping polish to enjoy long-lasting, gorgeous nails.
Pros:
Available in different colors
Works well as a base coat or a topcoat
Easy to wear and easy to take off
Cons:
Might be difficult to remove
The one-step solution for brittle nails that chip and break, the Prolana Nail Optimizer is the perfect nail strengthener for all your nail related issues. It is enriched with protein and calcium which repairs thin nails and keeps them from peeling or cracking. This nail strengthener nourishes your nails and gives you healthy, chip-free nails. It is recommended that you use this nail optimizer as a base coat before your regular manicure. It is the best drugstore nail strengthener.
Pros:
Does not contain toluene or DBP
Has an instant dry time
Cruelty-free
The formula provides high shine.
Cons:
Contains small amounts of formaldehyde
If you're looking for a gel-based formula that repairs damaged nails and helps them grow, the Vitagel Nail Strengthener is for you. It's a soak off gel polish that stays on your nails for up to 3 weeks without chipping or peeling. If you're looking to grow your nails, this nail strengthener will help you achieve that goal. With an added dose of vitamins, this gel-based strengthener is just what your weak nd brittle nails need to become stronger and longer. It is the best nail treatment.
Pros:
Soaks completely in less than 15 minutes
Comes in a considerably large sized bottle
Seals cracked nails
Cons:
Might not be long-lasting
Not just made to strengthen your nails but also to moisturize them, the Carmichael's Imperial Cuticle Cream is just what you need. It combines the goodness of beeswax and petroleum to hydrate your nails and condition them. The beeswax makes your cuticles soft and easy to remove. Apply the cream to tough cuticles to make your nails look like they just had a manicure or pedicure. This nail strengthener polish is so pure and natural that it works well as a lip balm too!
Pros:
Repairs cuticle and promotes nail growth
Eliminates dry and brittle nails
Free of parabens, sulfates, and phthalate
The cream-based formula is slightly tinted.
Cons:
Might not have an appealing fragrance
Designed to repair nails that crack, split, or are prone to breaking, the Probelle Nail Strengthener transforms weak nails into strong, long, and flexible ones. This nail strengthener protects your nails from aging, climate change, and damage caused by acrylic nails. It is enriched with vitamins and a patented ingredient called hexanal. You don't have to worry about brittle, thin, or chipping nails when you use this nourishing and moisturizing formula.
Pros:
Vitamin B5 deeply hydrates nails
Vitamin C nourishes and protects
Restores soft, brittle and fragile nails
Hexanal conditions nails
Cons:
Might have a strong smell.
You don't have to worry about your nails chipping, breaking or splitting when you have the best nail strengtheners that give your fragile nails the nourishment they need. Packed with vitamins, protein, calcium, and minerals, these solutions keep the breaking and cracking to a minimum so you can flaunt your long, dreamy nails. We hope this list gave you some of the best options of nail strengtheners. Comment below and let us know which one is your favorite.
Expert's Answers For Readers' Questions
What Is The Difference Between Nail Strengthener And Nail Hardener?
A nail strengthener protects the nail by coating it with a layer of nourishment. It creates a tough layer on the nail that prevents the nail from damage. A nail hardener strips the nails from its natural strength. It draws out the moisture from the nail and causes damage.
Recommended Articles