9 Bestselling Body Oils With All-Natural Ingredients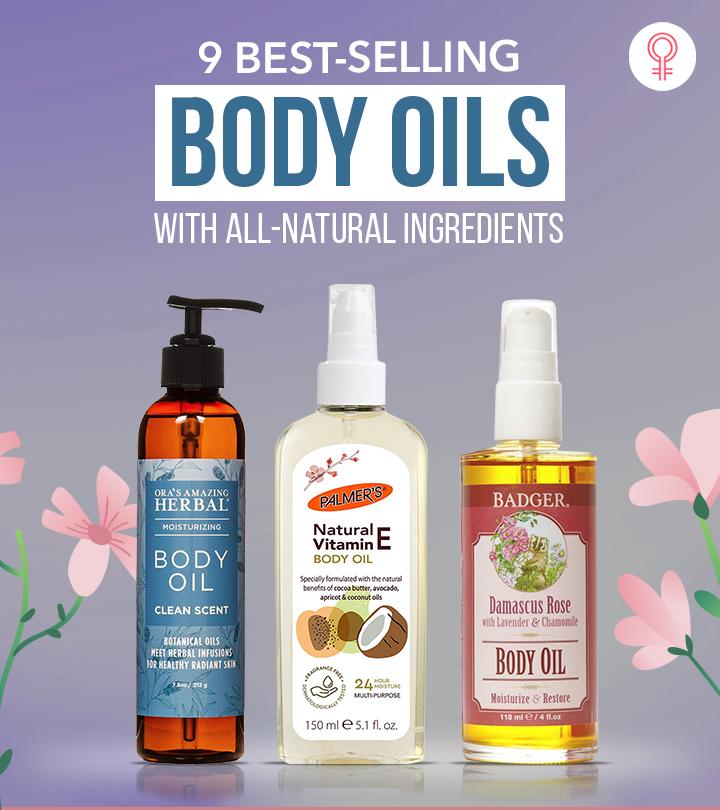 Does your skin feel parched and scaly even after slathering dollops of body lotion cream? It may need a formula that seeps deep into your skin and locks in moisture for a long time. Ever heard of body oils? Specifically, a natural body oil? Natural body oils contain nourishing carrier and essential oils and deliver intense, long-lasting moisturization. Most of them are unrefined, of the highest quality, and certified-organic. Therefore, they suit dry, oily, combination, and sensitive skin types. In this article, you will find 9 such organic body oils that are trusted by millions of users worldwide. Scroll down to know all about them!
Top 9 All-Natural Body Oils Your Skin Will Love
The Organic Body Oil by The Honest Company is the best body oil for babies, children, women, and men. This lightweight oil locks in moisture and leaves your skin feeling soft and nourished. It is formulated with more than 95% organic oils of coconut, jojoba, tamanu, olive, avocado, grapefruit, and sunflower. This active oil blend is enriched with medicinal extracts of calendula and chamomile flowers that gently relieve skin dryness and itching. It provides great relief to pregnant women by catering to the changing needs of their skin governed by hormonal fluctuation. This body oil is formulated to easily penetrate the layers of all skin types and deliver long-lasting moisturization without any residue or allergic reactions.
Key Ingredients: Coconut oil, Olive oil, Jojoba seed oil, Tamanu seed oil, Chamomile flower extract, Calendula extract
Pros
Safe for babies and pregnant women
Cruelty-free
Lightweight
Paraben-free
Mineral oil-free
Sulfate-free
Suitable for sensitive skin
Silicone-free
No artificial dyes and fragrances
Unisex
Cons
None
Olivia Care Jasmine Gardenia Body Oil is made with 100% natural ingredients that suit all skin types, including sensitive and acne-prone skin. This simple formula is rich in vitamin E and essential fatty acids that deeply moisturize and soften your skin. It protects your skin from sun damage, signs of aging, and dermatitis. This body oil comes with dried jasmine flowers that release a mild, lingering scent. Just add a few drops of this oil to elevate a warm bubble bath! You can use it to condition your hair and nails too. This cruelty-free jasmine body oil is free of parabens, alcohol, mineral oil, and phthalates.
Key Ingredients: Coconut oil, Glycerin, Dried Flowers
Pros
Non-greasy
Paraben-free
Delicate floral scent
Phthalate-free
Can be used on hair and nails
Alcohol-free
Suitable for all skin types
Cruelty-free
Non-GMO
Long-lasting
Cons
The Out Of Africa Shea Body Oil is formulated with pure, unrefined shea butter, avocado oil, olive oil, and sweet almond oil to instantly hydrate your skin. It is packed with natural antioxidants and vitamin E that penetrate deep into your skin without leaving behind a greasy or sticky feeling. This all-natural body oil spreads easily and provides long-lasting nourishing, hydrating, and anti-aging benefits. It can be used on all skin types as it is made without parabens, sulfates, gluten, and animal products. This vegan product uses only sustainably-sourced ingredients to ensure maximum eco-friendly benefits.
Key Ingredients: Unrefined shea butter, Avocado oil, Olive oil, Sweet almond oil, Vitamin E
Pros
Offers long-lasting moisturization
Non-greasy
Spreads well
No sticky residue
Unisex
Sustainably-sourced ingredients
Cruelty-free
Paraben-free
Petrolatum-free
Sulfate-free
Gluten-free
Mildly scented
Cons
Ora's Amazing Herbal Body Oil is just the right oil for those harsh winters when your skin needs a little pick-me-up. It contains the exotic and rejuvenating essential oils of cedar, eucalyptus, spearmint, lemongrass, juniper, and niaouli. These are infused into a nourishing base mix of jojoba and apricot kernel oils. One generous pump of this naturally-scented body oil spreads and gets absorbed quickly, leaving your skin feeling soft and supple. Since it is nut-, gluten-, GMO-, and coconut-free, this oil can be used on most skin types and hair types. This also makes the oil weightless, and it leaves behind no sticky residue or stains.
Key Ingredients: Essential oils of Cedar, Eucalyptus, Spearmint, Lemongrass, Juniper, Niaouli, Jojoba oil, Vitamin E
Pros
Lightweight
Gets absorbed easily
Can be used on the face, hair, and nails
Naturally scented
Unisex
Non-GMO
Coconut oil-free
Nut-free
No greasy residue
Cruelty-free
Gluten-free
Cons
None
Palmer's Natural Vitamin E Body Oil is a moisturizing formula that instantly soothes dry, damaged, or cracked skin. It is made with a luxurious blend of apricot, avocado, coconut, and argan oils and enriched with cocoa butter. All the ingredients are of the finest quality, least-refined, and sustainably-sourced. As a result, a single application of this body oil leaves your skin feeling nourished and soft for 24 hours. You can also use this oil to effectively condition your hair and nails as it is dermatologically-tested to be allergen-free and suitable for most skin types.
Key Ingredients: Apricot oil, Avocado oil, Argan oil, Coconut oil, Vitamins-C, E, Cocoa butter
Pros
Offers 24-hour moisturization
Safe for sensitive skin
Dermatologist-tested
Sustainably-sourced ingredients
Hypoallergenic
Non-greasy
Easy-to-use spray bottle
Cons
Herbivore Jasmine Glowing Hydration Body Oil is a blend of pure and undiluted botanical oils that leave your skin deeply moisturized. The blend consists of jojoba oil, camellia oil, Arabian jasmine oil, bitter orange oil, and grapeseed oil. The vitamins E, A, and C from these oils nourish and polish your skin to boost its radiance. This weightless body oil gets absorbed easily, leaving behind an intoxicating floral scent. It improves skin elasticity and moisture retention in the skin without clogging the pores. This vegan oil is also formulated without parabens, synthetics, and allergens, making it suitable for oily and acne-prone skin.
Key Ingredients: Camellia flower oil, Grapeseed oil, Arabian jasmine oil, Jojoba oil, Vitamine E
Pros
Lightweight
Gets absorbed easily
Non-comedogenic
Paraben-free
Subtle floral scent
Sulfate-free
Suitable for combination and oily skin
No synthetic fragrances and dyes
Petrochemical-free
Non-GMO
Cruelty-free
Hypoallergenic
Cons
Requires frequent reapplication
Expensive
The Luxury Bath And Body Oil by Bee Naturals features a nourishing and uplifting blend of botanical oils with a clean and light fragrance. It comes with a base mix of coconut, sesame, and rice bran oils that can carry nutrients deep into the skin layers. This base mix is enriched with lavender, sweet orange, grapeseed, and neroli essential oils that polish and condition your skin, giving you a soothing aromatherapy experience. All the oils get absorbed easily, leaving no sticky traces. It suits oily and sensitive skin types with minimal side effects.
Key Ingredients: Lavender oil, Sweet orange oil, Coconut oil, Rice bran oil, Sesame oil, Grapeseed oil
Pros
Non-comedogenic
Gets absorbed easily
Mildly scented
Non-greasy
Easy to dispense
No sticky residue
Suitable for dry and sensitive skin
Lightweight
Cons
Badger Damascus Rose Body Oil is a concentrated yet lightweight body moisturizer delicately scented with organic Damascus rose extracts. It features an absorbent and active blend of jojoba, pomegranate, lavender, chamomile, and rose essential oils. It soothes and nourishes delicate or combination skin, leaving it supple and glowing. This non-greasy body oil also carries powerful antioxidants from calendula and sea buckthorn extracts that relieve dryness, itching, and several nagging skin concerns when used regularly.
Key Ingredients: Jojoba oil, Olive oil, Pomegranate oil, Rosehip extract, Sea Buckthorn extract
Pros
Non-greasy
Paraben-free
Gets absorbed easily
Non-GMO
Lightweight
No artificial fragrance and dyes
Gentle formula
Mildly scented
No sticky residue
Long-lasting
Cons
Requires frequent reapplication
Wally's Natural Organic Body Oil is formulated with the highest-quality, USDA-certified organic oil blend. It nourishes your skin and reduces the appearance of scars, stretch marks, and dry skin. This organic body oil constitutes chickweed and calendula extracts infused into a base mix of sesame and castor oils. Along with aloe vera and vitamin E, these ingredients deliver long-lasting hydration, fast-absorbing moisturization, and enhanced moisture retention. Since it does not contain toxic preservatives and artificial additives, this unscented body oil is safe for most skin types and pregnant women.
Key Ingredients: Sesame oil, Castor oil, Calendula extract, Chickweed extract, Aloe vera extract, Vitamin E
Pros
Long-lasting hydration
Lightweight
No artificial colors and fragrances
Gets absorbed quickly
Non-greasy
USDA-certified organic ingredients
Easy roll-on application
Travel-friendly packaging
Safe for pregnant women
Cons
This list of 9 natural body oils tempts you to have one of each because of the components and competitive benefits. Most of them suit all skin types and double as hair, nails, and feet conditioners. But, it is best to order only the one that suits your skin type and solves your skin concerns. And how do you do that? Scroll down to the next section to find a few tips to consider while shopping for natural body oils.
Things To Consider Before Buying A Natural Body Oil
Body oils best suit skin types that are dry, non-porous, and need deep moisturizing. Dry, extremely dry, and combination skin types take up body oils better than oily and sensitive skin types. So, identify your skin type before shopping for body oils. This will prevent your skin from reacting badly to the oil and your effort and money getting wasted.
The composition of natural body oil is critical for it to show the expected results. Look for mild, botanical extracts and lightweight carrier oils of sweet almond, jojoba, sunflower, grapeseed, coconut, evening primrose, olive, etc. These oils get easily absorbed into the layers of your skin without leaving behind a sticky residue.
The basic formula of body oil is enriched with several active components. They could be botanical extracts, marine properties, minerals, vitamins, plant fats, proteins, and other growth factors. It is these components that bring about all the difference in your skin. You may also be allergic to some components, so it's best to check out the ingredient list of anybody oil before buying it.
When you keep these points in mind while shopping for natural body oils, you will certainly end up with the one that is best suited for your skin. Check out the 9 best-sellers listed here once again and make your pick. Make sure you order the body oil from an authorized seller online to avoid contamination issues and side effects. Use as directed and watch your skin gradually transform!
Expert's Answers For Readers' Questions
How often should you use body oil?
Body oil can be applied daily to clean, exfoliated skin and the whole body. Make sure to apply it before any other skin care products.
Which should be applied first – body oil or lotion?
The rule of thumb is to use oils before creams. Since oils are heavier, a lotion or a cream won't be able to break through and provide hydration. So, you either skip the cream altogether or use it before your body oil.
Recommended Articles
The following two tabs change content below.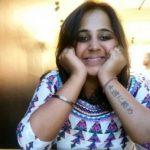 Swathi holds a Master's degree in Biotechnology and has worked in places where actual science and research happen. Blending her love for writing with science, Swathi writes for Health and Wellness and simplifies complex topics for readers from all walks of life.And on the days she doesn't write, she learns and performs Kathak, sings Carnatic music compositions, makes plans to travel, and obsesses over cleanliness.