The 13 Best Natural Concealers Of 2023 For All Skin Types
Blur your facial blemishes easily and achieve that flawless look you had always wanted.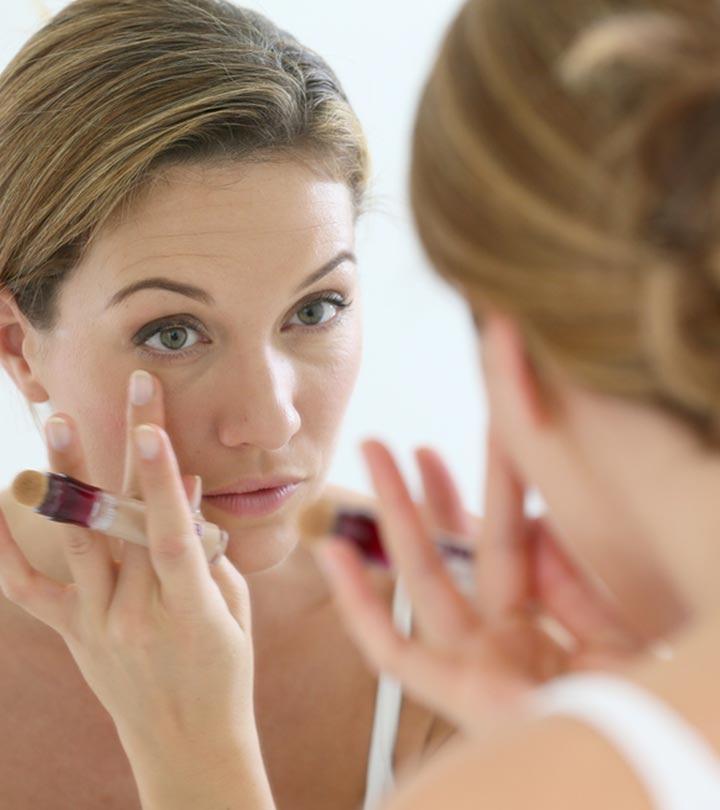 The best natural concealers should be an essential part of the daily makeup. Foundations are necessary, but a good natural concealer can help you blur the dark circles and blemishes to get that flawless look you desire. It adds an edge to your makeup and offers the confidence you need to rock any look you want. A perfect blend of concealer and foundation takes your makeup game to the next level and helps you get a natural yet stunning look. Concealers are available in creamy, liquid, and powder forms. Swipe up to check out the best of them!
13 Amazing Natural And Organic Concealers That You Should Get Your Hands On Today
One of the best natural concealers for long lasting coverage and skin improvement, the bareMinerals Barepro Concealer is formulated with bamboo stem extracts. It contains a rich blend of raspberry seed oil, blackcurrant seed oil, and sea lavender that offer antioxidant protection. With a 16-hour coverage, the concealer has a texture that is soft and creamy, providing a smooth matte finish. It comes in the form of a stick that easily glides on and does not crease. It hydrates and nourishes your skin protecting it from the harmful effects of pollution while restoring your natural complexion. It is the best natural under eye concealer.
Pros
Waterproof and crease-proof
Cruelty-free, gluten-free, vegan
No synthetic fragrance
Soft matte finish
Lasts upto 16 hours
Cons
Price at the time of publication: $19.99
A concealer that not only covers up dark spots and blemishes but also enhances skin health making it look younger, the RMS Beauty doubles as a concealer and a foundation making it the correct multi-action concealer. It is made for medium to olive skin tones to give you a tanned amber shade. It is lightweight and has a magical element of self adjusting to your skin tone even if it is not an exact match due to its mineral components. It hydrates, minimizes the appearance of pores and revitalizes your skin. It contains natural ingredients like coconut oil, beeswax, cocoa butter, and jojoba oil among others. It does not contain gluten and soy, and is also cruelty and GMO-free. Check out the review of this product on YouTube to know why it is one of the best out there.
Pros
Nourishes skin
Self adjusting
Hydrating
Reduces appearance of pores
Cons
Price at the time of publication: $13.99
Extremely convenient to use and easy to apply, the Ecco Bella Concealer Makeup Stick allows a clean application and long lasting coverage. It is made to suit sensitive skin and aids in a smooth extra coverage. The nourishing concealer stick is non-greasy and chemical-free. It is made up of organic oils and flower wax iron that nourishes your skin. Ecco Bella strives to provide eco-friendly and organic products to ensure clean beauty. The magic of this natural concealer is that it combines dermatology, nutrition and alternative medicine to provide great coverage even in the under-eye area. The natural concealer is also free of gluten, fragrance, and cruelty. It is the natural eye concealer.
Pros
Easy application
Contains organic oils
Gluten-free
Eco-friendly
Suitable for sensitive skin
Cons
Price at the time of publication: $17.84
This amazing formula is designed to suit all skin types. It comes in a cylindrical tube with a soft brush and enables creaseless application to provide complete smooth coverage. The concentrated liquid formula helps conceal dark circles, imperfections, and stubborn blemishes. New and improved, this natural concealer is 100% vegan and cruelty-free. It contains natural ingredients and is free from parabens, petroleum, phthalates, and mineral oils. The moisturizing formula ensures that you get a smooth natural finish.
Pros
Suitable for all skin types
Blends effortlessly
Feels light on the skin
Smooth finish
A little goes a long way
Cons
Price at the time of publication: $15
Enriched with Carnauba Wax, this natural concealer is your go-to choice to establish a smooth wrinkle-free finish. It is formulated to blend into a creamy and light formula that helps conceal dark circles, blemishes, and fine lines. This mineral concealer is created to suit sensitive and irritated skin and is gentle even on post-surgical scars. It comes in a powder form but unlike most traditional matte powders, it does not absorb light which exposes the skin. Instead, it creates a surface of reflection and refraction that hides the imperfections that your skin has. Because of its clean and light formula, your skin is able to breathe and does not cause blocking of pores. It is the best organic concealer for dark circles. In this YouTube video, you will find a detailed review of this product.
Pros
Lightweight formula
Long-lasting
Does not block pores
PETA-certified
Natural mineral pigments
Cons
Price at the time of publication: $39.95
With its creamy, mousse-like texture, this natural concealer takes the cake with its ultra-light long lasting application. Because of its smooth and easy texture, it blends on to your skin with minimal effort and stays set without creases. While it is an amazing concealer that provides complete coverage for imperfections, blemishes, and dark spots, it also depuffs your skin. The W3ll People Bio Correct brightens skin while improving its texture. It is made of natural and organic ingredients and is free from harsh, artificial chemicals. It contains a rich blend of organic algae, coffee, pomegranate, and anti-aging peptides which nourishes your skin. Check out this video on YouTube for a detailed understanding of the product.
Pros
EWG Verified For Non-toxic Health & Safety
No fillers, petrochemicals or petroleum by-products
Contains organic ingredients
No Parabens, Propylene Glycol & Dimethicone
Non-GMO, Gluten-Free, Cruelty-Free
Cons
Yellow undertone might not suit all
Price at the time of publication: $17
One of the best natural concealers that ensure super coverage, the Avril L'anti-Cernes Certifie Bio gives you a rested look in the blink of an eye. It comes in the form of a powder that has a creamy texture and helps cover up stubborn blemishes, dark circles, and little imperfections. It is made in France from organic ingredients that are sourced 100% from organic farms. This natural concealer is a healthy and safe concealer that uses products certified by Ecocert Greenlife and is available in a nude shade.
Pros
Vegan
Super coverage
Luminous look
Creamy texture
Cons
May not be the best for oily skin
Price at the time of publication: $15.38
With the ability to reduce the clogging of pores, the BaeBlu Organic Concealer is made up of all natural ingredients. It does not use harsh chemicals and provides quick coverage. It hides dark circles, redness, uneven skin tones, and even pimple scars. It is formulated with an advanced non-greasy formula which helps attain flawless skin that looks youthful and healthy. It has a thick and creamy texture that enables a smooth finish and successfully lasts all day. The natural and organic concealer is made from certified organic ingredients and has zero artificial colors, fragrances, or preservatives.
Pros
Vegan-friendly
Advanced anti-aging formula
Does not clog pores
Paraben-free
Gluten-free
Cons
May not suit all skin types
Price at the time of publication: $21.19
With a creamy fulfilling texture, the Lavera Bio Organic Cover Stick is a natural and organic face concealer that glides on with minimum effort. It helps cover skin imperfections and blemishes creating healthy looking skin. It contains chamomile seed oil which has anti inflammatory properties and helps sooth skin, giving it a flawless and calm look. If you have sensitive skin, this concealer is a must buy.
Pros
Dermatologically-tested
Vegan
Gluten-free
Certified natural ingredients
Contains organic witch hazel
Cons
Made from a base of natural minerals and argan oil, the formula of this natural concealer works wonders on the dark circles under your eye. It does not cause creases or cakiness while applying it on pimples, blemishes or even under your eyes. It contains the goodness of vitamin E and argan oil that benefits your skin, making it soft and hydrated. This natural concealer is easy to use and is precise because of its wand applicator. The Clove + Hallow Conceal + Correct comes in a shade range of 10 different shades, so you can choose the one that suits your skin.
Pros
Improves skin quality
Paraben and gluten-free
PETA-certified vegan
Highly pigmented
Easy to blend
Cons
Might not suit sensitive skin
Price at the time of publication: $28
Enriched with a natural cocktail of vitamin E, coconut, and jojoba seed oil, the Harvest Natural Beauty Camouflage Cream is formulated to self adjust according to your skin tone. It provides intense hydration and moisturization to heal damaged skin. It nourishes skin and softens the appearance of fine lines giving you a smooth and refined look. It is 100% natural and is certified as organic. It contains no toxic ingredients, no parabens and is free of gluten, soy, and palm. This is the best all natural concealer blends into your natural skin tone and helps cover up blemishes, dark circles, and other skin imperfections.
Pros
No Parabens, No PEG's, No Petroleum, No GMO's
Free of Mercury, Phthlates, Diazolidinyl Urea
Sodium Lauryl Sulfate, Propylene Glycol, and EDTA-free
A little bit goes a long way
Looks natural
Cons
Price at the time of publication: $20.99
The Au Naturale Organic Crème Concealer is formulated with organic ingredients like castor seed oil, jojoba seed oil, candelilla wax, pumpkin seed extract, root starch, lavender oil, and meadowfoam seed oil. It is handcrafted in the USA and supports the clean beauty revolution. This natural concealer blends in organic pigments and oils to form the creamy nourishing skin concealer for your skin. It leaves your skin looking flawless and nourished. The 100% natural concealer is vegan and cruelty-free.
Pros
Contains pure pigments
Fused with organic oils
Nourishes skin
No parabens
100% natural and vegan
Cons
Price at the time of publication: $24.43
Convenient application and easy to carry, the Bella Mari Blemish Concealer comes in the form of a stick. It has a creamy texture and is a natural concealer free from parabens. It is formulated to cover up blemishes and scars but it also conceals age spots perfectly. This natural concealer can be used to hide your dark circles too. It is made from natural minerals from the earth and uses organic herbs. Apply the concealer and use it with a foundation to get the best results.
Pros
Contains organic herbs
Formula uses natural minerals
Convenient to use
Stick applicator
Paraben-free
Cons
Fragrance might not be appealing
Price at the time of publication: $7.99
Your make-up kit would not be complete without the right shade of concealer. There are various natural concealers available in the market but the ideal concealers must offer you the right coverage on dark spots, dark circles, blemishes, and pores. Therefore, we are providing a brief buying guide to help you in selecting the best concealer for your skin.
Things To Consider While Choosing Natural Concealers
You must select concealers that are rich in moisturizing ingredients and sunscreen. The good ingredients to look for in concealers are antioxidants, vitamins C and E, jojoba oil, peptides, hyaluronic acid, chamomile oil, and other moisturizing agents. These ingredients help you in keeping your skin hydrated and healthy. Always prefer lightweight, SPF, and dermatologist-tested concealers. You must not use concealers that include sulfate, paraben, gluten, phthalates, and other harsh ingredients.
You should choose the concealer formula according to your skin type. Liquid concealers are perfect for normal, oily, and combination skin. Cream concealers can be used on dry and combination skin. If you have sensitive skin, go for stick concealers.
Liquid concealers are easy to apply and offer buildable coverage that ranges from light to full. This kind of concealer comes in a variety of finishes including matte, dewy, and satin. Cream concealers offer buildable coverage ranging from medium to full and provide a creamy or satin finish. Stick concealers offer buildable coverage which ranges from medium to full and offer a satin or powdery matte finish.
It is advised to select concealers one or two shades lighter than your natural skin color to achieve a luminous and youthful look. Apart from this, concealer shades largely depend on what you are trying to hide such as pimples, dark circles, or other blemishes. Choose a peach-colored concealer for lighter skin tones and an orange-colored concealer for darker skin tones. These tones provide a more seamless transition to your skin's natural shade. Select a green-based concealer to reduce redness when covering blemishes.
What Is The Best Natural Concealer?
The perfect natural concealer for your skin is the one that is made to suit your skin type. Unlike chemical-filled concealers, natural concealers are formulated with a cocktail of natural minerals, powders, pigments, and plant extracts. Some concealers are also infused with the goodness of fruits extracts that nourish your skin and give you a boost of glow. Also, a good concealer should be free from harsh chemicals and animal cruelty.
How To Select Natural Concealers?
Based on your skin type and skin needs, a natural concealer can be chosen. Some concealers help hide dark circles and blemishes while some others moisturize your skin and help conceal acne. Depending on what your skin imperfections are, a concealer to suit the particular skin woes is the ideal one to select. Natural and organic concealer sticks provide the same coverage as the ones with other beauty brands but these use healthy and safe ingredients to nourish your skin. It not only acts as a makeup product but also as a skin nourishing cream.
How Do You Apply A Natural Concealer?
Just like any other concealer, a natural and organic concealer has the same procedure of application. Let us go through the process step by step:
Step 1: Clean your face and apply a moisturizer to prep your face.
Step 2: Once the moisturizer is absorbed into your skin, apply the concealer directly on areas that you need to cover.
Step 3: Start with the under-eye area. You can directly apply the concealer using a brush or your ring finger and dab around the area for equal distribution. Do not rub.
Step 4: Next, apply the concealer around your nose to hide the redness and repeat the process
Step 5: Finally, hide dark spots and blemishes by applying the concealer directly on these areas so that you have clear and smooth looking skin.
Why Trust StyleCraze?
Chaitra Krishnan is a makeup enthusiast who believes in using the best natural concealers to add flawless natural beauty when you step out of your home. She has thoroughly researched the concealers and reviewed them to help her readers pick the ones that fit their needs. Be it powder, creamy, or liquid, there is one for every kind!
Recommended Articles: