Top 17 Natural Deodorants For Women (2020) – Reviews And Buying Guide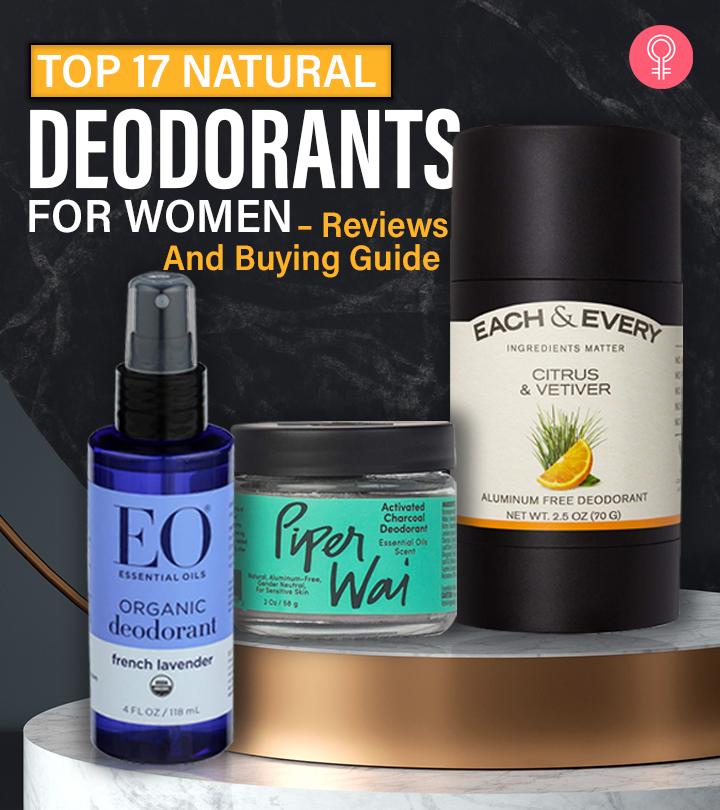 Smelling nice is non-negotiable because it can make or break people's impression of you. After all, body odor can be extremely off-putting. That means deodorant is a must-have item for everyone.
On the flip side, some of us are completely oblivious of the fact that we are putting tons of chemicals, preservatives, and other carcinogenic ingredients onto our bodies when we apply deodorant. So, how can you smell great while avoiding chemicals? Natural deodorants are your answer.
They are formulated using natural ingredients and without aluminum. Yes, you might need to touch up during the day, but it's worth it. We've rounded up the best natural deodorants available on the market for your convenience. Take your pick!
17 Best Natural Deodorants Available Right Now
If you are trying a natural deodorant for the first time, Kopari is the best place to start. This pure coconut oil-based deodorant is super useful. It lasts for 7-8 hours without becoming greasy or sticky. You can reapply if you are staying out for long hours, and it does a brilliant job of keeping you fresh.
Features
Ingredients: Coconut oil, coconut water, and sage oil.
Fragrance: Light scent of coconut milk.
Aluminum-free, paraben-free, no baking soda, and no silicone.
Pros
Does not stain clothes
Lasts 7-8 hours
Vegan
Cruelty-free
Non-toxic formula
Glides smoothly on your skin
Cons
None
Looking for a deodorant that has a pleasant smell can be tricky because you don't know if it is artificially scented. With Schmidt's Natural Deodorant, you can rest assured because it is tried, tested, and loved by everyone who uses it. Its mineral- and plant-derived ingredients are responsible for its subtle yet pleasant smell.
Features
Ingredients: Cocos nucifera (coconut) oil, Maranta arundinacea (arrowroot) powder, Butyrospermum parkii (shea butter), fractionated coconut oil, and natural fragrance.
Fragrance: Pleasant jasmine and green tea fragrance.
Aluminum-free, paraben-free, and gluten-free.
Pros
Long-lasting effect
Gets absorbed quickly
Non-sticky
Vegan
Cons
May cause a burning sensation on sensitive skin.
Charcoal is turning out to be a real diamond in the rough. This ingredient is now being used in face masks, cleansers, and lotions. It has also proven to be great for masking body odor and keeping you fresh. This carbon-rich deodorant absorbs the dirt and oil that settle on your skin in the form of sweat and keeps you clean all day long.
Features
Ingredients: Coconut oil, water, shea butter, sodium bicarbonate, cacao seed butter, honeysuckle flower extract, activated charcoal, essential oils, peppermint oil, citrus leaf oil, lemongrass leaf oil, tea tree leaf oil, lavender oil, and rosemary leaf oil.
Fragrance: Spa-like fragrance of citrus and mint.
Aluminum-free
Pros
Refreshing sensation
Natural fragrance
Contains activated charcoal
Cons
Leaves a gray tinge on your skin
Calm your senses and stay fresh all day long with this gentle but effective natural deodorant. Unlike your regular deodorant sticks, this one comes with a mist dispenser that distributes the deodorant evenly, which means you don't have to worry about uncomfortable lumps in your underarms.
Features
Ingredients: Pure lavender essential oil, sugar-based alcohol, and pure mineral water.
Fragrance: Lavender.
Aluminum-free and paraben-free.
Pros
Simple and pure ingredients
Suitable for sensitive skin
Certified organic
Therapeutic effect
Cons
None
Ursa Major Hoppin' Fresh Deodorant is an odor-fighting formula that keeps you smelling fresh the entire day. It is formulated with 100% naturally-derived ingredients like aloe vera, kaolin clay, baking soda, and eucalyptus oil.
Features
Ingredients: Eucalyptus oil, baking soda, aloe vera, and kaolin clay.
Fragrance- Mild fragrance of mint, eucalyptus, rosemary, and essential oils.
Aluminum-free and paraben-free.
Pros
Cooling effect
Contains kaolin clay that is highly absorbent
Eliminates odor-causing bacteria
Non-staining
Non-sticky
Cons
None
Botanik Natural Deodorant is a beautiful blend of all-natural ingredients that work wonders to keep you sweat- and odor-free all day. Coconut oil, shea butter, lavender essential oil, baking soda, and arrowroot powder are blended in the best way possible to create this deodorant stick.
Features
Ingredients: Baking soda, arrowroot powder, coconut oil, shea butter, and blended essential oils.
Fragrance: Lavender.
Aluminum-free and paraben-free.
Pros
Lovely and balanced fragrance
Creamy and non-clumpy formula
Long-lasting effect
Eco-friendly
Cons
None
How about breaking all stereotypes and forgetting about deodorant sprays and sticks? This deodorant cream is proof that we can! It is thicker than the product found in deodorant sticks, but it lasts way longer. It is a rejuvenating formula made of grapefruit, lemon, shea butter, and virgin coconut oil that exudes a zesty smell and nourishes your skin while keeping you odor-free.
Features
Ingredients: Lemon, shea butter, grapefruit, virgin coconut oil, jojoba seed oil, tea tree leaf oil, and kaolin clay.
Fragrance: Mild and gentle smell.
Aluminum-free, paraben-free, and sulfate-free.
Pros
Unisex product
Keeps your armpits dry the whole day
Pleasant and refreshing fragrance
Creamy formula
Cons
Can cause a reaction if you are sensitive to baking soda.
If you have been on the lookout for a natural deodorant, you cannot miss Primal Pit Paste Deodorant Stick. It contains shea butter, coconut oil, and lavender essential oil that take care of sweat absorption and body odor, while arrowroot powder keeps you dry all day long.
Features
Ingredients: Shea butter, baking soda, coconut oil, beeswax, arrowroot powder, and lavender essential oil.
Fragrance: Soft floral scent.
Aluminum-free, paraben-free, and non-toxic.
Pros
Sweet and refreshing fragrance
Cruelty-free
Long-lasting effect
Cons
 Requires reapplication after 8 hours.
Ideal for travel or the gym, this natural deodorant from AER has a zesty and sweet smell that leaves you smelling fresh. This plant- and mineral-based formula fights not only body odor but also the bacteria that grow in your armpits because of sweat. It is lightweight, glides on smoothly, and does the job wonderfully. You won't miss your chemical-filled deodorants anymore!
Features
Ingredients: 100% naturally derived ingredients like organic sunflower seed oil, corn, starch, natural beeswax.
Fragrance- Smells natural.
Aluminum-free.
Pros
Zesty and pleasant smell
Glides on easily
Lightweight
Cons
Melts at room temperature
Agent Nateur believes in using natural and organic ingredients that can be sourced and used easily without too much alteration. This luxurious deodorant is based on the same philosophy. The vitamin E and coconut oil in this deodorant nourish your skin and repair the damaged skin cells around that area.
Features
Ingredients: Made with a rich blend of organic oils, traces of honey, eucalyptus, lavender, and organic butter.
Fragrance: Mild and natural fragrance.
Aluminum-free.
Pros
Keeps you fresh all day long
High-quality ingredients
Vegan
Cons
Leaves oil stains sometimes
The deodorant gets stuck inside the container towards the end.
Are you looking for a 100% natural cream deodorant that makes you feel fresh all day long? The Lovefresh 100% Natural Super Strength Deodorant will give you a clean feeling all day long. This deodorant does not have any harsh chemicals and won't leave any kind of stains on your shirt.
Features
Ingredients: Cocos nucifera (coconut) oil, natural beeswax, sodium bicarbonate (non-aluminum baking soda), Theobroma cacao (cocoa) seed butter, Maranta arundincea root (arrowroot powder), kaolin clay, and essential oil blend.
Fragrance: Lightly scented with cedar and saffron.
Aluminum-free, paraben-free, and sulfate-free.
Pros
Unisex deodorant
Comfortable to wear all day long
Creamy formula
Handmade
Cons
Not suitable for sensitive skin
May cause irritation in the armpits
Some natural deodorants might leave you unsatisfied and gritty, but this deodorant glides smoothly on your skin and makes you feel fresh throughout the day. It soothes inflammation and hydrates your skin.Its fragrance effectively neutralizes your body odor and removes the wetness that you feel because of sweat.
Features
Ingredients: Organic arrowroot powder, organic virgin coconut oil, baking soda (sodium bicarbonate), organic shea fruit butter, organic beeswax, sunflower seed wax, organic lavender oil, and organic tea tree leaf oil.
Fragrance: Soothing fragrance of lavender.
Aluminum-free, paraben-free, gluten-free, and cruelty-free.
Pros
Reduces body odor
Aluminum-free
Made with organic ingredients
Cons
Slightly overpowering fragrance
This deodorant stick is sustainably made with active ingredients. It satisfactorily serves the purpose of a natural deodorant. It is entirely free of any kind of artificial perfumes and chemicals. It removes all the odor-causing bacteria from your skin and keeps your refreshed for long hours.
Features
Ingredients: Potassium Alum (mineral salts).
Fragrance: Unscented.
Aluminum-free.
Pros
Free from artificial chemicals
Eliminates odor-causing bacteria
Does not stain clothes
Cons
None
Natural deodorants usually derive their fragrances from essential oils. So does Arm & Hammer Essential Natural Deodorant. It gives you natural protection and pampers your underarms with its subtleformula. It contains baking soda and other natural plant extracts to combat body odor.
Features
Ingredients: Water, sodium bicarbonate (baking soda), coriander) fruit oil, rosemary leaf oil, lavandin oil, and fragrance.
Fragrance: Fresh and natural fragrance of natural plant extracts.
Aluminum-free and paraben-free.
Pros
Vegan
Refreshing fragrance
Gentle on the underarms
Cons
Does not last throughout the day
This is another effective natural deodorant that is healthy and safe for your skin. It contains natural ingredients and essential oils that produce a natural fragrance. It is free from any kind of harmful chemical components and has a very clean and smooth texture. Its formula contains just 4 clean ingredients with essential for a refreshing fragrance.
Features
Ingredients: Cornstarch, fractionated coconut oil, beeswax, baking soda, and essential oils.
Fragrance: Smells like lavender.
Aluminum-free, alcohol-free, and no artificial fragrances.
Pros
Suitable for sensitive skin
Cruelty-free
Vegan
Refreshing fragrances
Cons
None
This is an all-natural deodorant that works wonders on sensitive skin. It is made with entirely safe and clean ingredients. If you are frantically looking for a natural deodorant that does not feel harsh on your skin, give this one a try. It glides smoothly on the skin and has a fantastic fragrance of citrus and vetiver.
Features
Ingredients: Made with essential oils, citrus, and vetiver.
Fragrance- Smells like lavender.
Aluminum-free, paraben-free, phthalate-free, and no baking soda.
Pros
Vegan
Cruelty-free
Made with safe ingredients
Long-lasting
Cons
Dispenser might not work correctly.
May stain clothes
Lume Natural Deodorant for Underarms is the most long-lasting natural deodorant for underarms. This natural antiperspirant is clinically proven and highly effective. You can safely use it on your intimate areas and feet without any worries.
Features
Ingredients: Made of naturally derived ingredients and skin-safe synthetics.
Fragrance: Herbal sage and lavender fragrance.
Aluminum-free and no baking soda.
Pros
Hypoallergenic
Safe for use on private parts
Lasts all day long
Cons
Choosing a natural deodorant can be a bit of a tricky task. Check out the checklist of all the things you need to keep in mind before buying below!
How To Choose The Right Natural Deodorant?
While choosing the right natural deodorant that suits you best, you need to keep the following things in mind:
Choose a deodorant that has active natural ingredients.
Always make sure that your natural deodorant is aluminum-free.
Avoid any kind of chemicals or toxins as they might be harsh on your skin.
Watch out for deodorants that can stain on your clothes.
Use a baking soda-free deodorant if you have sensitive skin.
Read reviews to check if a particular natural deodorant is long-lasting.
A simple trick that can help you figure out if deodorant is natural is to see if you can recognize most of the ingredients listed on it. Like we just discussed, natural deodorants are pretty straightforward and formulated using essential, organic, and natural ingredients. Make the switch to natural deodorants today by picking one from our trusted list!
Expert's Answers For Readers' Questions
Why should you use a natural deodorant?
Natural deodorants are beneficial for your health because they are made of natural ingredients and free from artificial chemicals. They do not clog your pores and reduce body odor to a great extent. They also have a very mild fragrance.
Why do my armpits smell after switching to natural deodorant?
Your body may take some time to get used to natural deodorant. You may not see any noticeable results immediately. Your healthy body sweat does not stink. It's the bacteria that causes body odor. Therefore, your body might take some time to eliminate this bacteria and regulate itself to sweat naturally.
Why is baking soda terrible in deodorant?
Baking soda is not meant for your skin. It's more alkaline than your skin and, thus, disrupts your skin's pH balance. This causes side effects like redness, allergic reactions, rashes, and other kinds of irritation.
What is wrong with aluminum in deodorant?
Long-term exposure to aluminum may cause two very severe health issues – Alzheimer's disease and breast cancer. Many studies have revealed that the aluminum in deodorant is not suitable for your skin.
Is magnesium safe in deodorant?
Yes, magnesium is safe in deodorant. It is a safe and naturally occurring compound that is effectively used in natural deodorants.
Recommended Articles
The following two tabs change content below.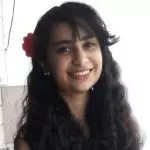 Latest posts by Arshiya Syeda (see all)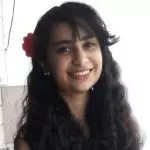 Arshiya Syeda
Arshiya Syeda is an editor and certified counselor. Ever the lover of the written word, she served on the editorial boards of her school and college newsletters. Writing articles on hairstyles, hair care, and nutrition helped her combine her love for reading, writing, and research. As an editor, she helps her team members deliver polished and meticulously researched content. Arshiya is fluent in English, Urdu, and Hindi and aims to become a multilinguist by learning German and teaching herself American Sign Language (ASL).