11 Best Natural Diaper Rash Creams For A Happy Baby – 2023
Keep your little one comfortable and happy with the right amount of TLC each day.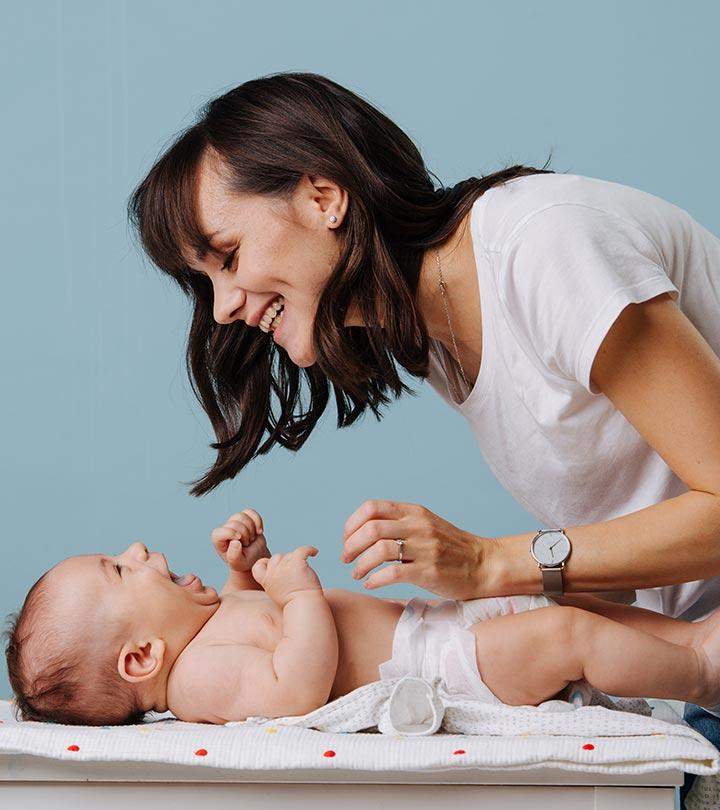 A diaper rash on your baby might have caught your attention, and you're anxious to resolve it. Choosing the best natural diaper rash cream may seem like an overwhelming task, but it is essential. The fact is, diaper rashes are common, and even the most attentive and diligent parents have to deal with them. Of course, that fact doesn't help you with the guilt. No need to panic; this happens to every one of us at one point or another in our lives. Regular use of diapers, although non-negotiable, may lead to red, bumpy rashes from time to time. The very delicate skin on baby's bottoms makes them even more inclined to the itchy, inflamed, and irritating problem of diaper rash.
Unfortunately, the market is filled with unpleasant diaper creams, and you should stay away from them. Here is a review of the 11 best natural diaper rash creams to help you make an educated decision. Thus, we hope that we can assist you in your decision-making when choosing the right non-toxic diaper rash cream. Let's make your baby's bottom healthy and soft as silk and totally free from uncomfortable irritation and itchiness, and risk of infection!
11 Best Natural Diaper Rash Creams Of 2023
Arguably the best natural diaper rash cream, it contains responsibly sourced shea butter, softening coconut oil, and beeswax, which form a barrier against dryness, lock in moisture, and renew your baby's sensitive skin. Its multipurpose, soothing formula is gentle on your baby's skin and can be used everyday to moisturize and smooth their skin. The rich texture of this cream creates a barrier against dryness leaving you with a soft and happy baby. The pediatrician-tested diaper rash cream is 100% natural and contains no chemicals that can harm your precious baby's skin. All you need to do is to cleanse your baby's diaper area and apply the ointment liberally and protect their delicate skin from diaper rashes, dry skin, and even chapped lips.
Pros
No animal testing
Natural ingredients
Recyclable jar
Pediatrician-tested
Paraben-free
Phthalate-free
SLS-free
Petrolatum-free
Cons
Contains soybean oil and some babies may be allergic to soy
Price at the time of publication: $8.99
It's true, diaper rash causes as much distress to parents as it does to the baby. So, do try this ointment made with natural aloe vera, carnauba wax, and castor oil. It's a natural diaper rash treatment, developed by a pharmacist and father of four. A treatment trusted by pediatricians and parents for over 40 years, it helps heal and protect chafed, irritated skin due to diaper rashes and instantly seals out wetness. A light, creamy ointment with 16% zinc oxide, it's ideal for treating mild to moderate diaper rashes. Effective yet gentle on your baby's skin, this diaper rash treatment ointment is definitely worth a try.
Pros
Paraben-free
Preservative-free
No dyes
Phthalate-free
Petrolatum-free
Talc-free
Pediatrician-recommended
Cons
Price at the time of publication: $12.05
Only the best for your baby's tushy! We recommend trying this 3-in-1 diaper rash cream that prevents, relieves, and replenishes your baby's delicate skin with every diaper change. It's safe enough to be used by even a newborn baby and relieves irritation and inflammation from the very first use. Composed of a 98% plant-based biodegradable formula, this all natural diaper rash cream includes ingredients like avocado perseose that protects your baby's delicate diaper area from irritation and zinc oxide that creates a protective layer. It also has sunflower oil distillate that repairs your baby's natural skin barrier and oxeoline of alcaceas that soothes irritated, inflamed skin. This cream is easy to apply and wipe off, long lasting, soft and gentle in texture, and has a pleasant natural scent, which is so important when dealing with diapers.
Pros
Hypoallergenic
Fragrance-free
Paraben-free
Phthalate-free
Phenoxyethanol-free
Dermatologist-recommended
Pediatrician-tested
Cons
Some feel it may not spread well
Price at the time of publication: $9.71
The ideal balm for baby buns, this gentle, hypoallergenic diaper rash balm is made for red, inflamed skin on your baby's bottom and prevents chafing, irritation, itching, and moisture. Its is formulated with organic sunflower oil, castor oil, beeswax, cocoa butter, coconut oil, vegetable glycerin, arrowroot powder, calendula oil, rosemary extract, and organic chamomile extract, which help guard your baby's bum against infections.This soothing balm without any harmful chemicals, gives your baby instant and long-term relief. It also soothes and protects your baby from seborrheic dermatitis, baby eczema, and more.
Pros
No toxins
Paraben-free
SLS-free
No alcohol
No mineral oil
Petrolatum-free
Fragrance-free
pH-balanced
Hypoallergenic
USDA-certified
Cons
It contains extra virgin olive oil, which may not be suitable for babies under 6 months.
Price at the time of publication: $14.45
Make every diaper change a breeze while protecting and soothing your baby's delicate skin. A wonderful blend of coconut oil, castor oil, jojoba oil, olive oil, sunflower wax, and vitamin E, it soothes and protects more than just your baby's bottom. This safe diaper rash cream works very effectively with cradle cap nd chapped lips, too. A safe and natural alternative to many other creams, this baby ointment is made with healthy oils that nourish and protect dry, sensitive skin. That way you can be assured that your baby's skin always stays healthy, soft, and well-hydrated. Made of pure and natural ingredients, each one is chosen keeping your baby's health in mind, and even its pleasant fragrance comes from essential oils.
Pros
Paraben-free
Vegan
Cruelty-free
Gluten-free
Phthalate-free
No hydrogenated oils
Sulfate-free
No artificial fragrances
Mineral oils-free
Free of petroleum
Dermatologically-tested
Cons
Some may find it slightly greasy
Price at the time of publication: $7.49
This natural zinc oxide cream is soothing and helps treat and prevent diaper rashes. It creates a moisture barrier for your baby's delicate bottom, preventing discomfort and bringing relief to inflamed and irritated skin. It's infused with shea and cocoa butter along with aloe vera, which soothes and nourishes all skin types. Apply a thick layer of this diaper cream to sore areas as often as needed, especially during bedtime or any prolonged time in a wet diaper. This cream is extremely safe and dermatologically tested to ensure that your precious baby is protected at all times.
Pros
Vegan
Hypoallergenic
Cruelty-free
Phthalate-free
Fragrance-free
Paraben-free
Sulfate-free
Dye-free
Pediatrician-tested
Cons
Contains only 17% zinc oxide
Price at the time of publication: $19.98
This diaper rash cream is infused with healing herbs and love. It contains 6 trustworthy ingredients to prevent and soothe irritation and redness and moisturize new baby skin. To make a soothing and nutritive herbal base, licorice and organic calendula are slowly infused into Italian grapeseed oil in phthalate-free glass containers. Cold-pressed castor oil is added for extra emollience, beeswax is added for protection and the potent antioxidant, vitamin E ensures skin health and extends the life of the salve. This diaper rash cream without zinc oxide is a gentle and pure herbal preparation for long-term prevention and healing of skin rashes, irritation, inflammation and dryness of baby eczema, diaper rash, cradle cap, and drool rash.
Pros
Fragrance-free
EWG-verified
Paraben-free
Coconut-free
Gluten-free
Corn-free
GMO-free
Cons
Price at the time of publication: $23.97
'Soft as a baby's butt' rings true with a little help from this good diaper rash cream that contains 30% zinc oxide and heals and soothes diaper rash quickly and gently. Guaranteed to reduce the symptoms of diaper rash in about 4 hours, the Baby Butz Cream heals even the most severe cases of diaper rash within 24 hours. Apart from zinc oxide, it also contains corn starch, highly-refined lanolin and petrolatum. It has a creamy consistency that creates a barrier to moisture and effectively prevents future cases of diaper rash.
Pros
Hypoallergenic
No chemicals
Fragrance-free
Alcohol-free
Paraben-free
Gluten-free
EWG-verified
Cons
Some may find it too thick to spread easily
Price at the time of publication: $12.99
Pamper your baby with this non-toxic diaper rash cream that contains aloe vera, sunflower oil, and olive oil. It is an easy-to-apply formula and leaves a protective layer on the skin.This balm soothes your baby's tender skin and diminishes redness and soreness and is safe to use right from birth. The dye-free cream does not stain skin or clothing. The key ingredient is organic cold-pressed olive oil, which is sourced from family-owned groves in the South of France.
Pros
Vegan formula
Hypoallergenic
Fragrance-free
Paraben-free
Phthalate-free
Phenoxyethanol-free
Dye-free
Dermatologist-tested
Cons
Some find the consistency thin and oily
Price at the time of publication: $11.99
This natural baby diaper cream is herbally infused with natural waterproof protectants and soothing skin oils. Infused with extra virgin olive oil, calendula, chamomile, noni, rosemary, comfrey, shea butter, coconut and macadamia nut oil, 25% zinc oxide, kukui nut oil, sesame seed oil, candelilla wax, chickweed extract, neem oil, tocopherol, and organic orange, lavender, and tea tree essential oils it give your baby's delicate skin all the pampering it needs. Available in both a glass jar or a biodegradable eco stick, it can also be used on cuts, sunburn, cradle cap, dry skin, eczema, and bruises.
Pros
Vegan
Cruelty-free
Plastic-free
100% natural
Cons
Some babies maybe allergic to it as it contains nut oils
Price at the time of publication: $13.99
This natural diaper rash treatment is a combination of kakadu plum, grapeseed oil, sunflower oil, coconut oil, and 14% zinc oxide, which soothe irritation and nourish sensitive skin. Sunflower seed oil deeply conditions the skin while coconut oil, because of its high vitamin E content, works as an emollient moisturizer and skin soother. Zinc oxide forms a protective layer on your baby's skin and combats diaper rash. This creamy, oil-based formula adheres to the skin and doesn't easily wipe off with diaper changes. This pediatrician-created and dermatologist-tested rash cream can be trusted as it's pure, clean, and non-toxic.
Pros
Plant-based
Non-toxic
Hypoallergenic
Paraben-free
Phthalate-free
Sulfate-free
Phenoxyethanol-free
Fragrance-free
Cons
Some may not find its natural smell desirable
Price at the time of publication: $21
Now that we've taken a look at the 11 best natural diaper creams in 2023, let's take a quick look at this buying guide, which may help you make an informed decision.
How To Choose The Best Natural Diaper Rash Cream
The best natural diaper rash creams will contain zinc oxide, calendula oil, aloe vera, and lanolin. Diaper rash cream ingredients hydrate and heal inflammation, and also protect it from harmful irritants. Thick diaper rash creams, pastes, and over-the-counter options are suitable for severe cases of rashes and inflammation, but it is always wise to check with a dermatologist before using it, especially if you are dealing with a newborn.
For a mild to moderate diaper rash, zinc oxide is the most common ingredient in creams. They don't work as well for severe rashes. They have a rich, creamy consistency, and spread easily on your baby's skin, without having to rub it in.
However weird this may sound, a butt paste certainly does the job. It's now available over the counter and usually contains a blend of zinc oxide and other ingredients like lanolin, beeswax, or balsam, that increase the barrier between your baby's skin and his diaper. Butt pastes are ideal for healing problematic diaper rashes, and can be used on a regular basis.
This over-the-counter cream reduces inflammation when applied directly on the skin and is layered with another diaper rash cream. It should not be used more than twice a day, and only for a few days as excessive use of hydrocortisone can damage sensitive skin.
Lanolin, a natural ointment often used to treat damaged skin, is produced by sheep. Parents who use cloth diapers often prefer lanolin over chemical ingredients. Creams that contain red clover or calendula are also preferred for use with cloth diapers. There are contradictory views regarding the use of lanolin. The sheep skin from which lanolin is derived is often sprayed with pesticides to fight off mites and pests. Also, sheep are fed a diet of genetically modified and chemical-sprayed grain and alfalfa, which may not be good for your baby's soft skin.
When the skin comes into contact with acidic urine or diarrhea, a baby can experience a chemical burn. Acid mantle works to restore the natural pH balance of the skin. Acid mantle, layered with a zinc oxide cream on top, can help to restore the pH balance and soothe the rash.
If the diaper rash has been caused by a yeast infection, you'll need to use an antifungal ointment in order to get rid of the irritation. These are available over the counter and contain nystatin, clotrimazole, or miconazole micatin.
Things To Avoid When Buying A Diaper Rash Cream
Fragrances and talcs can cause even more irritation as they contain chemicals, and their use is not recommended. Thick creams and pastes are best for soothing severe rashes, while ointments are ideal for preventing the rash from occurring.
Boric acid or sodium borate is a skin irritant and should be avoided as a diaper rash cream is typically applied to broken skin.
Parabens are chemical preservatives that are linked to some kinds of cancer and health issues and are a big no-no.
Petrolatum clogs skin pores and due to improper refining sometimes contains PAHs that are linked to cancer.
Benzyl benzoate or benzyl salicylate is linked to environmental toxins and endocrine disruption.
Hydrogenated oils are chemically processed and it's better to use the natural, unprocessed version.
Unfortunately, most babies suffer from diaper rash at some point as it is frustratingly common. Although diaper rashes are common, they have to be treated? as they can make your baby exceedingly uncomfortable and can sometimes even lead to an infection. These rashes can be rather painful, if left unattended and can make diaper changing an extremely unpleasant task. The good news is that they can be easily managed with a diaper rash cream. But when it comes to your bab , you can't take any chances and we hope that our review of the 11 best natural diaper rash creams of 2023 will help you to make the right choice for your adorable baby.
Why Trust StyleCraze?
Vaishnavi Kothuri is a hair and skin care enthusiast who loves to review and write about beauty products. Toddlers have delicate skin that requires extra attention, and therefore, the author did thorough research to find all the factors to consider and avoid while buying a baby cream. She also read thousands of online reviews to curate the list of the best natural diaper rash creams that are chemical-free.
Frequently Asked Questions
Should you use natural diaper cream at every change?
You can apply diaper rash cream at every change for best results and rash prevention.
Do you wipe off excess natural diaper rash cream?
Yes, you may wipe it off by gently patting it with a soft cloth or massage the excessive cream and let it seep into the skin.
Can natural diaper rash cream cause a baby to have dry skin?
No, it will not cause dry skin, although it may cause redness due to allergies.
Can I use natural diaper rash cream even if the baby has no visible rashes?
Yes, diaper rash cream will save the baby from getting any rashes and can be an excellent precautionary measure.
Is natural diaper rash cream safe for newborns?
Yes, natural diaper rash creams are safe for newborns. Even dermatologists recommend creams such as Mustela Baby-Child Diaper Cream for a soothing and practical experience.
Recommended Articles: