The 10 Best Natural And Organic Eye Creams Of 2023
Nourish and rejuvenate your tired eyes with hydrating and quick-absorbing eye creams.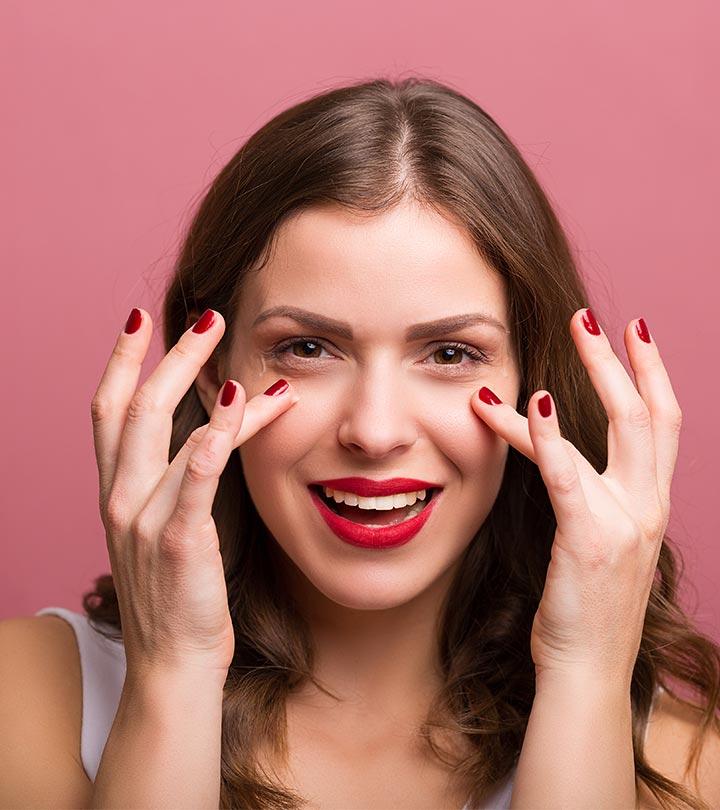 Eye creams are specially formulated to suit the thin skin around your eyes. The best natural eye creams help reduce puffy under-eye bags and dark circles. They also help reduce fine lines and wrinkles that make you look way older than your age. While aging is natural and wrinkles are lines of wisdom, keeping the skin around your eyes nourished can help make your face look radiant and rejuvenated. Along with a good diet and eight hours of sleep, you must use a good eye cream to take care of your skin.
You must be careful when choosing products that do not irritate your eyes. It is best to use products formulated with organic, natural substances to avoid damaging the already delicate skin around the eyes. This post lists out the best natural eye creams you can buy online. Read on!
10 Natural Eye Creams Of 2023
The Essy Naturals Anti-Aging Rapid Reduction Eye Cream helps minimize the signs of aging around your eye area. It reduces dark circles, under-eye bags, and puffiness. This eye cream claims to show visible results within 120 seconds and is an ideal last-minute solution for busy mornings. It boosts collagen elasticity around the eyes and offers a healthy and refreshed look. This eye cream makes your tired skin hydrated, firm, and luminous.
Pros
Shows quick results
Suitable for all skin types
Boosts skin elasticity
Value for money
Cons
Price at the time of publication: $22.99
This organic night cream is formulated in an FDA registered GMP compliant facility in the USA. It is composed of organic ingredients like beeswax, extra virgin olive oil, lemon essential oil, and raw honey that possess anti-aging properties and nourish the skin. This night-time moisturizing cream works wonders on your skin owing to its composition of antioxidants. It promotes the production of collagen, thereby giving the skin a youthful appearance. This product is suitable for all skin types and is non-comedogenic.
Pros
Cruelty-free
Free from synthetic chemicals and artificial fragrances
Free from parabens, fillers, or binders
100% organic product
Cons
Should be used within 6 months of opening
Price at the time of publication: $29.99
This nutrient-rich, mild eye cream is suitable for normal to combination skin and is made using royal jelly. Burt's Bee Eye Cream consists of all-natural ingredients rich in vitamins, minerals, antioxidants, and phytonutrients that promote a youthful glow and leaves the skin looking radiant. It also helps to reduce fine lines, wrinkles, and puffiness. This moisturizing night eye-cream is suitable for daily use. Click here to check out a detailed personal review of this product.
Pros
No parabens
Hypoallergenic and dermatologically-tested
Contains no phthalates, petroleum, or SLS
Does not clog the skin pores
Cons
Can leave your skin slightly greasy
Price at the time of publication: $44.98
This moisturizing eye cream smells like your morning coffee and has anti-aging, nourishing, as well as rejuvenating properties. It helps to effectively get rid of dark circles, puffiness, and under-eye bags. Enriched with anti-inflammatory and anti-aging ingredients like coffee, aloe vera, cucumber, pineapple, sea buckthorn, and cranberry, this is the eye care routine you are looking for! It keeps the delicate skin around your eyes feeling soft and revived, giving it the youthful appearance it deserves.
Pros
Consists of all-natural, organic ingredients
Does not contain toxic substances
Non-greasy formula that doesn't clog the skin pores
Packed with antioxidants
Cruelty-free
Cons
Price at the time of publication: $47.99
Formulated using potent anti-aging organic ingredients like organic olive oil, shea butter, jojoba oil, and white tea extract, this eye serum by Eavara guarantees positive results. It helps boost the production of elastin. It helps improve the texture of the delicate skin around your eyes and also eliminates fine lines and wrinkles. Furthermore, this cream helps to hydrate the skin and can be used by both men and women.
Pros
Free from parabens
Does not contain harmful chemicals, petroleum oil, colorants, or fragrance
Devoid of phthalates and sulfates
Cruelty-free
Complete refund for unsatisfied customers
Cons
Limited stock availability
Price at the time of publication: $25.9
Reduce eye bags and dark circles with the Poppy Austin Under Eye Cream. This eye cream is specially formulated to eliminate puffy eyes and make your eyes look radiant. Apart from treating eye wrinkles, the eye cream effectively works as an anti-aging treatment. The cream offers a smooth texture and a bright complexion. It includes Grapeseed, Organic Aloe, Jojoba, Rosehip, Vitamin E, Green Tea, Vitamin C, and Tamanu Oil that smooths the skin around the eyes, keeps it hydrated, and offers a refreshing look.
Pros
Cruelty-free
Plant-based
Radiant-looking
Gentle
Lightweight
Cons
None
Price at the time of publication: $19.99
This organic eye treatment by Nourish Organic helps to reduce puffiness, dark circles and helps smoothen the skin around the eyes. It also aids in promoting skin elasticity. This eye cream consists of natural ingredients like shea butter, avocado oil, and Moroccan argan oil that help to replenish and renew the tired skin around the eyes.
Pros
GMO-free, gluten-free, and fragrance-free
Cruelty-free
Vegan product
Promotes quick absorption
Cons
Price at the time of publication: $30.45
Ideal for moisturizing and brightening the skin around your eyes, this organic eye cream consists of organic natural ingredients and essential fatty acids like vitamin B5, C, and P. It promotes hydration and replenishes the moisture content of your skin. It helps get rid of dark circles and fine lines and leaves the skin feeling pampered and nourished.
Pros
Free from parabens, petroleum, phthalates, and sulfates
Does not contain artificial fragrances or dyes
Non-GMO, gluten-free, and devoid of silicones
Cons
Price at the time of publication: $32.0
This product is proudly manufactured in the USA and contains high-quality natural ingredients that nourish and protect the delicate skin around the eyes. Thena Natural Wellness eye cream hydrates and soothes the skin and helps stimulate elastin. It consists of natural ingredients like apple stem cell peptide, age-delaying collagen, argan oil, green tea, arnica, cucumber, and camellia oil that render the skin feeling tight and firm and fights aging factors. It is suitable for both men and women, and you must apply it every morning and night.
Pros
Paraben-free
Cruelty-free
Non-greasy and fast-absorbent formula
Cons
Limited stock availability
Price at the time of publication: $59
This best-selling eye cream from Tata Harper is anti-aging in nature. It helps minimize wrinkles significantly and will leave you feeling young, healthy, and rejuvenated. It boasts of containing 15 sources of plumping hydration that fight the signs of aging while also reducing puffiness around the eyes. It is guaranteed to be a 100% natural product and can be used both in the mornings and at night for the best results. This eye cream can be applied on the delicate skin around the lips too. To understand the nuances of the product in detail, you can check out this review.
Pros
All-natural product
Free from fillers, synthetics, artificial colors, and artificial fragrances
100% non-toxic
Cons
Can feel heavy on the skin
Price at the time of publication: $130.0
Now that we have seen these 10 products, we will understand how to choose a natural eye cream.
How To Choose A Natural Eye Cream
You must choose your eye cream depending on the issue you are looking to address. This could be:
Puffy eyes
Dark circles
Under-eye bags
Fine lines, crows feet, wrinkles
Tired eyes
Dry skin
Once you have figured out which of these skin issues have to be tackled, you can buy an eye cream that targets, wrinkles, or under-eye bags, etc.
You may also choose a natural eye cream that resolves several skin issues at once. "Vitamin C is a top ingredient for eye creams because it helps with collagen production and tissue repair. Products that include vitamin A, also known as retinol, are deeply absorbed by the skin and also encourage collagen production. Use under eye creams or serums that contain one or more of the following ingredients: caffeine, vitamin C (ascorbic acid), peptides, retinol, and hesperidin methyl chalcone," recommends Dr. Enrizza Factor, MD.
Do you have any queries regarding this post? Let us know in the comments below!
Why Trust StyleCraze?
The author of this article, Vaishnavi Kothuri, is a skin care enthusiast and believes that using an eye cream is an integral part of your skin care routine. According to her, if you want to get rid of puffy eyes and dark circles, using the right natural eye creams is one of the best solutions. The carefully curated list with well-researched products includes some of her favorites too!
Frequently Asked Questions
Do eye creams really work on dark circles?
Yes, eye creams do work on dark circles as they are formulated with ingredients that work towards reducing pigmentation around your eyes. Some show prompt results, whereas some take time, but both show positive results eventually.
How can you make home-made eye cream?
Home-made eye cream is easy to make. Take a few drops of almond oil from your pantry and gently rub it around the skin of your eyes regularly. You will soon notice your dark circles fading over time.
Is vaseline good as an eye cream?
Yes. Vaseline boosts moisture to the skin under and around your eyes. It rejuvenates the skin and reduces the appearance of wrinkles.
Are eye creams really necessary?
Yes. The skin around your eyes is delicate and prone to dryness and puffiness. It also ages faster. Therefore, eye creams are necessary to treat these issues effectively.
Can I use coconut oil as an eye cream?
Yes. Coconut oil aids cell turnover and strengthens the skin barrier around your eyes. It also effectively reduces aging signs and eliminates dark circles.
What comes first, moisturizer or eye cream?
Use an eye cream first, then apply moisturizer to lock the benefits of the cream in your skin.
What is better, eye cream or eye serum?
Eye serums contain collagen-boosting ingredients that improve the appearance of the skin around your eyes. They have a thin consistency and penetrate the skin layers easily. On the other hand, eye creams focus more on moisturizing the skin and strengthening the barrier. Also, their thick consistency settles on the skin rather than seeping inside.
How often should I apply eye cream?
Use an eye cream twice daily, once every 12 hours.