15 Best Natural Face Exfoliators To Get Glowing Skin
Get rid of dirt, grime, and clogged pores to expose the supple, bright skin of your dreams. If you think you can achieve flawless skin by following the simple cleansing, toning, and moisturizing (CTM) routine, we are sorry to inform you that you are wrong! Exfoliation is one of the most crucial steps that you should not miss out on in your skin care. To help you achieve your skin care goals, we talk about the best natural face exfoliators.
If you want glowing and younger-looking skin, then your face should be free from the dirty and damaged dead skin cells, and that is where exfoliation comes into the picture. It helps to reveal the healthy skin underneath. The best part about using natural exfoliators is that they are gentle on your skin and reveal glowing and youthful skin. However, if the myriad of products available in the market seems confusing, we have done all the hard work for you. Keep reading this post to find out more through our curated list of the 15 best natural face exfoliators. Scroll down!
15 Best Natural Face Exfoliators For You To Ace Your Skincare Goals
Dull skin dampening your spirits? Get beautiful, glowing, younger-looking skin with this natural face exfoliator that gets rid of things like blackheads and dullness in a gentle manner. It cleans out dirt and grime from your skin to reveal a clearer complexion in minutes and helps in combating problems like acne, wrinkles, stretch marks, dark circles, dark spots, and scars. Manuka honey helps in the recovery of cells and boosts the production of collagen, while aloe vera includes vitamins A, C, B, and E. Along with minerals like zinc and magnesium that have antibacterial and healing properties, this exfoliator also contains sunflower oil that helps retain the natural moisture barrier in the skin, while walnut shell gets rid of the usage of microbeads as a scrubbing entity. Watch this review video for the tester's experience with the product.
Pros
No sulfates
No parabens
No mineral oil
No toxins
Good for sensitive skin
Cons
Some may find the texture slightly waxy
Price at the time of publication: $23.99
Who says coffee is just good to wake you up and kickstart your day? Coffee in a scrub is also great to wake your skin up and can provide it renewed vitality to reveal a glowing complexion. As the name suggests, this 100% natural scrub uses the goodness of Arabica coffee that gently exfoliates the skin to fight premature aging, lines, and wrinkles. It fights puffiness around the eyes as it constricts vessels that cause inflammation. The coffee acts both as an exfoliator to get rid of dead cells and gets rid of enzymes with acidic properties. The Dead Sea salt lightens scars and tightens the skin, while targeting things such as varicose veins, while the shea butter keeps your skin hydrated and glowing. Go through this video review for a detailed understanding of this botanical exfoliation product.
Pros
Acts as an anti-cellulite scrub
Reduces the appearance of scars
Tightens the skin
Combats the appearance of varicose veins
Uses natural ingredients
Cons
Some may find it slightly greasy
Price at the time of publication: $24.98
This dermatologically-tested formula has pumice granules that scrub away dead cells, dirt, and grime from the face to help your skin combat scarring, dullness, and inflammation. The key ingredients in this natural face exfoliator are sugarcane extract, lemon fruit extract, apple fruit extract, and green tea leaf extract that reveal a glowing complexion, clears skin tone, the elasticity of the skin, fights free radicals, and adds antioxidants.
Pros
Dermatologically-tested
Paraben-free
Cruelty-free
Gluten-free
Sulfate-free
Cons
Not suitable for daily use
Price at the time of publication: $14.95
You can achieve your twin-goals of hydration and exfoliation with this natural face scrub that leaves you with a glowing complexion and an even skin tone. Glycolic acid with quartz crystals combines to do the work of both chemical exfoliants and physical exfoliators, while other ingredients such as pumpkin, vitamin C, and turmeric help clarify the skin tone and give a radiant and youthful appearance. This scrub also reduces the appearance of pores, softens uneven texture, and provides ample hydration. Check out this video featuring the reviewer's experience for a detailed review of the product.
Pros
Paraben-free
SLS-free
No mineral oils
No formaldehyde
No synthetic dyes
Cons
It may be slightly difficult to rinse off
May not be ideal for sensitive skin
Price at the time of publication: $13.97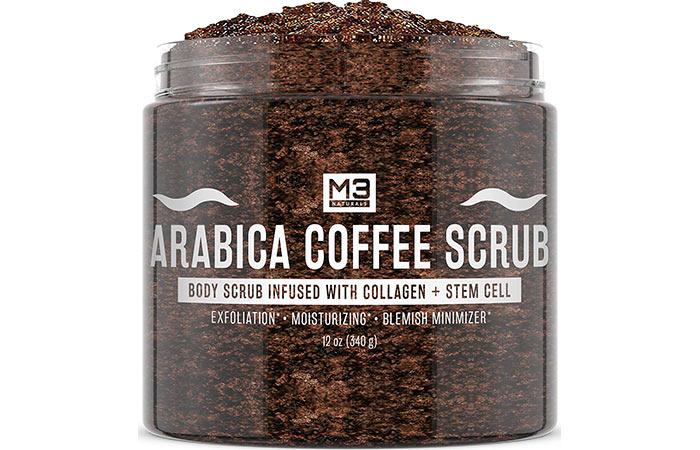 By now we know the benefits of exfoliation with coffee in skin care and in this natural face exfoliator, which can be used all over the body, we have premium finely-ground Arabica coffee buffing away dead skin cells to reveal softer, glowing skin. Collagen and stem cells help in boosting the collagen of the skin and the longevity of the skin cells. Unwanted toxins and pollutants affecting our skin and making it dull are drawn out from the dermal layers and reduces acne, scars, stretch marks, and even cellulite. Ensure to use the product regularly and correctly to see visible results.
Pros
Cruelty-free
Can be used all over the body
Stem cell and collagen boost collagen of the skin
Helps reduce pigmentation too
Suitable for acne-prone skin
Cons
Some may find the smell of coffee overpowering
Price at the time of publication: $26.41
The 21 minerals-enriched Dead Sea salt cleanses and exfoliates the skin to offer complete skin rejuvenation. It contains coconut oil that hydrates the skin intensely and also increases the production of collagen in the skin. Essential oils such as sweet almond oil, avocado oil, and argan oil have properties such as brightening skin tone, combating acne, anti-inflammation, and hydration, which all help in benefiting the skin to reveal a face that is glowing, healthy, and younger-looking. If you need further convincing, check out the multiple positive reviews on Amazon.
Pros
Fights acne, stretch marks, and in-grown hair
Vegan
Cruelty-free
Sulfate-free
Cons
Some may find it slightly greasy
Price at the time of publication: $13.47
Infused with Matcha green tea, lemongrass, and sugar, this gentle exfoliator is suitable for daily use and provides a healthy glow. This natural face exfoliator buffs away dead cells, dust, and dullness while brightening the skin with the goodness of its organic ingredients like sweet almond oil and sugarcane in this scrub that can be used both on the face and the body. This vegan formulation is careful to not strip your skin off its natural oils and, therefore, it hydrates as well as cleanses the skin.
Pros
Uses organic ingredients
Can be used on face and body
Gentle for everyday use
Vegan
Cons
Price at the time of publication: $23.9
A 2-in-one face wash and scrub, this one is for those who can't be fussed about incorporating multiple steps in their skin care regime but want the same results anyway. Say goodbye to blemishes, blackheads, and acne with this natural formulation of ingredients such as organic aloe vera leaf juice, bamboo powder, blueberry extract, calendula flower extract ,and sweet orange essential oil. Bits of pumice stone help in the exfoliation process while notes of peppermint and fruit in its fragrance leaves you feeling refreshed.
Pros
Acts as a face wash and scrub
Suitable for sensitive skin
Fights acne and blemishes
No soy
No toxins
No synthetic colors
No parabens
Cons
Some may find the peppermint scent intense
Price at the time of publication: $24.99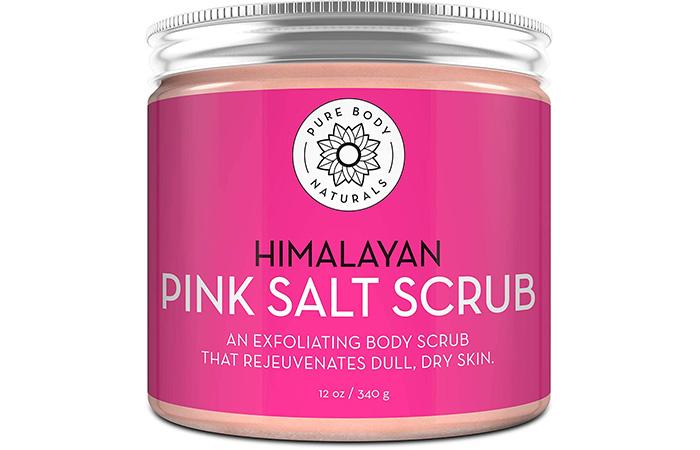 Himalayan pink salt, sweet almond oil, and jojoba oil in this formula hydrate the skin while gently buffing away dead skin cells with the help of salt particles that act as an exfoliating agent. The body is left polished and free from dirt and damaged skin cells. Himalayan pink salt is said to be packed with nutrients like calcium, magnesium, potassium, copper, and iron that nourishes the skin, apart from exfoliating and hydrating it. It also does not strip the skin off moisture but boosts circulation to reveal rejuvenated skin.
Pros
Made of plant-powered ingredients
Polishes the skin
Suitable for application on the entire body
Uses ingredients with nutrients that nourishes the body
Cons
Some may find the formula dry
Price at the time of publication: $13.95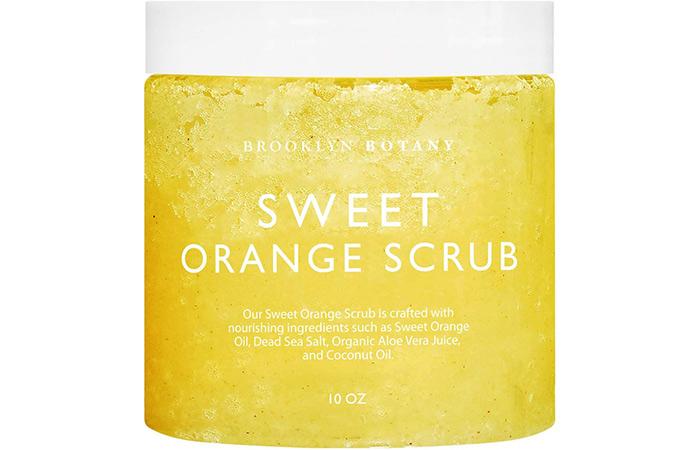 Combining the moisturizing properties of sweet organic oil and the natural exfoliating properties of Dead Sea salt, this scrub is suitable for all skin types to tackle dead skin cells and reveal smoother, healthier skin. The best part about this scrub is that it also doubles as an element to tackle cellulite as the brand claims that it can be rubbed on problem areas. This exfoliating treatment also packs in the goodness of vitamin C which helps boost collagen and improve the elasticity of your skin.
Pros
Suitable for all skin types
Might come in handy to fight cellulite at problem areas
Contains vitamin C
Suitable for application all over the body
Vegan
Cruelty-free
Cons
Some may find the formula slightly waxy
Price at the time of publication: $9.99
In great news for people with sensitive skin, this peel-off exfoliator uses a mix of fruit and plant-based ingredients with natural cellulose that gently scrubs off unwanted stuff from your face and offers a renewed radiance. Vitamin C, apple extract, and allantoin help improve the skin tone by clarifying it, while organic green tea, hyaluronic acid, and baobab seed extract improves the skin's natural moisture-retention ability as well as adding more moisture. This is a gel-based physical exfoliant formulation that is great for sensitive skin and makes the face brighter. Not to mention, it is dermatologist-tested and suitable for sensitive skin. But, we recommend you always begin with a patch test for safety.
Pros
Non-irritating
Hypoallergenic
Soap-free
Alcohol-free
Paraben-free
Sulfate-free
Mineral oil-free
Suitable for sensitive skin
Cons
May take a long time to show results
Price at the time of publication: $49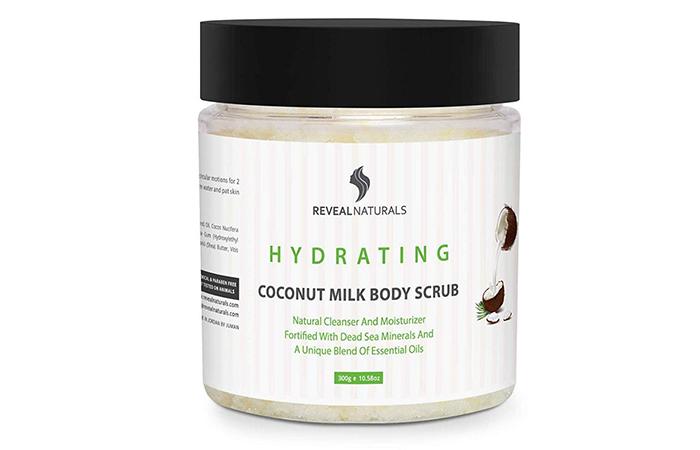 Premium organic ingredients housed inside this jar of body scrub cleanses, moisturizes, and exfoliates the skin thoroughly. With coconut milk being the key ingredient, this scrub smells mildly of the same and has other natural components such as almond oil, argan oil, grapeseed oil, and shea butter. While the coconut oil and coconut milk offer antibacterial properties and helps maintain the elasticity of the skin, it also takes care of fine lines and wrinkles and keeps the skin hydrated. Polyphenols and antioxidants in the ingredients used also combats acne and discoloration. The result is younger-looking, clearer, and radiant skin.
Pros
Vegan
Cruelty-free
For all skin types
Non-toxic
Paraben-free
Cons
Some may find the scrub slightly abrasive
Price at the time of publication: $14.98
The Thrive Energy Scrub is a premium exfoliating formula infused with anti-fungal and anti-inflammatory properties. It is powered with Juanilama and Ferrilo superplants that protect your skin against free radical damage, treat skin inflammation, and eliminate bacteria. The product gently unclogs your pores and removes trapped dirt, SPF residues, and excess sebum from your skin. It is free of plastic microbeads and is completely vegan. The scrub is also enriched with arabica coffee grounds and Costa Rica plant oils that revitalize your skin and reenergize it from within.
Pros
Suitable for daily use
Non-drying formula
Unisex
Reef safe
Vegan
Cruelty-free
Paraben-free
PABA-free
PEGs-free
Petroleum-free
Synthetic dyes-free
Formaldehyde-free
GMO-free
Gluten-free
No plastic microbeads
Cons
Price at the time of publication: $38.45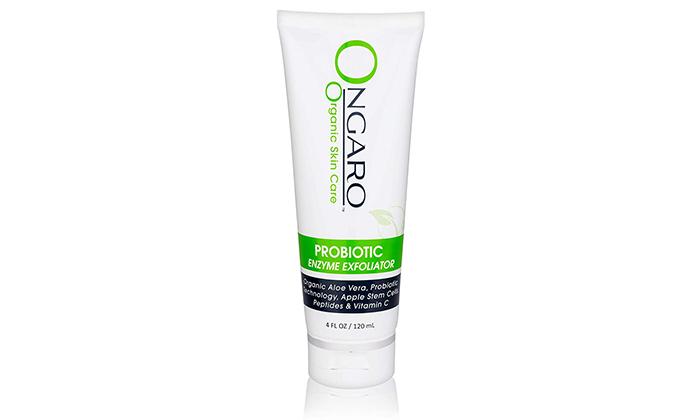 Enzymes from pumpkin, grapefruit, pineapple, and papaya enzymes come together in this nourishing fruit cocktail for your skin that scrubs away dead cells in a gentle manner. It also prevents acne and blackheads without striping off the natural essential oils of the skin. The way this enzyme exfoliator works is by "digesting" the dead cells in a natural manner, thereby leaving fresh, glowing skin under it. This non-abrasive scrub also works on sensitive skin types as well as dried and cracked heels.
Pros
Uses enzymes to exfoliate dead cells naturally
Fights acne and blackheads
Retains natural skin oils
Suitable for sensitive skin
Certified organic scrub
Cons
Not suitable for the entire body
Price at the time of publication: $22.95
Palmer's Coconut Oil Formula Coconut Sugar Facial Scrub Exfoliator is a gentle and effective face scrub. It uses natural coconut sugar to gently exfoliate dead skin cells from your skin to reveal brighter, more even-toned skin. This exfoliator is also formulated with coconut and sweet almond oil, which moisturizes and nourishes the skin, leaving it feeling soft, smooth, and refreshed. It is suitable for all skin types and can be used as a daily skincare routine.
Pros
Parabens-free
Phthalates-free
Mineral-oil-free
Gluten-free
Sulfates-free
Dyes-free
Softens the skin
Not tested on animal
Gentle formula
Dermatologist-tested
Cons
None
Price at the time of publication: $5.35
With the reviews of our favourite natural face exfoliators out of the way, we get how choosing the best one for yourself might be difficult. Here's making it easier with our buying guide.
How To Choose The Best Organic Face Exfoliator?
Go by the ingredient list and pick out a product that is best suited for your skin. Oily skin types should pick a gel or enzyme-based scrub that fights acne and does not clog pores but also does not strip your face off its natural oils. They can also go for AHAs/BHAs to chemically exfoliate the skin without irritating it. For dry skin, pick out something with a heavy moisturizer like shea or coconut milk, so that your skin does not dry out while getting rid of dead skin cells. For combination skin types, get a soothing, gentle exfoliator to help hydrate and scrub for fresher, younger-looking skin. It is always great to look for chemical-free products that are tested for allergies too. Oily skin-types should look for mechanical exfoliation but drier skin-types should opt for gentle exfoliators like almond or oats. You can also choose a face exfoliator based on your lifestyle practices. For instance, opt for eco-friendly, organic, and vegan scrubs if you follow a sustainable lifestyle.
How To Exfoliate To Avoid Damaging The Skin?
It is key to follow up your exfoliation routine with a good sunscreen, as is important anyway in every skincare regime. However, most exfoliation is not necessarily a part of your daily regime. Try to switch up its use but never forget to use a sunscreen and a moisturizer after the application of any exfoliator.
Why Trust StyleCraze?
Krati Darak, the author, is a skincare aficionado, and she finds joy in helping her readers find the most appropriate skincare solutions with ease. With that thought, she went on a hunt for the best natural exfoliators and made a list of them with the help of extensive research. These listed products can gently remove skin impurities and give your skin a natural glow.
Frequently Asked Questions
Why is exfoliation so important?
Exfoliating helps you maintain your skin's healthy radiance and flawless, silky texture by reducing dry skin deposits and removing these pigmented cells. You will quickly see a change in your skin tone from dry and dull to soft and bright with regular exfoliation and moisturizing routine.
What is the best exfoliating ingredient?
Glycolic acid is the most effective exfoliating ingredient.
How often should you exfoliate your face?
To avoid over-exfoliation, only exfoliate your skin twice a week if you have oily skin and once a week if you have dry or sensitive skin.
How long does it take for skin to exfoliate naturally?
Our skin naturally exfoliates every 3-4 weeks.
Should you exfoliate mature skin?
Yes. Mature skin often accumulates more dead skin cells that make the skin appear older and dull. Exfoliating once a week will offer deep cleansing to keep your skin bright and give it a renewed appearance.
What should you not do after exfoliating?
Do not touch the skin too much after exfoliating. Let it breathe for 5-10 minutes before you apply a moisturizer. Do not expose your exfoliated skin to the sun or the elements. If you are heading outdoors, apply a thick layer of sunscreen. If you feel irritated around your acne spots, don't give in to the temptation of touching or rubbing them. It will self-soothe in a while.
Recommended Articles