14 Best Natural Face Masks For Healthy & Glowing Skin – 2022
Pamper your skin with a pleasant and refreshing face mask and look radiant.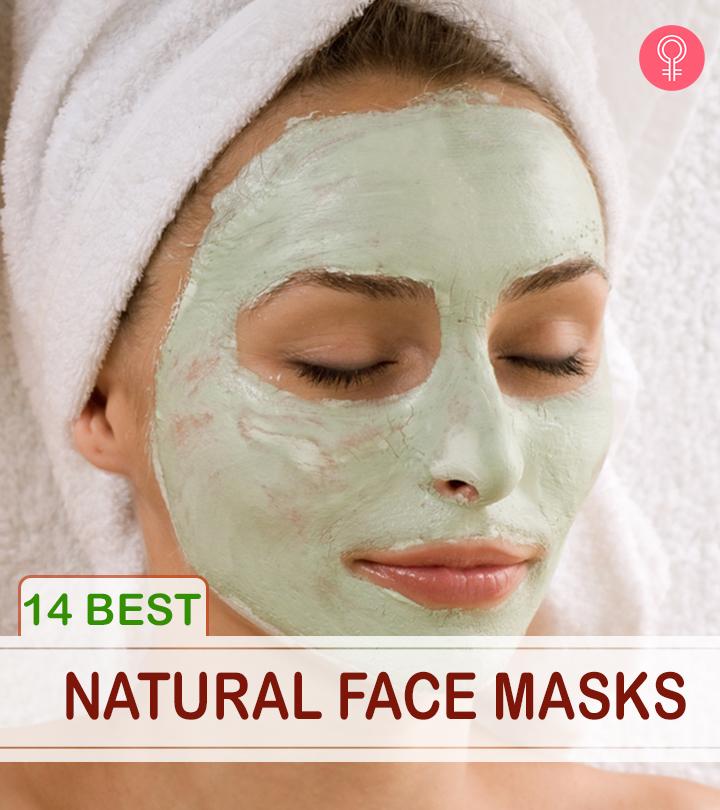 Face masks are no longer considered a luxurious treatment as everyone uses them as part of their everyday skin care regimen. However, as you don't use them under expert supervision, it is important to choose a mask free from toxic chemicals. Here, we have listed the best natural face masks that do not contain harmful ingredients.
The skin care market is flooded with face masks that can help you treat various skin problems like acne, clogged pores, dry skin, oily skin, etc. But natural face masks have the upper hand as they are made with natural ingredients that help in gently exfoliating the dead skin cells to reveal healthy skin. These ingredients also add moisture and nutrients to your skin. So, what are you waiting for? Dig into our list of the best options available online. Keep scrolling!
14 Best Natural Face Masks Available Right Now
Pure Body Naturals Dead Sea Mud Mask is a world-famous mud mask. It has been featured by Marie Claire, CNN, Elle, and Entertainment Tonight. This mineral-rich mask helps in detoxifying and removing build-up from the skin. It is especially effective on acne, blackheads, and oily skin due to its antimicrobial and anti-inflammatory properties. Dead Sea mud has been used for centuries for its skin and health benefits. It is best used once a week to get rid of all the toxins, grime, and impurities that clog your pores. This natural face mask can be easily incorporated into your skincare regimen for health and clear skin. It is free from harsh chemicals such as phthalates, BPA, and endocrine disruptors.
Pros
Removes dead skin cells
Unclogs pores
Improves blood circulation
Reduces acne scars
Antimicrobialproperties
Anti-inflammatoryproperties
Detoxifying formula
Removes build-up
Phthalate-free
BPA-free
Cons
New York Biology Dead Sea Mask is gentle and effective enough to be used daily. It is suitable for all skin types, including dry, normal, oily, combination, sensitive, and irritated skin. This daily acne treatment mask is composed of Dead Sea minerals that gently purify and cleanse clogged pores. This mineral-infused clarifying mud mask has a herbal complex of aloevera gel, calendula oil, vitamin E, sunflower seed oil, and jojoba oil. The pure Dead Sea mud helps in skin renewal. It creates a soothing sensation that helps your skin feel refreshed and rejuvenated. This gentle exfoliating mask is rich in minerals that remove excess oil, toxins, and dead skin cells, leaving your skin soft and radiant. This FDA-approved mud treatment is also known to stimulate blood microcirculation and refine skin texture. It is made with high-quality ingredients and does not contain alcohol, parabens, or sulfates.
Pros
Minimizes and unclogs pores
Treats acne,blackheads, and oily skin
Tightens the skin
Cruelty-free
Alcohol-free
Sulfate-free
Paraben-free
Exfoliates the skin
Cons
Aria Starr Beauty Dead Sea Mud Mask is made with a professional spa formula. It contains the highest quality Dead Sea mud that can be used on the face and body. It helps in treating acne, balancing oily skin, and removing blackheads.  It helps in minimizing and cleansing your pores naturally. The mask contains ingredients like shea butter, aloe vera, and jojoba oil that nourish the skin. This deep cleansing mask can be used by both men and women to exfoliate and detoxify the impurities located in the skin. It absorbs excess oils and toxins and removes dead skin cells to reveal softer, cleaner skin with a smooth texture.  It contains natural minerals like magnesium, calcium, sulfur, bromide, iodine, sodium, zinc, and potassium that are known to treat, detoxify, and cleanse the skin.
Pros
Moisturizes the skin
Exfoliates the skin
Absorbs toxins, excess oil, and dead skin cells
Rich in minerals
Detoxifies and deeply cleanses the skin
Reduces acne and blackheads
Cons
Not suitable for sensitive skin
Aztec Secret Indian Healing Clay is a deep pore cleansing face, hair, and body mask. It is made with 100% natural calcium bentonite clay that helps in absorbing excess dirt, grime, and oil from the skin. It is great for facials, body wraps, clay baths, foot soaks, chilled clay knee packs, hair masks, and insect bites. This organic mask is easy to apply and does not leave your skin feeling dry. It is suitable for all skin types, including sensitive skin. This moisturizing clay mask leaves your skin feeling clean and soft.
Pros
Moisturizes the skin
Affordable
Deep pore cleansing
Can be used on the face and body
Multipurpose
Suitable for sensitive skin
Cons
Tata Harper Resurfacing Mask restores radiance to the skin instantly. It contains exfoliating BHAs from white willow bark and brightening enzymes from the pomegranate that rejuvenates your dull complexion. Its concentrated formula contains 18 high-performance botanical ingredients that refine pores, soften your skin, smoothen its texture, and even out your complexion. These 100% natural non-toxic ingredients are sourced ethically. This natural face mask is free from all fillers, synthetic chemicals, artificial colors, and fragrances.
Pros
100% natural ingredients
Imparts a radiant glow
Exfoliates the skin
Non-toxic
Free from fillers
No synthetic fragrances
No synthetic dyes
Cons
Andalou Naturals Pumpkin Honey Glycolic Mask contains organic ingredients derived using fruit stem cell technology. This organic, non-GMO, sustainable, and gluten-free product gently exfoliates dry skin cell sand removes dirt and impurities for a smooth, bright, and even complexion. The vitamin C in this organic mask brightens your skin and protects it from sun damage and free radicals. This cruelty-free product is suitable for normal and combination skin types.  
Pros
Natural ingredients
Brightens the skin
Exfoliates the skin
Prevents sun damage
Moisturizes the skin
Non-GMO
Organic
Fair-trade and sustainable ingredients
Gluten-free
Cons
May cause skin irritation
Beauty By Earth Clear-Complexion Hydrating Face Mask is made with high-quality natural ingredients. It clears blackheads and dead skin cells without drying out your skin. This cruelty-free mask is formulated with moisturizing organic ingredients like algae extracts. The natural kaolin and bentonite clays in it cleanse the pores and soothe redness and irritation. This instantly hydrating mask is suitable for most skin types – dry, acne-prone,oily, combination,and normal.
Pros
Even sout the skin tone
Hydrates the skin
Removes blackheads
Cruelty-free
Natural ingredients
Suitable for dry, dehydrated skin
Soothes skin irritation
Unclogs pores
Cons
Herbivore Blue Tansy AHA + BHA Resurfacing Clarity Mask contains alpha hydroxy acids (AHA) and beta hydroxy acids (BHA) that chemically exfoliate your skin. This gentle resurfacing mask also contains exotic ingredients like blue tansy oil, fruit enzymes, and white willow bark. It helps reduce blemishes, acne scars, and uneven complexion. This veganand cruelty-free mask soothes redness and skin irritation. 
Pros
Clears blemishes
Improves skin radiance
Vegan
Cruelty-free
Soothes the skin
Exfoliates the skin
Organic
Suitable for acne-prone skin
Cons
Amara Beauty Dead Sea Mud Mask is made with the purest Dead Sea mud. It is rich in minerals and has a thick, velvety texture. It detoxes the skin by removing impurities and excess oil. It contains nourishing minerals like magnesium, calcium, potassium, zinc, and iron. It unclogs and refines pores and reduces the appearance of fine lines and wrinkles. This 100% natural vegan product is free from harmful chemicals like parabens, artificial dyes, and fragrances.
Pros
Vegan
Paraben-free
No artificial dyes
Rich in minerals
Cruelty-free
Removes impurities and oil
Unclogs pores
Cons
Not suitable for sensitive skin
TOULON Deep Pore Refining Mineral Masque contains kaolin clay that deep cleanses the clogged pores by removing grime, dirt, oil, and other impurities. This mask penetrates the skin to hydrate and deliver potent nutrients by removing the barrier of dead skin cells. It helps protect your skin from sun damage and aging. It boosts collagen production, which moisturizes, exfoliates, and rejuvenates the skin by improving the cell turnover. This facial mask is useful in treating cystic acne, breakouts, and acne scars. It also helps in lightening age spots, dark spots, and wrinkles. It is made with natural and cruelty-free ingredients like white kaolin clay, rosemary, and sunflower extracts. This gluten-free, cruelty-free, fragrance-free, and vegan product improves your complexion and skin tone. It acts as an anti-aging and acne treatment and moisturizer. The unisex mask is suitable for all skin types.
Pros
Gluten-free
Cruelty-free
Fragrance-free
Vegan
Anti-aging formula
Treats acne
Moisturizes the skin
Unclogs pores
Cons
Majestic Pure Moroccan Red Clay Mud Mask is suitable for all skin types, especially dull, acne-prone, and sensitive skin. It is made with botanical ingredients like Moroccan red clay that deeply nourishes the skin for a supple youthful glow. This cruelty-free mask gently removes dead skin cells and impurities from the skin. It nourishes the skin as it is rich in minerals and vitamins. This product has not been tested on animals.
Pros
Removes impurities
Nourishes the skin
Cruelty-free
Cruelty-free
Treats acne
Cons
May cause rashes or breakouts
Acure Brightening Face Mask gives a brighter appearance to your skin. It detoxifies your skin by removing impurities and toxins. It contains Moroccan argan extract that moisturizes and softens the skin. It also contains chlorella, which is a good source of vitamins and omega-3 fatty acids that are good for skin health and rejuvenation. It is suitable for all skin types. It is vegan and free of parabens, sulfates, mineral oils, formaldehyde, and petrolatum. This cruelty-free product brightens and balances the skin tone and texture.
Pros
Vegan
Suitable for all skin types
Draws out impurities
Brightens the skin
Cruelty-free
Paraben-free
Sulfate-free
No mineral oil
Petrolatum-free
Formaldehyde-free
Cons
May cause skin irritation
Juice Beauty Blemish Clearing Mask helps control oil and reduce blemishes. This purifying and deep pore cleansing clay can be used weekly to refine the skin tone and texture. It detoxifies the skin to give a clear, healthy complexion. It contains naturally antiseptic bamboo and reduces inflammation with zinc oxide. It improves skin elasticity and texture as it also contains vitamin B5 and vitamin E that moisturize, protect, and repair the skin barrier.
Pros
Cleanses the skin
Clears blemishes
Moisturizes the skin
Improves skin elasticity
Soothes inflamed skin
Protects the skin from damage
Refines the skin texture
Cons
OSEA Red Algae Mask uses the rich properties of red algae fortified with a variety of antioxidants to help soothe breakouts and purify pores. This purifying mask reduces the appearance of fine lines, pores, and blemishes. It transforms dull skin into radiant and healthy skin. Its non-drying formula hydrates the skin. It contains French red kaolin clay that detoxes and cleanses the skin. A potent blend of essential oils (thyme, juniper, and tea tree oil) also helps in refreshing the skin.
Pros
Non-drying formula
Detoxifies the skin
Minimizes fine lines, pores, and blemishes
Imparts a radiant glow
Treats breakouts
Hydrates the skin
Cons
These are some of the best natural face masks currently available. Let us look at the ingredients that you need to avoid while buying a natural face mask.
Ingredients To Avoid In Natural Face Masks
Sodium Lauryl Sulfate: Sodium lauryl sulfate is a chemical surfactant that is used for its cleaning properties in skin care products that are soapy or foamy. SLS is a toxic substance that can cause skin irritation, breakouts, and rashes.
Fragrance: Artificial fragrances can be highly toxic to your skin. They can be used to conceal harmful chemicals in your personal care or makeup products.
Parabens: These preservatives are found in most skin care products. They can cause hormonal disruptions as they mimic estrogen. They are also linked to the increased risk of breast and skin cancer.
Why Trust StyleCraze?
The author Shiboli Chakraborti is a certified skin care coach and a firm believer in natural face masks. The author highlights what is important to look for and what to avoid, helping her readers make the best decision. After digging through all the available reviews online, she has assembled the list of the top face masks along with tips on how to get the most out of them. These products contain many natural ingredients that nourish and moisturize the skin.
Frequently Asked Questions
Is a natural face mask good for every day use?
No, use a natural mask thrice weekly for the best results.
Do dermatologists recommend natural face masks?
No, not all dermatologists recommended using natural face masks. However, some dermatologists suggest using some tried and tested brands.
Do Koreans use natural face masks?
Yes, Koreans use face masks made of natural ingredients and devoid of harsh chemicals.
Can I use the same sheet mask twice?
No, most masks are for single use.
What is the best time to put on a face mask?
The best time to put on a face mask is after a shower, morning or evening. It is when your pores are open, and your skin is ready to absorb the goodness of nourishing ingredients.
Recommended Articles