9 Best Natural Face Washes For Dry Skin To Try In 2022
Avoid dry, dehydrated skin after every wash with the right skincare essentials.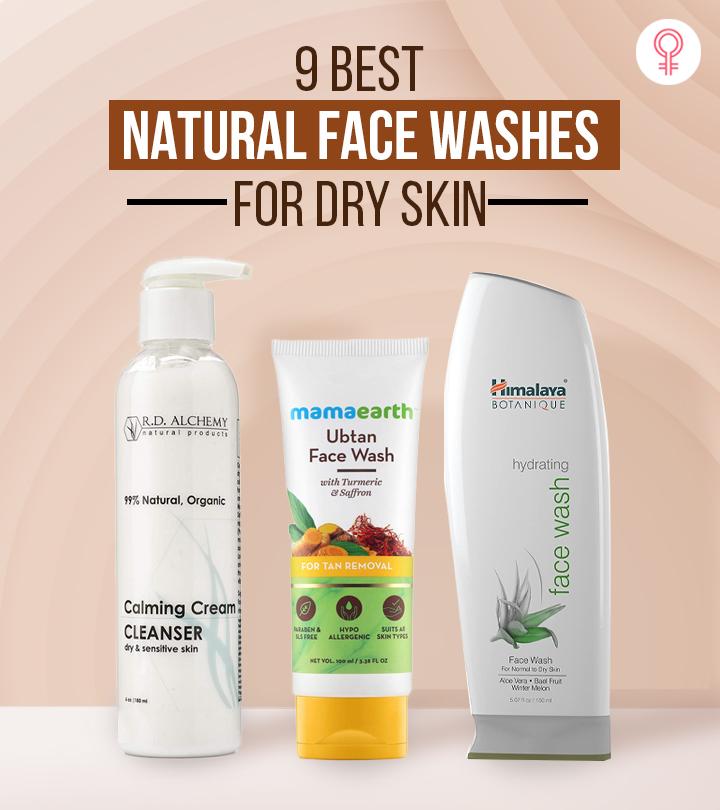 Most face washes can strip the skin of natural oils and aggravate dry skin further. But we have an alternative – we have come up with a list of the best natural face washes for dry skin, especially for you. These will cleanse the skin gently without drying, irritating, or damaging the skin barrier. These natural face washes are made with plant-based ingredients and formulations that are safe and hydrating. Say goodbye to dry, itchy, and flaky skin. Read on and pick your favorite now.
9 Best Natural Face Washes For Dry Skin
The Mamaearth Ubtan Natural Face Wash is formulated to remove tan, exfoliate the skin, and repair sun damage. It contains turmeric that adds a natural glow to the skin while delaying signs of aging. The formula also contains the antioxidant-rich saffron that imparts glow and soothes the skin and coconut oil that moisturizes and protects the skin. The walnut beads have excellent exfoliating properties that help remove dead skin cells and leave the skin bright and fresh. This restoring face wash is dermatologically tested and free of harsh additives that lead to dryness.
Key Ingredients: Turmeric, Saffron, Coconut oil, and Walnut beads
Pros
Dermatologically tested
Pleasant smell
A little goes a long way
Cruelty-free
Silicone-free
Paraben-free
Cons
May cause a burning sensation.
This natural face wash from Tree To Tub eliminates dirt, impurities, and makeup without overdrying the skin. It contains a blend of pure ingredients infused with a relaxing and refreshing scent of lavender.
The cleanser is enriched with soapberry that helps maintain the pH balance of the skin. Other ingredients like aloe vera, shea butter, chamomile, coconut cleansers, and acai berry hydrate and plump the skin. These nourishing and moisturizing ingredients may help fade blemishes and redness and soothe eczema and psoriasis. This cleanser does not cause itchiness or leave a sticky residue.
Key Ingredients: Soapberry, Aloe Vera, Coconut, Shea butter, Acai berry, and Chamomile
Pros
Pleasant scent
Dermatologically recommended
SLS-free
Silicone-free
Gluten-free
Cruelty-free
Vegan
Cons
Lily Sado's Milk & Manuka Ultra Moisture Face Wash has a creamy and smooth texture to strip away impurities gently without drying the skin. It contains minerals, vitamins, and zinc-rich coconut milk that moisturize and protect the skin from free radical damage.
The manuka honey in the formula has antibacterial properties to detoxify and cleanse the skin. It also contains tea tree oil that help reduce the appearance of large pores and clears excess oil and jojoba oil that controls bacterial growth to prevent acne, blackheads, and blemishes. The vitamins E and A enhance skin texture, while vitamin C rejuvenates and hydrates the skin and prevents wrinkles and fine lines. Aloe vera soothes the skin, promotes collagen production, and fills wrinkles and fine lines. Rosemary has antifungal properties to help prevent blemishes and redness and control excess oil.
Key Ingredients: Coconut milk, Jojoba, Rosemary, Tea tree oil, Aloe vera, Manuka Honey, Vitamins A, C, and E
Pros
pH-balancing
Lightweight
Pleasant fragrance
Paraben-free
Sulfate-free
Cruelty-free
Cons
May cause a stinging sensation.
The Himalaya Botanique Hydrating Face Wash maintains the skin's natural pH and lifts away dirt and impurities without stripping its natural oils. It contains aloe vera that hydrates and moisturizes the skin. The bael fruit deeply cleanses the skin to leave it feeling refreshed, while winter melon invigorates the skin and enhances its elasticity to make it supple and radiant.
Key Ingredients: Aloe vera, Winter melon, and Bael fruit
Pros
Gentle
Gluten-free
Paraben-free
SLS-free
Phthalate-free
Vegan
Cruelty-free
Cons
The Manuka Honey Facial Cleanser from Wild Naturals has a gentle formula that cleanses the skin while maintaining an optimum pH of 5.5. This non-stripping natural face wash uses organic aloe vera to soothe irritated skin and improve its appearance. It also contains manuka honey to deeply moisturize dry skin. The organic aloe soothes and hydrates the skin, vitamin E maintains a healthy glow, while cehami soothes irritation and redness on the skin.
Key Ingredients: Manuka honey, Aloe vera, Vitamin E, and Cehami
Pros
Lathers well
Gentle
SLS-free
Dye-free
Phthalate-free
Sodium chloride-free
No harsh preservatives
Cruelty-free
Cons
Does not remove waterproof sunscreen.
Naeli's Gentle Face Wash & Makeup Remover is specially formulated for dry and sensitive skin. The formula hydrates, purifies, and revitalizes the skin while removing impurities, makeup, buildup, and dirt. It helps maintain the natural moisture barrier to hydrate and restore the skin.
The face wash contains aloe, hyaluronic acid, and vitamins E and C. It also contains SuperBerry antioxidant extracts, including pomegranate, bearberry, mulberry, blueberry, and raspberry, to help the skin retain moisture and prevent dryness. This natural face wash also brightens and smoothens the skin due to the presence of minerals, vitamins, and poly nutrients that combat environmental aggressors that cause wrinkles and fine lines.
Key Ingredients: Hyaluronic acid, SuperBerry, and Vitamin C
Pros
Non-comedogenic
Hypoallergenic
Non-irritating
Soap-free
Alcohol-free
Dye-free
Paraben-free
Dimethicone-free
Phthalate-free
Cruelty-free
Vegan
Cons
The Neroli Face Wash from Zoi Naturals is naturally formulated with botanical extracts to enhance the appearance of your skin. This organic face wash has a gentle, non-irritating formula that maintains a pH of 5.5 while leaving the skin clean and hydrated. It repairs and rejuvenates the skin and prevents blemishes and breakouts. The soothing scent of neroli uplifts the senses.
This natural cleanser contains soapnut, a mild cleanser that lifts dirt and impurities from the skin. It also contains aloe vera that soothes the skin and enhances its texture. The coconut and olive oils moisturize the skin, neem prevents acne and pimples, while shea butter reduces the appearance of signs of aging, like wrinkles.
Key Ingredients: Soapberry, Neem, Aloe vera, Shea butter, Coconut oil, and Olive oil
Pros
Lathers well
Sulfate-free
Paraben-free
GMO-free
Gluten-free
Vegan
Cruelty-free
Cons
The NENA Cleansing Cream contains glacial oceanic clay to lift dirt, makeup, impurities, dead skin cells, and environmental pollutants from the skin. Its antioxidant-rich formula restores radiance by elevating cell renewal and enhancing collagen production. It is infused with over 60 minerals, rare earth elements, and glacial mineral water that balance and hydrate the skin from within.
Key Ingredients: Glacial mineral water and Glacial oceanic clay
Pros
Halal-certified
EWG-verified
Smells good
Vegan
Cons
RD Alchemy's Calming Cream Cleanser gently removes dirt, makeup, and impurities without drying the skin and keeps it soft, moist, and hydrated. This cream-based cleanser is infused with lavender, lemon balm, chamomile, oat, green tea, and licorice to intensely moisturize dull and dehydrated skin. It is also packed with natural humectants like allantoin and panthenol that repair damaged skin. The mild and natural lavender scent lifts your spirits and calms the senses, while the boost of hydration fades wrinkles and fine lines.
Key Ingredients: Green tea, Licorice, Chamomile, Lemon balm, and Lavender
Pros
Smells great
Soap-free
Sulfate-free
Paraben-free
Gluten-free
GMO-free
Cruelty-free
Cons
None
Why Trust StyleCraze?
Shiboli Chakraborti, the author, is a certified skin care coach who loves to use natural face washes for her dry skin. She relies on using these face washes because they cleanse the skin gently without drying, irritating, or damaging the skin barrier. The products mentioned in the list have been carefully reviewed by her to help her readers make the best pick.
Frequently Asked Questions
Which face wash is 100 percent natural?
The Mamaearth Ubtan Natural Face Wash is 100% natural with turmeric and coconut as the key organic ingredients.
Do face washes leave your skin dry?
No. Face washes with toxic chemicals and irritants can leave your face dry, but not natural face washes.
Should I wash my face in the morning if I have dry skin?
Yes. If your face feels dry in the morning, moisturize your skin after washing your face.
How often should you use a natural face wash on dry skin?
You can wash your face with a natural face wash twice daily to cleanse and hydrate it.
What are the benefits of natural face wash for dry skin?
•  Soothes dry skin.
•  Hydrates your skin.
•  Repairs damaged skin.
What ingredients should I look for in natural face wash for dry skin?
Look for turmeric, shea butter, coconut oil, aloe vera, olive oil, and honey in a natural face wash for dry skin.
Recommended Articles