10 Best Natural And Organic Facial Oils For Women – 2022
Get a healthy glow and improve your overall skin with these natural facial oils.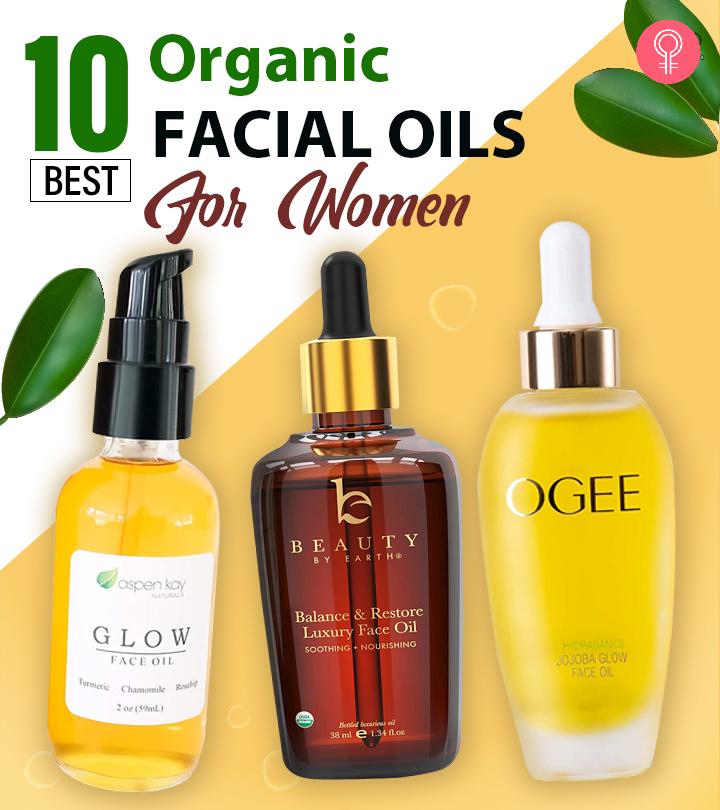 If you are on the lookout for the best natural facial oil that does not cause breakouts, clogged pores, and irritation, your search probably ends here. Using the right oils is essential to moisturize the skin and improve its radiance without causing any side effects. In this article, we bring you the 10 best facial oils for women that are both organic and effective. Take a look!
10 Best Organic Facial Oils For Women
The Aspen Kay Glow Face Oil contains pure rosehip seed oil, organic turmeric essential oil, jojoba oil, helichrysum essential oil, camellia seed oil, organic calendula, sea buckthorn oil, and organic chamomile. These organic ingredients offer moisture to the face and neck. Their anti-aging properties help reduce wrinkles, fine lines, and dark spots. The camellia seed oil contains rich antioxidants that revive and rejuvenate the skin. Squalane oil possesses anti-aging benefits, while the turmeric root and rosehip seed oil replenish the skin moisture barrier and combat the visible signs of aging. This oil suits all skin types, including sensitive skin.
Pros
Vegan
Cruelty-free
Suits acne-prone
Suits all skin types
Non-comedogenic
Cons
Price at the time of publication: $22.87
The Ogee Jojoba Glow Face Oil provides instant hydration, smoothness, and glow to the skin. It contains essential oils rich in vital antioxidants that improve complexion. This multifunctional facial oil is derived from five floral essential oils that brighten and hydrate your skin. It contains cold-pressed jojoba oil rich in essential fatty acids, vitamin E, and antioxidants that hydrate the skin without clogging the pores. The germanium flower essential oil promotes blood circulation and skin regeneration. Ylang ylang essential oil regulates oil production and enhances skin moisture. This pure facial oil increases skin elasticity and renews skin cells to prevent wrinkles. It also helps treat sunburns, breakouts, and skin inflammation.
Pros
Non-comedogenic
No residue
Fast-absorbing
Paraben-free
Synthetic fragrance-free
Dye-free
Petrochemical-free
Phthalate-free
Vegan
Lightweight
Non-greasy
Cons
May not suit sensitive skin
Price at the time of publication: $72
The Beauty by Earth Balance & Restore Luxury Facial Oil thoroughly nourishes and balances the skin. Its skin-restoring formula provides hydration and soothing effects to calm redness, rosacea, and breakouts. It is enriched with skin-nourishing ingredients like argan oil, rosehip seed oil, jojoba oil, olive leaf extracts, and other essential oils. The oil makes your skin soft and plump. It also contains sea buckthorn that intensely hydrates the skin and combats the acne-causing bacteria and redness. The calendula extracts in the oil promote new skin cell production and help revive skin texture.
Pros
Suits sensitive skin
Cruelty-free
Pleasant fragrance
Fast-absorbing
Lightweight
Cons
None
Price at the time of publication: $29.99
The Honest Beauty Organic Beauty Facial Oil works by restoring skin moisture. It contains skin-smoothing and nourishing ingredients like avocado oil, rich in fatty acids that soften the skin. It also has apricot oil that moisturizes the skin. The rose, ylang-ylang, and clove oils supply invigorating scents to offer you a relaxing experience. The chia seeds, jojoba oil, and perilla seeds nourish the skin and leave it feeling radiant. This oil suits sensitive skin.
Pros
Cruelty-free
Artificial fragrance-free
Paraben-free
Dye-free
Silicone-free
Paraffin-free
Dermatologically-tested
Toxicity-verified
Fast-absorbing
Non-greasy
Cons
None
Price at the time of publication: $25.65
The Shibui Anti-Aging Face Oil contains a beneficial blend of natural additives obtained from jojoba, apricot kernel, kukui nut, rosehip seed, marula, vitamin E, argan, and Tsubaki. This natural facial oil works by boosting cell renewal to improve skin elasticity and firmness. The vitamin A and gamma-linolenic acid from the apricot kernel oil tone the skin and fade the age spots. They also help reduce fine lines and wrinkles. The jojoba oil helps treat acne, irritation, inflammation, dryness, and dullness. This face oil's non-greasy formula gets quickly absorbed into the skin and leaves no residue. It can also help reduce stretch marks and dark circles and moisturize lips, cuticles, and hair.
Pros
Vegan
Cruelty-free
Non-comedogenic
Non-greasy
No residue
Fast-absorbing
Fragrance-free
Cons
None
Price at the time of publication: $35
The Elastalift Tea Tree Face Oil works as a natural cleanser to calm redness, rosacea, bumps, blotchiness, and irritated skin. Its healing formula contains witch hazel, tea tree oil, and vitamin E that improve skin texture. It restores skin radiance and shrinks enlarged pores due. Its safe formula suits all skin types, including sensitive skin. It evens out the skin tone. It is free of harsh additives and toxins.
Pros
Paraben-free
Sulfate-free
Dye-free
PEG-free
Triclosan-free
Mineral oil-free
Propylene glycol-free
Formaldehyde-free
Non-greasy
Fast-absorbing
Cruelty-free
Cons
None
Price at the time of publication: $12.84
The LA GREEN Moringa Multi-purpose Oil helps reduce wrinkles, saggy skin, and fine lines by lifting and firming the skin. This natural skin oil is derived from the first cold press of moringa oleifera seeds that soften and moisturize the skin. The oil also combats free radicals that cause oxidative damage and premature aging. It does not contain toxic chemicals and is a suitable choice even for babies. It can also be used during pregnancy to prevent stretch marks. This oil may also be applied to the scalp to ease dandruff, itchiness, and flakes.
Pros
Hexane-free
Alcohol-free
Cruelty-free
Safe for babies
GMO-free
USDA-certified
Cons
Price at the time of publication: $19.99
The Rovectin Barrier Repair Face Oil is fused with gentle, nourishing ingredients that repair skin moisture barrier. Its superior ingredients penetrate the skin and hydrate it from within. The plum seed extracts and vitamin E offer anti-aging benefits. Squalane, an olive oil derivative, makes skin soft and supple. The face oil also contains antioxidants derived from micro-algae that lift inflammation, neutralize free radicals, and promote youthful, even-toned skin. Its dermatologically-tested formula is safe for sensitive skin. It restores skin beauty by eliminating dead skin cells and combating free radicals that cause premature aging.
Pros
Cruelty-free
Paraben-free
Artificial color-free
Fragrance-free
Mineral oil-free
Suits all skin types
Steroid-free
Non-sticky
No residue
Hypoallergenic
Cons
None
Price at the time of publication: $30.0
The Thena Radiance Beauty Face Oil contains rich antioxidants and nutrients that help delay the signs of aging. Its plant-based additives include organic aloe vera, rosehip oil, vitamins C and E, jojoba oil, hyaluronic acid, and bergamot essential oil that keep your skin youthful. This organic face oil repairs the skin barrier and fights free radicals. It seals skin moisture with regular use. This organic facial oil can be applied both day and night to get the maximum benefits.
Pros
Lightweight
Non-greasy
Fast-absorbing
Non-comedogenic
Cruelty-free
Paraben-free
Cons
May cause a burning sensation
Price at the time of publication: $52.0
The Herbivore Natural Orchid Facial Oil has a gentle and skin-friendly formula. It contains jasmine sambac, Japanese camellia flower oil, and orchid extracts that protect the skin from free radicals. They also boost skin elasticity and prevent the signs of premature aging. The orchid extracts seal skin moisture while smoothening and conditioning it.
This face oil also has zinc, calcium, and magnesium that further promote skin health and radiance. Its camellia oil boosts skin luminosity, while the jasmine sambac oil improves skin elasticity and moisture levels. Squalane protects the skin moisture barrier and keeps skin hydrated.
Pros
Vegan
Cruelty-free
Suits all skin types
Lightweight
Non-GMO
Paraben-free
Mineral oil-free
Petroleum-free
SLS-free
Phthalate-free
Soy wax-free
Cons
Price at the time of publication: $66.0
Conclusion
Facial oils offer an easy and effective way to take care of your skin. The oils listed here are made of organic ingredients and seldom cause adverse reactions. Incorporate them into your skin care regimen today and see the results for yourself!
Why Trust StyleCraze?
Shiboli Chakraborti, the author of this article, is a certified skin care coach. She has tried several products and believes it is always better to choose natural facial oils over others. She has gone through reliable reviews and studies to curate this list of women's best natural facial oils. These multipurpose oils help you improve and moisturize the skin without side effects.
Frequently Asked Questions
Is natural face oil good for your face?
Yes, natural face oil offers moisturization, glow, and anti-aging benefits to the face.
What are the best ingredients in facial oil?
Squalene, turmeric, jojoba oil, almond oil, rosehip oil, and argan oil are some of the best ingredients in facial oil that work wonders for skin texture and tone.
Does natural face oil go on before or after moisturizer?
This depends on which product is lightweight and gets absorbed quickly. If your facial oil is lighter than your moisturizer, then it goes first. Otherwise, your moisturizer goes on before.
Does natural facial oil help with dry skin?
Yes, facial oils offer moisturizing benefits that help treat dry skin types.
How long does natural facial oil last?
An opened bottle of cold-pressed facial oil lasts about 6-8 months.
How long do you see results from natural facial oil?
If used regularly, you may notice visible and long-lasting results from your facial oil in 4-6 weeks.
How to apply natural oils to your face?
Apply facial oil after cleansing the face and before or after moisturization. If you are using a serum, apply the oil after the serum.
Recommended Articles