The 11 Best Natural Gas Grills – Reviews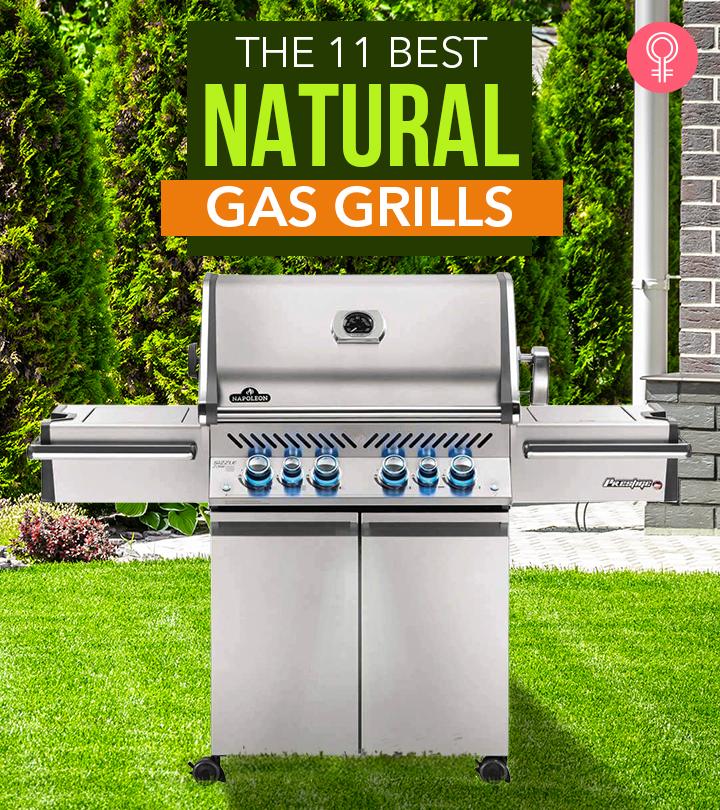 Natural gas grills are convenient to use and offer better temperature controls. That's why many prefer them over pellets or charcoal grills. They are versatile, long-lasting, and also save your time and money – making them a perfect companion for your backyard grilling sessions. We have listed 11 best natural gas grills for your consideration. Scroll down to check them out!
11 Best Natural Gas Grills
The Weber Natural Gas Grill comes with a 10-foot hose that allows setting up your grill at your backyard quickly. It is equipped with a GS4 grilling system, enhanced ignition process, improved burners, and flavorizer bars. The grease management system takes care of any extra oil seeping into the device. The cooking grates are reversible, made from cast iron, and porcelain-enameled. Its thin side is ideal for delicate food, such as fish and shrimp, while the wide side enhances the flavor of your food by creating a thick sear mark. The open-cart design with six tool hooks and built-in lid thermometer provide extra room and easy accessibility of your grilling tools. You can fold down the left side table of the grill with the click of a button to save space. The easy-to-read fuel gauge lets you see how much fuel is left in the tank.
Specifications
Dimensions: 52 x 26 x 57 inches
Cooking Space: 529 sq. in.
BTU: 26,500
Side Burner: Yes
Number Of Burners: 3
Warranty: 10 years
Pros
Easy to clean
Open cart design
Foldable side table
Easy-to-read fuel gauge
Built-in lid thermometer
Cons
The Flame King Natural Gas Grill is the best option for your RV, trailer, motorhome, and tailgating and camping events. It comes with a mounting bracket to mount it quickly onto the side of your RV/trailer. The device includes an easily adjustable flame controller and upper grill deck. The hanging rack can also be used as legs to make the grill free-standing. It is designed with locking retainer pins and dual locking lid for secured mounting and storage.
Specifications
Dimensions: 22 x 11 x 17 inches
Cooking Space: 214 sq. in.
BTU: 16,000
Side Burner: No
Number Of Burners: 1
Warranty: 10 years
Pros
Affordable
Portable
Easy to use
Easy to clean
Includes an installation guide
Cons
Might not cook evenly
The cooking grates might rust.
The Lion Premium Grills Natural Gas Grill is made of stainless steel with a handle length of 4.5 inches. The cooking grates are coated with premium stainless steel, making it durable. Its double layer, welded stainless steel smoker head comes with polished edges.
Specifications
Dimensions: 24.25 x 32 x 21.5 inches
Cooking Space: 830 sq. in.
BTU: 75,000
Side Burner: No
Number Of Burners: 4
Warranty: 10 years
Pros
Cons
The Char-Boil Natural Gas Grill has porcelain-coated grates for better heat transfer and prevents food from sticking. The warming rack keeps the food warm and away from direct heat, and the piezo ignition ensures a reliable start. Its black metal side shelf provides an additional cooking space to prep and plate your food. The stainless steel in-line burners and porcelain-coated steel lid and firebox are durable and rust-resistant.
Specifications
Dimensions: 35 x 18.5 x 16 inches
Cooking Space: 360 sq. inches
BTU: 8,000
Side Burner: Yes
Number Of Burners: 3
Warranty: 10 years
Pros
Easy to maintain
Durable
Rust-resistant
Cons
The Camp Chef Natural Gas Grill uses a matchless ignition method. The burners are made of aluminum, and the heat-control knobs are fully adjustable. This unit features a specially designed heat diffusion system and a pre-seasoned cast iron grill grate for perfect sears. The removable, leveling legs and the foldable side shelf ensure easy storage and better portability. The product package also comes with a regulator and a hose.
Specifications
Dimensions: 15.75 x 24 x 7 inches
Cooking Space: 608 sq. in.
BTU: 90,000
Side Burner: Yes
Number of Burners: 3
Warranty: 10 years
Pros
Long-lasting
Portable
Easy to store
Includes removable grill box (hose and regulator)
Cons
Uneven heating
The regulator might malfunction.
Poor customer service
The Napoleon Natural Gas Grill comes with LED Spectrum night light control knobs that ensure user-safety. The infrared sizzle zone burners force ignited gas through numerous small holes in a ceramic plate. This makes the device produce heat up to 1800 ° F in only 30 seconds, enabling high-heat searing. Its infrared rear rotisserie burner is made of premium stainless steel.
Specifications
Dimensions: 25.5 x 66.5 x 51.75 inches
Cooking Space: 900 sq. in.
BTU: 80,000
Side Burner: Yes
Number of Burners: 4
Warranty: 10 years
Pros
Easy to use
Durable
Easy to maintain
Versatile
Cons
Poor assembly instructions
Less value for money
The Weber Genesis II S Natural Gas Grill features the new GS4 grilling system along with a grease management system, an infinity ignition system, stainless steel flavorizer bars, and high-quality burners. It has four main burners, one side, and one sear burner. The solid stainless steel rod cooking grates of 7mm diameter provide superior heat retention and even distribution. The iGrill 3 app-connected thermometer monitors food and notifies the real-time temperature on your mobile device.
Specifications
Dimensions: 65 x 29 x 47 inches
Cooking Space: 844 sq. in.
BTU: 69,000
Side Burner: Yes
Number Of Burners: 4
Warranty: 10 years
Pros
Easy to use
Effortless cleaningEasy to clean
3D interactive assembly instructions
Cons
Does not heat up quickly.
The Weber 66015001Genesis II E-315 Natural Gas Grill features the iGrill 3 technology, which makes grilling easy. The porcelain-enameled lid retains heat and prevents spillage. Its side tables and hooks keep the essential grilling tools within arm's reach for easy access. The drippings are funneled away from the burners into the disposable drip tray, within the removable catch pan under the cook box.
Specifications
Dimensions: 31 x 59 x 62 inches
Cooking Space: 513 sq. in.
BTU: 39,000
Side Burner: Yes
Number Of Burners: 3
Warranty: 10 years
Pros
Easy to assemble
Easy to maintain
3D interactive assembly instructions
Cons
The Magma Natural Gas Grill is constructed from 100% mirror polished stainless steel and has an elegant, round edge design. Its combustion system is efficient and will not blow out. The integrated foldable legs and full-length stainless steel handle enable easy mounting and transporting. This gas grill uses an ignition mechanism made out of electronic pulses that lights at the very first instance. The lockable, balanced lid does not slam shut and secures the grill's inner components.
Specifications
Dimensions: 16.3 x 12.8 x 13.9 inches
Cooking Space: 108 sq. in.
BTU: 10,700
Side Burner: No
Number Of Burners: 1
Warranty: 10 years
Pros
Round edge design
Durable
Ease to use
Easy to maintain
Cons
Less cooking surface area
The Cuisinart Propane Gas Grill features an extra-large cooking area and a warming rack. The cast-iron cooking grates retain heat for a longer duration and help radiate it evenly.  The four stainless steel burners provide maximum control over the heat. This natural gas grill is equipped with a built-in thermometer, bottle opener, and two tables on both sides for placing your food. It features a drip tray to collect grease and drippings, a twist start ignition, and a 4-foot hose.
Specifications
Dimensions:54 x 22.5 x 46.5 inches
Cooking Space:443 sq.in.
BTU:44,000
Side Burner:No
Number of Burners:4
Warranty:3 years
Pros
Extra-large cooking area
Durable
Portable
Cons
The Summerset Natural Gas Grill is constructed from stainless steel, making it rugged, durable, and suitable for outdoor cooking. The side burner is convenient for range top cooking and grilling simultaneously. This device features a protective lid, contoured grates, and LED front panel. It also comes with a conversion kit to change your fuel source from natural gas to liquid propane.
Specifications
Dimensions: 24.15 x 14.75 x 12 inches
Cooking Space: 216 sq. in.
BTU: 15,000
Side Burner: Yes
Number Of Burners: 2
Warranty: 10 years
Pros
Compact
Portable
Sturdy
Easy to use
Easy to maintain
Cons
None
That was our round-up of the best natural gas grills. Listed below are a few factors to keep in mind while buying a gas grill.
How To Choose The Best Natural Gas Grills – Buying Guide
A natural gas grill should be highly balanced without being shaky – even if it has wheels for quick transportation. You can also find propane gas grills that can be converted easily to natural gas grills by changing the fuel source. If you are buying a convertible device, ensure that it is sturdy and durable.
Burners are one of the commonly replaced items in a natural gas grill as they get burnt out. Burners are made of different materials – cast iron, brass, or stainless steel. Ensure that the product comes with 5-10 years of warranty.
The grates are one of the main components in a gas grill. These grates endure the heat that burners give out, so you need to look at durable ones. Some of the common materials used are stainless steel, cast iron, and porcelain.
A reliable ignition system is not only convenient but also safe. There are two types of ignition procedures – alkaline battery and quartz. The alkaline battery uses voltage to start the fire, while the quartz plate uses sparks (with the help of a striking hammer) to get the fire going. Pick one based on your preference.
Most gas grills are placed permanently inside your home or backyard. If you are looking for ultimate mobility, go for convertible devices (propane to natural gas and vice versa). You can also choose a device with wheels for easy and safe portability.
The lighting system helps you see the burner controls and cooking area. Most grills come with a LED lighting system that lights up the cooking surface to ensure that the controls and food are visible regardless of the time. If you want to use your gas grill both during day and night, go for a product with a lighting system.
Most professional gas grills come with side burners (either one or two) for cooking small items. If you have a medium to large-sized family, choose one with a side burner.
Choose a gas grill with sufficient storage options. This will help to keep your cooking accessories safe and save time, without scouring your home to find something. A gas grill with a storage unit may cost a little more, and it is always worth it.
Let's now look at the types of gas grills.
Types Of Gas Grills
This is one of the cleanest fuels for home usage as it impacts the greenhouse cycle positively and helps in sustainable development. The system uses natural gas for cooking and is energy-efficient.
This type of grill is also efficient and cost-effective. The system uses liquid propane for cooking, which is equally clean and comfortable, like natural gas.
Purchase a natural gas grill that matches your requirements. Also, take care of the product in the best way to enhance its efficiency. Choose your favorite gas grill from our list and enjoy your cooking!
Frequently Asked Questions
Are natural gas grills safe?
Yes, natural gas grills are safe for use.
Which one is the best natural gas vs. liquid propane?
There is no clear-cut winner between these two types of gas grills. Both are clean fuels, efficient, and easy to obtain. You can use either of them.
What is the difference between gas and charcoal grills?
In gas grills, the system uses either propane or natural gas for cooking. Charcoal grills use charcoal as the primary fuel source for cooking.
Can I use wood chips on a natural gas grill?
No, you cannot use wood chips on a natural gas grill. A natural gas grill uses only natural gas as the primary fuel source.
What does BTU mean?
British Thermal Unit (BTU) is the unit to measure the amount of heat produced. This unit indicates the temperature produced in a gas grill.
How long should a grill last?
A good quality gas grill can last 10 years or even more if maintained properly.
How hard is it to clean a grill?
Gas grills are easy to clean if done the correct way. Some models come with automatic grease management systems that take care of the excess cooking oils and grease, making the cleaning process easy.
How does CR test grills?
CR emphasizes factors that make the cooking process simple and straightforward – the ignition system and storage of the unit. They also look at the build quality of the product – the body, burners, and grates. Apart from these, extra features, such as accessories, LED lighting systems, side burners, are also taken into consideration.
Recommended Articles
The following two tabs change content below.

Latest posts by Harini Natarajan (see all)

Harini Natarajan
As Chief Editor, Harini sets the tone and editorial direction for StyleCraze to deliver engaging, interesting, and authentic content revolving around women's health, wellness, and beauty. She has over 14 years of experience in content writing and editing for online media. She specializes in the areas of Beauty, Lifestyle, and Health & Wellness and is proficient in Medical Sciences (Biology, Human Anatomy and Physiology, and Biochemistry). Her background in Biomedical Engineering helps her decode and interpret the finer nuances of scientific research for her team. Harini is a certified bibliophile and a closet poet. She also loves dancing and traveling to offbeat destinations.