15 Best Natural Hair Conditioners To Try Out In 2023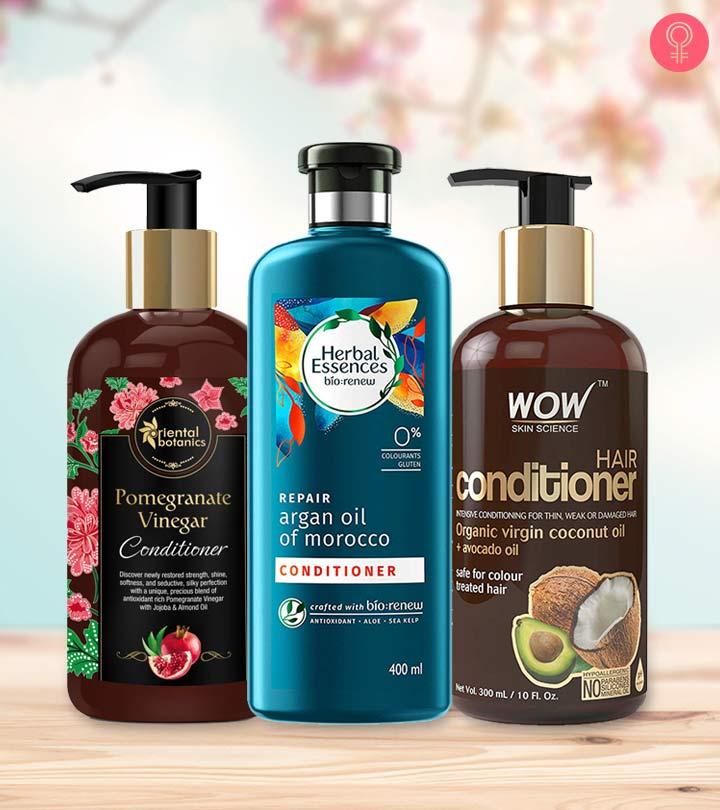 Hair plays an important role in forming the exterior image of a person. However, finding the perfect hair conditioner for your unmanageable, frizzy, and damaged hair can be a difficult process. The hunt becomes even more difficult if you are looking for a natural hair conditioner. A conditioner that is suitablethat gives you luscious and bouncy hair and is also made of natural ingredients could be a bit tricky to find. So, here we have compiled a list of the 15 best natural conditioners for all your hair problems. Check them out!
15 Best Natural Hair Conditioners — 2023
After shampoo, your hair needs to be conditioned with a balanced formula. This particular conditioner suits all types of hair, giving them great texture and shine. It is made of virgin coconut oil and avocado oil mixed with fresh wheat protein that moisturizes and nourishes your hair and scalp. It reduces frizz, split ends, hair fall, and other hair problems. It also treats the damage caused by heat styling and pollution. This Wow conditioner helps your hair regain its natural smoothness and shine from the very first usage.
Pros
Paraben-free
Sulfate-free
Controls and repairs damage
Adds natural shine to the hair
Cons
Not suitable for dry hair
Price at the time of publication: ₹324
Silk 18 Hair Conditioneris chemical-free and made with natural ingredients. This natural conditioner is gentle on colored hair. Its natural ingredients help control split ends and give a lustrous look to your hair. This is the best hydrating moisturizer for curly hair. It is infused with jojoba oil for better hair growth and is suitable for all hair types. It also contains argan oil, hibiscus, shea butter, green tea, sea buckthorn, jojoba oil, and aloe vera.
Pros
Suitable for dry hair
Repairs hair damage
Leaves your hair feeling silky and smooth
Safe for color-treated hair
Sulfate-free
Cons
Smooth and silky hair is desired by all. This reliable conditioner by Herbal Essences is a must-try for dry and frizzy hair. It contains argan oil of Morocco, which repairs damaged and dull hair. It leaves your hair smelling of creamy vanilla, exotic spices, and citrus fruits.
Pros
Smoothens hair
90% naturally available ingredients
Repairs damaged hair
Cruelty-free
Recognized by PETA
Cons
Looking for a conditioner that protects your hair from damage? Try out Khadi Mauri Herbal Hair Conditioner. It is the best natural conditioner for dry and damaged hair. Its ingredients include brahmi, almond, heena, and aloe vera to give the finest results. It protects your hair from daily damage, i.e., heat and humidity, as well as from the damage caused by heat styling.
Pros
Increases the hair elasticity, making it stronger and smoother
Aids hair growth
Strengthens hair from the roots
Helps rebuild the hair texture
Decreases hair loss
Inexpensive
Cons
Oriental Botanics Pomegranate Vinegar Conditioner is formulated with pomegranate vinegar that is a potent oxidant. Thus, it fights against free radical damage. It also contains almond, jojoba, grapeseed, and avocado oils and vitamin B5, vitamin E, shea butter, and hydrolyzed silk protein. This conditioner deeply nourishes your hair and scalp to give your lusciously shiny tresses.
Pros
Sulfate- and paraben-free
Makes your hair more manageable
Adds shine
Pleasant fragrance
Cons
Khadi Natural Shikakai And Honey Herbal Hair Conditioner gives you soft and manageable hair with a fresh and pleasant fragrance. It is blended with shikakai, honey, almond oil, jojoba oil, aloe vera extracts that deeply nourish the scalp, relieve it from irritations while adding strength and shine to the hair. It repairs hair dryness and adds volume to give you healthy, bouncy hair.
Pros
Inexpensive
Suitable for all hair types
Pleasant fragrance
Suitable for both men and women
Cons
Might cause hairfall for some people
Doesn't lather well
Get gorgeous, soft, silky, and voluminous hair that flows and shines like never before with the help of Tree To Tub Argan Oil For Hair Conditioner. This is the best natural hair conditioner for dry hair. It deeply moisturizes your scalp with the help of ingredients like shea butter and coconut oil.  
Pros
Reduces dandruff and frizz
Chemical-free
No added perfume
Sulfate- and paraben-free
Free of artificial fragrances
Recommended by dermatologists
Safe for color-treated hair
Cons
Price at the time of publication: ₹28.99
Onion offers many benefits for your hair. The combination of coconut and onion aids healthy hair growth by improving the blood circulation in the scalp. The almond oil and coconut oil help in smoothening your hair, making it frizz-free and soft. This conditioner is suitable for all hair types, and it works well on chemically-treated hair.
Pros
Nourishes your scalp
Strengthens your hair from root to tips
Free of parabens, sulfates, dyes, and silicone
Suitable for dry hair
Cons
Unpleasant onion fragrance
Himalayan Organics Morrocan Argan Conditioner gives you lusciously thick and shiny hair. It is rich in vitamins and minerals that make your hair healthier and stronger. This is the best conditioner for anyone experiencing hair loss. It is affordable and gives great results.
Pros
Helps in detangling your hair
Reduces hair fall
Protects your hair from the damage caused by heat styling and humidity
Nourishes the hair follicles
Cons
This leave-in conditioner is great for frizzy, unmanageable hair. It does not cause any damage to your hair. The natural ingredients in this conditioner nourish your hair, giving it the perfect texture and shine while making your hair feel soft and smooth. This conditioner revitalizes your hair without weighing it down.
Pros
Helps in humidity resistance
Adds shine and improves hair quality.
Prevents hair damage and hair loss
Cons
Price at the time of publication: ₹5676
The Mom's Co. Natural Damage Repair Conditioner is great for damaged hair. It repairs the texture of your hair while adding volume and strengthening it from root to tips. The shea butter, keratin, and Moroccan argan oil in this shampoo add natural shine and softness to your hair and reduce split ends.
Pros
Moisturizes your hair
Makes your hair soft and smooth
Helps in reducing split ends
Suitable for men and women
Suitable for all hair types
Adds volume
Creates a protective layer around the hair root
Sulfate- and paraben-free
Cons
This product by Om Botanical is the perfect Ayurvedic remedy for all your hair problems. It prevents hair loss and dandruff and helps your hair regain its original strength. Use it after shampooing your hair to get detangled, smooth, and shiny tresses. This conditioner can also be used as a styling gel to create a lustrous and stylish look. This is the best organic leave-in hair conditioner.
Pros
Silicone-free
Thickens hair
Safe for color-treated hair
Restores your hair's natural shine
100% biodegradable product and packaging
Cons
This luxurious conditioner deeply hydrates your hair, leaving it softer and smoother. The Himalayan Organic Banana Conditioner is the best solution for all kinds of hair problems. It contains the real pulp of banana, which makes it not only intensely moisturizing but also extremely safe for your hair.
Pros
Locks in moisture
Makes dry hair more manageable
Improves the hair texture
Adds shine
Protects the hair from environmental damage
Cons
Not suitable for thick hair
Frizzy and unmanageable hair needs the care and nourishment provided by Arata Zero Chemicals Natural Hair Conditioner. The green apple, maple, and lemon extracts and castor oil in this conditioner keep your hair glowing and silky. It is a great natural conditioner for dry hair. Flaunt your hair flawlessly after using this conditioner as it moisturizes and nourishes your hair, making it smooth and shiny.
Pros
Vegan
Makes your hair more manageable
Cruelty-free
Recommended by dermatologists
Cons
Not suitable for fine hair
Patanjali Kesh Kanti Damage Control Hair Conditioner nourishes and protects your hair with the help of sunflower oil, hemp seed oil, aloe vera, and amla. The natural ingredients of this conditioner help in smoothening and strengthening your hair from roots to tips.
Pros
Adds natural shine to your hair
Inexpensive
Cons
The color of the product may change over time
All the natural hair conditioners mentioned above are safe and will protect your hair from harsh chemicals. Checking the product's ingredients list is important to understand what you are buying. Here are the ingredients you need to be wary of while buying hair conditioners.
What To Consider Before Buying Natural Hair Conditioners
Ingredients
The ingredients mentioned below should be avoided while purchasing natural hair conditioners:
Isopropyl Alcohol: This ingredient has a drying effect on your scalp and hair. It is used in many conditioners since it evaporates quickly. It takes moisture out of your hair and can irritate. In the long run, regular use of isopropyl alcohol can cause damage to your heart, respiratory system, and nervous system. It can also cause skin irritation and redness since it is a highly flammable substance.
Silicone: Silicone is a mineral that is used to make your hair feel soft and silky. Regular use of products containing silicone can make your hair look dull. It is not a natural ingredient and can cause serious side effects in the long run. It is basically like feeding your hair with plastic or rubber. Products that include silicone may make your hair look healthy in the beginning due to the shine it provides. But the chemical builds up over time and makes your hair brittle and frizzy.
Triclosan: Triclosan is a synthetic microbial that is used in hair conditioners to kill germs and prevent bacterial growth. But it can cause danger to your hormones and the endocrine system. It can affect your immune system in the long run. It can also increase the risk of breast cancer. It may irritate the eyes and skin too. Regular use of products with triclosan can be toxic to your health.
Parabens: Parabens are chemicals that are used in many hair products for their anti-fungal and antibacterial properties. But they may irritate the skin and cause dermatitis, rosacea, and other skin allergies. A hair conditioner using parabens will make hair dry and brittle. Parabens can tear the cuticles around the hair shaft and make hair look dull. Parabens are also found in tumors and can cause hormonal imbalances.
Sulfates: Sulfates are used in hair products to produce lather. They are added in hair conditioners to avoid making the formula oily and shiny. Both sodium lauryl sulfate (SLS) and sodium laureth sulfate (SLES) are detergents that can irritate your eyes, skin, and hair. These detergents can be tough on your hair and can cause dryness and flakiness. Using a conditioner with sulfates on colored hair can fade the color faster.
Recommended Articles: