12 Best Recommended Natural Hair Products For Kids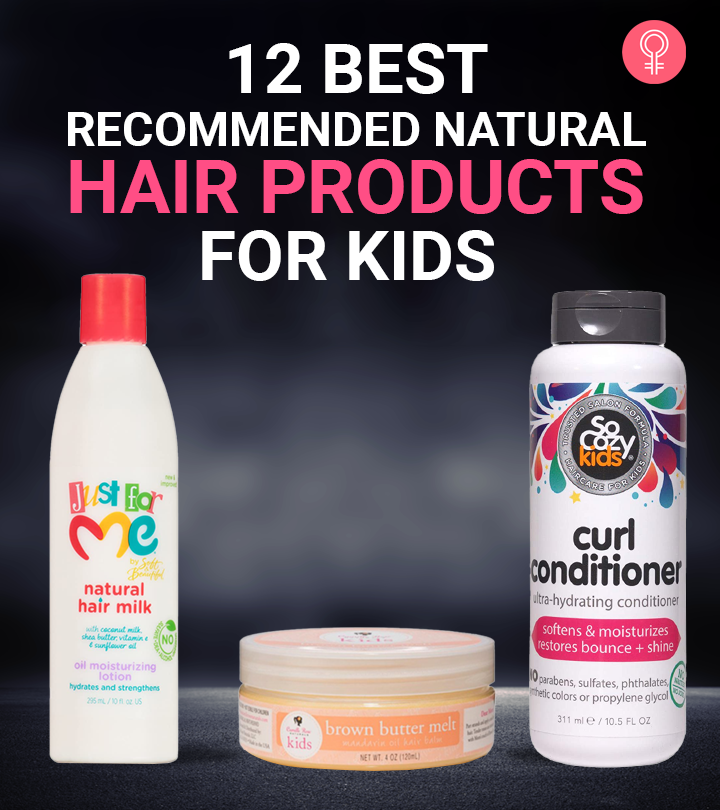 Are you looking for the best natural hair products for kids? Well, the wait ends here. Kids are blessed with soft and natural hair that is easy to clean and manage. All they need is something gentle and non-allergic to keep up with their routine. While you might get overwhelmed by the list of endless products in markets, we have a list of 12 kid's hair care products to make your choice easier. Just make sure you go through the ingredient list and keep all kinds of allergens your kids are allergic to in mind before selecting the perfect product.
12 Best Hair Products For Kids With Natural Hair
This nourishing trio from SheaMoisture includes a 2-in-1 shampoo and conditioner, detangler, and a curling buttercream. The shampoo and conditioner combo is enriched with shea butter, coconut oil, and hibiscus flower extract that treats dry curls and makes them frizz-free. A perfect blend of coconut oil, hibiscus flower extract, and slippery elm extract makes the detangler perfectly hydrating and soothing for toddler's soft and curly hair strands. The curling buttercream is an excellent hairstyling product for your little munchkin that moisturizes the hair and also adds sheen to the locks. These products are free from harmful chemicals. Go through this video review for a detailed understanding of the product.
Pros
Lightweight
Non-greasy
Non-drying qualities
Paraben-free
Sulfate-free
Pleasant fragrance
Con
None
This nourishing hair balm from Camille Rose Naturals is enriched with mandarin oil that revives dull hair and restores the natural glow of your kid's natural hair. This brown butter melt is a blend of shea, cocoa, and mango butter that soften the hair and intensely nourish the tresses.
The vitamin-enriched oils from olive, orange, and sunflower in the product moisturize dry scalp and reduce dandruff. This hair balm offers extra nourishment, helps in detangling hair strands, and stimulates your munchkin's tender scalp.
Pros
Intensely moisturizing
Good scent
Does not flake
Non-greasy
Con
None
This Natural Hair Milk from Just for Me is an oil moisturizing lotion that seals moisture in the hair shafts to keep them soft and smooth. It is formulated with a blend of shea butter, soya milk, and honey that restores hair moisture after each wash. The coconut oil in this hair lotion penetrates deep into the hair cuticles, providing intense nourishment.
Moreover, this is crafted using a lightweight formula that controls frizz without leaving a heavy and greasy feeling. Check out this video for a detailed review of the product.
Pros
Easy-to-use
Lightweight
Non-greasy
Con
None
This Satin Bonnet Sleeping Cap by ELIHAIR is perfect for protecting and maintaining natural and kinky hair. This is made of high-grade silk-satin and is breathable, lightweight, and skin-friendly. This double-layered, reversible, and adjustable sleeping cap minimizes friction and hair breakage. The drawstring in the cap helps in adjusting it as per your kid's head size. This cap comfortably holds natural hairs, braids, hair clamps, up-dos, long hair and rollers.
Pros
Hypoallergenic
Adjustable
Double-sided
Lightweight
Skin-friendly
Regulates heat
Con
This Curl Conditioner from SoCozy makes detangling natural hair painless and easy. It has a lightweight formula that controls frizz and does not weigh down the hair. The conditioner contains natural ingredients like mango seed butter that retains moisture for longer. Ingredients like the papaya extract make hair healthy and manageable while the hydrolyzed rice protein in the product repairs hair, protecting it from breakage.
Pros
Paraben-free
Sulfate-free
Synthetic color-free
Gluten-free
Wheat-free
Nut-free
Good scent
Con
This Leave-In Conditioner from SoCozy comes in a spray bottle and nourishes the curls with olive and jojoba oil. These ingredients strengthen hair strands and add sheen to them. Olive oil helps in softening the tresses for easy detangling and replenishes them with vital nutrients. It also contains vitamin B5 that repairs damaged hair and nourishes it deeply.
A generous spray of this chemical-free curl conditioner on dry or damp hair revives the curls faster. This product prevents frizz, adds bounce and shine, and leaves behind a fresh sweet-pea fragrance.
Pros
Paraben-free
Sulfate-free
Synthetic color-free
Minimizes frizz
Good scent
Con
Heavy textured
Sticky
Leaves residue
This Curling & Twisting Custard from Aunt Jackie's moisturizes the natural curls of your munchkins. The liquid cream-like texture of this product spreads smoothly over wavy and curly hair adding luster to them. This hair cream is enriched with coconut oil, shea butter, and extra virgin olive oil that moisturizes and nourishes the curls, braids, two-strand twists, plaits, and coils. This product has an anti-frizz formula that offers a long-lasting smoothness to the curls. Moreover, this hair custard leaves your kid's hair soft without making it sticky or crunchy.
Pros
Anti-frizz
Long-lasting
Soft feel
Good scent
Leaves no residue
Con
May feel heavy
Makes hair slightly dry
The Growth Complex Scalp Stimulator is an amazing natural hair product for kids from J'OrganicSolutions. This hair grease is enriched with vital nutrients that stimulate the hair follicles and promote faster hair growth. It is formulated with organic ingredients like lanolin, sweet almond oil, castor, shea butter, and green tea extract.
This scalp stimulator is lightweight and non-sticky. It adds volume to the hair and strengthens it while leaving behind a fresh fragrance.
Pros
Non-sticky
Fragrance-free
Petroleum-free
Cruelty-free
Harmful chemicals-free
Con
No more struggling with tangled hair as this Detangling Hair Brush Set by RW01 helps you detangle and style kinky, coily, and natural hair without tugging. This set includes five detangling brushes – EZ detangler brush, edge brush, rat tail comb, hair cutting comb, a cleaning tool, and a size control bar to meet all hair styling needs. This durable set of hairbrushes are comfortable to use and work well on extremely thick and curly hair. Moreover, this product is family-friendly that makes it a great set for the whole family.
Pros
Easy-to-use
Durable
Comprehensive design
Con
None
This Hair Gel from Little Roseberry is a chemical-free styling gel suitable for toddlers and babies. This is formulated with 100% pure aloe juice and witch hazel extracts that deeply nourish the hair follicles and supports hair growth. This hair gel is lightweight, non-greasy, and safe for your baby's delicate hair strands.
This formula does not leave behind any flakes or residue and is infused with vitamin B5 that conditions and moisturizes hair and controls stubborn flyways while maintaining natural curls..
Pros
Contains natural ingredients
Paraben-free
Sulfate-free
Fragrance-free
Cruelty-free
Residue-free
Dye-free
Non-greasy
Con
This Moisturizing Hair Mist from CARA B Naturally detangles naturally curly hair with ease. It is infused with jojoba and sweet almond oils that moisturize and add shine to the delicate strands. The spray leaves behind a refreshing chamomile scent and is devoid of chemical additives and synthetic colors. It is suited for kids with eczema and soothes sensitive skin. This NPA-certified non-allergic and moisturizing hair spray adds a healthy shine to your child's hair without leaving behind any greasy residue.
Pros
Paraben-free
Sulfate-free
Phthalate-free
Petroleum-free
Phenoxyethanol-free
Artificial fragrance-free
Clinically tested
Eczema-friendly
Non-sticky
Con
May dry out hair
Heavy textured
This Mixed Hair Care Super Detangling Spray from CurlyKids is perfect for natural hair. Its unique formula prevents tangle and hair breakage while providing intense conditioning. This unisex hair detangling spray tames dry hair, adds moisture to it, and promotes healthy hair growth without any greasy residue. Moreover, this is free from harmful chemicals.
Pros
Sulfate-free
Paraben-free
Non-sticky
Good-scent
Residue-free
Con
Why Trust StyleCraze?
Shiboli Chakraborti, the author, is a hair care enthusiast. She has listed the above products by carefully reviewing hundreds of user feedback and product descriptions on multiple platforms online. This list of the best natural hair products for kids include gentle, non-allergic, and thorough cleansing formulas for their soft hair and are free of harmful chemicals.
Recommended Articles
Best Shampoos For Kids
Best Safe Hair Styling Gels For Kids
Best Shampoos And Conditioners For Kids
Best Organic Curly Hair Products
Best No-Harm Hair Oils For Babies