10 Best Natural Hair Serums Available In India
Give your tresses all the love and care with hair growth formulas.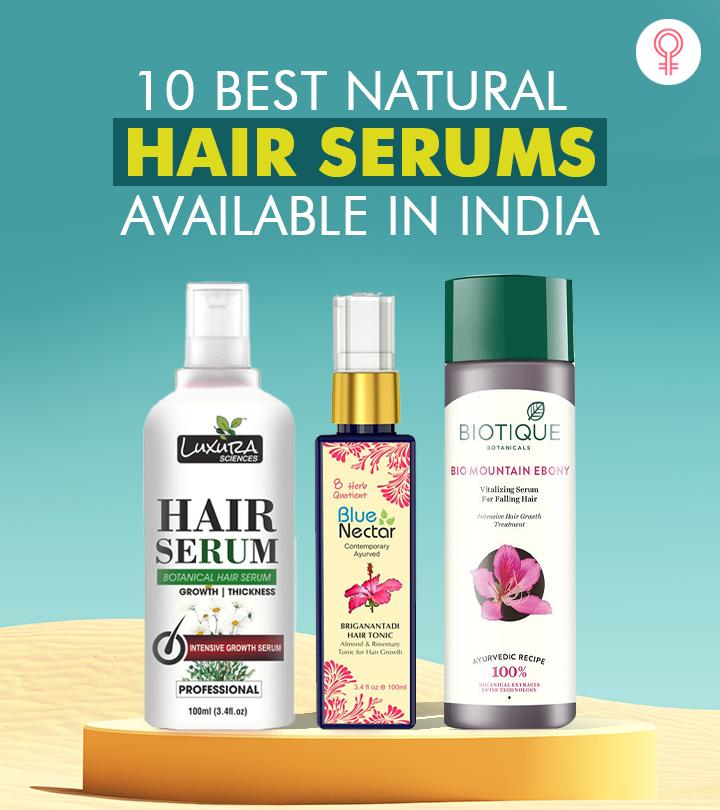 Your hair requires the same kind of care that you offer to your skin. Smooth and shiny hair reflects the amount of attention it gets to look healthy and nourished. But it does not come easy. You need to move beyond shampoos and conditioners and look for products that offer optimum hair care. That's where hair serums come into the picture.
Hair serums offer a great way to keep your hair smooth, tangle-free, and shiny. They not only help tame frizz but also prevent issues like split ends, breakage, and dryness. Their heavenly scent lingers on your hair to add that extra dose of freshness. Natural hair serums are the best as they do not contain harsh chemicals that can damage your strands. If you want to know which ones to buy, check out the 10 best natural hair serums in India. Scroll down!
10 Best Natural Hair Serums Available In India
The Biotique Bio Mountain Ebony Vitalizing Serum stimulates hair growth, prevents irritation and dryness, and tones the scalp. The formula is enriched with mountain ebony, glycyrrhizin, long pepper, and euphorbia tree extracts that promote hair health. Mountain ebony is also a natural astringent with antibacterial properties that can help fight common hair-related woes while promoting hair growth. This serum nourishes your hair from root to tip and makes it look smooth and lustrous.
Key Ingredients: Mountain ebony, Long pepper, Glycyrrhizin, and Euphorbia tree extracts
Pros
Pleasant fragrance
Non-sticky
Suits all hair types
Cons
The Mamaearth Onion Hair Serum makes the hair strong and frizz-free. This dermatologically tested natural hair serum is made with onion seed extracts that strengthen and add shine to the strands. The biotin in the formula enhances hair volume and strength, while vitamin B5 offers moisturization to keep the hair silky and soft. The olive oil in the serum soothes the scalp and prevents itchiness. This serum also prevents hair breakage and tangling and makes your hair look sleek and lustrous.
Key Ingredients: Onion seed extracts, Vitamin B5, Biotin, and Olive oil
Pros
Suits all hair types
Color-safe
Dermatologically tested
Paraben-free
Sulfate-free
Silicone-free
Mineral oil-free
No synthetic colors or fragrances
Cons
The St. Botanica Moroccan Argan Hair Serum makes the hair healthy, shiny, and silky. This natural hair smoothing serum works as a conditioner, detangler, and heat protector for all hair types. It contains a hydrating blend of argan Moroccan oil, vitamins, and antioxidants that penetrate deep into the hair to offer moisturization and protection. Its non-greasy formula does not weigh the hair down and treats issues like dryness and split ends. It is also safe for chemically treated and colored hair.
Key Ingredients: Argan Moroccan oil, Avocado, Olive oil, and Grapeseed oil
Pros
Lightweight
Safe for colored and chemically treated hair
Paraben-free
Sulfate-free
Mineral oil-free
Phthalate-free
Cruelty-free
Vegan
Cons
The Khadi Herbal Hair Serum has a rejuvenating formula that nourishes the hair from root to tip and prevents dryness and split ends. It contains ingredients like shikakai, bhringraj, amla, and brahmi that prevent premature graying and other concerns while making hair strong, shiny, and healthy. This hair serum also suits chemically treated hair that requires care and moisturization.
Key Ingredients: Shikakai, Bhringraj, Amla, and Brahmi
Pros
Lightweight
A little goes a long way
Suitable for chemically treated hair
Paraben-free
Sulfate-free
Cons
The Blue Nectar Briganantadi Hair Tonic is a lightweight hair serum that is made for dry and frizzy hair. It contains eight Ayurvedic herbs, including aloe, bhringraj, rosemary, almond, and hibiscus, that provide restorative care and nourishment to the hair. These natural active additives combat itchiness and premature hair loss. This natural hair serum has a light and non-sticky formula with a hibiscus fragrance that lasts all day.
Pros
Lightweight
Non-sticky
Sulfate-free
Paraben-free
Mineral oil-free
Cons
This hair serum from Brillare is enriched with all-natural oils that provide shine and smoothness to the hair. Its ultralight, non-sticky formula seeps into the strands and detangles the hair. The antioxidant-rich grapeseed oil in the serum protects and preps the hair for daily styling. It also contains wheat germ that nourishes hair by locking in moisture and replenishing proteins. This serum is recommended for dry and frizzy hair types.
Key Ingredients: Grape seed oil and Wheat germ
Pros
Smells good
Non-greasy
Non-sticky
Vegan
Cruelty-free
Paraben-free
Sulfate-free
Mineral oil-free
Cons
Does not tame frizz completely.
The Botanical Hair Serum from Luxura Sciences has a non-greasy formula that retains the hair's natural bounce. It suits all hair types and makes the hair well moisturized, smooth, and tangle-free. This natural hair serum is enriched with botanical ingredients like bhringraj, fenugreek, ginger, and essential oils. It is made with an advanced anti-aging technology that delays graying of hair and promotes pigmentation by boosting melanin production. The blend of essential oils, botanicals, and vitamins nourishes the hair, imparts shine, and keeps frizz at bay.
Key Ingredients: Bhringraj, Fenugreek, and Ginger
Pros
Lightweight
Non-sticky
Non-greasy
Easily absorbed
Cons
None
The Moms Co Natural Protein Hair Serum protects, smoothens, and nourishes the hair and is suitable for all hair types. Its repairing formula prevents damage, frizz, breakage, and split ends. The serum contains organic ingredients like argan and marula oils that nourish and protect the hair and restore its health by making it smooth and shiny.
The hydrolyzed wheat proteins in the serum penetrate the hair shafts to increase moisture levels and add volume to the hair. The amino acids in the formula strengthen the hair and offer conditioning effects. They also improve hair structure and prevent breakage. The serum offers protection from environmental aggressors and tames the hair. It is also effective in preventing frizz and dryness caused due to hormonal changes and medical issues.
Key Ingredients: Marula oil, Hydrolyzed wheat protein, Argan oil, and Amino acids
Pros
Lightweight
Subtle scent
Paraben-free
Sulfate-free
Mineral oil-free
DEA/TEA-free
PEG-free
Synthetic fragrance-free
Cons
Not for thick and coarse hair.
The EnQ Onion Hibiscus Hair Serum makes an excellent choice for those dealing with hair fall, thinning, and breakage. It promotes hair growth and reduces frizz and split ends. This hypoallergenic hair serum is made with onion juice that prevents dandruff and hair fall, increases hair length, protects the hair, and improves its elasticity. The organic olivates in the formula make the hair smooth and silky. This serum also contains hibiscus flower extracts that stimulate hair growth and prevent breakage and premature aging of hair.
Key Ingredients: Onion juice, Olive oil, Hibiscus flower extracts
Pros
Lightweight
Smells good
Hypoallergenic
Vegan
Paraben-free
Sulfate-free
Mineral oil-free
Silicone-free
PEG-free
Cruelty-free
Cons
None
This is the best natural hair serum for taming frizz, reducing breakage, and preventing split ends. Its non-toxic formula suits dry and rough hair and offers nourishment and moisture. The serum also provides heat protection. It is enriched with several essential oils to tame frizz and provide high shine and smoothness.
The serum contains black seed and fenugreek that address hair concerns like dandruff, thinning, and early aging. The combination of olive, argan, and almond oils intensely moisturizes the scalp and prevents hair fall. The formula also contains grapeseed, banana, and jojoba that condition dry, rough, and damaged strands, prevent hair fall, and strengthen your hair.
Key Ingredients: Black seed, Fenugreek, Olive oil, and Argan oil
Pros
Lightweight
Non-greasy
Nice fragrance
Paraben-free
Toxin-free
Cons
These are some of the best natural hair serums available in India. Before buying any of these products, keep the following points in mind.
How To Choose The Best Natural Hair Serums
Just like your shampoo and conditioner, hair serums address different hair needs. Hence, you need to pick one that is suitable for your hair type. If you have dry hair, go for serums with silicone-based formulas to seal in the moisture. For dull hair, choose serums containing argan oil or olive oil that can add instant shine to your tresses. For curly hair, go for formulas containing argan oil, jojoba oil, or sweet almond oil. If you have colored or chemically treated hair, go through the product details to understand if it suits your hair or not.
If you need a serum for controlling frizz, look for moisturizing and smoothing ingredients like essential oil and natural moisturizers. Repairing serums rich in proteins make an excellent choice for dull, rough, and damaged hair. Serums containing natural oils like argan, jojoba, almond, and macadamia oil are considered perfect for improving shine and gloss. These natural oils have nourishing properties that smoothen the hair and add shine.
Natural hair serums can go a long way in helping you manage your strands while tackling problems like frizz, roughness, split ends, and breakage. These hair serums are made with all organic ingredients that improve hair health. So, take your pick from the above list and flaunt silky, luscious locks every day.
Frequently Asked Questions
Are there any potential side effects of using natural hair serums?
Generally, there are no potential side effects of using natural hair serums if one is using formulations free of any harmful chemicals or nasties. However, in rare cases, it might cause allergic reactions, skin irritations, and inflammation. Also, its excessive usage might lead to hair fall and breakage.
Are there any specific tips or techniques for applying natural hair serums effectively?
Always apply hair serum to clean and damp hair, this helps the product work better. Begin by taking 2 to 3 drops of the serum in your palm and warm it a bit between your palms. Start working your way from the ends and eventually to the mid-length. Lastly, use a wide-toothed comb to evenly distribute the product across the strands.
Can serum thicken hair?
Use hair serums infused with hair-thickening natural ingredients such as olive oil, onion juice or extracts, fenugreek, argan oil, and grapeseed oil to get fuller, thicker-looking locks.