13 Best Natural Hand Soaps That Keep Your Skin Soft And Moisturized
Safeguard your hands from harsh chemicals and nourish them to keep them smooth.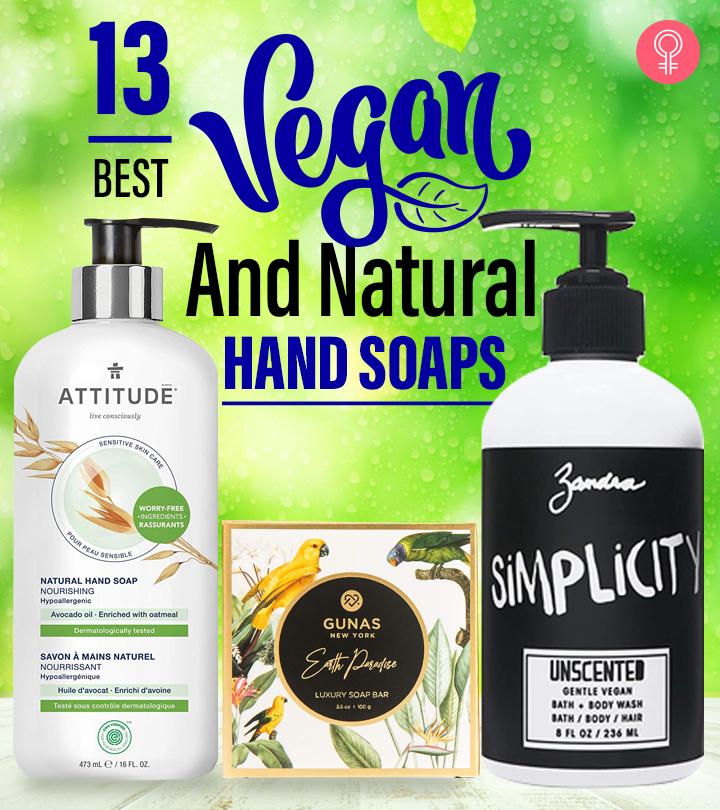 Soaps play a crucial role in protecting you from germs and maintaining cleanliness. Natural hand soaps are the best bet if you prefer using soaps free of harmful chemicals. They help you clean your hands and protect you from viruses and germs and may help keep you safe from infectious diseases. In this article, we have curated a list of the best 13 natural hand soaps for your household. Keep reading to know more.
13 Best Vegan Hand Soaps
The Puracy Natural Hand Soap can retain your hands' softness with its skin-friendly ingredients like mint, cucumber, and aloe vera. These ingredients clean your hands, retain the softness, and naturally hydrate the skin to leave it silky smooth. The minty fragrance refreshes your senses. This vegan soap is dermatologically tested and suitable for all skin types.
Key Ingredients: Aloe vera, Mint, Himalayan pink sea salt, and Cucumber
Pros
Refreshing fragrance
Gentle
Sulfate-free
Paraben-free
Cruelty-free
Petrochemical-free
Cons
The Gentle Unscented Castile Soap is a popular vegan handwash from the Carolina Castile Soap Store. The product contains olive oil, coconut oil, cocoa butter, and kukui nut oil that hydrate the skin while deeply cleansing it. The coconut and olive oils keep your hands soft, while the cocoa butter and kukui nut oil form a protective layer on your skin to lock in moisture. This gel soap can be used as a hand soap, a scrubbing soap, a pet soap, a natural body wash, and laundry.
Key Ingredients: Cocoa butter, Olive oil, Coconut oil, and Kukui nut oil
Pros
Multipurpose
Non-drying
Gentle
Palm oil-free
Fragrance-free
Cruelty-free
Cons
This liquid soap from ATTITUDE is a nourishing cleanser suitable for all skin types, including sensitive skin. The formula contains glycerin, citric acid, avocado oil, and oatmeal, ensuring excellent hydration and softness. These ingredients pull out the dirt and germs without stripping the moisture from the hands. The formula is dermatologically tested and hypoallergenic. It comes with a mild fragrance that will leave a lingering freshness post-wash.
Key Ingredients: Avocado oil, Glycerin, Citric acid, and Oatmeal
Pros
Dermatologically tested
Hypoallergenic
SLS-free
SLES-free
Paraben-free
Cruelty-free
No synthetic fragrance
Cons
May dry the hands out.
May cause irritation.
This luxurious and exquisitely scented hand soap from Cucina cleanses your hands without stripping their moisture. It is made of pure, high-quality olive oil and olive derivatives that hydrate the skin and enhance its natural elasticity. The soap increases suppleness and moisturizes the skin. The natural biodegradable formula cleans your hands without harming the environment. The refreshing fragrance of sea salt and Amalfi lemon will remind you of the Mediterranean.
Key Ingredients: Glycerin, Olive fruit oil, Castor oil, and Limonene
Pros
Gentle
Excellent fragrance
Non-drying
Cruelty-free
Cons
The ALAFFIA Everyday Shea Hand Soap cleanses dirt and pollutants from your hands while refreshing your senses with its citrusy fragrance. It is formulated with ethically sourced, unrefined shea butter and moringa leaf extracts, which leave your hand soft and nourished. This antioxidant-rich hand wash is suitable for all skin types.
Key Ingredients: Raw shea butter, Moringa extract, Virgin coconut oil, Argan oil, Litsea oil, Lemon verbena leaf oil, Lemon extract, and Lemongrass oil
Pros
Refreshing fragrance
GMP-certified
Sulfate-free
Paraben-free
Phthalate-free
Silicone-free
Mineral oil-free
Cruelty-free
No artificial colors
No synthetic fragrance
Cons
None
The NatureWell Refreshing Lemon Hand Soap works up into a luxurious lather and washes away dirt and germs. It leaves your skin feeling soft, clean, and nourished after every wash. The vegan hand soap comes with a mild zesty lemon scent that is not overpowering. It contains essential oils and other healing ingredients that hydrate your skin. The surfactant-free formula does not harm the environment.
Key Ingredients: Citrus lemon peel oil
Pros
Smells good
Gluten-free
Soy-free
No artificial flavors
No artificial colors
Paraben-free
Sulfate-free
Cons
None
This product from ecoLove is one of the best natural hand soaps available on the market today. It is made of 95% plant-derived ingredients that can deep cleanse your hands without stripping the moisture. This vegan soap contains 26 different Dead Sea minerals, organic herbs, natural oils, and plant extracts.
Key ingredients: Lavender extract, Organic blueberry, Grapes, Vegetable extracts, Water, Coconut extracts, Aloe vera leaf juice, Dead sea water, Dead sea salt, Glycerin, Green tea, Chamomile extracts, Citric acid, Argan oil, Shea butter, and Olive oil
Pros
Non-drying
Organic ingredients
Cruelty-free
Paraben-free
SLS-free
Alcohol-free
Petrochemical-free
Cons
The Simplicity Vegan Bath and Body Wash from Zandra is a mild and refreshing liquid soap. It is infused with coconut oil, olive oil, glycerin, and plant cellulose that gently cleanse your hands. The multipurpose cleaner is free of harsh foaming agents, making it a perfect substitute for a face, body, or hair cleanser. The pleasant lavender smell lasts long.
Key Ingredients: Coconut oil, Olive oil, Glycerin, and Plant cellulose
Pros
Non-drying
Suitable for babies
Multipurpose cleanser
Smells good
Paraben-fee
Sulfate-free
Phthalate-free
Mineral oil-free
Petroleum-free
Cruelty-free
Cons
The Tangie LLC Hand Soap Paste is an innovative product formulated with natural/vegan ingredients. It contains coconut, jojoba, almond oils, aloe vera, and glycerin that offer intense moisturization. Coconut oil creates a barrier and locks the skin's moisture, while jojoba and aloe vera help repair chapped skin. The soap comes in a concentrated solid form, which needs to be cut into pieces and mixed with water to get a liquid consistency.
Key Ingredients: Coconut oil, Jojoba oil, Olive oil, Almond oil, Glycerin, and Aloe vera
Pros
Travel-friendly
Non-drying
Cruelty-free
Unscented
Suitable for all skin types
Cons
The Common Ground Liquid Hand Wash has a refreshing plant-based formula. It is made from natural ingredients and does not leave any residue after wash, making it suitable for sensitive skin. The soap's ingredients include avocado oil extracts and vitamin E that help protect the skin from environmental pollutants. It has a mild botanical scent that lingers on your hands for hours.
Key Ingredients: Coconut oil, Glycerin, and Avocado oil extracts
Pros
Refreshing scent
pH-balancing
Cruelty-free
Non-toxic
Cons
The Prairie Rose Organic Foaming Soap is formulated with the highest quality natural ingredients. It contains organic essential oils that not only clean your hands but leave them feeling soft and moisturized. It has a mild refreshing vanilla lemon zest fragrance. This vegan hand soap is rich in antioxidants that protect your hands from free radical damage.
Key Ingredients: Coconut oil, Jojoba oil, Olive oil, Shea butter, and Essential oils
Pros
Non-drying
Foams well
Cruelty-free
Toxin-free
Paraben-free
Sulfate-free
EDTA-free
Cons
The Greenerways Antibacterial Hand Soap gently cleanses your hands while nourishing and moisturizing them. It is formulated with aloe vera, citric acid, and glycerin that eliminate germs and dirt from the hands without leaving any residue. The fresh citrusy fragrance lingers on your hands for hours after hand washes. The light and non-greasy formula is suitable for sensitive skin.
Key Ingredients: Aloe vera, Citric acid, and Glycerin
Pros
Mild citrusy scent
Lightweight
Paraben-free
Sulfate-free
Cruelty-free
No synthetic ingredients
Value for money
Cons
The GUNAS Earth Paradise Soap Bar gets rid of toxins, dirt, and grime from your hands and aids in skin healing. The pure olive oil in the formula hydrates the skin, leaving it soft and moisturized. This handmade soap bar has a citrusy scent due to bergamot, rosemary, and spirulina extracts.
Key Ingredients: Organic olive oil, Coconut oil, Bergamot essential oil, Twig essential oil, and Rosemary essential oil
Pros
Mild fragrance
Non-drying
Handmade
Palm oil-free
Cruelty-free
Cons
None
These natural and organic hand soaps serve much better than conventional hand soaps that contain harmful chemicals and damage your skin in the long run. Since we wash our hands several times a day, it is safer to use organic and natural hand soaps. Try out any of these vegan hand soaps – your hands will thank you.
Why Trust StyleCraze?
The author, Shiboli Chakraborti, is a skin care coach and has a keen interest in finding the right products to improve skin texture and appearance. With so many products on the market, it can be difficult to pick the best one to reduce your stretch marks. So, she has gone through many products and their reviews to bring you the best. These lotions come with additional benefits such as improving skin elasticity, increasing hydration, and reducing any itchiness that comes with stretch marks.
Recommended Articles