The Top 11 Must-Have Natural Highlighters Of 2023
Leave people awestruck with dynamic, classy makeup that looks effortless.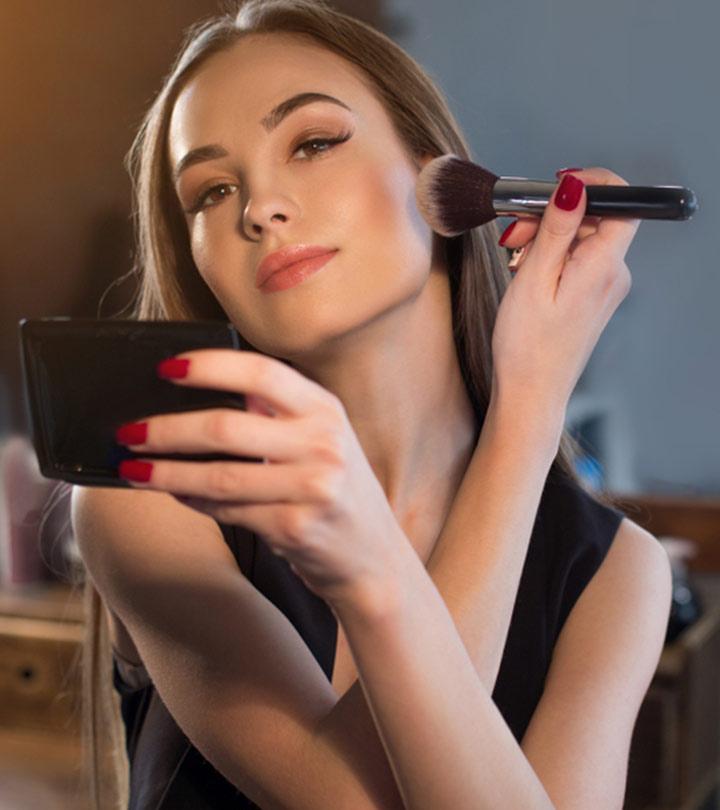 Finding the best natural highlighter can be a tough feat, but once you get your hands on it, your make-up game can turn around forever. After all, natural highlighters can add a glow to your face that leaves people in awe. It can not only provide a contour to your face but can also make your face glow with natural warmth and a post-vacay radiance.
Since finding a good-quality highlighter can also be hard, we know what the drill of finding a natural highlighter would look like. That's why we've decided to help you attain that sun-kissed effect on your face by curating a list of top natural highlighters. But before we go ahead with the list, there are a few things you should know. Ideally, highlighters are supposed to be used after applying a foundation, to complete your look. But since it's a versatile product, you can use it even when you're aiming for a no-makeup face that should just glow.
The 11 Best Natural Highlighters Of 2023 To Achieve That Goddess-Like Glow
Pros
Blendable
Versatile
Affordable
Can be used as a concealer
Best suited for dry skin
Cons
The product doesn't come with a mirror or applicator.
Price at the time of publication: $12.0
Say hello to a non-sticky, non-greasy, and non-glittery formula that will give you a luxurious, luminous glow that you have been on the lookout for. This illuminating natural highlighter is ideal for building a sensuous and sheer glow that creates a luminous aura around you, almost like a halo! It enhances your skin's natural youthfulness while hydrating and nourishing it simultaneously. It contains Vitamin E, which protects your skin from free radicals, and castor oil for intense hydration. Rosemary extracts in this luminizer offer anti-inflammatory properties. It is ideal for dry skin and is often considered the best highlighter for sensitive skin. Made without soy and gluten, this skin highlighter is healthier than your last meal. Here's a video to help you know more about this product.
Pros
Does not bleed
A little product goes a long way
Creamy texture
Ideal for a natural dewy look
Cruelty-free
Cons
Some may find it slightly expensive.
It may not be best suited for oily skin.
Nyssa Green, Makeup Artist, mentions, "This feels amazing and glides on so easily! I've used RMS for years and the products are always top tier."
Price at the time of publication: $38.0
Well, who can say no to a luxurious natural liquid makeup highlighter that is versatile and easily one of the best in the market? A quick application of this wonder-product leaves you with a subtle luminosity and multidimensional glow. It is infused with 100% pure argan oil that lends extra hydration. This product can be used by itself or mixed with other beauty products such as foundation, moisturizer, or your daily SPF. It is ideal for a dewy natural makeup look that can be built from a subtle day to a shimmery night look for deeper skin tones. For medium to light skin tones, this product is your be-all and end all-natural highlighter. The Madonna lily and poet's narcissus infused in the formula brightens and evens out the skin tone. This video takes you through this product's details.
Pros
Vegan
Paraben-free
Gluten-free
Sulfate-free
No mineral oils
Cons
Price at the time of publication: $26.0
Elizabeth Mott's unique shimmer shadow and highlighter should be your go-to product to make your days better and less cluttered! This multi-use highlighter, shimmer, and eye shadow will take your makeup game to a whole new level. Packed in a compact case, this ultrafine highlighter adds beautiful pearl-like pixie dust on the high points of your cheeks and the inner corners of your eyes. With a subtle sparkle, this product is buildable and an undoubted winner! Its highly absorbent mineral formula absorbs sebum and allows you to target oil control. This beeswax coated powder delivers a long-lasting hold with added benefits.
Pros
Cruelty-Free
Paraben-free formula
Water-resistant
Ultrafine pearl-like shimmer
Flatters all skin tones
Crease-proof
Cons
It may not be highly pigmented.
Price at the time of publication: $13.99
This all-in-one highlighter and shimmer cream is awe-worthy. You can use it on the high points on your cheeks, brow bones, and eyelids to add a spark or on the cupid's bow, bridge, the tip of your nose, or your forehead. This soft, buildable, and non-bleeding formula leaves you with a hint of shimmer and a healthy-looking glow. The creamy texture glides smoothly over your skin, giving it an ultra-smooth and seamless blend. Formulated with coconut oil, cocoa seed butter, jojoba seed oil, olive oil, and vitamin E, this product helps nourish your skin. Makeup Artist Nyssa Green, mentions how this product is also great for the body in photographs!
Pros
Vegan
Cruelty-free
Gluten-free
Certified organic
No artificial colors
Cons
It has a short shelf life
Not ideal for a heavy makeup look
Price at the time of publication: $21.19
Let us talk a little about this godsent product. The best place to begin would be the fact that it contains green lentil extract! It lends your skin an even texture and reduces the appearance of large pores. The light-reflecting mineral pearls give this natural highlighter the luminosity you have seen on the editorial spread of glossy magazines. You can mix it with a liquid foundation, moisturizer, or other liquid skincare products to add an enviable glow to your face. Our selected favorite shade Joy is the best natural highlighter that gives a pink-peach finish with subtle gold reflecting in the light. This highlighter is weightless and is infused with oat sugar to smooth out the appearance of wrinkles instantly.
Pros
SLS-free
Talc-free
Gluten-free
Cruelty-free
No parabens
Lasts up to 16 hours
Cons
May not be ideal for dark skin tones
Price at the time of publication: $21.0
Let's talk about practicality, shall we? Makeup on a stick is the next best thing that's happened to makeup since the invention of a primer. This is the best stick highlighter that is natural and ideal for all our busy makeup lovers. Best for our on-the-go readers who love a dewy makeup look but have jam-packed schedules, it rolls up like a lip balm, occupies the least amount of space, and is as effective as your adrenaline rush with an approaching deadline. Apart from its never-ending practical benefits, this natural highlighter is amongst the best stick highlighters in the market. It brings a dewy-looking radiance to your skin while nourishing it using sunflower seed wax, mango seed butter, and antioxidant maitake mushroom rich formula.
Pros
Affordable
Easy stick application
Creamy texture
Hydrating and nourishing properties
Ideal for a subtle shimmer and dewy look
Can be used alone or layered with other products
Cons
Does not have a long shelf life
Price at the time of publication: $11.5
The unique serum formula of this highlighter allows all makeup lovers to apply it smoothly. With a single layer, this product provides that flushed, post-workout glow. It is the one product you need to transform your day look to a glam night look. The marine actives in this product help in collagen growth, and the hibiscus extract gently exfoliates your skin, revealing a smooth and supple texture. It is gluten and fragrance-free.
Pros
Gluten-free
Vegan
Weightless
Easy to apply
Fragrance-free
Serum and gel-based formula
Protects from UV rays and free radicals
Cons
It may not flatter deeper skin tones.
Price at the time of publication: $42.0
This color palette provides a creative outlet to the makeup diva within you. Here, aesthetics meet practicality to offer you the best natural highlight palette you could have asked for. It is buildable, allowing you to contour your face and body in 4 different shades! It has ultra-fine light-reflecting pigments that are so good that we are convinced that they are made from angel dust. The different shades, namely Rose Quartz, Blush, Peachy/Gold, and Iridescent Plum are your new group of best friends. Due to the sheer number of choices within this palette, this highlighter glides well on all skin complexions and textures!
Pros
Affordable
4-in-1 palette
Unscented
Vegan
Gluten-Free
Coconut oil infused
Cons
Price at the time of publication: $12.0
Let's be real for a second, we've all heard thousands of praises for Milk Makeup's best seller holographic highlighter sticks, haven't we? To make things better, Milk Makeup introduced this nature-friendly clean-version of the original holographic sticks to allow for a guilt-free highlighting experience. This prismatic silky powdered highlighter is true to its original version. It takes your glow to a next level without overpowering your face. This product leaves you with a soft iridescent glow with a multidimensional finish. Packed with avocado oil and mango butter, this product also makes sure that you glow and grow healthy from within!
Pros
100% vegan
Buildable
Paraben-Free
Gluten-free
Talc-free
Fragrance-free
Silky and smooth application
Cons
Fragile packaging
No applicator in packaging
Price at the time of publication: $21.4
Here's a densely pigmented powder pressed into a cute yet practical compact case with a mirror. It will fit in the small corner of your bag for you to reach out whenever you need a quick touch up or instant glam. Use this natural luminescent powder to highlight and contour your face, collarbone, and body! It is incredibly lightweight, allowing it to blend easily and giving you a subtle, youthful radiance. This multipurpose gem is incredibly pigmented, vegan, contains no parabens, and cruelty-free.
Pros
Talc-free
Gluten-free
Long-lasting
Multipurpose
Densely pigmented
Zero artificial colors and preservatives
Cons
It may leave metallic tint.
Price at the time of publication: $34.19
Now that you've seen our long list of natural highlighters, here's a quick guide helping you make your final decision and purchase.
How To Buy The Best Natural Highlighter
The most important rule to remember before buying any beauty product is understanding your skin. This includes knowing the complexion of your skin, the texture, and the type. If you have oily skin, a powder or sebum-absorbing highlighter like the Elizabeth Mott Show Me Your Glow Shimmer Shadow And Highlighter would be an ideal purchase. For sensitive skin, we recommend sticking to W3ll People Natural Bio Bronzer Stick for its hypoallergenic and non-comedogenic properties.
Unless it is a part of your makeup haul or another splurge, it is essential to understand the kind of highlighter you are looking for. In addition to being natural, there are a few other characteristics that might seem more appealing to some people. For ease of application, several people may prefer a cream highlighter, whereas a few others prefer a powder to allow oil absorption.
How To Apply A Natural Highlighter
The most common steps involved in applying highlighter are:
Step 1: Before applying any makeup to your face, wash your face thoroughly.
Step 2: Apply a hydrating moisturizer.
Step 3: Apply foundation. Although foundation is not a must for applying highlighter, it helps prepare a base for the highlighter.
Step 4: Apply highlighter using a makeup sponge or a brush on the high points of your face.
Why Trust StyleCraze?
The author, Srijani Roy Chowdhury, is a makeup enthusiast. She is very passionate about trying natural makeup products, and highlighters are her favorite. She conducted extensive research into the products and went through many user reviews on trusted online forums to pick the best natural highlighters for her readers. These products not only provide contour to your face but make it glow.
Frequently Asked Questions
What can you use instead of a highlighter?
You may use a bronzer like the W3ll People Natural Bio Bronzer Stick we have been raving about as it is an ideal substitute. It is a product that allows you to meet all your bronzing and highlighting needs.
Which is better – liquid or powder highlighter?
It depends on what you are looking for. Powder highlighters are ideal for those with oily skin and looking for something that helps control excess sebum. It is also ideal for people who may want a more heavy makeup look. A liquid highlighter, like the Bare Minerals Barepro Glow Highlighter Liquid is highly recommended for people looking for a versatile and playful product.
Can you use eyeshadow as a highlighter?
Yes, eyeshadows can be used as highlighters. The best part is, you can get different highlighter colors inside one eyeshadow palette as well.
Can Vaseline or lip balm be used as a highlighter?
Yes, Vaseline or any other lip balm can be used as a highlighter. Petroleum jelly can offer a natural glow to your skin while illuminating the high points of your face. However, people with oily skin must not use Vaseline on their face regularly to prevent triggering acne and breakouts. As for other lip balms, make sure they are non-tinted.
Can you use lip gloss as a highlighter?
Yes, you can use lip gloss to highlight the apples of your cheeks. But make sure to blend it away towards your ears to get a natural look.
Can you use a concealer as a highlighter?
Yes, you can use a concealer as a highlighter, but choose the right color. However, concealers cannot offer the shimmer or metallic effect that highlighters generally do.
Can I use bronzer as highlighter?
Yes, bronzers and highlighters usually go hand in hand in a makeup routine. You can use a lighter shade of bronzer to highlight the high points of your face.