9 Best Natural Lipsticks Recommended By Makeup Artists In 2023
Get the goodness of nature-derived lip colors in non-drying, smooth formulations.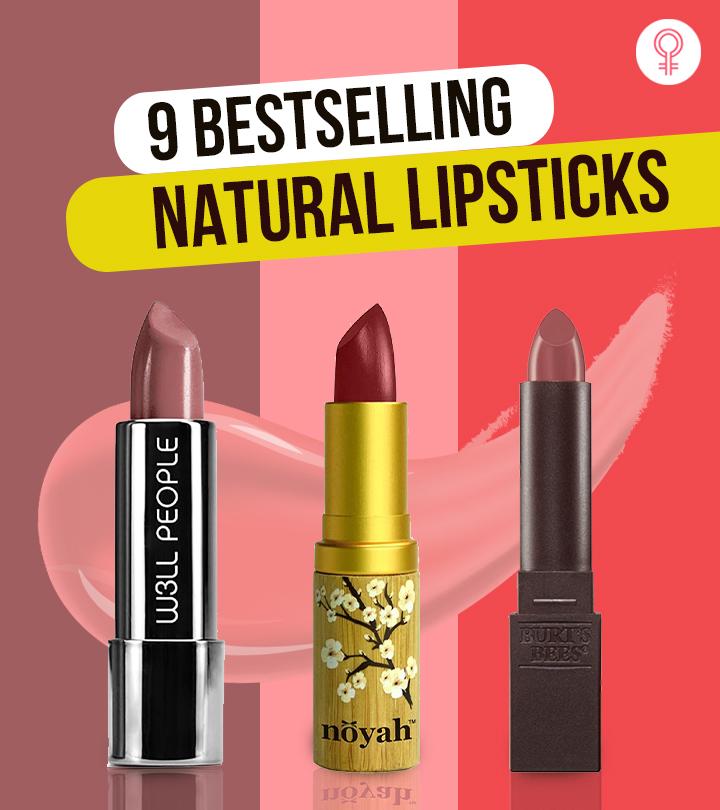 We have tons of favorites when it comes to lipsticks, as they are a staple makeup product that we use every day. However, healthy lips are as important as beautiful lips, if not more. So, you should use the best natural lipsticks to protect them.
We often don't pay much attention to what ingredients our lipsticks constitute. While many brands claim that they make cruelty-free lipsticks, they often don't mention the ingredients on the label.
Does the thought of using a chemically-loaded lipstick scare you? Then, it would be best if you chose organic lipstick brands over commercial ones. Natural lipsticks are formulated with pure, eco-friendly ingredients and natural healing properties of various vitamins, enzymes, and antioxidants that help with healthy skin. Keep scrolling to look at our list of the best natural lipsticks. Read on!
9 Best OrganicLipsticks
The Burt's Bees Lipstick is a perfect choice for clean beauty enthusiasts. Made from natural ingredients this lipstick offers a vibrant color payoff with a smooth satin finish. It provides full coverage and keeps your lips moisturized for up to 8 hours. The moisturizing ingredients in the formula leave your lips feeling silky smooth and soft.
This natural lipstick is formulated with ultra-moisturizing ingredients like raspberry seed oil, moringa oil, beeswax, and vitamin E that soften and condition your lips. The rich pigments make your lips look luscious. This lipstick comes in a variety of bold and stunning color shades, ranging from berries, plums, pinks, corals, and nudes to reds. Experience the combination of bold and vibrant shades as well as nourishing lip care with Burt's Bees Lipstick. Deepti Sadhwani, a professional makeup artist, says, "Choose a shade close to the color of your lips and you have a tinted lip balm that will give you a "your lips but better" look that works for every day."
Key Ingredients: Raspberry seed oil, Moringa oil, Beeswax, and Vitamin E
Pros
Available in 18 shades
Long-lasting
Moisturizing
Paraben-free
Phthalate-free
Petroleum-free
SLS-free
Cruelty-free
Cons
None

Price at the time of publication: $5.49
The ALMAY Lip Vibes Lipstick is creamy textured and offers rich color payoff in a single swipe. It is comfortable to wear all day long and does not crack or dry your lips out. This organic lipstick is formulated with vitamin E, vitamin C, and shea butter which offers moisturizing properties while nourishing and conditioning your lips to keep them soft and hydrated. It is available in 24 shades – 10 mattes, 2 toppers, and 12 creams – that range from pinks to reds and nudes to shimmers.
Key Ingredients: Vitamin E, Vitamin C, and Shea butter
Pros
Non-sticky
Hypoallergenic
Non-comedogenic
Dermatologist-tested
Available in 24 shades
Fragrance-free
Cons
Price at the time of publication: $5.45
The Fifth & Skin Botanical Lipstick has a highly moisturizing natural formula enriched with vitamin E, organic shea butter, organic cocoa butter, organic jojoba oil, organic castor seed oil, organic coconut oil, and organic sunflower oil to nourish and soften your lips. The creamy texture of this natural lipstick glides on seamlessly and keeps your lips hydrated. It helps heal chapped, dry lips and locks in moisture to make them soft. This lipstick suits all skin tones as it comes in a range of eight hues, making it a great addition to the vanity.
Key Ingredients: Organic shea butter, Organic cocoa butter, Organic jojoba oil, Organic castor seed oil, Organic coconut oil, Organic sunflower oil, and Vitamin E
Pros
Non-toxic
Vegetarian
Cruelty-free
Phthalate-free
Petroleum-free
Lead-free
Gluten-free
Cons
Price at the time of publication: $19.99
The Gabriel Cosmetics Lipstick has a moisturizing formula. It is enriched with candelilla wax and organic jojoba seed oil, and aloe extracts that hydrate, rejuvenate, and soften the lips. This long-lasting lipstick offers a natural finish. The lipstick also protects your lips from environmental aggressors. It is available in 28 versatile shades.
Key Ingredients:Organic jojoba seed oil, Aloe vera, and Carendilla wax
Pros
Suitable for all skin types and tones
Natural finish
Available in 28 shades
Vegan
Cruelty-free
Petrochemical-free
Natural finish
Gluten-free
Paraben-free
Cons
May cause itchiness on your lips
The Noyah Lipstick has a semi-matte and creamy finish that hydrates and nourishes your lips. The highlight of this lipstick is its beautiful and elegant packaging made from bamboo, as an eco-friendly alternative to plastic. It is formulated with rich antioxidant vitamin E, coconut oil, and cocoa butter, which helps to condition your lips and make them softer. The lipstick comes in nine beautiful shades. By opting for the Noyah Lipstick, you not only enjoy its gorgeous shades and nourishing properties but also contribute to sustainable beauty practices through its bamboo packaging.
Key Ingredients: Coconut oil, Cocoa butter, and Vitamin E
Pros
Goes on smooth
Long-lasting
Non-sticky
Eco-friendly packaging
Cruelty-free
Cons
Price at the time of publication: $18
The Mom's Secret Natural Lipstick hydrates your lips, making them feel soft and supple. The formula is infused with organic avocado oil, coconut oil, and jojoba oil that soothe, moisturize and replenish your lips while protecting them against free radical damage. The formula also contains soothing mango, capacu, and cocoa butter that improve the elasticity of your lips. The lipstick glides on smoothly on your lips and stays on for a long time. Additionally, it has a rich color payoff.
Key Ingredients: Avocado oil, Coconut oil, Jojoba oil, Mango butter, Capacu butter, and Cocoa butter.
Pros
Suitable for all skin types
Glides easily
Vegan
Matte finish
GMO-free
Gluten-free
Cruelty-free
Preservatives-free
Synthetic fragrance-free
Cons
Price at the time of publication: $19.99
This highly pigmented lipstick from W3LL PEOPLE hydrates your lips and leaves them with a satin-soft finish. It has a weightless texture and comes in a vibrant range of hues to flatter every skin tone, allowing you to achieve a beautiful and natural look.This natural lipstick is formulated with a highly moisturizing blend of organic shea butter, jojoba oil, and organic cupuacu butter that provides nourishing nutrients, vitamins, and omega oils to the lips and keeps them from getting dry and chapped.
Key Ingredients: Organic shea butter, Jojoba oil, and Organic cupuacu butter
Pros
Long-lasting
Lightweight
Gluten-free
GMO-free
Paraben-free
Propylene glycol-free
Dimethicone-free
Cons
May dry out the lips.
Unpleasant fragrance
Price at the time of publication: $16
The Honeybee Gardens Natural Lipstick serves as a lip balm and a full-coverage lipstick. Its natural and organic formula keeps your lips hydrated and makes them soft and supple. This lipstick is made of candelilla wax, sesame oil, castor seed oil, and cocoa seed butter to soothe and hydrate dry and chapped lips. The highly pigmented colors keep the glam quotient on point. The smooth satin finish of the lipstick stays on for a long time while locking in moisture. It is available in 23 flattering shades to suit various skin tones and special occasions.
Key Ingredients: Sesame oil, Castor seed oil, Candelilla wax, and Cocoa seed butter.
Pros
Non-drying
Goes on smooth
Vegan
Non-GMO
Paraben-free
Gluten-free
Cruelty-free
Cons
Price at the time of publication: $19.42
The Luxury by Sofia Organic Lipstick is an ultra-hydrating product loaded with antioxidants. This lipstick is formulated with organic botanical extracts that moisturize the lips and offer a rich color payoff. It also contains coconut oil, shea butter, sunflower seed oil, jojoba seed oil, sunflower leaf extract, olive oil, natural lavender flower extract, vitamin E, and vanilla extract to nourish and condition the lips. Deepti Sadhwani, a professional makeup artist, says, "Lavender is known to cause irritations for some people." The densely pigmented formula provides vibrant color in a single stroke and dries to a satin finish. 
Key Ingredients: Organic castor oil, Coconut oil, Shea butter, Sunflower seed oil, Jojoba seed oil, Sunflower leaf extract, Olive oil, Natural lavender extract, Vitamin E, and Vanilla extract
Pros
Long-lasting
Highly pigmented
Vegan
Phthalate-free
Paraben-free
Petroleum-free
Gluten-free
Non-toxic
Lead-free
Cons
Price at the time of publication: $24
Why Trust StyleCraze?
Baishali Bhattacharya is certified in makeup artistry and has an expertise in using, recommending, and reviewing makeup products. As natural lipsticks are being widely loved, she curated this list of the most impactful ones with the help of extensive research and reading several user reviews online. These lipsticks are enriched in natural ingredients, have healing properties, and are free from harmful chemicals.
Frequently Asked Questions
What is a natural lipstick?
A natural lipstick it is made using only natural components that are either obtained from plants, animals, or minerals. Additionally, they also contain nutrients and antioxidants that have no negative effects on the health or appearance of your skin.
Which type of lipstick looks natural?
A lipstick color that is similar to that of your lips or naturally compliments your complexion looks natural. These are usually nude lipsticks with different undertones.
Which lipstick is safe for lips?
When a lipstick contains natural ingredients that are not harmful to your skin, it is deemed safe for your lips.
Which lipstick is safe for daily use?
A natural lipstick that does not contain toxic ingredients is safe for daily use.
Can lipstick damage your lips?
Yes. The high content of lead in lipsticks can soak up all the moisture from your lips, leaving it dry and damaged.
How many lipsticks should a woman own?
There's truly no limit on how many lipstick you should own. You might be satisfied with just two lipsticks or ten. Do what you desire!
Is it necessary to apply lipstick?
No, it is not compulsory to apply lipstick. A lipstick is made to enhance and define your lips. For some people, it is key to feeling confident.
Recommended Articles
Best Natural Lip Glosses For Soft And Shiny Lips
Best Moisturizing Lipsticks That'll Keep Your Lips From Drying Out!
Best Vegan Lipsticks For Luscious Lips
Best Nude Lipsticks Perfect For Your Skin Tone
Best Popular Lead-Free Lipstick Brands On Amazon