9 Best Natural-Looking Lip Stains That Last All Day
Subtle lip shades to keep your lips looking fresh without worrying about touch-ups.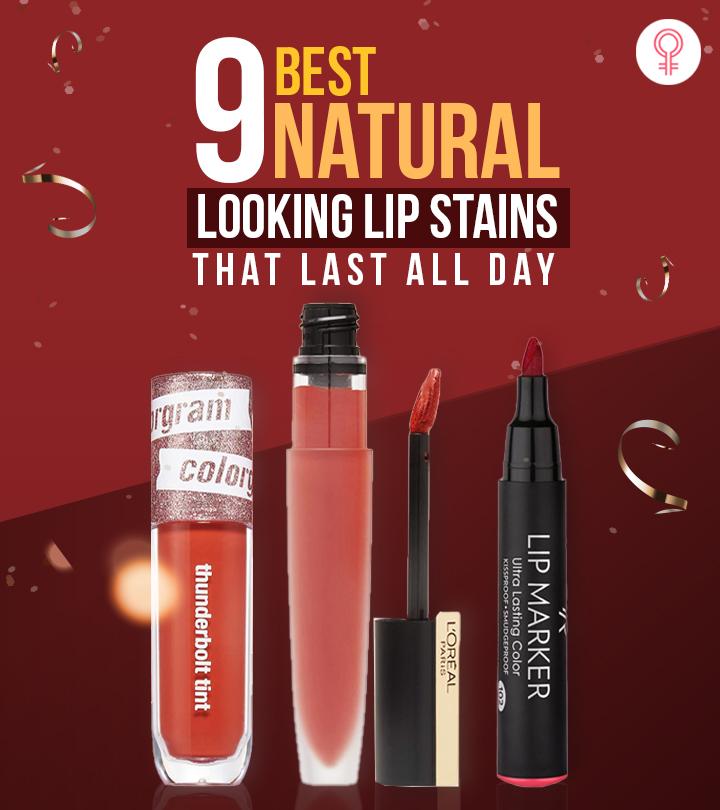 With the best natural-looking lip stain on your lips and in your purse, you are literally ready for the camera or the party all day, every day! Lip stains brighten up your face and stay on for hours. If you are not a fan of loud colors or creamy or glossy lip colors that make you look "too made up", nude or natural lip stains are the best for you. They are a blessing for those who would rather not worry about touch-ups after meals or whether they have lipstick on their teeth or not! Because stains are non-transferable and do not stain anything except your pretty pout. We have collated the 9 best natural-looking shades in lip stains that can help you achieve that minimalist look perfectly.
9 Best Long Lasting And Natural Looking Lip Stains
The Rimmel London Provocalips Kiss-Proof Lip Color locks in vibrant hues in two simple steps. Apply the color and keep your lip apart for 60 seconds to allow the pigments to set in; finish it off with a top coat to lock the color and moisture, and add shine. The lip stain stays put for up to 16 hours. The formula is lightweight and adapts to lip movements for a long wear. If you want to know more about this product, check out this video on YouTube.
Pros
Easy to apply
Lightweight formula
Glossy finish
Kiss-proof
Smudge-proof
Cons
Price at the time of publication: $6.29
L'Oreal Paris Makeup Rouge Signature Matte Lip Stain delivers the high color impact of a liquid lipstick with the no-makeup feel of a lip stain. The rich color glides smoothly on your lips and settles into an ultra-lightweight, fresh matte finish that lasts on your lips for a long time. The high-precision applicator helps to apply it seamlessly. Go ahead and check out this YouTuber's video for more details about the product.
Pros
Weightless
Matte finish
Precise lip applicator
Highly pigmented
Cons
Price at the time of publication: $4.95
The Jane Iredale The Skin Care Makeup Lip and Cheek Stain is enriched with natural ingredients that enhance the natural color of your skin tone. Ingredients like olive and avocado butters, rose wax, and beeswax, add moisturizing benefits to the lip. The non-drying, long-lasting stain adjusts to your own chemistry to deliver a gorgeous pigmentation that will flatter your skin's undertone. To get a better understanding of the product, you can check out this video on YouTube.
Pros
Glossy finish
Multipurpose
Cruelty-free
Long-lasting
Non-drying
Rich in natural botanicals
For all skin types
Cons
Price at the time of publication: $32.0
The Palladio Lip Stain is a hydrating and long-lasting matte finish lip stain that instantly brightens up your face. The chiselled-tipped, marker-like applicator allows a precise application. You can apply one coat for a light touch of color or build up the color for a bolder look. The formula contains coconut oil and aloe to impart hydration to your lips.
Pros
Water-proof
Matte finish
Paraben-free
Gluten-free
Cruelty-free
Enriched with botanical extracts
Cons
Price at the time of publication: $7.99
Passioncat Twist Velvet Tint is a lightweight, velvety formula that dries to a matte finish. The lip stain covers your lips in a vibrant, opaque color, while providing long-lasting hydration. The soft-cushion applicator helps you get a natural-looking, pouty lip. Enriched with pearl extracts and vitamin E, this lip stain keeps your lips healthy.
Pros
Lightweight
Easy application
Long-lasting
Available in various shades
Non-drying
Cons
The tube needs to be squeezed hard to dispense the product.
Price at the time of publication: $16.0
TheBalm Cosmetics theBalmJour creamy lip stain is the perfect mix of stain and shine. Made with a uniquely flexible formula, it starts as a gloss, finishes as a stain, and delivers the high-pigment payoff of a lipstick. The lip stains are moisturizing and long-lasting, thereby eliminating the need for reapplications.
Pros
Non-drying
Long-lasting
Cruelty-free
Paraben-free
Cons
Price at the time of publication: $13.76
A multipurpose formula that is meant to stain both your cheeks and lips,  the Elizabeth Mott Tints & Sass Fabulous Lip + Cheek Stain makes you look naturally flushed. You can also use it under your gloss for enhanced pigmentation and longevity. The product is not just cruelty-free but also comes in sustainable packaging.
Pros
Cruelty-free
Easy to apply
Spill-proof and on-drip design
Sustainably packed
Smudge-free
Cons
Price at the time of publication: $15.99
The Golden Rose Lip Marker has a water-based tint that glides easily on the lips and settles into a vivid finish. The finely-shaped applicator tip glides like a marker pen to shape your lips precisely. Just one coat of this stain will give you a natural finish, while several coats will make your lips bold and intense. Its dermatologically tested formula is infused with vitamin E and aloe vera to keep your lips hydrated and can stay on your lips for up to 12 long hours.
Pros
Smudge-proof
Kiss-proof
Dermatologist-tested
Enriched with natural ingredients
Cruelty-free
Weightless
Transfer-free
Cons
Price at the time of publication: $12.49
The COLORGRAM Thunderbolt Tint Lacquer spreads evenly on your lips and sets to a glossy finish. Its dewy formula offers a soft and seamless application. The lip stain is infused with aloe vera and rosehip to soothe and hydrate your lips. It also contains argan oil that moisturizes your lips and prevents lip wrinkles. The color is smudge-proof and long-lasting.
Pros
Available in several shades
Dewy formula
Non-drying
Prevents lip wrinkles
Smudge-proof
Cons
None
Price at the time of publication: $45
Lip stains are an excellent addition to any makeup and skincare regimen. They give you the vibrancy of lipstick but the convenience of a lip balm. If you plan to pick a lip stain, here are a few things you must consider.
Factors To Look For While Buying Natural-Looking Lip Stains
You should choose between the finish choices when it comes to lip stains. If you like slightly shiny lips, opt for a lip stain with a glossy finish. However, if you want to avoid that and want a more long-lasting finish, opt for a matte finish.
The color pay-off and pigmentation are other factors to consider while buying a lip stain. The formula must be high-quality and pay off deep stains without applying multiple layers. Make sure that even if the color fades, the stain should remain intact on the lips.
A lip stain may dry out your lips much faster than other lip colors. So, it's important to look for moisturizing ingredients that maximize hydration. Look for formulas that contain beeswax, shea butter, squalane, coconut oil, jojoba oil, or humectants like glycerine or hyaluronic acid.
The whole point of wearing a lip stain is to provide long-lasting color, so you don't have to keep reapplying like any other product. Instead, pick a water-proof formula to ensure your color will last through drinking, eating, and sweating without budging an inch.
Why Trust StyleCraze?
The author, Baishali Bhattacharya, is a certified makeup expert. She loves all things beauty and is passionate about keeping up with the latest trends. Based on thousands of user reviews and feedback, she has compiled this list of the best natural-looking lip stains for her readers. These are great for everyday use, light on the lips, long-lasting, transfer-proof, and a perfect alternative to creamy or glossy lipsticks.
Frequently Asked Questions
What is the difference between lip stain and lip tint?
Lip stains are lightweight, full-coverage, and long-lasting pigments. On the other hand, lip tints provide your lips with sheer, natural-looking color, but they do not last as long as stains.
How can I make my natural-looking lip stain last longer?
To make a natural-looking lip stain last long, exfoliate your lips and apply lip balm for a smoother base.
Is liquid lipstick the same as a lip stain?
No, liquid lipsticks dry once applied, but lip stains do not dry and absorb in your lips.
Can you put lip balm over a natural-looking lip stain?
No, applying lip balm over a natural-looking lip stain will lighten the color of the stain.
Can you naturally stain your lips?
Yes, you can naturally stain your lips with natural ingredients like berries, beetroot pulp, petroleum jelly, or beeswax to add shine.
Do lip stains dry out lips?
No. However, some products with harsh ingredients may dry out your lips and make them appear chapped and cracked.
Recommended Articles