12 Best Natural Moisturizers With SPF For Healthy And Radiant Skin
Gently protect your skin from harmful sun rays and seal in its natural moisture.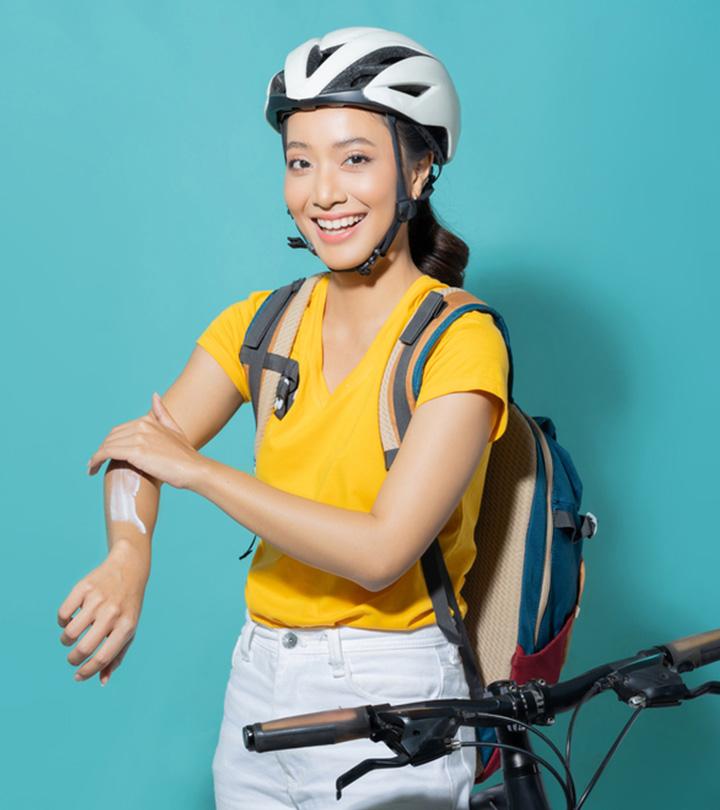 Sunscreen is essential to fend off the Sun's rays. Therefore, you need the best natural sunscreen with SPF to effectively protect you from any sun damage. SPF refers to a sunscreen's ability to combat UV rays.
As soon as you step outside of your home, you will need to protect your skin from UV radiation and free radical damage caused by environmental aggressors. Research shows that kin cancer risks are reduced by 40% if you use sunscreen when you are exposed to the elements. If you need to wear sunscreen, you may as well use a sunscreen-moisturizer hybrid to prevent the odd streaky look after applying sunscreen alone. With the right natural moisturizer and SPF, you can accomplish two things at once.
Keeping your skin hydrated while being protected from the Sun is made easier with this combination of moisturizer and sunscreen.
Eugenia Garnes, a licensed esthetician says, "Finding a sunscreen that moisturizes, protects from sun damage, and has restorative properties is a plus. Look for products with Vitamin E and Aloe Vera to get the most from sunscreen protection." Choose one that best suits your skin from our top 12 list of natural moisturizers with SPF. Check them out!
Top 12 Natural Moisturizers With SPF For Enhanced Sun Protection
Pros
Evens out skin tone
Oil-free
Hypoallergenic
Non-comedogenic
Minimizes discoloration
Cons
Price at the time of publication: $15.77
Pros
Non-comedogenic
Lightweight
Brightens skin
Evens out skin tone
Reduces appearance of fine lines and wrinkles
Paraben and petroleum-free
Cons
Contains xanthan
Contains added fragrance
Price at the time of publication: $12.99
Imagine swapping your no-makeup look for a lightweight, matte moisturizer-infused with SPF 30! This natural moisturizer with SPF 30, apart from providing UVA and UVB protection, also reduces the appearance of wrinkles, fine lines, under-eye circles and prevents aging. The enriching blend of organic oils like jojoba, rice bran, and lavender hydrate the skin while repairing damaged skin. It also promotes collagen and elastin growth, improves skin tone and texture for a youthful and healthy appearance. The non-sticky formula brightens the skin and settles into a flawless matte finish. The gentle formula can be worn alone or under makeup and is suitable for all skin types.
Pros
Non-sticky
Lightweight
Alcohol-free
Paraben-free
Suitable for all skin types
Cons
Leaves a whitish cast on the skin
Unpleasant smell
Price at the time of publication: $15.99
Let us introduce you to your new SPF BFF. This moisturizer with SPF for dry skin has a lightweight formula with SPF 18 that provides protection from UV rays and signs of premature aging, giving you a younger-looking skin with its resveratrol and CoQ10. It moisturizes your skin and fights to prevent fine lines and wrinkles. It is blessed with ingredients such as sunflower seed oil, kelp extract, turmeric root extract, chamomile flower extract, orange peel oil, white tea leaf, and rosehip fruit oil. These ingredients give this chemical-free moisturizer with SPF, natural sun defense properties to prevent skin damage and give you healthy-looking skin.
Pros
Non-GMO
Has anti-aging properties
Gluten and cruelty-free
Promotes healthy skin
Fights against fine lines
Cons
Price at the time of publication: $14.67
Pros
Non-comedogenic
Paraben and sulfate-free
Cruelty-free
No added fragrance
Fights redness of face
Helps makeup last longer
Cons
May not be suitable for extremely sensitive skin
Price at the time of publication: $13.99
Pros
Infused with antioxidants
Cruelty-free and vegan
PABA and GMO-free
Reduces skin irritation
Repairs skin damage
Cons
Some may feel it to be heavy on the skin
Price at the time of publication: $24.95
Pros
Gluten and paraben-free
Hypoallergenic
Clinically-tested
Free of synthetic colors
Cruelty-free and vegan
Boosts peptides
Sets skin for makeup
Gives smooth and even skin tone
Cons
Price at the time of publication: $17.22
Pros
Non-greasy and non-GMO
Lightweight
Vegan
Paraben and gluten-free
Reduces chances of skin cancer
Fights early signs of aging
Prevents sunburn
Cons
Price at the time of publication: $32
This natural anti-aging moisturizer with SPF is your invisible shield against the sun and free radicals. This dermatologist-recommended product contains a natural Swiss formula featuring extract of edelweiss, a special plant with anti-aging benefits that grows in Swiss alps— something that sets this moisturizer apart from so many. It is also infused with coconut oil, moringa oil, hyaluronic acid, and vitamin E. The unscented blend of this formula fights signs of aging like fine lines and wrinkles and keeps your skin hydrated all day long.
Pros
Dermatologist-recommended
Unscented
Reduces wrinkles, fine lines, and dark spots
Restores firmness
Prevents breakouts
Cons
Some might find it a little sticky
Price at the time of publication: $24.95
Look beautiful all year round and feel confident with this award-winning skincare product. This natural moisturizer with SPF 30 is packed with organic ingredients like vitamin E, green tea, pomegranate, shea butter, aloe, and zinc oxide. It not only improves the appearance of your sun damaged skin, but also promotes production of collagen. The face moisturizer provides deep hydration and soothes your skin. It reduces the signs of aging and risk of cancer, making it a great addition to your skincare routine if you're worried about sun damage. This product can be great for your skin. To know more, take a look at this review from a skincare enthusiast.
Pros
Certified organic and natural ingredients
Paraben and gluten-free
Vegan and cruelty-free
Sulphate and dye-free
Boosts collagen production
Cons
The consistency may be slightly thick.
Price at the time of publication: $27.99
Pros
100% natural
Paraben and sulphate-free
Gluten-free
Cruelty-free and vegan
Protects from 93% of UVA/UVB rays
Nourishes and softens your skin
Cons
Some may find the consistency thick.
Price at the time of publication: $22.99
Pros
Vegetarian
Cruelty-free
Hydrates and renews skin
Primes for smooth base
Available in 4 tints
Cons
Some may find it slightly expensive.
Price at the time of publication: $45
Choosing the best moisturizer with SPF can ensure that your skin stays healthy in the long run. But before zeroing in on a moisturizer with SPF for your skin, tick the following factors off the checklist.
How To Choose A Natural Moisturizer With SPF?
Read the label carefully to see if the product suits your skin type. If you have sensitive or acne-prone skin, look for hypoallergenic and non-comedogenic products so that it does not clog your pores or cause any breakouts.
Moisturizers are categorised on the basis of the amount of oil and water they contain. Creams don't contain much oil but are good at locking in moisture. Whereas on the other hand, lotions have more water than oil, and hence, may not be a good option for extremely dry or sensitive skin as they evaporate faster and do not last long when compared to creams or ointments.
Experts suggest to look for products that provide broad spectrum protection. You can choose a moisturizer with SPF 15 or 30 and ensure that it is marked as face sunscreen. It will otherwise  not be able to totally protect your skin.
Your moisturizer should not just provide UV protection but also hydrate your skin, irrespective of your skin type. So check the list of ingredients for elements like hyaluronic acid, aloe vera, ceramides, and glycerin.
Now that you have learned how to pick the right product for your skin, let's sum up the benefits of using a natural moisturizer with SPF.
Benefits Of Natural Moisturizers With SPF
If your skin is protected from the sun with a moisturizer with SPF, it can help retain the ability to produce collagen. With that, your skin will look moisturized and will also be less prone to aging signs like fine lines and wrinkles.
A good moisturizer with SPF can reduce the skin damage and the risk of undergoing laser or cosmetic procedures to correct the problem.
Reduces skin discoloration
You may experience discoloration on certain parts of your skin as you age. This discoloration of the skin can be reduced using moisturizing products that contain SPF as it would provide appropriate protection from harmful UV rays.
Why Trust StyleCraze?
Kirtana Divakar is a skin and hair care enthusiast who is passionate about researching the latest trends in beauty and skincare products. She has curated this list of the best natural moisturizers with SPF. These products effectively protect your skin from harmful UV rays and aid in preserving your skin's moisture. Kirtana also gives you a sneak peek of the pros and cons of each product and important factors to consider while choosing the best product for your skin type.
Frequently Asked Questions
Is it good to have SPF in moisturizer?
It is not bad to have SPF in a moisturizer. Experts recommend using both a moisturizer and sunscreen separately so that there can be better penetration of the products into the skin. But applying a moisturizer with SPF is better than applying one with no SPF.
Is wearing an SPF moisturizer at night bad for my skin?
It is not harmful to use an SPF moisturizer at night but also not the best for your skin as most moisturizers compromise on their moisturizing properties to offer UV protection.
Does SPF damage skin?
No, it is in fact known to prevent skin damage if used properly. But some new studies also suggest that it can also aggravate your skin damage if you do not apply it often or properly.
Is a moisturiser with SPF as good as a sunscreen?
It is better to use a moisturiser with SPF than using no SPF at all. But if you step out in the sun often, it is advised to pick a sunscreen with high SPF.
Is natural moisturizer with SPF effective?
Yes, natural moisturizer with SPF is effective as it helps keep your skin moisturized and protected from sun damage while keeping aging signs at bay.
What is a good natural moisturizer for winter that will not cause breakouts?
A good natural moisturizer that would not cause breakouts is a combination of shea and mango butters with vitamins A, E , and F, and antioxidants. These ingredients help keep your skin well-nourished and protected from free radical damage.
What is the best natural moisturizer for acne prone skin?
The best natural moisturizer for acne-prone skin is argan oil, which hydrates the skin, removes excess sebum, and does not clog pores.
Recommended Articles