15 Best Natural And Organic Moisturizers For All Skin Types (2023)
It is time to pamper yourself with these organically formulated skin care products.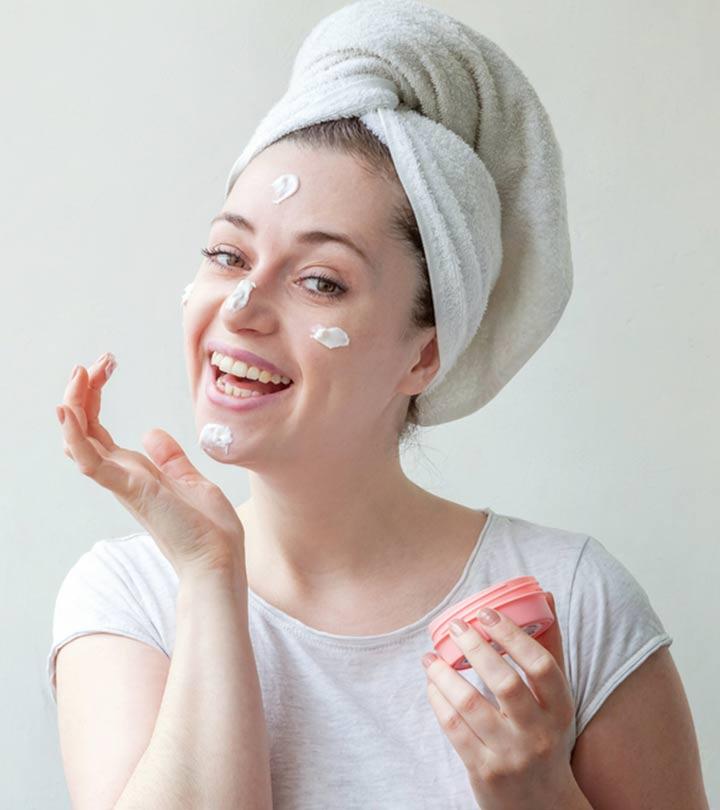 If you are looking for healthier options to help you hydrate your face, switch to the best natural face moisturizer. Why? Here's the deal. Natural face moisturizers contain ingredients that are commonly found in your pantry. This is because these ingredients not only benefit your body internally but are also good for your skin. If you see names such as coconut oil, rosemary oil, tea oil, or aloe vera on the back of the label, rest assured they are good for you. They keep your skin moisturized and healthy. We have compiled a list of the top natural face moisturizers to help you give your skin a glow.

Best Natural And Organic Face Moisturizers
The LilyAna Naturals Retinol Cream is a 71% organic moisturizer and is suitable for daily use. It contains 2.5% retinol and has anti-aging ingredients that keep your skin healthy without irritation or dryness. Apart from retinol, the cream contains hyaluronic acid, shea butter, green tea, and jojoba oil. It is lightweight, suitable for all skin types, and does not feel greasy or heavy on your skin. It is gentle on sensitive skin and can be used around the eye area to fight dark circles and puffiness. It works wonders for blemishes and helps with uneven skin tone, dark spots, sun damage, acne, scars, and stretch marks. This video will give you more insights into the product.
Key Ingredients: Retinol
Suitable For: All skin types (especially sensitive skin)
Pros
Paraben-free
Vegan
SLS and SLES-free
Petroleum-free
Phthalate-free
No artificial color or fragrance
Gluten-free
Not tested on animals
Cons
Price at the time of publication: $14.99
This Retinol Moisturizer by Radha Beauty reduces the appearance of wrinkles, fine lines, and crow's feet while brightening the skin tone. Retinol promotes collagen production, stimulates new cell growth, and minimizes skin discoloration. This moisturizer contains 2.5% active retinol, green tea, organic aloe vera, vitamin E, jojoba oil, and shea butter that deeply nourishes the skin and reduces the signs of photoaging without irritating the skin.
Key Ingredient: Retinol
Suitable For: Sensitive skin
Pros
Paraben-free
Sulfate-free
Alcohol-free
Vegan
Cruelty-free
Quick-absorbing formula
Oil-free
Cons
None
Price at the time of publication: $14.95
The LilyAna Naturals Face Cream has a lightweight formula that minimizes the appearance ofwrinkles, fine lines, wrinkles, flaky, peeling skin, and improves skin texture. It is enriched with vitamin E, aloe vera juice, alpha-lipoic acid, provitamin A, vitamin C ester, lemon, cranberry, and orange extracts that banish dullness, dark spots, and hyperpigmentation while keeping your skin soft and supple. This non-comedogenic cream also suits rosacea, eczema, and dermatitis-prone skin. To make an informed decision before buying, you can check out this video.
Key Ingredients: Rose and Pomegranate extracts
Suitable For: All skin types
Pros
All-natural formula
Vegan
Paraben-free
Gluten-free
Phthalate-free
SLS and SLES-free
Artificial fragrance and colors-free
Petroleum-free
Not tested on animals
Cons
Price at the time of publication: $19.67
This 10-in-1 formula of the E.ra Organics Complete Moisturize, Nourish, Repair, Protect cream is rich in skin-loving ingredients like aloe vera, manuka honey, shea butter, coconut oil, olive oil, blue-green algae, hemp seed, and other vitamins. This nutrient-rich natural face moisturizer provides you with 8-12 hours of deep hydration. It slows down cell damage, stimulates new cell growth, and improves elasticity to prevent wrinkles and keep your skin youthful. You can use it on the face, hands, body, and feet.
Key Ingredients: Aloe vera, MSM, and Manuka honey
Suitable For: Dry and sensitive skin
Pros
Non-comedogenic
Fragrance-free
Alcohol-free
Paraben-free
Can be used for rosacea, eczema, and dermatitis
Non-greasy
Cons
Price at the time of publication: $27.45
The Neutrogena Hydro-Boost Gel Cream is perfect for dry skin. It has a unique, lightweight texture that gets instantly absorbed into your skin and provides intense hydration. The cream is formulated with hyaluronic acid and locks in moisture for 72 hours. It strengthens the natural moisture barrier of your skin and protects it against harmful environmental aggressors. The gel-based cream improves skin smoothness, firmness, clarity and makes it appear plump. It improves the skin's natural ability to stay hydrated.
Key Ingredients: Hyaluronic acid
Suitable For: All skin types
Pros
Lightweight
Quick absorbing formula
Non-comedogenic
Dye-free
Fragrance-free
Oil-free
Dermatologist-recommended
Cons
None
Price at the time of publication: $19.57
The Weleda Skin Food Original Ultra-Rich Cream is perfect for dry and flaky skin. The ultra-nourishing formula of this cream contains calendula, sunflower oil, chamomile, and pansy extracts to soothe and balance your skin. Its rich texture penetrates deep into the skin to deliver moisture and keep it replenished. The cream contains beeswax and botanical oils and can double as a skin primer. This multipurpose cream can be used on hands, elbows, as a highlighter, and even on hair to tame frizz and hydrate dry ends.
Key Ingredients: Sunflower Oil, Pansy extract, and Beeswax
Suitable For: Dry skin
Pros
Cruelty-free
Paraben-free
Phthalate-free
Synthetic preservative-free
Fragrance-free
Cons
Price at the time of publication: $13.29
The Aloe Infusion Face And Body Cream contains 100% natural super-plants and organic seed/nut extracts that moisturize and rejuvenate the face and body. It contains ingredients like aloe vera, shea butter, coenzyme Q10, grape seed oil, manuka honey, and kukui nut oil. Aloe vera helps restore the skin surface and improve the texture, while the other ingredients protect damaged skin and boost cell regeneration. This light, gentle formula also calms itching and heals skin infections.
Key Ingredients: Aloe Vera
Suitable For: Dry skin
Pros
100% natural
Paraben-free
Synthetic color-free
Fragrance-free
Non-sticky
Cons
Price at the time of publication: $19.95
The Drunk Elephant Protini Polypeptide Cream is a protein moisturizer containing Signal Peptide Complex (growth factors), a blend of amino acids, pygmy water lily, and vitamin B. This complex helps maintain youthful and elastic skin, improves skin tone, texture, and firmness, and locks in moisture.
This cream diminishes the visible signs of aging. It is enriched with abundant proteins and nutrients to restore healthy skin. The cream has a pH level of 4.0.
Key Ingredients: Peptides and Pygmy water lily extracts
Suitable For: Mature skin
Pros
pH-balanced formula
Vegan
Cruelty-free
Silicone-free
No artificial fragrances
100% free of essential oils
Cons
Expensive for the quantity
Price at the time of publication: $22
The Juice Beauty Stem Cellular Anti-Wrinkle Moisturizer has a luxurious and hydrating formula that reduces the appearance of fine lines and wrinkles. It has a proprietary blend of fruit stem cells and vitamin C infused into a resveratrol-rich grape formula. The cream also contains antioxidant-rich jojoba oil and shea butter to hydrate and moisturize the skin while fighting free radical damage. It is ideal for all skin types and especially for mature skin. You can use this cream under makeup for lightweight hydration.
Dr. Schwarzburg, a leading authority in the field of minimally invasive cosmetic and laser medicine in New York City, says, "Synthetic fragrance-free products are great for people who have sensitive skin. Fragrances often tend to irritate the skin, especially if they are synthetic and filled with chemicals."
Key Ingredients: Fruit stem cells blend, Resveratrol, Grape juice, and Jojoba oil
Suitable For: All skin types (especially mature skin)
Pros
Can be used under makeup
Vegan
Paraben-free
Petroleum-free
Talc-free
Sulfate-free
Phthalate-free
No artificial dyes
Synthetic fragrance-free
Sustainable packaging
Cons
None
Price at the time of publication: $70.0
The Weleda Sensitive Care Facial Lotion has a lightweight and fragrance-free formula, perfect for sensitive and combination skin. It has skin-soothing benefits as it is enriched with sweet almond oil to moisturize the skin, plum seed oil for making your skin soft and silky, and beeswax for added hydration. The cream gets swiftly absorbed into the skin and works as a calming balm for irritated skin.
Key Ingredients: Sweet Almond Oil, Beeswax, Plum Seed Oil
Suitable For: Sensitive and combination skin
Pros
Lightweight
Fragrance-free
Quick absorbing formula
Dermatologist tested
Synthetic preservative-free
Synthetic color-free
Cons
Price at the time of publication: $22.41
The Awake Human Organic Facial Moisturizer is a carefully crafted moisturizer that makes your skin feel hydrated and moisturized without greasiness. It contains Brassica Glycerides that add a light matte touch to the formula, green tea extract provides phytonutrients to nourish the skin, and shea butter, jojoba, safflower, and sweet almond oils provide deep moisturization. The pH-balanced formula protects the skin's acid mantle. This cream works wonderfully under makeup and is also available in an unscented version. It is non-comedogenic and suitable for all skin types.
Key Ingredients: Jojoba Oil, Sweet Almond Oil, Green Tea Extracts, Shea Butter
Suitable For: All skin types
Pros
Reduces fine lines and wrinkles
Vegan
Cruelty-free
Fragrance-free
Non-comedogenic
Matte finish
Cons
None
Price at the time of publication: $19.99
One of the main ingredients of the 1000 Roses Day Cream by Andalou Naturals is rose extracts. It contains rose distillate, rose isolates, and Alpine rose plant stem cells. It also contains ingredients like aloe vera and pomegranate extracts that soothe dry and sensitive skin. It keeps the skin hydrated and brightens the skin tone. The hyaluronic acid and aloe vera in the formula protects the skin's hydrolipid barrier and provides you a youthful glow.
Key Ingredients: Alpine rose stem cell, Pomegranate, Hyaluronic acid
Suitable For: Dry and sensitive skin
Pros
Non-GMO
Gluten-free
Fairtrade
Cruelty-free
Sustainable
Vegan
Pleasant fragrance
Cons
Price at the time of publication: $11.99
The Burt's Bees Daily Moisturizing Cream provides all-day hydration and gives you a luminous complexion. It is clinically proven and does not cause redness or irritation. The formula contains aloe vera that hydrates and smooths the skin and cotton extract keeps it replenished and minimizes skin damage. This moisturizer is also packed with 75 nutrients, vitamins, and minerals. Regular use of this moisturizer will keep your skin feeling fresh and well hydrated.
Key Ingredients: Aloe Vera and Cotton extract
Suitable For: Sensitive skin
Pros
Provides all-day hydration
Dermatologist tested
Hypoallergenic
Fragrance-free
Paraben-free
Phthalate-free
Petrolatum and SLS-free
Cons
Price at the time of publication: $10.39
The O Naturals Hemp Oil Moisturizing Day Cream protects your skin throughout the day. Hemp oil is deeply moisturizing, and it contains omega- 3 and 6 fatty acids. It is highly beneficial for restoring and moisturizing dry skin. This day cream also contains hyaluronic acid, squalane, and vitamin E. Together, all these ingredients boost collagen development, prevent fine lines and wrinkles, and protect your skin's natural barrier. The quick-absorbing formula hydrates dry skin and prevents moisture loss.
Key Ingredients: Hemp Oil
Suitable For: Dry skin
Pros
Ecocert certified organic
Non-greasy
SLS & SLES- free
Silicone-free
Petrolatum-free
Paraben-free
Propylene glycol-free
Cruelty-free
Cons
Price at the time of publication: $14.95
The Green Tea Water Bomb by Bonajour is enriched with catechins and vitamins that protect your dry skin from damage and keep it healthy. The green tea used in this product is grown in the mineral-rich Jeju island. This cream is rich in peptides that help regenerate your skin, provide 72 hours of hydration, and have anti-aging effects. It keeps your skin moisturized, improves elasticity, and protects your skin from environmental damage.
Key Ingredients: Green tea, Camellia sinensis leaf extract
Suitable For: Sensitive skin
Pros
Paraben-free
Fragrance-free
No artificial color
Silicone-free
Not tested on animals
Vegan
FSC certified for sustainable sourcing
Cons
Price at the time of publication: $15.88
Often, you will find products that claim to be "natural," but they do contain synthetic ingredients. Be careful when picking a moisturizer. A natural and organic face moisturizer contains unprocessed (natural) or processed (artificial) ingredients that are derived from nature. Here are a few things to keep in mind when picking a natural daily moisturizer for your face or body.
How To Pick The Right Organic Face Moisturizer
1. Determine What "Natural" Means To You
Not all define the term "natural" the same way. For some, natural means products that are devoid of parabens, mineral oils, and other synthetic ingredients. For others "natural" means products that are not formulated in labs and contain unprocessed natural ingredients. Certification is not always necessary to define a "natural face moisturizer." It's all about how you define it. You may check the brand website and the ingredient list or do a patch test before picking.
2. The Certifications
Although it is not mandatory for a brand to get their skin care products certified for natural and clean ingredients, certification builds trust within the customers. You can check for certifications, such as Ecocert, USDA, Cruelty-free, Vegan, COSMOS-standard, EWG verified, and NPA (National Products Association) verified tags.
3. Buy As Per Your Skin Concern
Skin concerns are vital factors to be considered. If you have acne-prone skin, always look for non-comedogenic products. Pick products depending on your skin concern. This helps to minimize any risk of aggravating your existing skin condition.
4. Know The Types Of Moisturizer
Moisturizers are either oil-based or water-based. They can be ointments, creams, and moisturizing lotions. Oil-based ointments or moisturizers can seal moisturize perfectly. If you have dry skin or conditions like eczema, you can use oil-based products. If you do not like the greasy feeling of ointments, you can use moisturizing creams as they do not contain much oil like ointments but can seal moisture effectively. Lotions are primarily water-based and can suit all skin types, depending on the formula.
5. Check For Possible Irritants
Ingredients like parabens, dyes, alcohol, perfume, or fragrance can irritate the skin. Hence, avoid these ingredients. Also, if you are using a moisturizer with SPF, check for mineral sunblocks like titanium dioxide and zinc oxide. These are usually safe.
Also, do not forget to research about ingredients you are not sure about.
Remember, natural does not always mean better. You can be allergic to natural ingredients, just like synthetic ingredients. The source of the ingredients cannot determine the safety of the product. Know what you are allergic to and pick products accordingly. If possible, always consult a doctor or do an allergy test before you finalize anything.
That was our round-up of the 15 best natural and organic face moisturizers. You can use this buying guide to pick one based on your skin concerns and type!
Why Trust Stylecraze
The author of this article, Shiboli Chakraborti, is a certified skin care coach who believes in using natural and organic moisturizers that benefit your skin in the long run. She tried out various products and read several customer testimonials to curate this list of the best for you. These moisturizers are made of skin-nourishing ingredients that help with uneven skin tone and scars, and give you glowing skin.
Frequently Asked Questions
Is coconut oil a good moisturizer for the face?
It is not advisable to put coconut oil on your face as it tends to clog the pores.
How can I hydrate my face naturally?
You can use a natural and organic face moisturizer from the above list or try shea butter, honey, and aloe vera gel to keep your skin moisturized.
Is natural moisturizer good for the face for daily use?
Yes. Natural moisturizers are free of harsh chemicals that irritate and damage the texture of your skin. Therefore, these formulas are safe for cleansing and hydrating your face daily.
How long do natural face moisturizers last?
The shelf life of natural face moisturizers is between six months to one year.
Do natural face moisturizers really make a difference?
Yes. Natural face moisturizers contain safe, organic ingredients like rosemary oil, aloe vera, and coconut oil that benefit the skin. These moisturizers are free of any chemicals that aggravate your skin's sensitivity. You can see your facial skin become healthier after 2-3 months of regular use.
Should I use organic face moisturizer on the neck area?
Yes. The neck is often as exposed to the elements as your face is. Use an organic face moisturizer on your neck to keep your neck skin healthy and even-toned.
Is it okay to use natural face moisturizer as an eye cream?
No. The skin under your eyes is delicate and prone to aging. Therefore, use only those creams designed for the eyes to hydrate the skin under and around the eyes. Using any other cream can irritate and dry out the skin.
Can we use natural face moisturizer and skip the face serum?
No. Serums and moisturizers address different skin issues. Moisturizers hydrate and nourish your dry skin, while serums treat aging signs and hyperpigmentation and even partially hydrate your skin. You can use both products together to achieve healthy skin. However, use only a natural face moisturizer if you have no specific skin-related problems.