The 13 Best Natural Shampoos Suitable For Most Hair Types – 2023
Gently nourish and cleanse your skin with the most potent plant-based concoctions.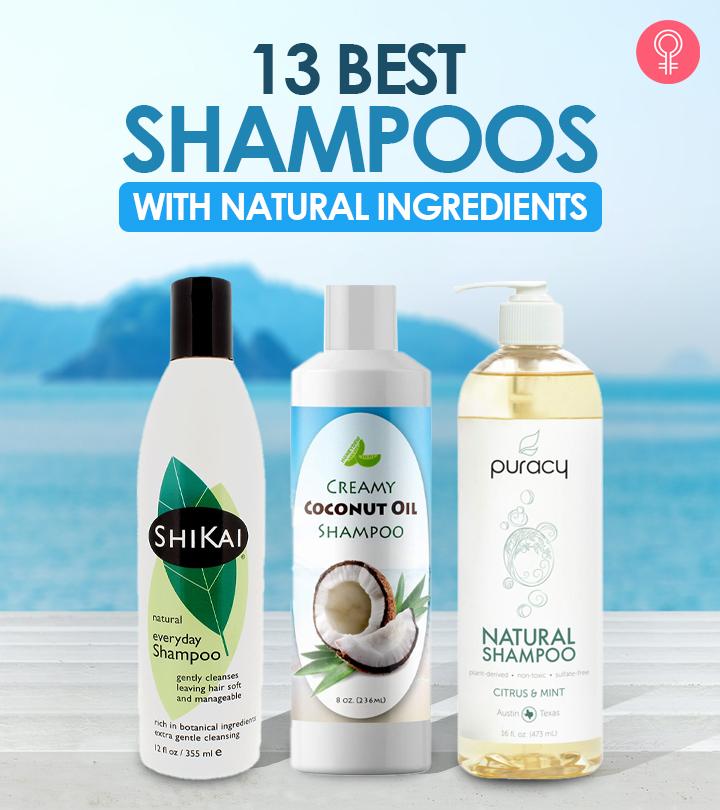 Despite its many amazing claims, chemical-based shampoo can cause some severe problems and devastating results to your beautiful hair. You should look for the best natural shampoo to save your hair from damage. Unlike other shampoos, organic shampoos use 100% natural ingredients that heal your damaged hair and nourish it back to its former glory. With every other brand claiming to be natural, just adding natural or 'naturale' in their title doesnt make them natural. Choose the best natural shampoo for your hair by heading over to our list. We're sure you won't be disappointed.
13 Best Shampoos With Natural Ingredients
The JĀSÖN Restorative Biotin Shampoo renews hair thickness and elasticity thanks to its biotin and vitamin B5. The natural composition of ginseng and lavender extracts helps repair split ends and rebinds the roots. The shampoo ensures minimal hair breakage. It is free of sulfates, phthalates, parabens, petrolatum, artificial colors, and synthetic fragrances. It is non-GMO. The product is also not tested on animals.
The botanical extracts, proteins, and vitamins in the shampoo keep your hair healthy. They also help restore the natural hair shine and strength. Watch this video to know more about the product.
Key Ingredients: Ginseng and lavender
Pros
Cruelty-free
Vegan
Paraben-free
Sulfate-free
Phthalate-free
Petrolatum-free
No synthetic fragrances
No artificial colors
Non-GMO
Mild scent
Cons
Price at the time of publication: $7.48
The puracy Natural Daily Shampoo is enriched with a combination of citrus wedges mint and eucalyptus that moisturizes hair and protects the scalp. This coconut-based foamy shampoo has a gentle natural scent. It gives you results in two weeks.  Its vitamin E, B5, beet sugar extracts, and olive oil squalene eliminate frizz and give hydration and strength to the hair. The mixture of soapbark, ivy, black walnut leaves, matricaria, and ginseng extracts restore the natural hair nutrients. This plant-based formula is safe for daily use and is meant for all hair types. It also is safe for sensitive scalp.
The shampoo is free of sulfates, parabens, phosphates, triclosan, formaldehyde, salicylates, petroleum, perfumes, dyes, and caustics. It is not made of animal byproducts. The shampoo is also hypoallergenic, cruelty-free, gluten-free, and biodegradable.
Key Ingredients: Citrus and mint
Pros
Hypoallergenic
Sulfate-free
Paraben-free
Phosphate-free
Triclosan-free
Formaldehyde-free
Petroleum-free
Dye-free
No caustics
Gluten-free
Cruelty-free
Biodegradable
Vegan
Suits all skin types
Safe for sensitive scalp
Cons
Price at the time of publication: $29.95
The Tree To Tub Soapberry Shampoo is an infusion of the wild soapberry, lavender leaves, and organic argan oil that balances the scalp pH and boosts hair hydration.  The product is a perfect choice for people with sensitive, dry, and oily scalp. It specifically works well for dry hair. It effectively clears up dandruff.
Its deep hydration effects enrich the scalp. It also redefines and rebuilds the hair structure with a stronger and shinier foundation. It contains no toxic chemicals. It is meant for all scalp types, including dry and sensitive skin. The lavender essential oil in the shampoo leaves hair mildly fragrant. It also makes the hair feel silky.
The shampoo is also free from parabens, sulfates, silicones, gluten, and artificial fragrances. It is vegan and cruelty-free as well. It also is recommended by dermatologists. The shampoo is hypoallergenic, and hence, can be used for babies too. This video will give you more insights into the product.
Key Ingredients: Soapberry, aloe vera, chamomile, lavender essential oil, and argan oil
Pros
Suitable for all hair types
Boosts hair volume
Cruelty-free
Vegan
Paraben-free
Sulfate-free
Silicone-free
Gluten-free
No artificial fragrances
Hypoallergenic
Dermatologist-recommended
Suitable for babies too
Eco-friendly
Cons
Price at the time of publication: $17.99
The ACURE Curiously Clarifying Shampoo is enriched with lemongrass and argan oil. These ingredients nourish the tresses and carefully wash away buildup without stripping your hair's natural moisture. The formula is gentle enough for daily cleansing. It boosts shine and combats sensitive scalp issues.
Key Ingredients: Lemongrass and argan oil
Pros
Gentle ingredients
Paraben-free
Sulfate-free
Mineral oil-free
Petrolatum-free
Formaldehyde-free
Cruelty-free
Suitable for sensitive scalp
Cons
None
Price at the time of publication: $6.99
The Innersense Pure Harmony Hair Bath gently cleanses the scashampoo is free of parabens and sulfateslp and replenishes the hair roots. This plant-based shampoo contains purely organic contents like pumpkin seeds, shea butter, and extracts of aloe and coconut oil. These increase hair volume and redefine hair quality.
The hair bath additionally contains moisturizing and hydrating ingredients like coconut and rice bran with the fusion of avocado oil that offer a gentle cleanse. The pumpkin seed oil harmonizes and uplifts the strands and enhances blood circulation. It also relieves stress and anxiety. The green tea in the product is rich in antioxidants. It heals and repairs the strands and offers anti-aging effects. This sulfate-free shampoo balances hair without making it dry or frizzy. It also protects your hair from harsh environmental pollutants. All the ingredients are formulated without harmful additives. This product suits the best for fine to medium hair types.
This shampoo is formulated without parabens, phthalates, silicones, petro compounds, artificial dyes, and synthetic fragrances. It is made of non-GMO ingredients and is also gluten- and cruelty-free.
Key Ingredients: Coconut, pumpkin seed oil, and green tea
Pros
No residue
Paraben-free
Sulfate-free
Phthalate-free
Silicone-free
No petro compounds
No synthetic fragrances
Volumizing
Moisturizing
Boosts hair shine
No artificial dyes
Cons
Expensive
May cause frizz
Price at the time of publication: $70
The Shikai Natural Everyday Shampoo is boosted with purely organic ingredients. Its simple formula is perfect for regular and frequent use. Its balanced composition of aloe with acacia tree fruit extract gently lathers the hair and leaves it shiny, bouncy, and well manageable. This soap-free shampoo is entirely plant-based and thoroughly cleanses the roots and the scalp. Its aloe vera also hydrates and replenishes the strands and revives the chemical structure of the hair.
Key Ingredients: Shikakai and aloe vera
Pros
Preserves hair color
Vegan
Paraben-free
Softening
Mild
Cons
Overpowering fragrance
May weigh hair down
Price at the time of publication: $9.64
The True Botanicals Nourishing Shampoo is a natural hydrating shampoo packed with the goodness of antioxidants that offer a deep cleanse without stripping the natural hair oils. This shampoo is curated for all hair types. It is infused with aloe vera extracts that hydrate and soothe the scalp without making it dry.
The green tea oil exfoliates the scalp to eliminate dead skin and flakes. It also is additionally rich in protective antioxidants that nourish and moisturize the scalp. This balancing shampoo also contains meadowfoam seed oil that helps seal moisture and supplies vitamin E to soften your hair. The shampoo is free of parabens and sulfates. It also is vegan and cruelty-free.
Key Ingredients: Meadowfoam seed oil, green tea, and aloe extracts
Pros
Vegan
Cruelty-free
Paraben-free
Sulfate-free
Non-toxic
Moisturizing
Cons
None
Price at the time of publication: $34
The Drunk Elephant Cocomino Glossing Shampoo is made with a mild blend of amino acids, nourishing oils, and hydrating agents that hydrate the hair and scalp. These also offer a deep cleansing effect. It contains fatty, coconut-based surfactants that effectively remove chemicals, dirt, and product build-up.
The quick-absorbing amino acids and fatty acid-rich oils make your hair glossy and bouncy. The shampoo prevents water loss in the hair and keeps your tresses hydrated for a longer duration. It also maintains scalp pH levels. The sacha inchi seed oil provides antioxidant protection.
This product is free of silicones, SLS, drying alcohols, fragrances, and dyes. To make an informed decision before buying, you can check out this video.
Key Ingredients: Coconut amino acids and sacha inchi seed oil
Pros
Vegan
Silicone-free
SLS-free
Fragrance-free
Dye-free
No drying alcohols
Balances scalp pH
Hydrating
Cons
Not recommended for gray hair
Price at the time of publication: $25
The Ursa Major Go Easy Shampoo leaves hair soft and manageable. Its vegan and gluten-free ingredients make it gentle and suitable for all hair types. The shampoo does not strip the natural scalp oils. It also is free of allergens. It is formulated with natural ingredients like coconut-based surfactants that promote a rich lather. The macadamia and bergamot in the shampoo nourish and condition the hair while removing the build-up.
The shampoo is sulfate-free and suitable for all hair types and sensitive scalp. The ginger, balsam, and fir leave behind an intoxicating woody fragrance.
Key Ingredients: Coconut surfactants, macadamia, and bergamot
Pros
Conditions hair
Sulfate-free
Paraben-free
Petrochemical-free
Silicone-free
No synthetic fragrances
Vegan
Gluten-free
Hypoallergenic
Hydrates scalp
Seals moisture
Cons
Expensive
Could be greasy for some
Price at the time of publication: $26
The Garrett Markenson Reverie Suna Natural Exfoliating Shampoo has a gentle, salt-free formula that exfoliates the scalp, eliminates product buildup, and controls excess sebum. It moisturizes your hair, making it appear cleaner and longer. The potent formula comes with hibiscus flower extract, sodium hyaluronate, and an essential mineral complex of rhassoul clay. It protects the scalp's natural barrier and delivers nutrients directly to the scalp and the hair while decreasing frizz and increasing your hair's shine and softness.
Rhassoul clay gently purifies the scalp, removes dead skin cells, and controls sebum production, while hibiscus extract gently exfoliates the skin. The sodium hyaluronate in the formula seals in moisture to soothe dull and dry scalp. The formula also contains the calming scents of spearmint, spruce, and hinoki that rejuvenate your senses when you apply the product.
Key Ingredients: Rhassoul clay, sodium hyaluronate, and hibiscus flower extract.
Pros
Adds shine
Reduces frizziness
Gentle exfoliation
Paraben-free
Phthalate-free
Sulfate-free
Silicone-free
Gluten-free
Artificial fragrance-free
Artificial coloring-free
Glycol-free
Petrochemical-free
TEA-free
DEA-free
Cons
None
Price at the time of publication: $46
The WOW Skin Science Apple Cider Vinegar Shampoo nourishes your hair and makes it less prone to breakage and split ends. The formula contains apple cider vinegar that restores the skin's natural pH and tackles dandruff. It detoxifies the skin, controls excess sebum production, and reduces dead scalp cell buildup.
The saw palmetto in the formula combats hair loss and makes individual strands appear softer and thicker. Sweet almond oil promotes shine and strength while argan oil adds moisture to your tresses and protects them from daily damage. The nettle leaf extract contains antioxidant and anti-inflammatory properties which soothe the scalp. The plant-powered formula deeply cleanses your hair, purifies pores, and combats scalp acne.
Key Ingredients: Apple cider vinegar, saw palmetto, sweet almond oil, and nettle leaf extract
Pros
Hypoallergenic
Non-comedogenic
Reduces dandruff
Controls sebum
Paraben-free
Sulfate-free
Silicone-free
PEG-free
Artificial color-free
Cons
None
Price at the time of publication: $16.79
The Aromatica Rosemary Scalp Scaling Shampoo guarantees good scalp health due to the presence of mild, rejuvenating, and strengthening ingredients. The rosemary in this vegan formula clears dandruff in the first few washes. The combination of basil, oregano, coriander, ginger, bringraj, pine needles, and rosemary supplies essential nutrients to the hair.
The combination of rosemary and verbenone promotes blood circulation while the cedarwood essential oils help revitalize and cleanse the scalp. The biotin and panthenol in the shampoo help strengthen the hair roots and remove dead skin cells.
The shampoo is free of sulfates, parabens, and silicones.
Key Ingredients: Rosemary and cedarwood
Pros
Sulfate-free
Paraben-free
Silicone-free
Removes dead skin cells
Cons
Price at the time of publication: $23.94
The 100% Pure Honey & Virgin Coconut Restorative Shampoo is made with pure and natural ingredients that offer smooth, shiny, and healthy hair. This restorative shampoo contains honey and coconut extracts that nourish and hydrate dry hair and scalp. Its intense moisturizing formula gives stronger and glossier hair and promotes scalp hydration.
Its sulfate-free formula is safe to be used on colored-treated hair. The combination of honey and virgin coconut replenish the thirsty locks while softening and hydrating them. This shampoo suits all hair and scalp types. It additionally contains sea kelp and honey that seal hair moisture.
The shampoo is free of parabens, sulfates, phthalates, and artificial fragrances.
Key Ingredients: Virgin coconut oil, sea kelp, and honey
Pros
Sulfate-free
Paraben-free
Phthalate-free
No artificial fragrances
Seals moisture
Cons
Consistency could be too thin
Price at the time of publication: $34
These are the 13 best natural shampoos that can help promote your hair health. The following sections will tell you more about natural shampoos.
What Is Natural Shampoo?
A natural shampoo contains a larger portion of natural plant and fruit extracts. They tend to improve your hair and scalp condition in the most natural ways. They are also less likely to cause allergies in most people.
Why Should You Use A Natural Shampoo?
Continuous use of chemical shampoos can adversely affect your hair over time. Usage of a natural shampoo almost guarantees better hair health in the long run. Natural shampoos also pose a lesser risk of allergies or side effects.
How To Choose The Best Natural Shampoo?
Firstly, look for the key ingredients that are beneficial to your particular hair/scalp condition. Certain natural ingredients may still increase allergy risk in some individuals. Choose accordingly. Read the ingredients list carefully and avoid shampoos with chemicals.
Why Trust StyleCraze?
Shiboli Chakraborti, the author, has an in-depth knowledge of hair care brands, their products, and formulations. She understands the science behind the products and how they affect your hair. She has done her share of research and reviewed several customer feedback before curating this list of the best natural shampoos for you. She has checked the product ingredients and picked a mix of products for all hair types.
Frequently Asked Questions
Are natural shampoos really better?
Yes, natural shampoos are better than their chemical counterparts as they are derived from plant extracts and contain no harmful chemicals.
Should I keep changing my shampoo?
It is not recommended you change your shampoo often. Using too many different shampoos in a short period can have adverse effects on your scalp.
What are the harmful ingredients in a shampoo?
Certain harmful ingredients in a shampoo that are best avoided include sulfates, parabens, phthalates, silicones, petrochemicals, dyes, and synthetic colors or fragrances.
How often should I wash my hair?
You can wash your hair once every two or three days. The oily scalp needs more frequent washing.
How long does it take to adjust to a natural shampoo?
It may take around four to six weeks to adjust to a natural shampoo.
How do you know if your shampoo is natural?
Check the ingredients list of the shampoo to know whether it is natural. A shampoo is generally natural when it is devoid of chemicals, artificial fragrances, colorants, synthetic additives, and preservatives.
Recommended Articles
Best Non-Toxic Shampoos And Conditioners For Healthy Hair
Best Natural Shampoos For Color-Treated Hair
Best Zero Waste Shampoos That Are Better For Your Hair And The Planet
Best Shampoos To Tame Frizz And Flyaways