7 Best Navy Blue Nail Polishes For 2023 – Reviews & Buying Guide
Look bold and sophisticated with these great quality, and long-lasting nail paints.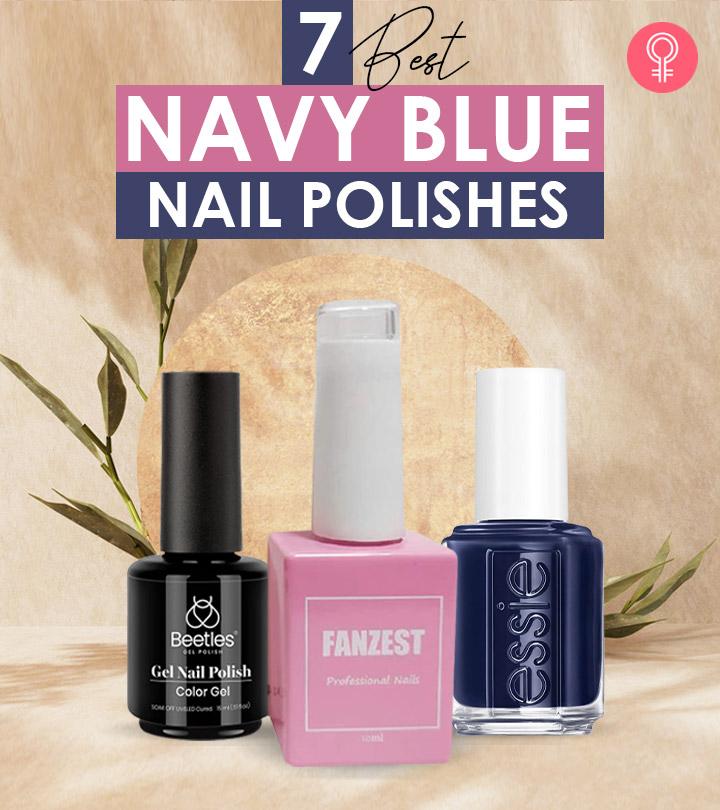 As far as your favorite nail colors are concerned, it keeps changing according to season. When you switch from cold brew to classic hot coffee, you might want to ditch your blush pink and neon yellow for a glossy and rich color once the temperature starts dipping. While deep reds and burgundies might seem monotonous, you can go ahead and try the best navy blue nail polish to create an edgy look. Blue nail color is available in multiple shades, and you can go both subtle and bold with this versatile nail color.
Navy blue color complements most skin tones and can be worn on any occasion, any season, or any time of the day. Keep scrolling through to check out our list of the 7 best navy blue nail polish.
Add sparkle your nails with the non-toxic Fanzest Gel Polish.
It lasts for over 15 days when applied the right way.
For a perfect setting, apply two-three coats and cure it under an LED light for 30-60 seconds or under a
UV nail drying lamp
for 2-4 minutes. This gorgeous blue gives a mirror shine finish and is easy to take off.
Finish Type: Shimmery
Pros
Long-lasting
Non-toxic
Mild scent
Highly pigmented
FDA approved
Cons
None

Price at the time of publication: $6.99
This Limited-Edition navy blue nail polish from Essie Infinity's Spring 2023 Collection offers a cream finish to the nails. The trendsetting hue is long-lasting and offers excellent coverage. The bottle includes an easy-to-glide brush that ensures a streak-free application. Give yourself a flawless manicure effect with cuticle oil, followed by two coats of polish sealed in with a final topcoat. Check this video to learn more about the product.
Finish Type: Glossy
Pros
Flawless coverage
Long-lasting
Easy-glide brush
Streak-free
Value for money
Cons
None
Price at the time of publication: $7.21
The Beetles Navy Blue gel paint is an all-season color that offers a 21-day lasting shine. The vibrant hue provides an excellent glossy finish and makes the nails look attractive. It is easy to apply and free of nine toxins, keeping the nails safe from damages and infections.
For best results, clean and file the nails first and apply a thin base coat. Hold or cure under an LED or UV lamp for 60-90 seconds before applying the gel paint. Cure again for 60 seconds before the second coat. Cure for 30 seconds before applying the third coat. Finish with a topcoat and hold under the UV/LED light for 90-120 seconds.
Finish Type: Glossy
Pros
Long-lasting
9 toxin-free
Adhesive-free
Mild scent
High glossy finish
Richly pigmented
Cons
None

Price at the time of publication: $6.99
This navy blue holographic, jelly nail polish from ILNP has a vegan formula and offers a stunning sparkle. It is chip-resistant and provides long-lasting coverage. The nail polish contains high-quality ingredients and holographic micro flakes that add shine to your nails. All you need is 2-3 coats for brilliant effects. The product is free of seven toxins and is extremely safe to use. Take a look at this video to get more information on the product.
Finish Type: Shimmery
Pros
Good coverage
Long-lasting
Chip-resistant
Easy to remove
7-free
Vegan
Cruelty-free
Cons
None
Price at the time of publication: $10
The Noble Navy Blue nail polish from Dr.'s Remedy has a reparative and nail strengthening formula enriched with all-natural and organic ingredients. It contains tea tree oil, garlic bulb extract, vitamins C and E, biotin, and wheat proteins to repair and strengthen the nails. The long-lasting formula is creamy and adds dimension to the nails. This nail polish is excellent for toenails affected with fungal infections. A base coat along with a clear top coat will give you the best results. This video offers a more detailed explanation of the product.
Finish Type: Glossy
Pros
Organic
Natural
Long-lasting
Adds shine
Quick-drying
Non-toxic
Cruelty-free
Formaldehyde-free
Phthalate-free
Paraben-free
Toluene-free
Cons
None

Price at the time of publication: $18
LeChat Nobility brings you a quick-drying set of navy blue gel polish and nail lacquer for high-pigment color and a professional setting. The quick-drying, chip-resistant formula lasts long and offers buildable coverage. Cure the gel polish with LED or UV lighting and finish with the blue frosted lacquer.
Finish Type: Glossy
Pros
Quick-drying
Chip-resistant
Long-lasting
Buildable coverage
Cons
None
Price at the time of publication: $12.5
You Don't Know Jacket is a dark navy blue shade of nail paint from China Glaze. The creamy formula is blended with polymers for a long-lasting and chip-free experience. The shiny color doesn't fade easily and dries quickly once applied. It is a part of the Ready-To-Wear collection, and the polish bottle includes a brush made of 36% more fibers that facilitates precise and flawless application and control.
Finish Type: Cream
Pros
Quick-drying
Long-lasting
Chip-resistant
Fade-proof
Precise application brush
Toluene-free
Phthalate-free
Formaldehyde-free
Camphor-free
Ethyl tosylamide-free
Xylene-free
Triphenyl phosphate-free
Resin-free
Cons
None
Price at the time of publication: $7.4
Navy blue nail polish looks trendy and fashionable if applied right. Here are some tips to pick the best navy blue color for your nails.
Shade: Pick a shade that gives a perfect color in two or three coats, or it may peel off and feel too thick on the nail. Also, make sure the shade suits your skin tone. Navy blue or electric blue suits fair skin tones, pastel shades and gray-blues suit tan skin, and shades of blue with tints of cobalt or purple look good on darker skin tones.
Finish: Decide what kind of finish you want – matte or shiny. A matte finish is better for formal wear, whereas a shiny finish is good for casual wear or party nights. The shiny finish could also include some glitter if you don't mind a funky look.
Drying: A blue shade will require two or three coats and sets best if dried under an LED or UV light. Hence, it is best to go for a quick-drying nail polish.
Why Trust StyleCraze?
The author of this article, Baishali Bhattacharya, is certified in makeup artistry. She has curated this list of the best navy blue nail polishes after carefully browsing through online reviews on several e-commerce websites. Her list features nail polishes that are long-lasting, highly pigmented, and non-toxic. Not only do these navy blue nail polishes glide easily and give you flawless coverage, but they're also free of adhesives and are easy to remove.
Frequently Asked Questions
Does navy blue nail polish make the hands look old?
A navy blue nail polish may draw attention to the blue veins and make your hands look old, especially if they are beginning to wrinkle.
Does navy blue nail polish make hands look dark?
A darker shade of blue like navy blue may make your hands look darker. Darker skin tones look better with a lighter blue or a navy blue with a tint of purple or cobalt.
How do you match navy blue nails?
Red, pink, and coral colors look beautiful with navy blue. If you want a funkier look, you can try lemon yellow or green.
What does dark blue nail polish represent?
The dark blue nail polish represents calmness.
When can you wear blue nail polish?
You can wear blue nail polish on any occasion, whether for an office or a fancy party.
Is blue nail polish in fashion?
Yes, blue nail polish never goes out of style and is still pretty trendy worldwide.
How do I remove blue nail polish?
You can use an alcohol nail paint remover to take off blue nail polish.
Recommended Articles