10 Best Nebulizing Diffusers Of 2023 To Destress
Enjoy a relaxed evening after work with an ultra-quiet and stylish nebulizer diffuser.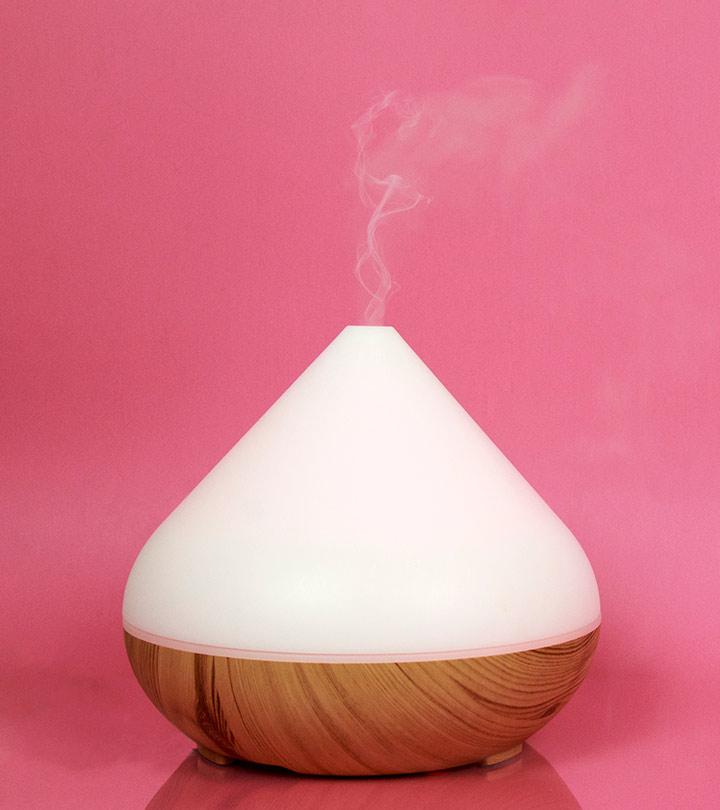 Using essential oils for hair and skin is not new, and through centuries people have been trying ways to use these extracts to heal their bodies. They contain medicinal properties and can be used daily to reap the benefits. If you have already collected the bottles of essential oils and don't know how to use them effectively, using the best nebulizing diffuser will help you do it right. Just a few drops of the oil extracts in the nebulizer can help you enjoy a stress-free evening after a long day of work. They create a soft scent that the body quickly absorbs and acts as a quick relief. They also do not use any water or heat to spill the smell out. Here are the 10 highest-rated nebulizers to help you enjoy the benefits of essential oils thoroughly. They can create a relaxing environment perfect for your home, car, and workspace.
How Does A Nebulizing Diffuser Work?
The best thing about nebulizing diffusers is that they do not require heat or water to diffuse essential oils. They instead force a stream of air through the tubes that contain the essential oil at a high pressure, thus atomizing essential oil droplets to convert them into smaller micro-droplets that are then released into the air. These micro-particles are easily absorbed by the body, and since they're in the purest form, they result in a more potent scent.
10 Best Nebulizing Diffusers To Leave Your Room Smelling Pleasant
This aromatherapy diffuser with nebulizing technology from Minidiva comes to life within 2 minutes of being turned on. Requiring no water, this nebulizing essential oil diffuser does not dilute the goodness of your choice of essential oil, giving you maximum benefits. It has a PZT atomization system that is used for breaking fluid into mist, which is then delivered to the conduit by micropump. It works for 8 hours on a single charge— thanks to its built-in lithium battery, and comes with 3 working modes. Its super-quiet operation ensures that you get a goodnight's sleep while enjoying the health benefits of essential oils. It can fit both 10 ml and 15 ml essential oil containers, thus making it extremely convenient to use. It is also small in size, which means you can carry it along as you travel or even keep it in your car. Here's a thorough video review of this diffuser.
Pros
Free of BPA
Ultra-quiet
Portable
Wireless
Energy-saving design
Can atomize all essential oil types
Cons
Can't be used while charging
Price at the time of publication: $69.99
This nebulizer essential oil diffuser works on heat-free operation and releases cold vapor without needing water, thus preserving the healing properties of the essential oil you decide to use. Crafted from an all-natural glass bottle, a BPA-free pump, and wood base, you won't have to worry about plastic or artificial materials coming in contact with oils. With the adjustable aroma intensity setting, you can control the intensity of the vapor and aroma to be released based on the size of your room. It also features a built-in automatic shut-off feature, so you can go to sleep worry-free without having to wake up in the middle of the night to turn the diffuser off. Make sure that you use 100% pure essential oils for this diffuser. Watch an honest review of this diffuser here.
Pros
Heat-free cold vapor
All-natural glass bottle
Free of plastic
Adjustable aroma intensity
Auto shut-off after 4 hours
Cons
The glass bottle may need replacement after a while.
Price at the time of publication: $88.99
Wake up feeling more energized and invigorated with this Organic Aromas Radiance Nebulizer Diffuser and say yes to a happy day! This Radiance nebulizing diffuser combines style and health to bring you the benefits of pure and unadulterated essential oils with its glass water reservoir with swirling design that lets out the mist. It is whisper-quiet, and the diffuser works to atomize the essential oil particles into micro-particles that are easily absorbed by your body. Operating between 110 to 220 volts, it also has an LED rainbow-carousel to add to the beautiful ambience when you switch it on. Each cycle lasts 2 hours in which the diffuser works for 2 minutes and then shuts off for 1 minute, repeating this cycle before shutting off completely. Made completely from whole plantation hardwood and water-based lacquer as paint, this atomizing essential oil diffuser is definitely an eco-friendly choice.
Pros
Silent operation
Eliminates odors
Easy to clean
Comes with features for customization
Plastic-free construction
Comes with 1-year warranty
Cons
Can only be used with pure essential oils
Price at the time of publication: $99
The Daroma nebulizing diffuser for essential oils works like magic to induce sleep when you deal with fatigue and stress, by creating a pleasant and warm atmosphere. Whether you're trying to focus on a task, study, work, or sleep, this oil diffuser can make it easier for you. A single oil diffuser fulfils the functions of a humidifier, air purifier, aroma diffuser, and night light. With the ultra-fine and smooth mist that it releases, you can expect your dry and chapped skin to be moisturized while also reducing fatigue. What makes it an extremely efficient nebulizer aromatherapy diffuser is its advanced ultrasonic nebulizing system that produces vibrations at a frequency of 2.4 million times per second that helps break water and essential oils into micro-particles minus any heat. This nebulizing diffuser is definitely worth the pick if you're looking for a versatile oil diffuser.
Pros
Features a night light
Doubles as an air purifier
Comes with 7 different LED light colors
Multiple mist nebulizer modes
Safety auto-switch
Cons
Some may find the size too small.
Price at the time of publication: $64.88
This beautifully designed glass nebulizing diffuser uses neither water nor heat and solely depends on its ultra-durable air pump to atomize essential oil drops naturally. With a glass body and wooden base, it not only works as an oil diffuser but also adds to the aesthetics of your room, office, or wherever you place it. It also features light with 7 color options in fast and slow blinking mode. The essential oil diffuser nebulizer shuts off automatically after 2 hours, and each cycle has 10 minutes on and 20 minutes off phase so that the fragrance does not get too strong. A great way to relax and purify air— this oil diffuser is definitely a great investment if you'd want to indulge in self-care.
Pros
Elegant finish
Painted with water-based lacquer
Auto shut-off after 2 hours
Free of plastic
Cons
Does not come with a user manual
Price at the time of publication: $39.99
The Opulence Nebulizing Essential Oil Diffuser from Organic Aromas brings you the benefits of a nebulizer, oil diffuser, and air freshener. Made from handcrafted ceramic base and hand-blown glass, this diffuser adds a touch of elegance to your living space with its minimalistic design. Requiring no heat or water to diffuse mist and the aroma of natural essential oils, it is ideal for large rooms as it diffuses concentrated fragrance within minutes. It also features LED mood lighting that you can either switch on or off depending on the time of the day. This diffuser has a complete 2-hour cycle, and each cycle has 2-minute on and 1-minute off phases to protect the diffuser from overheating.
Pros
Made from natural material
Quiet operation
Sensor light switch
Available in a variety of colors
Cons
Price at the time of publication: $109
This rustic-looking Utama Deluxe Nebulizing Personal Diffuser is compact and quiet, suitable for your office desk, room, living room, and even as you meditate. It operates naturally, requiring no heat or water, and it is also made without plastic, which means you get pure essential oil micro-particles minus any contamination. While the base is made from wood, the glass container is custom-blown. To add more to the relaxing vibe when you switch this diffuser on, it also has a white LED mood light that elevates the revitalizing experience. And to add more to its benefits, it is also a low-power consuming oil diffuser, thus making it the right choice if you're all about conserving energy. Check out this youtuber's honest video review of this nebulizer.
Pros
Will not off-gas
Comes with LED mood light
Low power consuming diffuser
Suitable for large rooms
Can be powered by a USB port on a laptop, PC, or power bank
Cons
The LED light does not automatically turn off after 2 hours.
Price at the time of publication: $69.99
This waterless nebulizing diffuser with a conical glass reservoir and a candle-wick top is a perfect addition to your daily meditation sessions, bringing you the focus and peace you need. To make sure you don't have to wake up in the middle of the night, it automatically switches off after 2 hours. What makes this beautiful oil diffuser made from glass even more likeable is its rainbow-carousel mood lighting that you can keep on or off. Made with plantation hardwood and glass, and painted using water-based lacquer, this nebulizing diffuser for large rooms is a natural, safe, and eco-friendly choice, especially when you have children and pets around!
Pros
Diffuses concentrated fragrance
Does not dilute the essential oil
Whisper-quiet operation
LED rainbow-carousel mood lighting
Auto shut-off after 2 hours
Cons
Some may find it expensive.
Price at the time of publication: $99
An aromatherapy nebulizing diffuser that lets you control the intensity of the cool mist, the UONE Essential Oil Diffuser comes with a big knob that can easily be twisted to change the mist output from minimum to maximum, and to switch the nebulizer off as well. This oil diffuser is to be used with pure essential oils, and made from natural material, you don't have to worry about any artificial material coming in contact with the oil. Each cycle lasts 2 hours after which the diffuser automatically shuts off, ensuring you get to sleep peacefully, not having to worry about turning it off. So, invest in this thoughtfully-constructed, stylish nebulizing pure essential oil aromatherapy diffuser and enjoy the benefits of heat-free and waterless cold vapor!
Pros
Stylish design
Big knob for adjusting mist level
Free of plastic
Compatible with PCs, laptops, and power banks
Cons
Does not come with LED light
Price at the time of publication: $59.99
This no-water essential oil diffuser adopts cold-air diffusion technology, requiring no heat. It diffuses micro-droplets of essential oils that readily get absorbed by the body, making the most out of its therapeutic benefits. This oil diffuser is small in size, boasts a sleek design, and can conveniently be used in office spaces, spas, hospitals, bedrooms, etc. to create a calming and relaxing ambience. You can set the diffuser on smart mode and go about your day, not having to worry about turning the oil diffuser off or wasting energy. All you have to do is download the brand's app, set the working time as well as scent grade. With how technology has advanced, this is the kind of oil diffuser you should invest in if you're all about tech-based products.
Pros
Plug-in operation
Pet-friendly
Large coverage
Can be scheduled
Does not require cleaning
Cons
May not disperse as much fragrance
Price at the time of publication: $109.99
When you plan to buy a cold air diffuser for essential oils, you are already put through the confusion of having to choose among ultrasonic diffusers, evaporative fan diffusers, and nebulizing diffusers. However, the confusion doesn't end there. When you do plan to buy the best nebulizing diffuser, there are several factors that play a role in deciding whether or not your nebulizing diffuser will be worth the money you pay for it. With that said, following are the factors you should keep in mind before buying a nebulizing diffuser.
How To Choose A Nebulizing Diffuser?
Since nebulizing diffusers don't use heat or water to diffuse the essential oil micro-droplets, the oil comes directly in contact with the diffuser. It is therefore best to look for nebulizing diffusers made from natural materials. Most conventional nebulizing diffusers are made from wooden base and hand-made glass or ceramic. These materials don't affect the composition of the essential oils that you use.
While nebulizing diffusers have their own merits that make them a better choice among evaporative fan diffusers and ultrasonic diffusers, one of the downsides is that nebulizing diffusers tend to make more sound than the latter two. However, you can still opt for a nebulizing oil diffuser that is relatively quieter than others. A noise rating of 50 dB is standard for most nebulizing diffusers, and you can rest assured as nebulizing diffusers that produce 50 dB noise level are generally not disturbing to the ears. Moreover, nebulizing diffusers only produce noise when they release pressured air.
Getting a nebulizing diffuser that comes with a bunch of settings is always a better choice to make as it gives you the liberty to use the diffuser more conveniently in different places. A mist adjuster is a good feature to look for, and nebulizing diffusers with this feature generally come with 3 levels of mist adjustments— low, medium, and high. When you get this setting, you can use your diffuser in a large room, smaller room, or even your car by making sure you've set it to the right intensity so that your diffuser does not end up diffusing too much or too little mist.
Most nebulizing diffusers come with a timer setting that allows you to opt for either continuous functioning or one where the diffuser runs for a few minutes, takes a pause for a few minutes, and then starts running again— repeating this cycle. This helps control the intensity of the mist, and is especially useful if the room is large. Similarly, nebulizing diffusers also come with a timer that shuts them off after 1, 2, or 4 hours. When you set your diffuser on a timer, you don't have to worry about the diffuser being overheated or running the entire night, or for that matter, having to wake up in the middle of the night to turn it off.
The key to ensuring your room smells pleasant while your body derives maximum benefits from the essential oils that you use in your nebulizing diffusers is to use your diffuser the right way. To make it easier for you to understand, our next segment will walk you through the steps to follow when using a nebulizing diffuser.
How To Use A Nebulizing Diffuser?
Step 1: Nebulizing diffusers don't require water to dilute essential oils in order to diffuse them in the form of mist. And so, you will have to add several drops of undiluted essential oil to the reservoir of the nebulizing diffuser for essential oils. While 3 to 4 drops should be enough, nebulizing diffusers generally come with a manual that would specifically indicate the number of drops of the essential oil that you should use for each cycle.
Step 2: After adding the essential oil to the reservoir, you have to switch on the diffuser and select the setting based on how intense you would want the mist to be. Diffusers generally have 3 settings to control the level of mist— low, medium, and high. It generally takes about a couple of minutes for the diffuser to distribute the essential oils. Also, please note that you only use pure and unadulterated essential oils in your nebulizing diffuser.
Step 3: After using your diffuser several times, make sure that you clean it. While this is the case for diffusers that feature a reservoir, you simply have to screw the oil bottle into the device and do no cleaning if that's how it is designed. That said, regular cleaning is essential for glass reservoirs.
While nebulizing diffusers were viewed more as a luxury or a decorative back in the days, people realize that they offer several benefits that makes them a must-have. If you wonder what are the benefits that a nebulizing diffuser offers when you use it on a regular basis, here are the several benefits of these wonder products that we have listed for you.
Benefits Of Using A Nebulizing Diffuser
One of the most significant benefits of using a nebulizing diffuser is that they help purify the air. And what makes them a better alternative as opposed to air sprays and plug-ins is that they use essential oils to do so, and essential oils are pure and free from chemicals that do a lot more harm than any good when it comes to purifying the air.
A lesser-known benefit of using nebulizing diffusers is that they help control allergies and indoor dust. Diffusers have ionizing effects, which basically means that they release negative ions in the air. These negative ions then attach themselves to the positive ions. When this happens, the dust that is suspended in the air falls to the ground and can easily be cleaned away. This helps in helping those with allergies breathe better.
Using the right kind of essential oil can improve certain symptoms such as insomnia and stress, and can help manage anxiety and depression. One of the best essential oils for insomnia is rosemary essential oil. And for anxiety and stress, you can use lavender oil, clary sage, and lemon.
Nebulizing diffusers can help elevate your mood when you use the right essential oil such as bergamot. When you inhale a pleasant aroma such as this one, it interacts with your body's chemistry and helps create a balance that alters your mood.
Why Trust StyleCraze?
Shreya Vishwanathan, the author of this article, has a deep understanding of fitness and healthcare and what will make her readers relax and unwind from a long day of work. She has gone through user testimonials online and picked out the top-rated nebulizer diffusers you must have. Portable and wireless, you can put in your favorite essential oil in these nebulizers and use it to enjoy a stress-free evening.
Frequently Asked Questions
Can a diffuser be used as a nebulizer?
Both nebulizers and diffusers work on different principles, which means it is impossible to use a normal diffuser as a nebulizer. While conventional diffusers use water to diffuse essential oils by using evaporated water particles to transport the oils, nebulizing diffusers and nebulizers act on essential oil particles to further break them down into micro-particles that are almost in gas-like state.
Are diffusers bad for your lungs?
While inhaling essential oils through diffusers is generally safe, it may not be suitable for asthma patients. One of the reasons why essential oils have an extremely strong odor and are highly concentrated is that they have volatile organic compounds. And then these VOCs from essential oils are dispersed into the air when you use a diffuser. This may affect the indoor air quality and worsen existing respiratory problems for those who have allergies or asthma.
Is it okay to use a diffuser every day?
While you can use a diffuser on a daily basis, you should abstain from keeping the diffuser on for the entire day. The best way to use a diffuser such that you reap the benefits of the essential oils is to keep it on for about 30 minutes and then turn it off for an hour before you turn it back on.
Recommended Articles